Another January means another SHOT Show, and 2015 is no exception as over 65,000 attendees congregated at the Sands Expo and Convention Center in Las Vegas for what is considered the fifth largest trade show in Las Vegas.
I again made the trek to Las Vegas to check out the happenings in the industry.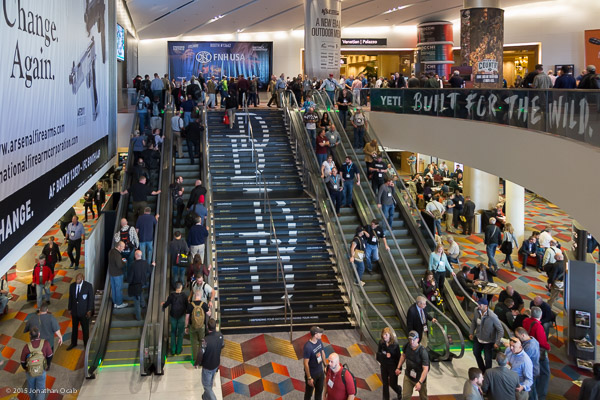 Due to the scale of SHOT Show, my after action report (as it has been in previous years) is a highlight of products that caught my attention.
First off, Magpul Industries came out with a few new products, but one of specific note is their Hunter 700 stock for Remington 700 short action rifles.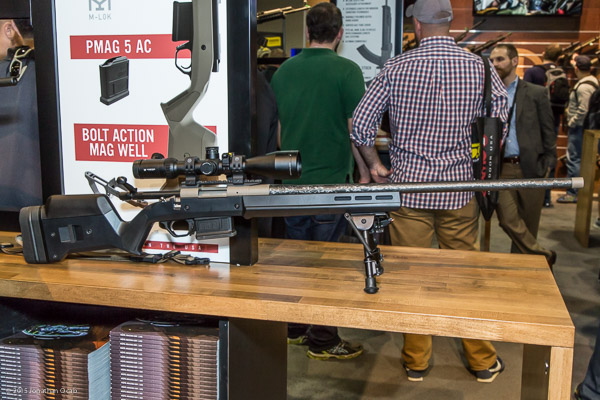 The Hunter 700 is made from reinforced polymer and utilizes a machine finished, anodized A380 cast aluminum bedding block, for a drop-in fit. The barrel channel is sized to comfortably accommodate a medium Palma taper.
Also, the stock will either take factory bottom metal, or Magpul's replacement trigger guard and magazine well, which will allow the use of A.I.C.S pattern magazines. Yes, that is correct: Removable magazines for a Remington 700 action.
But the kicker is the price point. The Magpul Hunter 700 has an MSRP of $259, and the Magpul magazine well for the Hunter 700 has an MSRP of $69.95. This means that for under $330, an owner of a rifle based on a Remington 700 short action receiver can run removable magazines without going to a more expensive solution such as an A.I.C.S. or a McMillan with Badger Ordnance bottom metal.
Not to mention that Magpul will be producing their own A.I.C.S. pattern magazine dubbed the PMAG 5 with an MSRP of $34.95.
Having held the stock, the Hunter 700 appeared to be quite light and I would personally like to see some fill options (different weights, or a built-in weight adjustment system) so the stock could be balanced for the given rifle. I can't explain it, but the Hunter 700 stock has a different 'feel' than a McMillan stock. I'm not sure if it's because the internal ribbing of the McMillan is thicker, stiffer, or sturdier in some fashion, but there is some 'hollowness' to the stock. I might compare it to an old Bell and Carlson stock that I used to have on my Savage 10FP. That being said, I'd like to live fire a rifle inside a Hunter 700 stock to experience the recoil characteristics of the platform as well as the balance of the gun overall.
The Hunter 700 stock has an expected release date of Spring 2015, and is definitely a product that could shake up the bolt action rifle arena if it proves to be a reliable stock in terms of overall accuracy (for drop-in fit) and magazine function at a sub-$400 price point (stock + trigger guard / mag well).
Magpul also released their own magazines for Glock 9mm dubbed the PMAG 17.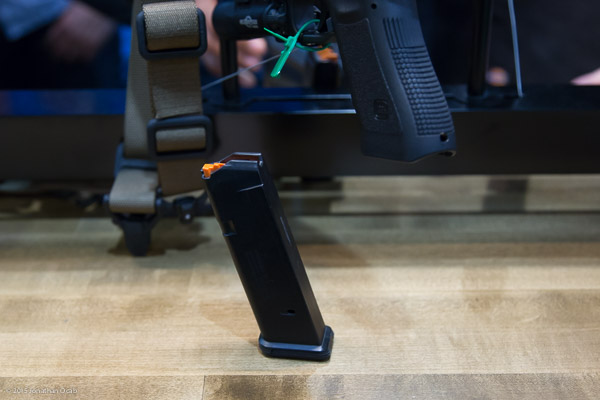 It offers a tool-less floorplate for easy disassembly and a dot-matrix pattern on the body for magazine numbering, but I don't see the need for a Magpul magazine for Glocks. Seriously, I've never needed anything more out of the Glock OEM mags short of extended baseplates for smoother reloads.
But the price point is $15.95 MSRP, which is cheaper than the street price of Glock OEM magazines. So the PMAG 17 will most likely take a slice of the Glock magazine market, as long as it performs as reliably as Glock OEM magazines.
Beretta debuted the M9A3 which is the next iteration of the M9 / 92 series pistol.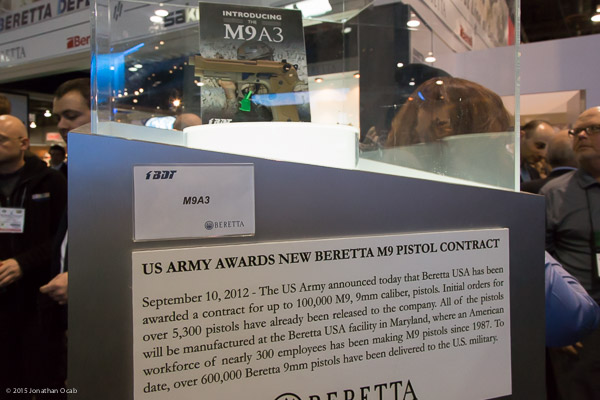 While the M9A3 is essentially the Beretta 92, it does have some interesting features that set it apart from all previous iterations. For one, it has a thin grip with a removable wrap-around grip backstrap unit. The frame utilizes a Picatinny (MIL-STD-1913) rail for light attachment and has a extended, threaded barrel.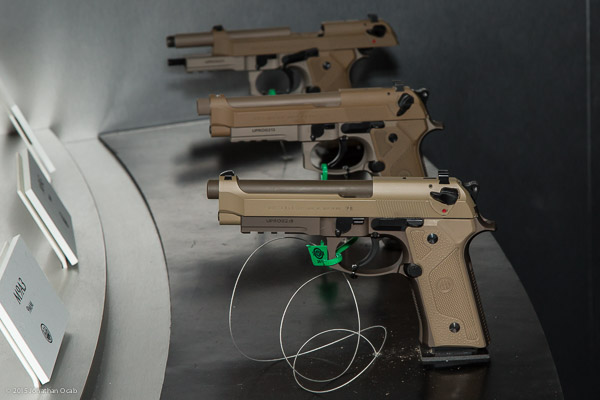 The traditional safety-decocker lever can be converted to decocker only, and vice-versa. The magazine well is beveled, and the 17 round magazines are said to be sand resistant.
The M9A3 comes in a Cerakoted earth tone finish. Note that they did not call it Flat Dark Earth, and it is definitely not consistent with FDE. It is definitely lighter in finish.
Handling the M9A3, I can say that it is a very comfortable gun and feels much better to me than the 92FS or M9.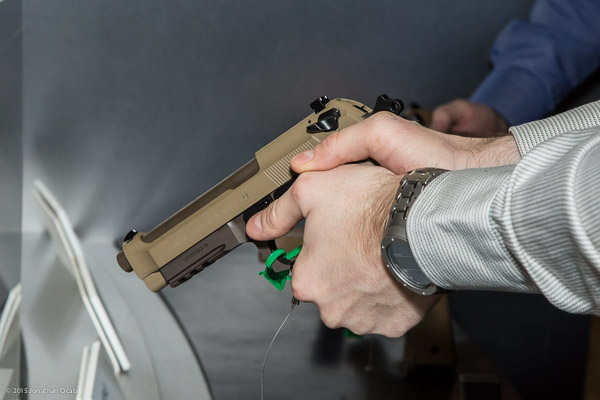 While on the subject of the Cerakote earth tone finish of the M9A3, it appears that more manufacturers are jumping on factory Cerakoted options, perhaps due in part to the popularity of the Lipsey exclusive Glock full FDE pistols that emerged last year.
Heckler and Koch released versions of their HK45 pistols in Cerakoted green and sand color options.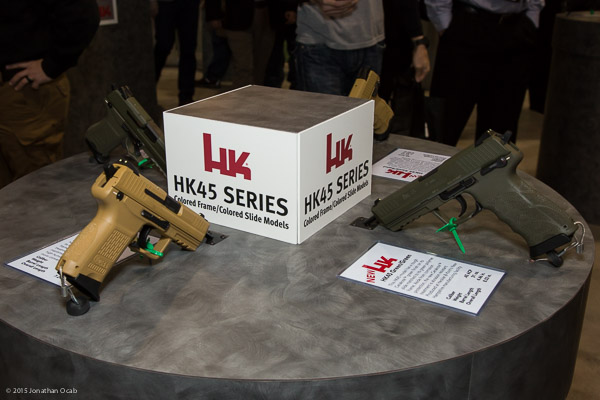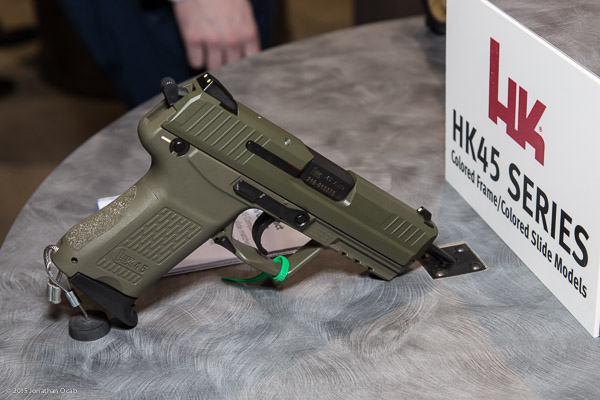 The Cerakote finishing is all done in-house, and HK is not offering Cerakoting services for existing HK45 owners.
As far as Glock is concerned, their big product announcement this SHOT Show is their Modular Optic System (MOS) configuration. Currently only available on Gen 4 G34, G35, and G40 (.45ACP and 10mm), the MOS configuration allows the user to attach any one of four different reflex sight options on the same slide using an adapter plate:
01 – EOTech / Docter / Insight / Meopta
02 – Trijicon RMR
03 – C-MORE
04 – Leupold Deltapoint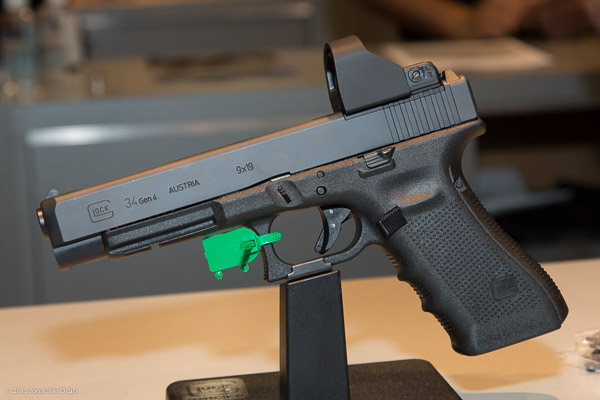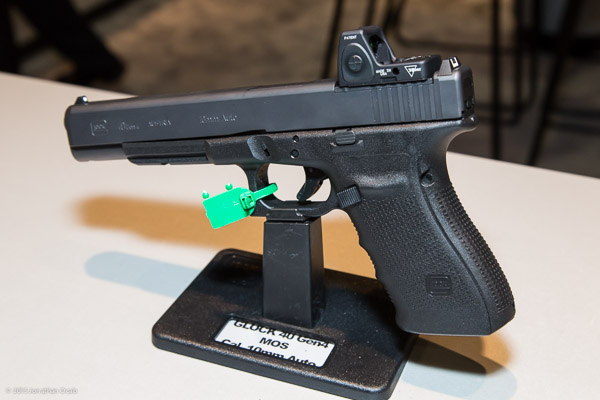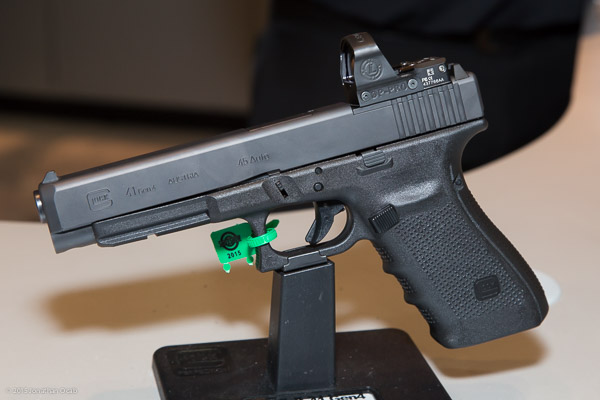 Or the user can install the 00 plate which is a flat, plate to make the milled slot in the slide flush and without threaded holes if the user decides not to use a reflex sight.
My concern with the MOS system is that it does not appear that it will allow cowitnessing of iron sights. The adapter plate appears to be quite thick, and raises the height of the reflex sight significantly more than seen with dedicated milled slides (for a specific reflex sight). Glock did not have any MOS guns with suppressor height sights, so the issue of cowitnessing iron sights and an MOS configured Glock is inconclusive right now. MOS slides will not be available for purchase separately, which means existing Glock owners will need to buy a new complete pistol if they want to try the MOS.
A minor update to the Glock product line is the addition of the TB, or threaded barrel models. Available in Gen 3 G17, G19, G21SF and G23, the TB line feature threaded Glock OEM barrels that are an additional ~0.5 inches with the same twist rates and polygonal rifling as the OEM non-threaded barrels. According to Glock, the TB barrels will also be available for individual sale.

Stay tuned for Part 2 of my 2015 SHOT Show After Action report.
One tip for anyone that attends SHOT Show and owns a Benchmade knife: Always visit the Benchmade booth and drop off your knife for on-site servicing. They will usually have it ready by the end of the day, and even if for some reason they can't fix it their due to time or parts constraints, they'll just take it back to Oregon, service it, and ship it back to you for free.