The Tikka T1x MTR .22LR rimfire rifle was announced and released by Tikka back in 2018 and has become a well-regarded rifle in the shooting community. The T1x has been in relatively short supply since it's release as they never lasted on retailer shelves for very long. However, in 2020 due to US and global events, the availability of the Tikka T1x MTR was nearly non-existent.
In 2021 I pondered about acquiring a Tikka T1x MTR to use as a loaner rifle in the NRL22 matches that I operate at my local range. As I kept my eyes open, I passed on a few opportunities to acquire one. Then near the end of 2022, one of the regular participants of my NRL22 matches indicated there was a T1x with a 20″ barrel in-stock at the store they worked at. So I decided to jump on that opportunity and acquired it.
The Tikka T1x MTR that I acquired has the 20″ barrel with a 1:16.5″ twist and is chambered in .22LR (of course).
The rifle out of the box without a magazine weighs 5 lbs 10 ounces and has a length of pull of 13.25″. I find the LOP a bit surprising considering rimfire rifles are usually oriented towards youth shooters and 13.25″ is a bit long for that audience.
The stock is surprisingly decent considering it is a synthetic stock on a 'cheap' rimfire rifle. It feels relatively rigid compared to all the polymer stocks I've handled on lower tier models of other centerfire rifles.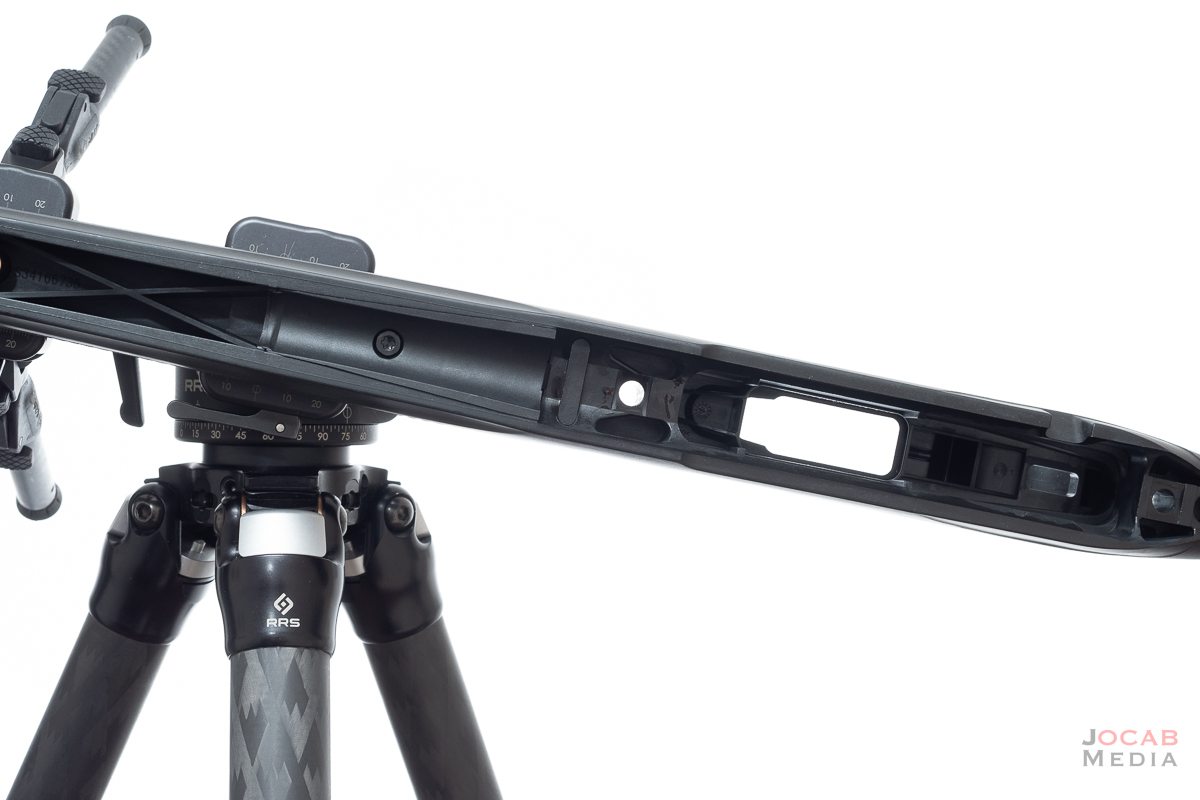 Furthermore, the visual appearance of the inside channel of the stock show quality injection molding as the mold lines and all the edges appear clean without rough patches, cracks, or separation imperfections.
The butt pad is a hard rubber that is somewhat slick on the surface.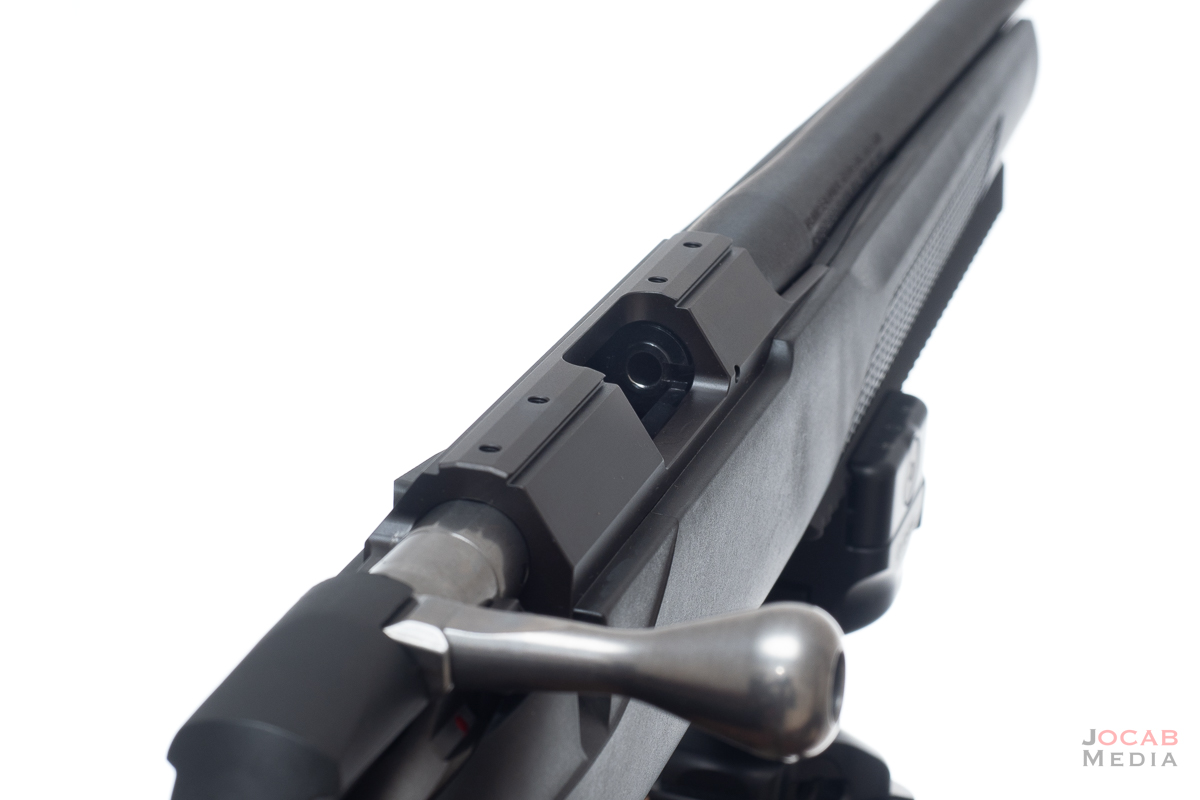 The bolt is an incommon 45 degree throw which makes the action very quick to operate.
One important item to mention on the Tikka T1x MTR is that they are known to break firing pins with dry firing. The Tikka manual specifically states:
Dry firing is defined as firing a firearm with no ammunition in the chamber. Long term dry firing may damage the bolt.

Tikka T1x MTR manual p. 9
The trigger pull weight is easy to adjust with the barrelled action out of the stock using a 2.5mm hex drive for the adjustment screw. I set the trigger pull weight to an average of 1 lb 10 ounces.
Standard equipment for a rifle will be a scope rail and I acquired the Area 419 30MOA Tikka T1x scope rail.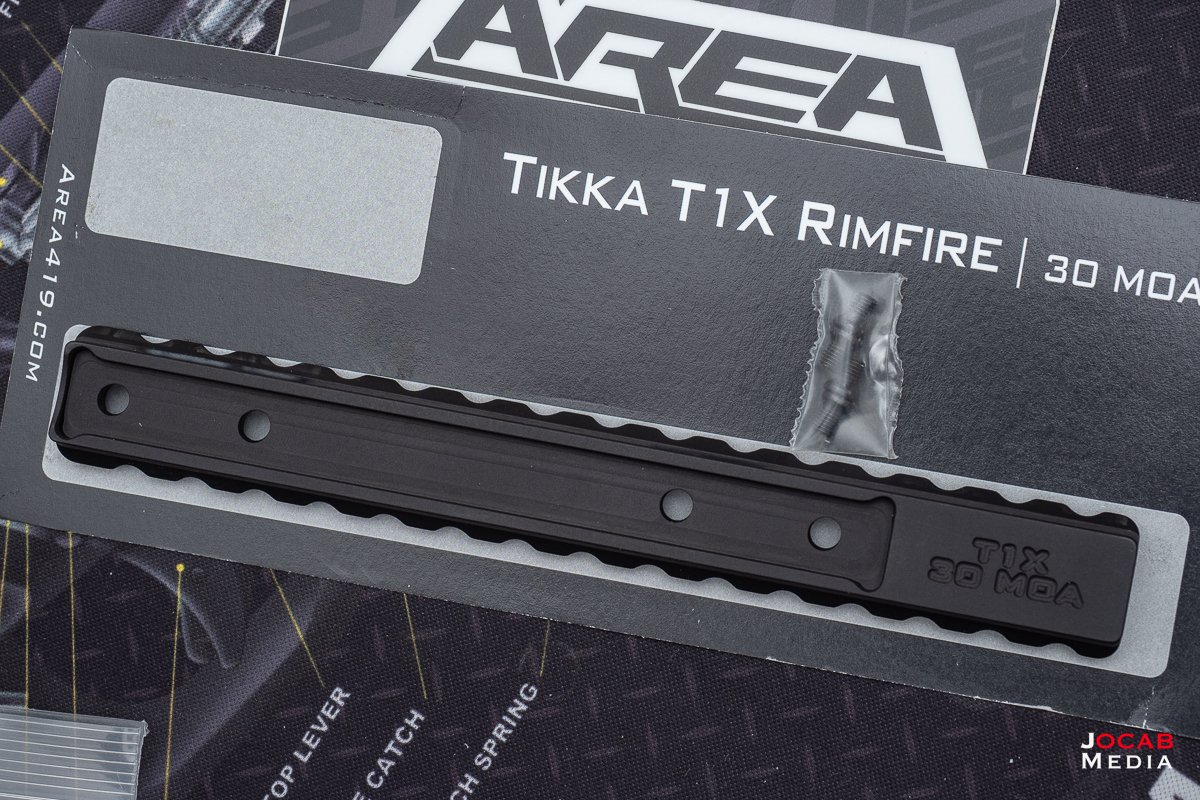 Since this rifle was specifically purchased as a loaner rifle for NRL22 matches, I wanted a way to use the bipods I have and that meant needing an Arca rail. I discovered the Tikka T3x/T1x Arca Lite rail by Mountain Tactical.
I was a bit skeptical that this would fit given that the foreend of the Tikka T1x stock is not completely flat. However, the Mountain Tactical Arca Lite rail installed and locks in perfectly. Note that the Tikka T1x OEM stock has two sling studs, one front and one rear. The front was removed to utilize the threaded hole for attaching the Arca rail.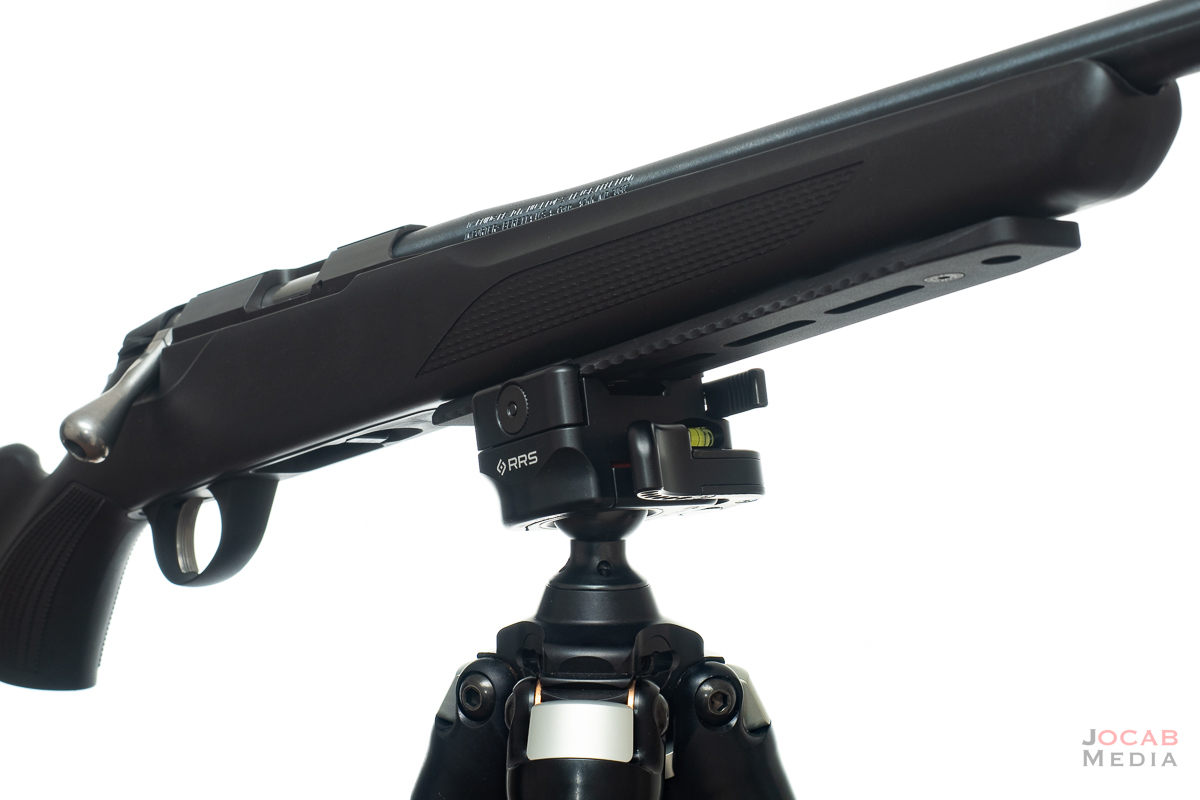 There is no play in the Arca Lite rail and gives this rifle the ability to utilize any of my RRS clamp equipped bipods.
I did not acquire a new scope for this loaner rifle and for the time being I hijacked the Athlon Optics Argos BTR Gen 2 6-24x50mm FFP IR MIL that was sitting on my CZ 455.
My impressions of the Tikka T1x MTR are quite positive. The bolt is smooth and the trigger is crisp and I have not been able to detect creep which is outstanding in a factory trigger. The rifle handles well in an NRL22 style of shooting format.
The Tikka T1x MTR 20″ barrel that I have seems to shoot relatively slow. Here are some average velocities of ammunition I tested (10-round aggregates):
CCI Standard Velocity – 1023 fps
Eley Club – 1074 fps
Eley Match – 1068 fps
Eley Tenex – 1058 fps
Lapua Center-X – 970 fps
SK Standard Plus – 943 fps
Wolf Match Target (Eley) – 915 fps
To put the above velocities into perspective, my Vudoo with a 20″ Bartlein barrel shoots Lapua Center-X at 1085 fps give or take 5-10 fps depending on temperature (-115 fps difference). My Vudoo 20″ Bartlein also shoots the same CCI Standard Velocity ammo at 1091 fps (-68 fps difference) and that specific lot of Eley Match at 1110 fps (-42 fps difference).
Granted, as of the time of this review, this gun only has a few hundred rounds through the barrel. While I anticipate this gun could shoot faster after another 1000 rounds, I have read that Tikka barrels (centerfire, at least) are known for slower velocities.
Of the ammunition I have tried in the Tikka T1x MTR that I have, it seems to shoot CCI Standard Velocity and Eley Club around 1.2 MOA which I feel is acceptable for lower cost ammo.
Lapua Center-X, Eley Match, and Eley Tenex shoot a little better. However, Eley Match is likely the best of all the ammo I have tried, at least at 50 yards on paper, coming it with groups just under 1MOA.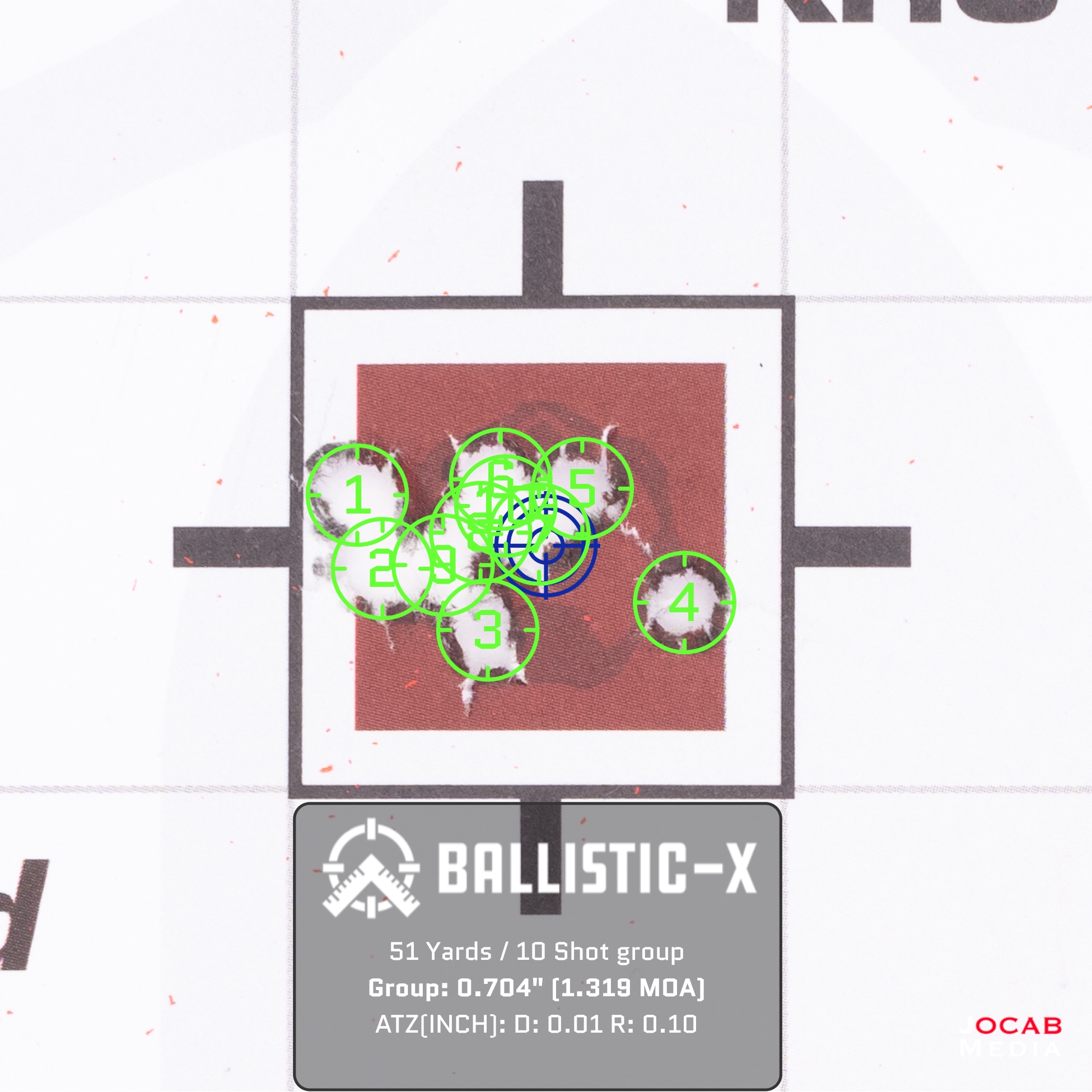 I did encounter ejection issues with the Tikka T1x. Tikka did update the ejector design and the Tikka T1x I have has the updated design.
It appears that the case is not being kicked out of the ejection port on bolt being placed to the rear, even though it appears to be clearing the extractor. I am still investigating this issue with this specific rifle. It is not continuous and it happens more with Eley ammunition than others.
Also, I find the availability of magazines very scarce. The Tikka T1x MTR comes with only one 10-round magazine. There are very few online vendors that carry the Tikka T1x magazines and I sourced one from my local Sportsman's Warehouse (who only had one in-stock). As I am composing this article, all the retailers I found via Google are out-of-stock, including Beretta direct.
Should you buy the Tikka T1x MTR?
I feel the Tikka T1x MTR is a very solid platform and it directly competes against the CZ 457 ProVarmint, Bergara BMR, and Ruger Precision Rimfire as far as the bolt action .22LR in the $600 range. The CZ 457 is the most popular bolt action rimfire rifle in sub-$1K price tier, and arguably in the $1000 to $1500 price tier if you consider their top end models.
However, the Tikka T1x MTR in factory form is a relatively accurate and capable rifle and the trigger is very impressive. I do not have much time behind a CZ 457, but I strongly believe the Tikka T1x factory trigger is superior to the CZ 455 factory trigger.
As mentioned earlier, the OEM stock is surprisingly rigid, albeit the length of pull is long for younger shooters.
Accuracy appears to be on par with other factory rifles in this price range as long as you find ammo your particular rifle likes.
I've seen other people claiming half-inch groups at 50 yards with the Tikka T1x. I will say I did not have the same results. However, I think it should be easy to obtain 3/4-inch groups with a variety of ammunition, based on my results.
I do have to mention that the failure-to-eject issues I have come across during my initial usage of the Tikka T1x MTR is mildly concerning. This is a sample size of one rifle, so take it with a grain of salt. I have not been privy to a consistent ejection issue with the T1x in general, so this could just be a break-in issue or isolated to my rifle. In any case, it should count as a negative experience.
The fact that the Tikka T1x cannot be dry-fired safely is a negative for me. The T1x has been known to break firing pins, especially with dry firing. My other rimfire rifles can be dry fired repeatedly without issue (e.g., 10/22, CZ 455, and Vudoo V-22).
As far as the aftermarket for the Tikka T1x, there are lots of products out there.
There are plenty of aftermarket stock and chassis system options for the T1x if the user wants to upgrade.
While the T1x and T3x share the same footprint, the T1x will not necessary fit in any stock or chassis that fits a T3x since the magazine box and magazine release are part of the T1x action. The magazine box where the magazine is inserted would need to be accommodated by the stock or chassis system.
Pre-fit barrels are available for the T1x, and does not lose out compared to the robust CZ 455 and 457 aftermarket. Although, I have read accounts that Tikka factory barrels are difficult to remove.
Given the choice between the Tikka T1x MTR and a CZ 457 ProVarmint, I honestly would have a tough choice. I might lean towards the Tikka simply because I think the T1x trigger is better out of the box than a factory CZ 455 / CZ 457 trigger. Granted, this is a sample size of one Tikka T1x.
As far as an NRL22 rifle, the Tikka T1x knocks it out the park given that I was able to put an Arca rail on the factory stock for versatility in bipod choice and location, all while keeping it in a Base class configuration.
If you want a functional, good shooting rimfire rifle out of the box, consider the Tikka T1x MTR.
If you want a rifle to start participating in NRL22, definitely consider the T1x MTR and slap on an Arca rail.
---
Addendum: 2023-03-17
I shot a few more groups after I published this article after I reseated the barrelled action after someone pointed out it wasn't seated properly. The groups are roughly the same with regards to ammo performance from brand the brand.