In Part 1 and Part 2 of my 2016 SHOT Show After Action Report, I may have made references to the large size of the SHOT Show. But to give more scale to this, SHOT Show has 12.5 miles of aisles in a 630,000 net square foot area. Add this to the distance of your hotel to the Sands Expo, and you're going to be doing a lot of walking at SHOT Show.
During my expedition through the SHOT Show, I came across some interesting new optics offerings from manufacturers.
Vortex Optics had a couple of notable new products at SHOT Show for the budget minded AR owners. One is the SPARC AR micro red dot optic, which is a 1x magnification optic with a 2MOA dot.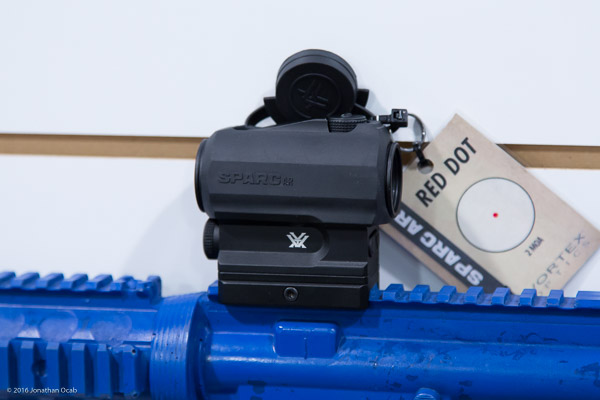 Similar in size to the Aimpoint Micro series of red dot optics, it comes in at 7.5 ounces and 2.9″ in length, and I believe the weight includes the mount. Running off a single AAA battery, the SPARC AR has a 300 hour runtime at maximum brightness and 5000 hour runtime on minimum brightness.
The SPARC AR carries an MSRP of $259 USD.
It is going to provide consumers with a much less expensive option to an Aimpoint Micro H or T model red dot, backed by an established brand name (and warranty).
Handling the SPARC AR in person, the sight picture itself looked fairly decent in the poor lighting of the Sands Expo Convention Center. The actual dot looked decent, but it couldn't really gauge if it was any worse, better, or on par with that of an Aimpoint T-1.
The SPARC AR comes with the Picatinny mount and a spacer to go from full cowitness to lower-thirds cowitness. It will also come with a rubber armor and cap protector, much like the Tango Down iO Aimpoint Micro cover.
I think the SPARC AR is going to be quite popular in the lower range red dot optic consumer segment, and could actually take some customers away from Aimpoint, particularly those who are on the fence regarding spending $600+ for an Aimpoint micro red dot, and don't really need the long battery life (50,000+ hours, Aimpoint Micro T-1) or bullet proof reliability.
Vortex Optics also introduced a prism scope dubbed the Spitfire AR. At 1x magnification, the Spitfire is also designed for the AR platform, and comes with a Picatinny mount like the SPARC AR. I don't have much time with prism scopes outside of the Trijicon ACOG 4x RCO, but the Spitfire AR image and reticle seemed to be quite clear and crisp.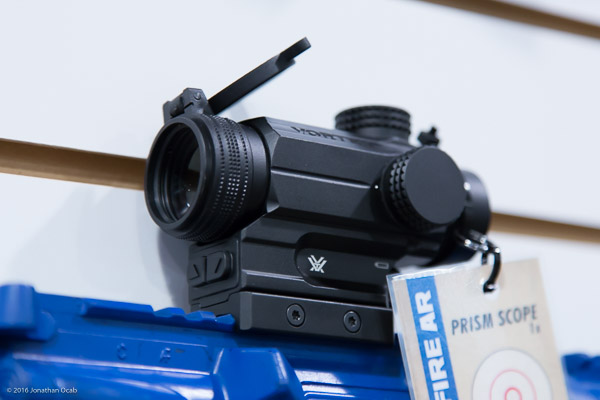 It is modestly priced at $349 USD and is definitely cheaper than other prism scopes, although the Spitfire AR is not magnified, so it functions more like an EOTech holosight in terms of actual use (and not technology). I'm not sure how popular this will be, since most people either pick a red dot or go to a short range magnified scope (1-4x or 1-6x) for a patrol / defense AR.
Speaking of Aimpoint, I attended their press conference at SHOT Show and they announced some interesting product revisions.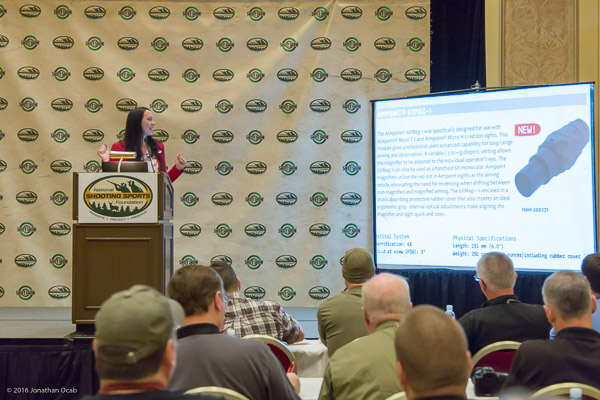 First to note is that Aimpoint announced a 6x magnifier (6XMAG-1). This new magnifier has a -3/+3 diopter for individual focus adjustment and the case is encased in a rubber cover that makes it comfortable to handhold as a monocular.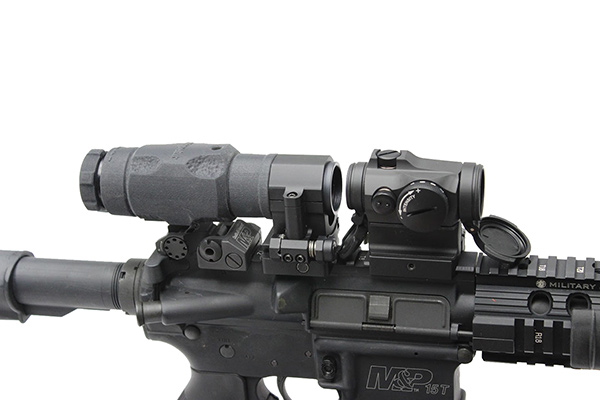 The 6XMAG-1 is 6.0″ in length and weights in at 8.8 ounces. The estimated retail price was said to be around $900. This is not a cheap magnifier, and there are already some much less expensive 6x magnifiers for red dot sights, but you are paying for Aimpoint quality, durability, and reputation.
Following the 6XMAG-1 are two new 3x magnifiers, the 3X-C and 3XMAG-1.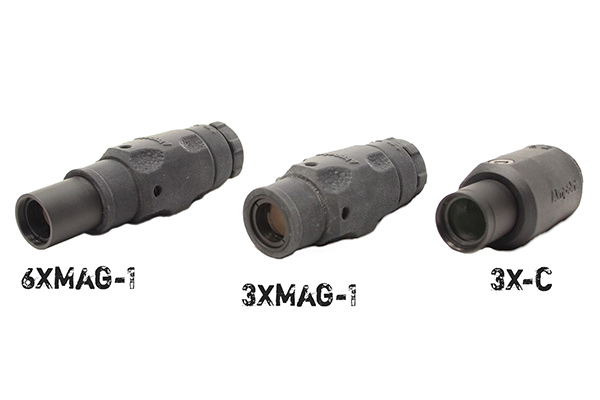 The 3XMAG-1 is similar in design to the 6XMAG-1 (-3/+3 diopter, rubber armor cover), but with 3x magnification and a form factor of 4.6″ in length and 8.1 ounces in weight.
As far as the 3X-C, it is also a 3x magnifier, but Aimpoint states it was developed for the civilian market. The diopter has slightly less adjustment range (-2/+2), the body doesn't have the same style of rubber cover (less thick), and the form factor is smaller and lighter than the 3XMAG-1 at 4.1″ in length and 7.8 ounces in weight.
But as far as other technical differences between the 3X-C and the 3XMAG-1, it is not clear. The product sheet indicates the 3X-C is NVD compatible. It's possible that there is less water resistance with the 3X-C. Perhaps we'll know more when the 3X-C and 3XMAG-1 finally make it to retailers. If my notes are correct, the 3X-C is expected to carry a price of $300 and should be out in April 2016. I didn't get an MSRP on the 3XMAG-1, but based on the 6XMAG-1 price, I anticipate the 3XMAG-1 could be $500-$600.
Note that Aimpoint is also releasing their own flip mount for their magnifiers. The flip mount is designed so the ring (and magnifier) can be removed from the mount base, which is nice, but the flip mount doesn't appear to have a lock out feature like the Larue Tactical flip mount.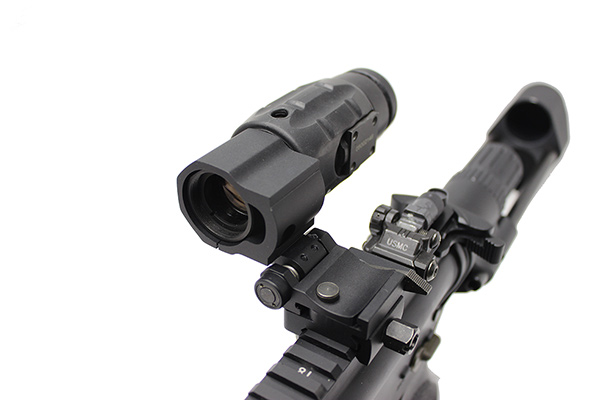 You simply turn the magnifier off to the side, whereas the Larue flip mount requires you to pull back and then turn the magnifier over to get it to flip to the side. I think I prefer the Larue flip mount, but if you want to use your magnifier as a handheld monocular, the Aimpoint flip mount facilitates this better (activating a lock switch and twisting the ring off the mount).
Speaking of the new Aimpoint flip mount, Aimpoint debuted what they call the H-2 AR Ready and T-2 AR Ready packages. These are essentially ready to install H-2 and T-2 micro red dots with Aimpoint's own Picatinny mounts.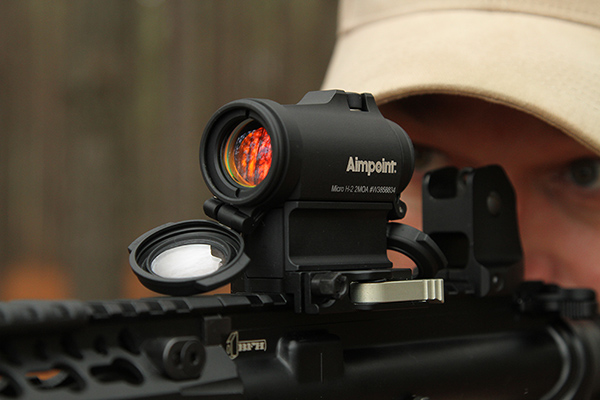 I anticipate that Aimpoint is doing this because the Larue LT660 mount has pretty much become the defacto standard AR mount for the Aimpoint Micro series, and instead of just sending bulk units to Larue to be repackaged with LT660 (or LT751, etc) mounts for sale to the consumer, Aimpoint wants to get in on some of the market directly.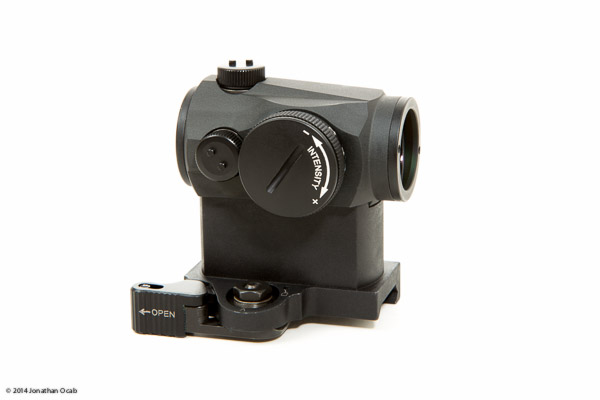 Currently only available in absolute cowitness height, it's possible we will see one-third lower cowitness height spacers (like the aforementioned Vortex Optics SPARC AR).
Nightforce Optics has become a major player amongst the telescopic sight manufacturers, and for many, has surpassed Leupold Optics in most facets, particularly for long range precision platforms. But Nightforce is also in the middle and high tier price range as far as scopes, usually around $2K USD.
But at the 2016 SHOT Show, Nightforce has introduced their SHV 4-14×50 F1 FFP at an MSRP of $1300 USD. For many, $1300 for a scope is still high, but you get a lot for the $1300.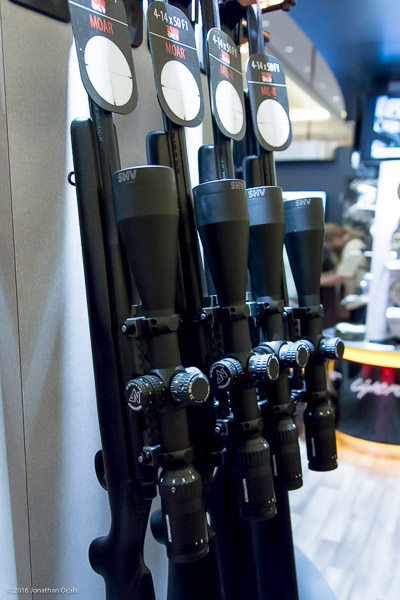 First off is the fact that the new SHV is a front focal plane reticle, which means the reticle remains the same proportion throughout the entire magnification range (which means the reticle scale is valid at all magnifications). FFP reticles typically increase the price of a scope significantly.
Then the 30mm tube and 50mm objective are other features usually not found in lower cost scopes. Other features of the SHV 4-15×50 F1 are the side parallax adjustment, choice of .250 MOA or .1 MRAD (or MIL) knobs ZeroSet knobs, choice of the Nightforce MOAR or MRAD reticle, and a respectable internal adjustment range of 90MOA / 27 MRAD elevation and 70MOA / 19 MRAD windage.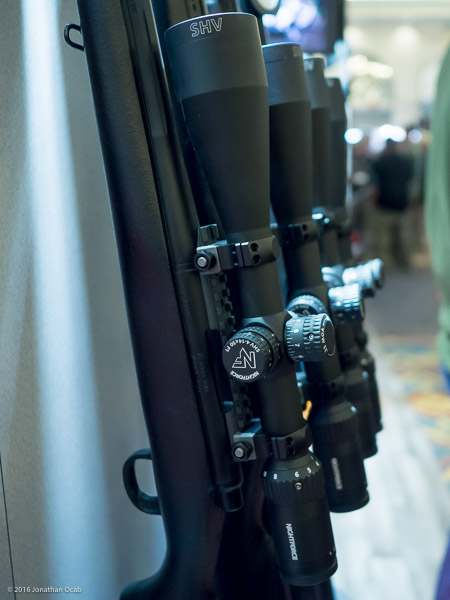 The Nightforce SHV 4-14×50 F1 FFP is going to be a popular scope for mid / long range shooters that want a high quality scope, front focal plane, at a fair price point. I'm sure the 1000 yard shooters will desire a higher magnification scope (20x or more), but at the $1300 MSRP, this scope is going to be a tempting buy for many shooters.
The mood at the EOTech booth was a bit subdued where they were displaying their Holographic Weapon Sights (HWS), particularly due to the recent news of their settlement with the US Government over EOTech's failure to disclose performance deficiencies of the HWS units in temperature extremes. There is also the on-going refund program for end-user consumers of EOTech HWS units.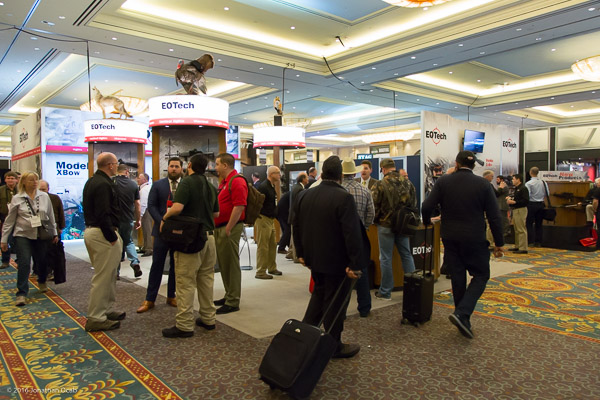 Despite the flak EOTech is getting over their Holographic Weapon Sights, they did reveal new products to branch out into another segment of rifle optics. Dubbed their Precision Rifle Scopes, EOTech has released the Vudu line of telescopic sights.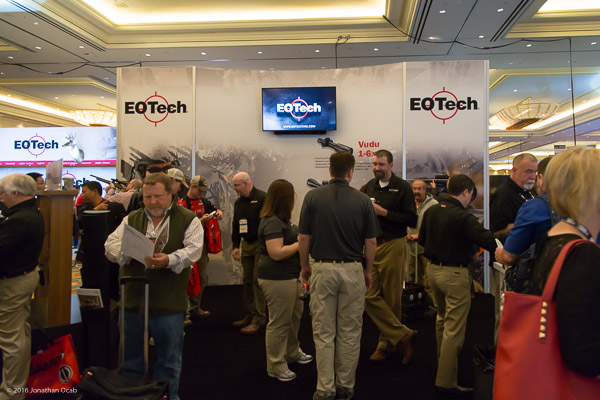 Available in three different versions – 1-6x24mm, 2.5-10x44mm, and 3.5-18x50mm – the Vudu is a first focal plane illuminated reticle optic with 30mm tubes. The turrets are what you expect out of a good tactical scope, with tactile and easy to manipulate knobs.
The 1-6x24mm will be available in two different reticle types and in either .5 MOA or .2 MIL adjustment knobs, while the 2.5-10x and 3.5-18x will be available in three reticle types – MRAD, MOA, Horus H59 – and in either .25 MOA or .1 MIL adjustment knobs.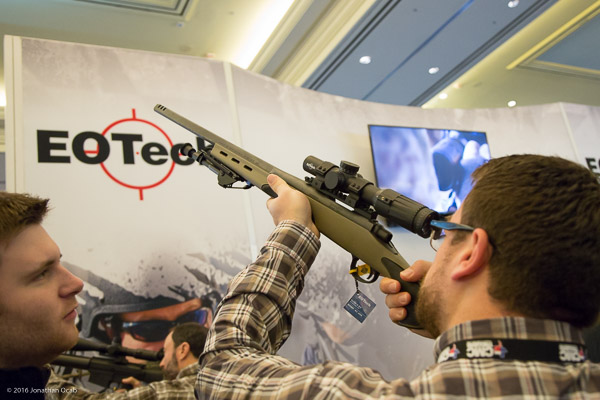 The interesting feature of the Vudu 1-6x24mm is that at 1x magnification, it has a the EOTech Speed Ring reticle common in their existing HWS, but as the magnification is increased, the more precise target reticle comes into view.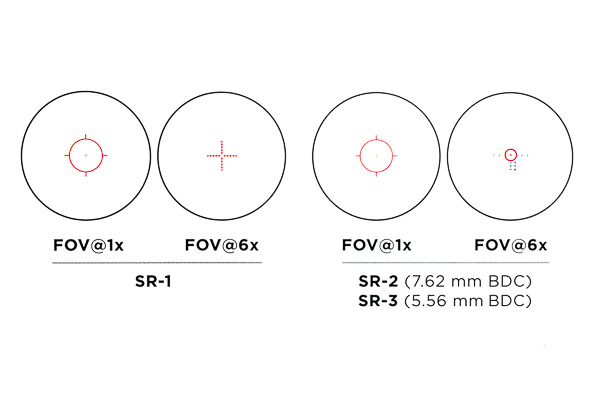 EOTech is citing a 10,000 hour battery life for the illumination, which is impressive.
While there are plenty of telescopic sights on the market, I think the EOTech Vudu is a worthy product on paper and based on what I saw at the 2016 SHOT Show, could be a viable option for someone shopping for a scope. The three different options announced covers three different platforms well, 1-6x for a patrol / defense rifle, 2.5-10x for a SPR / medium range all-purpose rifle, and 3.5-18x for mid-range to long range rifle, ensuring the Vudu covers a large segment of the shooting market.
The MSRP for the Vudu 1-6x24mm, 2.5-10x44mm, and 3.5-18x50mm are $1,299, $1,549, and $1,629 USD, respectively.
I think the Vudu 1-6x24mm might actually become quite popular considering the FFP reticle, the fairly static eye relief across the entire magnification range (80mm – 100mm @ 1x, 82mm-102mm @ 6x), illuminated reticle, and fast adjustments (.5MOA /  .2MIL), which will be very applicable to action shooting (e.g. 3-Gun, patrol carbine, etc), all come in at a fair price point of $1,299 USD MSRP.
Hopefully the Vudu is not hindered by the Holographic Weapon Sight fiasco and EOTech can shake off any perceptions of their brand and rebuild their reputation with the consumers.
I had the opportunity to speak a little with Julie Golob, former US Army Marksmanship Unit member and currently with Team Smith and Wesson, who is highly regarded as an ambassador for the shooting industry. My conversation with her was particularly about the difficulty in getting junior shooters back into shooting sports, especially considering the political and social climate today where any references to firearms are discouraged in schools. This is a far cry from decades ago when even public high schools had their own rifle teams (e.g. three position smallbore).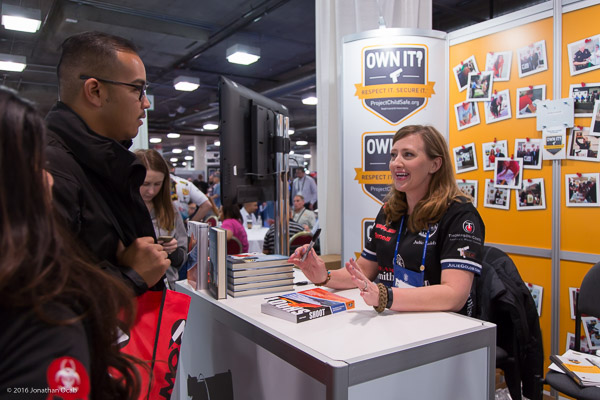 Among the many exhibits Julie Golob appeared and present at was the Project ChildSafe booth, which is a program created and supported by the National Shooting Sports Foundation to promote gun safety for children by deterring access to firearms by unauthorized individuals.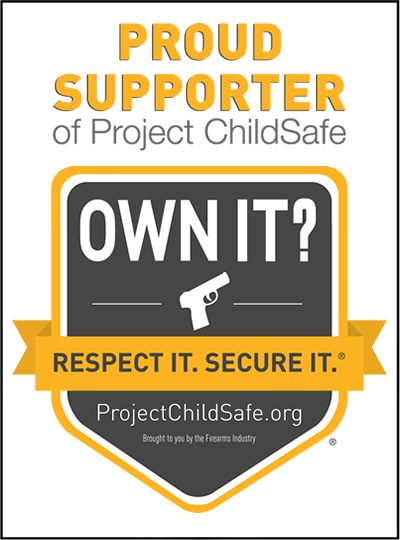 While many gun owners scoff and joke about gun locks, it is a serious matter. I will admit that I have some firearms readily accessible in my home, but I don't have children in the home, and anyone who does have children, should be performing due diligence and ensure the guns are secure to prevent a catastrophic incident.

Head over to the Project ChildSafe website for more information and pledge that you will be a responsible firearm owner, and if you can, make a small donation to enable the program to provide gun locks to those who need them.
Visit the site again soon or follow my Twitter or Instagram feed to read Part 4 of my 2016 SHOT Show After Action Report which should be posted shortly.
Shout out to the folks at Imminent Threat Solutions (aka ITS Tactical) and Prometheus Design Werx for hosting the Meet and Greet at The Cosmopolitan. Thanks for the swag, too.