I covered various bolt rifles and actions, optics, and accessories in the first three parts of my 2023 SHOT Show After Action Report. To wrap up my SHOT 2023 AAR, this segment will be a medley of products.
I mentioned Vudoo Gun Works in Part 1 and I didn't want to end my post-SHOT coverage without mentioning their Mobius 1911.
In the latter half of 2022, Vudoo announced that they would be producing a 1911 and it surprised many given it is a far cry from being known as producing a revolutionary .22LR bolt rifle. But here we are with the Vudoo Gun Works Mobius 1911.
VGW is trying to enter the 1911 market segment and differentiate itself through the manufacturing.
The Mobius 1911 frame is actually milled as two separate pieces comprising of the right and left side. Each side is milled appropriately to accommodate the internals such as the trigger and magazine. These two pieces are then micro-welded together.
Based on conversations with the Mobius engineers and others in the industry, this two-piece manufacturing process should still be a very stout and robust frame, and allow Vudoo to produce a high quality, and highly consistent 1911 frame.
I had the opportunity to shoot a Nighthawk Customs, Les Baer, Ed Brown, and some handbuilt National Match EIC / Service Pistols, as well as the budget 1911 segment like Armscor and Springfield (base models).
I feel that the fit and finish of the Mobius is extremely above par especially when you consider that these are fairly close to what would be a production line 1911, yet done with a manufacturing method that is designed to get close to hand-fitted tolerances.
If you ever handled a hand built custom 1911 reworked for National Match competitions (EIC Service pistols) by a gunsmith, there is a lot of hand fitting of the barrel to the slide, slide to the frame, and the entire trigger mechanism. This is all done to the point where if anything breaks down or wears out in that pistol, it pretty much needs to go back to that same gunsmith or another knowledge gunsmith to tear down and rework by hand to figure out what has loosened up or worn out.
The Vudoo Gun Works Mobius centerfire 9mm and .45 ACP 1911 pistols will have a base price of $2995 USD. Those of you who think a $3K 1911 is expensive, that is relatively true when you can get a Springfield Armory or Kimber for $1000. But when you talk about high quality 1911 pistols, $3K is a respectable price as long as the fit, finish, and function are there.
To stay true to their .22LR rimfire origins, Vudoo Gun Works will also be producing a .22LR 1911.
Keep in mind that the VGW Mobius .22LR 1911 is not fully built in-house as they outsourced the upper / slide. I did not get verbal confirmation on what manufacturer is providing it, but I immediately thought of one specific company when they said the upper was outsourced: Marvel Precision.
Over 15 years ago, Marvel Precision was arguably the only .22LR 1911 to use when it came to bullseye competition shooting (e.g., National Match) as they were considered the best.
If you look closely on a larger version of the above photo, the slide is stamped with FCW. After the show I looked up FCW to find out that it is likely Frerking Custom Gunworks, who apparently acquired Marvel Precision in 2018. So assuming the FCW stamping on the slide actually refers to Frerking Custom Gunworks, then the Vudoo Gun Works Mobius .22LR 1911 should be a hammer.
While the price of the Mobius 1911 centerfire pistols is already set at $2995, the price for the Mobius .22LR 1911 is to be determined.
I will say that it does pain me to talk about the Vudoo Gun Works Mobius 1911 as I cannot buy one since they (of course) will not be legal in California.
Speaking of 1911 pistols, my gunsmith pointed out that Springfield Armory has a new double-stack 1911 called the Prodigy.
The 1911 DS Prodigy actually released in late 2022 but it was the first time it was at SHOT.
Handling it on the shot floor, the Prodigy samples felt better than standard SA 1911 base models. I didn't feel an excessive slop or play in the slide, however, it is likely not as tight as a Nighthawk or Staccato.
It definitely does look attractive, especially with the target style recessed crown. If you search online for reviews, it appears that some early adopters have reported function issues with their DS Prodigy, so keep that in mind. However, other reviews are touting the DS Prodigy as a legitimate alternative to a Staccato.
If you want to acquire the 1911 DS Prodigy, you will get a 9mm double-stack 1911/2011 pistol with a 17+1 or 20+1 capacity, 4.25″ or 5″ barrel lengths, respectively
Both form factors will have an MSRP of $1499 USD. Both the 4.25″ and 5″ models will also be available in a bundle with a HEX Dragonfly red dot for an additional $200.
Since I brought up Staccato, I will quickly mention the new Staccato CS, or just another new pistol to make California residents cry.
The Staccato CS is their latest iteration of 2011-style pistols for concealed carry, with a 3.5″ barrel chambered for 9mm, 16-round magazine capacity, and weighing 22.7 ounces with no magazine (and empty).
This pistol feels great in the hand and simply handles very nicely. The length, grip width, and height are 7.1″, 1.2″, and 5.6″ respectively, which is really close to a Glock 26 at 6.5″, 1.0″, and 4.17″, comparatively. For someone short as me, I would willing to accept that extra half inch on the slide for a 2011 9mm (double stack 1911), that is known to be reliable, and get 16+1 rounds.
Those in a free State can get the Staccato CS at an MSRP of $2499 USD while the rest of us can weep and gnash teeth.
While I was walking the show floor I had to take a work call (yes, working even while on vacation from my day job), I came across an interesting vehicle storage option and had to circle back after my call was over.
The above car seat headrest is by the Headrest Safe Company. it looks like a regular car headrest, but inside, is a locking gun storage compartment.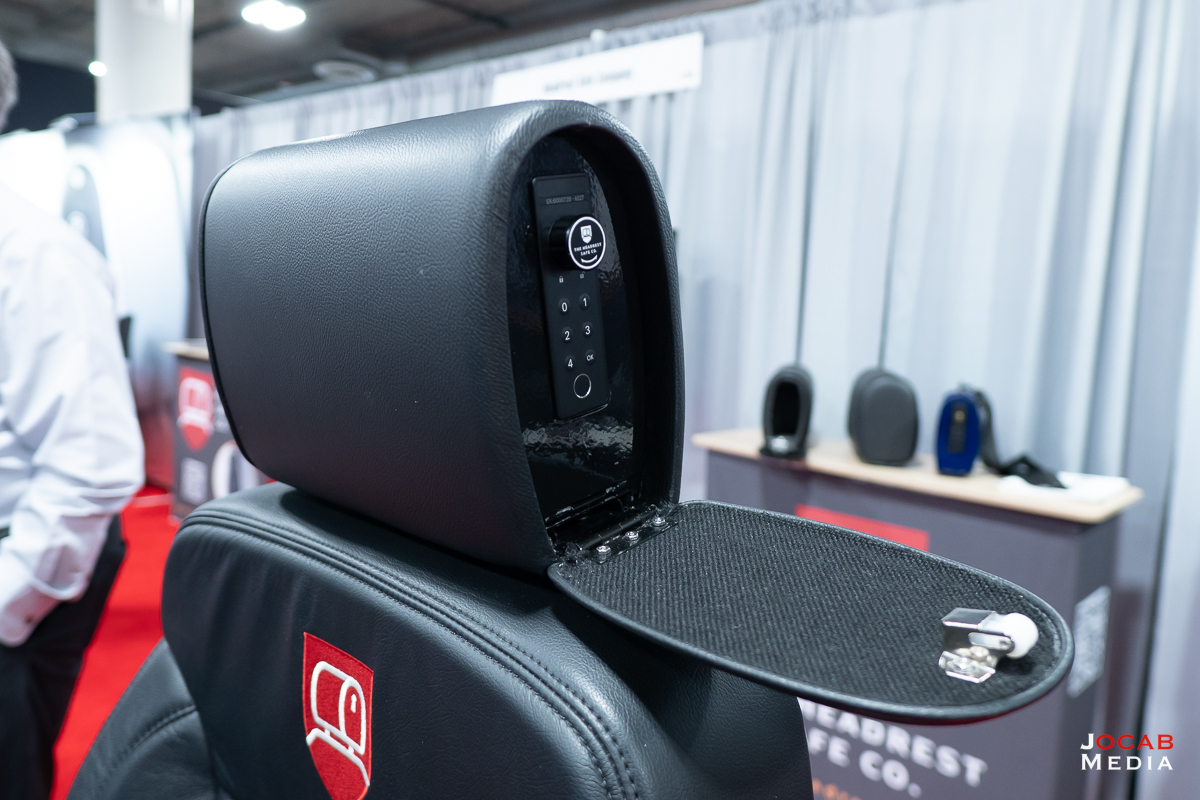 The side flops down to expose the inner locking compartment which keypad protected. Unlocking the keypad reveals the storage compartment that can accept a pistol. Furthermore, the inner compartment can actually be removed (after it is unlocked) and used as a pistol case.
The Headrest Safe is universal as the base and posts can be adjusted to the seat as applicable and should fit all modern vehicles. If you notice in the above photo, the wing at the bottom of the post serves as an anchor to prevent removal of the headrest. This anchor cannot be disengaged unless you can access the inside of the headrest (by unlocking the safe).
For those wondering about mismatching headrests if the Headrest Gun safe is placed on the front passenger seat, there is a dummy or dead headrest available to replace the factory driver's side headrest.
The above model that I showed is actually not yet released and should be out later this year and the pricing is still to be determined. The current model which does not have the removable storage caddy is currently $489 (and $119 for the dummy driver's side) directly from the Headrest Safe Company.
I use some Haley Strategic Partners (HSP) products and saw on social media that they were releasing the INCOG X with Safariland.
The INCOG is the IWB holster that HSP released ten years ago in collaboration with G-Code who manufactured the holsters. I have a few of these for various guns.
It appears that the new INCOG X in collaboration with Safariland is a shift to a new manufacturing partnership. As I was writing my After Action Report, I received an email from G-Code with a 35% markdown on all INCOG holsters, which likely indicates they will no longer be producing and selling the INCOG.
The single clip INCOG Eclipse is still my preferred CCW holster. It don't see any real significant changes with the HSP/Safariland INCOG X other than some visual differences.
Speaking of G-Code, I also use some of their other in-house products specifically their Rapid Transition Interface (RTI) system. While walking the show floor, I saw that Blade-Tech is releasing their own take on the G-Code RTI with their Tek-Mount system.
The Blade-Tech Tek-Mount operates in a different manner in that the 'receiver' or mount point is essentially a saddle to accept a disk. The mating portion on the object to be mounted is a disk (circular) shaped attachment point.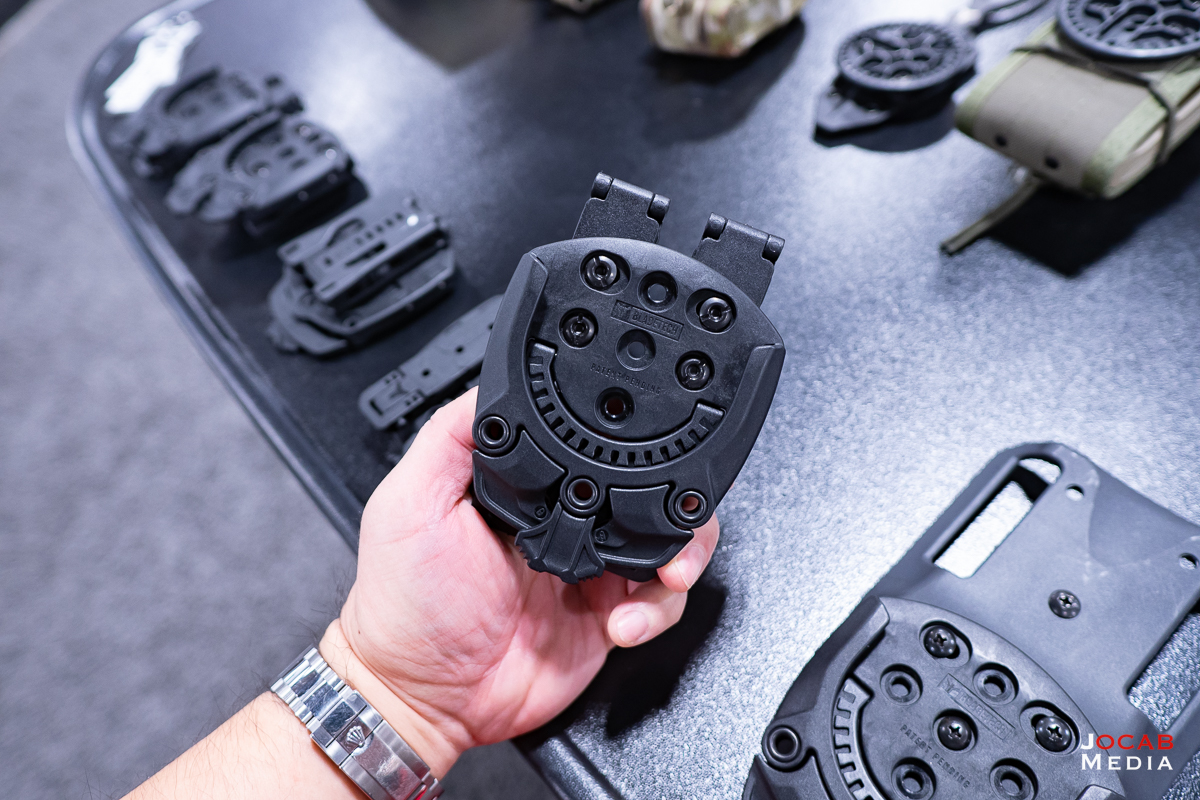 This allows the object in question to be mounted at different angles in 10-degree increments on the entire 360 degree circle.
The Tek-Mount disks are relatively inexpensive at $4.99 USD each and have multiple holes to adapt to various objects to be mounted.
The receiver mount point can be adapted to various platforms including a belt holster platform and MOLLE clips, and the receivers run anywhere from $20 to $35+ USD depending on the receiver attachment method.
I like what Blade-Tech has done here. I don't know if I would spend the money to switch as I am satisfied with the RTI products I am using now and for what I use them for. However, if I come across a mounting situation where the RTI system is less than ideal, I may end up getting the Blade-Tech Tek-Mount and possibly start migrating my other holsters.
If you are looking for a way to adapt OWB or overt holsters to various mounting points (e.g., lower offset belt mount, drop leg mount, plate carrier mount point) I would seriously recommend looking at the Tek-Mount.
The only feedback I would immediately give to Blade-Tech is that they need to make these in colors other than black. Specifically make the Tek-Mount parts in coyote or flat dark earth.
Another rifle I wanted to bring up in my 2023 SHOT Show AAR is the new Anschutz rifle using an Accuracy International AT-X chassis.
The show floor sample is freshly built as this rifle configuration is not yet available on the Anschutz North America website.
This rifle dubbed the 54.18 Match uses the renowned Anschutz Match 54 repeater action with the 5018 two-stage trigger and a 20″ barrel, all sitting in the Accuracy International AT-X chassis and weighing around 12lbs (without optic).
As you can see above, it is priced at $4295 for the complete rifle, which is a hefty price tag. You can build a Vudoo Gun Works V-22 or Zermatt RimX for the same price (if not less). However, if you are an Anschutz fan this is definitely a great gun for NRL22/X and PRS rimfire. Even if you are not an Anschutz fan, this rifle is not something to dismiss outright even if you would rather go with a 700-pattern .22LR action.
Prior to the Vudoo V-22 era of actions, the Anschutz Model 54 would have been the premier high-end action I would have acquired for NRL22.
The last product I want to mention in my 2023 SHOT AAR is by a company named Senex Arms. Senex Arms is founded by a Recon Marine with the goal of producing a bullpup semi-automatic rifle dubbed the Modular Bullpup Light Rifle, or MBLR-15.
The show display rifles are prototypes but are reflective of the ultimate design of using existing AR parts including the "barrel, gas block, gas tube, bolt, firing pin, cam pin, gas key, hammer, hammer spring, disconnector, disconnector spring, trigger spring, pistol grips, and magazines." This is why the rifle has been assigned a -15 designator.
The bullpup design is inherently different from the AR-15 platform and requires a redesigned bolt carrier, modified trigger control system, and its own magazine release system.
Keep in mind that this rifle with an 18″ barrel will result in the rifle having an overall length of 26.1″ to keep it a legal rifle (and not require SBR). This bullpup design is also inherently ambidextrous and will support user configurable right or left hand usage.
I am not really a fan of bullpup rifles, but I am not against them either. I think this is a very intriguing venture by Senex Arms and it is a refreshing take on the semi-automatic rifle segment as is essentially dominated by the AR-15 variants.
SHOT Show 2023 felt like a return to the norm given what I visually observed with regards to the crowds. As mentioned in the beginning of my 2023 SHOT Show AAR, the NSSF tabulated 52K attendees this year.
I felt that 2023 SHOT Show was more exciting that last year. Most of the exhibitors are back, including some who were absent at last year's show. Granted, there were still a few absent exhibitors (e.g., Vortex Optics, SIG Sauer, Brownells), some of whom are likely no longer going to exhibit at SHOT in the future due to changing marketing tactics.
The amount of Media attendees I observed in the Press Room was definitely up from last year. However, what frustrated me is that the Venetian Expo staff would clear out the refreshments after the morning. In the past 10+ years they always had drinks (water, sodas, coffee) in the Press Room the entire day. But when I would go there around noon, it was all cleared out.
Thankfully, the NSSF Member lounge maintained refreshments the entire day.
Every year, the question that pops up is whether SHOT Show is necessary. There are other large conventions like the NRA Annual Meeting and the Great American Outdoor Show where they have exhibitors including big name manufacturers, and are open to the general public. The Great American Outdoor Show claims to have pulled in 250K attendees which would make it 5 times the size of SHOT in terms of attendance.
Not to mention, the Internet is the fastest and least expensive way to publish information on new products.
With this said, is SHOT Show necessary and should companies exhibit and people attend? The answer is a resounding yes.
SHOT Show is really focused at connecting all aspects of the firearm industry together when it comes to manufacturers, suppliers, distributors, and retailers. It was never meant to be a conference for the average consumer to attend and while it is a great place to show off new products, manufacturers should not feel obligated to release new products because of the date of SHOT Show.
While other shows and expos exist that are either more widely open to general audiences (Great American Outdoor Show) or narrowly focused on a specific sector (e.g. Precision Rifle Expo), SHOT has its own specific mission with regards the entire shooting sports industry.
This concludes my 2023 SHOT Show After Action Report. As indicated in the opening segment of my AAR, this report is not meant to be all-encompassing coverage of SHOT. If you have other interests or need to know more about other products or manufacturers at SHOT, please check out the coverage by one of the many other media that were present at SHOT 2023.
Hopefully you saw something of interest in my post-SHOT discussion and perhaps something you will be investigating further for your own endeavors.