Amazon decided to terminate the unlimited storage plan with their Cloud Drive service. For those that are not familiar with unlimited Amazon Drive aka Cloud Drive, Amazon offered a $59.99 year plan that allowed unlimited storage/uploads to their Cloud Drive service. Amazon Prime members have unlimited photo storage (including RAW files, BTW), but I made use of the unlimited plan for video.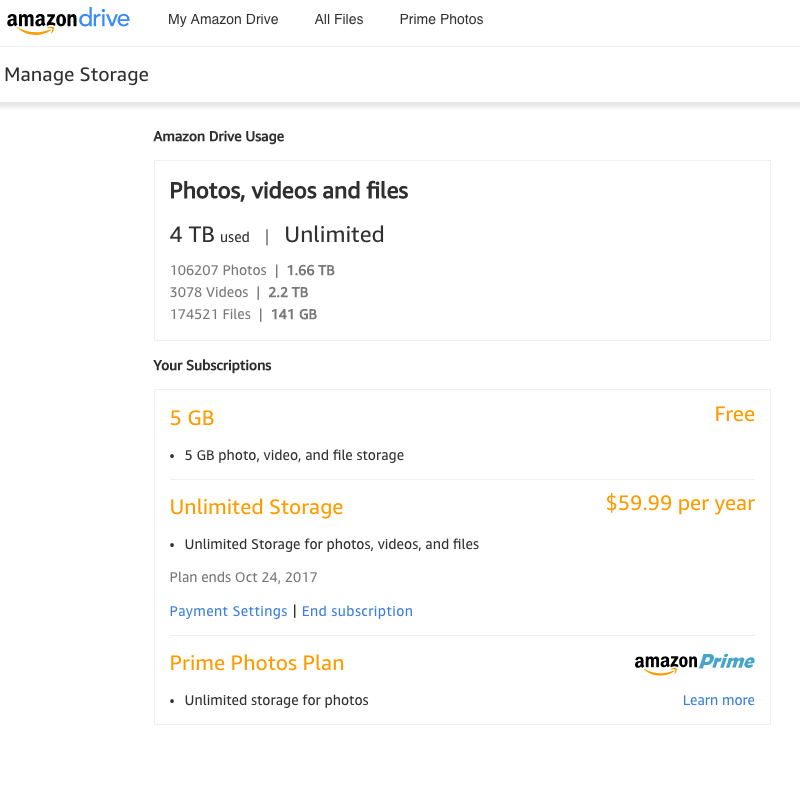 But Amazon's announcement in the past few days has now left me in a bind. I must now revert back to buying more hard drives for archival purposes. The reason why I found the unlimited cloud storage beneficial is that it did not require me to constantly buy hard drives annually, and the fact that the Amazon Cloud Drive unlimited plan was only $60 per year made it cost effective.
At this point, to continue usage Cloud Drive at the current storage utilization I am at, it will cost me $179.99 per year. I can get a 4TB NAS rated drive for under $150 at current prices.
So at this point, I am going back to managing my own non-cloud storage for my photo and video archival purposes.