I'm still tweaking the jag35 Field Runner (and I haven't even really used it yet…). But the one add-on I wanted to throw on it is some sort of counterweight. The Field Runner is definitely front heavy. With my competition rifle shooting background, I am all too used to using counterweights to balance a rifle for shooting unsupported standing.
That said, I found the Cheesycam article/video on using a scuba diving weight instead of the more expensive counterweights sold by the shoulder rig manufacturers.
A friend of mine who scuba dives told me that the local Sports Chalet in our area carries these weights, so I picked one up. I also ordered another 12″ rod and a railblock from jag35 so I could run to rods on the back end of the rig (instead of one, as it comes from the factory) which will accomodate the 3lb dive/counterweight.
I went to Lowes and ended up getting a 1/4-20 (2″) thumbscrew, wing nuts, and steel and nylon washers.
I then drilled the center of the dive weight with a 1/4″ drill bit. From there I simply replaced the stock thumb screw on the jag35 railblock and used the 1/4-20 2″ thumbscrew from Lowes to run through the railblock and the dive weight.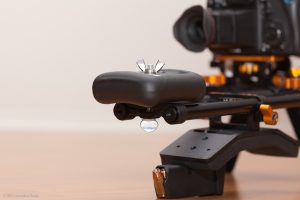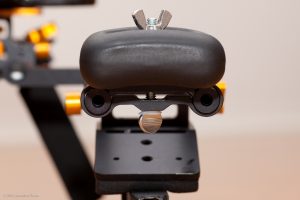 If you notice above, I'm crushing the nylon washer a lot. I have to put a lot of torque on the screw to get the railblock to clamp down on the rods. The reason I went with thumbscrew+wingnut rather than a standard bolt + nylon lock nut is because I didn't want to have worry about carrying a couple wrenches in the event the bolt came loose. At least with the thumbscrew+wingnut combination, if it started running loose, I could just tighten it up by hand. I should probably put some Loctite 290 (wicking grade) on the threads of the bolt just for good measure.
But I think this counterweight should work fine.