I received an invitation in the mail a couple weeks ago to a preview event at the OMEGA Boutique at the Beverly Center in Los Angeles to checkout the newest OMEGA timepieces announced at the 2014 Baselworld show.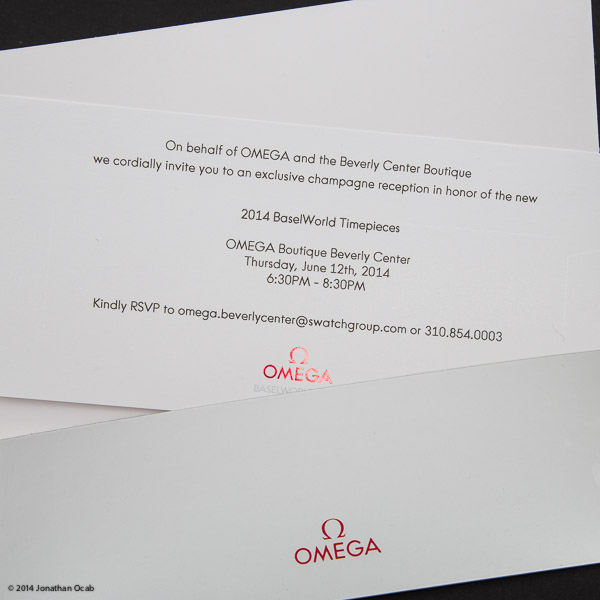 I made the trek out to LA after work because I was wanting to checkout the the DeVille Tresor.
Basically, the new DeVille Tresor is a 40mm manual wound Master Co-Axial 8500 series movement. More specifically, it is the new Caliber 8511 and since it is dubbed 'Master Co-Axial', it has all of the latest non-ferrous, anti-magnetic parts making it anti-magnetic by 15,000 gauss.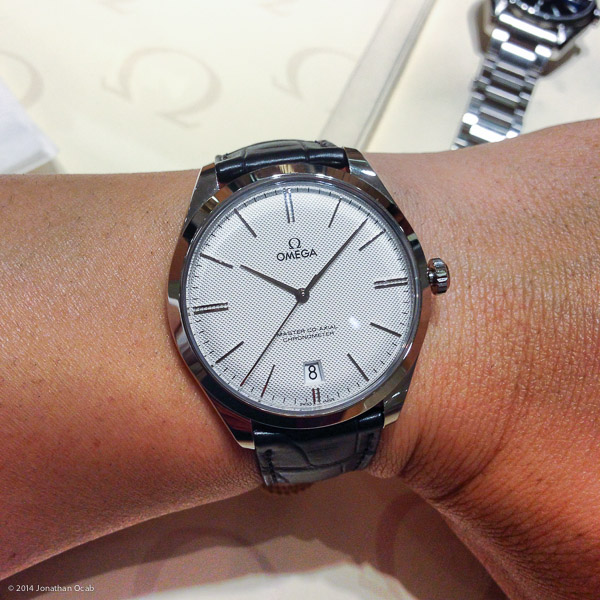 Since it is a manual wound movement, it is quite thin, even with the domed dial and sapphire case back. The open back helps enhance this watch since you can see the gorgeous manual wound movement.
This is definitely a great watch and it's 40mm size and thin case make it a great dress watch.
But it is only available in white and rose gold at $13,000 USD. From what I was told, there will be a limited version of the Tresor with a blue dial, but you will have to visit your OMEGA Boutique for more information on this.
For more detailed information on this specific piece, Hodinkee has a write-up on it.
What really made the visit worthwhile was what I learned regarding a new program being instituted by OMEGA for all of its boutique locations.
Apparently, OMEGA is slowly deploying watch technicians to each boutique location which will be a regular member of the staff. From what I understand, these are not 'watchmakers', but are personnel with the training to do some specific type of watch servicing.
What does this mean? You can walk into a boutique with your OMEGA watch and get it pressure tested, rate tested, and regulated.
I personally found this to be exciting news. My OMEGA Seamaster Professional 300M is running fast, gaining about 8-10 seconds a day. I wanted to get it rate tested and regulated, but the places I contacted told me they couldn't do it because they didn't have the machine.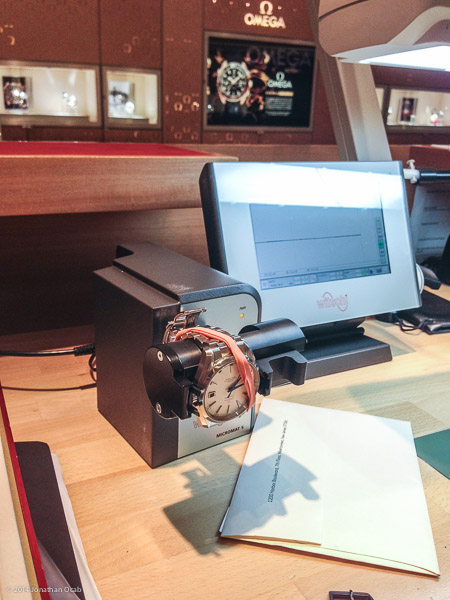 I didn't understand why OMEGA watches were any different, but the technician at the Beverly Center Boutique informed me that many machines can't understand the 'beats' of a co-axial movement and will misinterpret multiple beats in the co-axial and 'hear' more than one beat for a single beat of the movement (timing machines actually listen to the beats of the watch to measure rate).
The technician also showed me how they regulate a co-axial movement via screws on the balance wheel with a special tool that looks like a mini-torque wrench.
Since I was wearing my Seamaster Aqua Terra 41.5mm (8500 movement), the technician rate tested my watch and did a cleaning.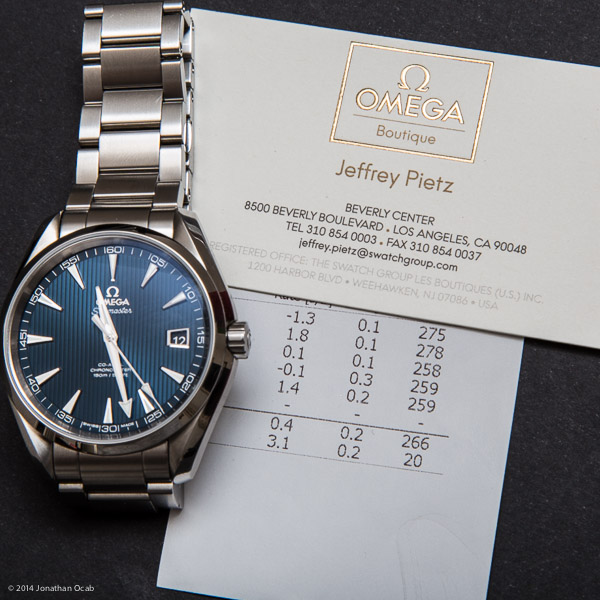 My Aqua Terra showed a rate of +0.4 seconds per day with an amplitude of 266. +0.4 seconds per day is excellent, so there was no need to regulate the watch.
As far as this new OMEGA Boutique program, from what I understand, the basic regulation service will be free. Just bring in your watch, and they'll do it on site. I plan on bringing in my Seamaster 300M when I have a chance because I definitely want to get it regulated. I'm more than willing to pay for regulation, but if the OMEGA Boutique will do it for free, then all the better.