For the past few years, I have kicking around the idea of getting a new precision rifle platform. I already own a Savage 10FP circa 2003 chambered in .308 with the factory barrel and in a McMillan A-5 stock, but I haven't really been shooting that rifle at all in the past several years.
While the Savage 10FP is a fine rifle, when I built it, I only put a Bushnell Elite 3200 10x Mildot scope on it, with a Ken Farrell 0MOA base and a set of TPS low 1″ diameter rings.
The trend for precision rifle configurations has been towards higher magnification scopes and detachable box magazines.
Unfortunately, the Savage has limited options due to manufacturer design choices.
The biggest problem with Savage is that in 2006, they changed the action screw spacing once again (having done so in the late 90s), which means my ~2003 10FP action isn't supported by the AICS Savage chassis.
Savage short action 1998 – 2005 action screw spacing = 4.275″

Savage short action 2006 – present action screw spacing = 4.4″
I have my mind set on the AICS chassis, simply because it is a widely available chassis system, and most other chassis systems are based on AICS pattern magazines. So going AICS meant getting a new rifle / action. Not to mention, I want to run a pistol grip due to the fact that I am so used to shooting the AR-15 Service Rifle in Across the Course NRA High Power, so my trigger control is very much attuned to a pistol grip.
I thought about getting another new production Savage, and actually considered the Savage 12LRP in 6.5 Creedmoor. But after doing some investigation, it seemed like the AICS Savage chassis is a limited, irregular run, and the long term support for that chassis by AICS is questionable. I pondered going Tikka T3 (AICS produces a chassis for the Tikka T3), and was actually interested in the Tikka T3 a long time ago. But the Remington 700 pattern action is so widely supported by gunsmiths, parts manufacturers, and what not, so the Remington 700 pattern action won out.
Then I pondered whether to go custom (specifically Surgeon Rifles action) or getting a Remington 700 rifle straight up. After weighing the costs of the rifle and optics, and the idea I wanted to get up and running fairly quickly, I decided to just go with an off the shelf Remington 700 rifle.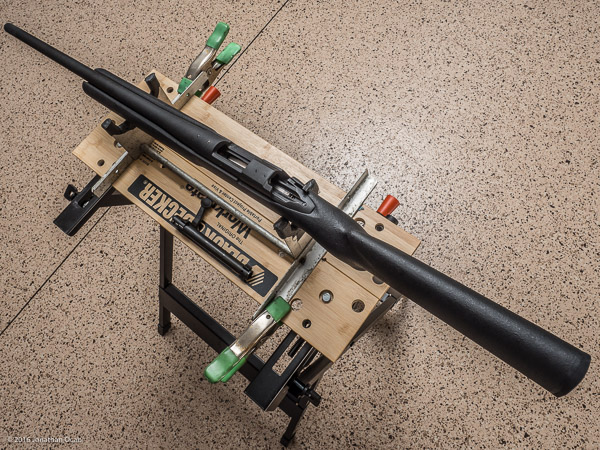 Remington as a part of the Freedom Group conglomerate gets a lot of flak in the shooting community as putting out low quality firearms. The biggest complaints in recent years has been the poor rust resistance of Remington 700 rifles and Remington 870 shotguns, particularly the SPS and Express models.
Going in with this in mind, I ended up acquiring a recent production Remington 700 Police chambered in .308 Winchester with the 26″ barrel. The 700 Police / 700P is a well-known model that is sold under the Remington LE (law enforcement) / Defense line and comes with a parkerized finish.
Before I posted this write-up on the rifle, I had been posting some teaser photos on social media and have been getting a lot of criticism as far as my choice in a Remington 700. People keep citing "Freedom Group" era guns and make reference to rusting. I did as much research as I could on this and it seems quite isolated to Remington 700 SPS and Remington 870 Express guns. My Eliseo R5 gun is a Remington 700 action that was from a late 2000's Remington 700 ADL Youth Model in .243 Winchester. The gun has sat in a case in a cabinet for years and has no rusting at all. While I do think the SPS and Express rusting issues exist, the Remington and rust issue as a whole is exaggerated by the Internet. What I do find funny is that people seem to think Remington rifles will magically rust because of bad finishes. Yet these same people are the ones who don't clean their bores after every range session and run an oiled patch through the bore. Don't they realize the bore is bare metal?
The 700P is known to be a decent shooting rifle out of the box, and I figure I can get about 2000 rounds before I want to ditch the factory barrel (and go 6.5 Creedmoor).
But the bulk of the startup costs went towards the optics and good glass never goes old.
I wanted a higher magnification variable optic and the two I ended up on my short list were the Nightforce Optics ATACR 5-25×56 F1 and the Vortex Optics Razor HD Gen II 4.5-27×56. I didn't want to get too expensive and the Nightforce ATACR was about as spendy as I wanted to go. But after looking at both scopes, I ended up buying the Vortex.
The deciding factor that pushed me to the Razor HD Gen II instead of the Nightforce ATACR was the EBR-2C MRAD reticle.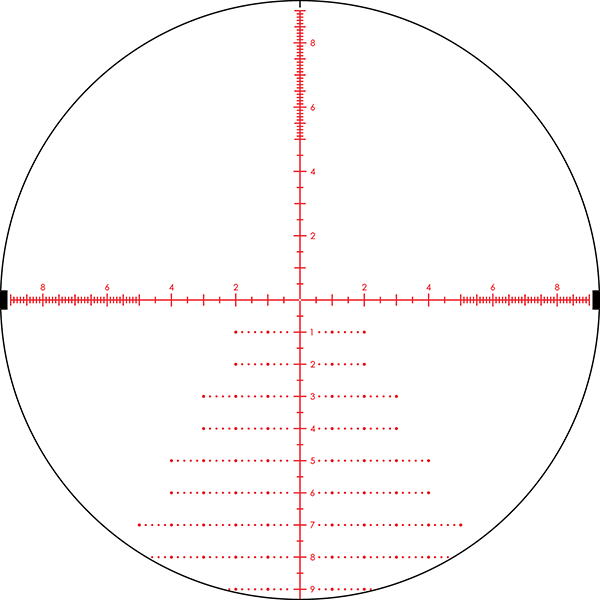 The reason why I wanted the "Christmas Tree" reticle is that it makes it easier to make a fast, corrected followup shot without touching the turrets. If I need (or want) to take a shot without adjusting my elevation turrets *and* windage turrets, I have the additional windage substensions for a more effective shot.
For instance, I might be zeroed in for 300 yards, but need to make a quick 500 yard shot on a moving target. I can do a quick check of the bullet drop between 300 and 500 yards, hold up the necessary amount of MRADs and lead with the correct amount of MRADs for a 10mph moving target at the 500 yard distance, and still have a substension / reticle mark to aim with. All this without touching the turrets.
Of course, the fact that the Razor HD Gen II can be found for less money than the Nightforce ATACR (legit, authorized dealers) did play an minor factor in my decision, as well.
While Nightforce gets more kudos with regards to quality and is made in the United States, Vortex is actually producing quality scopes in the higher price ranges that people are recognizing, and has a top notch customer support and warranty infrastructure.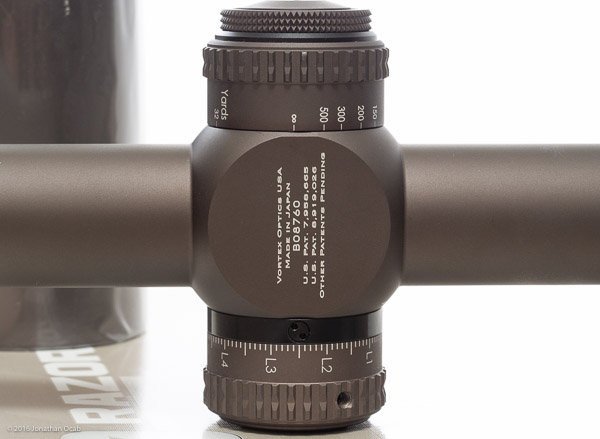 As far as mounting the scope, I went with the Badger Ordnance steel 20MOA base, which is the defacto standard scope base for Remington 700 actions.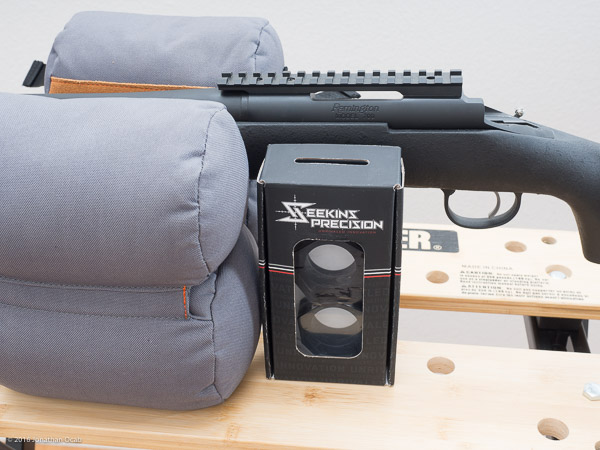 I did skim bed the Badger Ordnance 20 moa base with Loctite 242. Badger Ordnance recommends the Loctite wicking method to prevent moisture from getting between the base and receiver, although some people claim this helps make for a more stable base. I don't know about the latter, but the moisture prevention seems legit. Skim bedding is pretty easy. Just clean the top of the receiver of any oil and the bottom of the base. Then coat the surfaces where the base mates to the receiver with Loctite 242. I used my latex gloved finger to coat the surfaces. Then mount the base to the receiver and attach screws per the instructions. Wipe off the excess Loctite from the exposed surfaces and wait 24 hours to cure.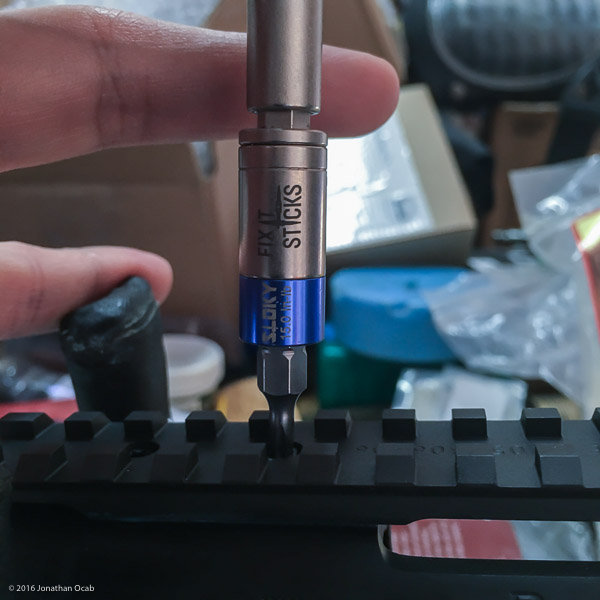 Note: Be sure to use a inch-pound torque wrench or limiter. Badger Ordnance (and most other bases) use the 15 in-lb specification. I used my Fix It Sticks 15 in-lb torque limiter with a Torx bit.
With regards to the rings, I actually went with Seekins Precision 34mm "high" (1″ height) 7075-T6 aluminum rings. You would have thought I would go with Badger Ordnance steel rings, but I was looking deep into the scope ring market and came to the conclusion that steel rings didn't offer much added benefit over quality aluminum. Seekins has been making rings for a long time and have excellent reputation for their scope mount line. What I also liked about the Seekins rings is that they have two T-25 screws for each ring clamp, as opposed to a single bolt like most rings. This not only keeps the side of the rings cleaner (no protruding nut/bolt to catch on anything), but also gives some insurance of a clamp screw were to loosen (although a non-factor assuming you torque properly). Seekins Precision rings come in matched, serialized pairs to maximize scope ring alignment.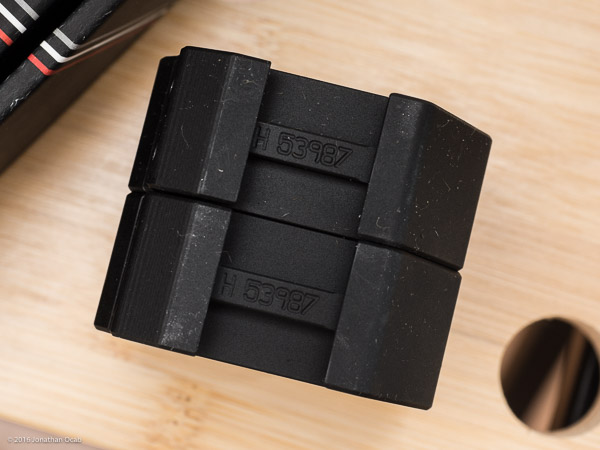 That being said, I actually did not lap the rings. This is probably heresy to many, but the scope dropped in the bottom halves with no binding, so I decided to forgo lapping.
I did have concerns with ring height. While searching the Internet to find real life build reports with a Vortex Optics Razor HD Gen II 4.5-27×56, I was able to find one forum post where someone indicated they used the Seekins Precision "high" rings (1″ height). As you can see here, I have adequate clearance between the scope and the barrel.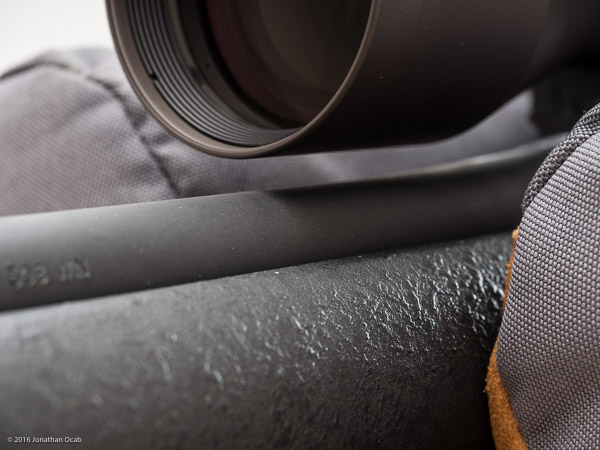 I ended up putting in an aftermarket trigger. I wasn't planning on doing so for awhile, but when I was going to order the Badger Ordnance base, I received an email from Brownells that included an announcement that Brownells was now selling the Trigger Tech trigger for the Remington 700. I actually had not heard of TriggerTech and their 'Frictionless Technology' before then, and after doing some research, and finding that the trigger was slightly cheaper than the Timney, I decided to pick one up along with the Badger Ordnance base from Brownells (while using a Brownells coupon to lower the price even further).
The project components at startup:
Remington 700 Police – $1000
Badger Ordnance 20MOA Steel Base (306-06) – $145
Seekins Precision 34mm High (1″ height) rings – $125
TriggerTech Remington 700 trigger – $120
Total Cost: ~ $3900 (excluding taxes, DROS, etc.)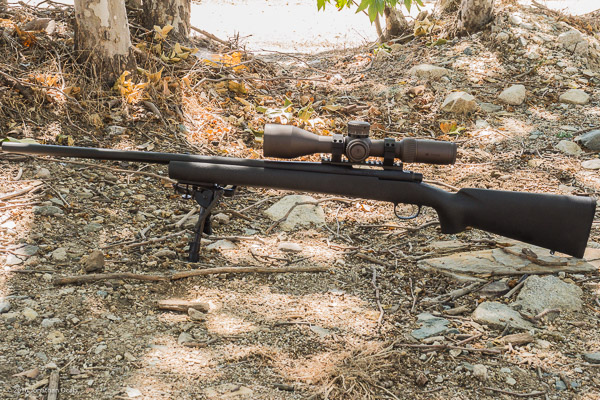 I have been handloading ammunition for the .308 Winchester cartridge since I acquired my Savage 10FP back in 2003, so I am already tooled up for Sierra Match King 175gr bullets. But I have not handloaded .308 ammo in quite some time, so I am back to experimenting with powder. I no longer have Hodgdon Varget in my cabinet (which is what all of my .308 loads were based off of), although I have plenty of Lapua brass and the majority of a brick of CCI BR2 large rifle benchrest primers. I did very limited testing with Alliant RL15 in the .308, and I can't find my notes. Although, it seems like Alliant AR-Comp is starting to supersede RL15 due to AR-Comp's stability in variable temperatures, so I picked up 2lbs of AR-Comp from a local shop to mess around with.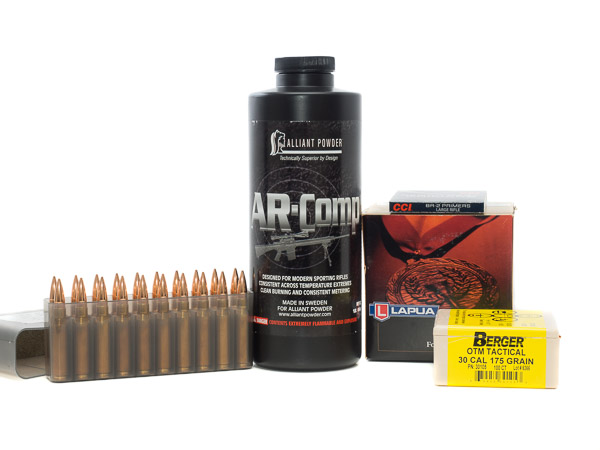 According to the Alliant Powder website, they published 41.4gr AR-Comp with a 175gr Sierra Match King. Whenever powder manufacturers publish a singular powder charge weight, it is implied that this is maximum and to work up from 10% off that weight. I have always found such data to be quite conservative, and I went ahead and went slightly below the published weight by Alliant and handloaded ten (10) rounds using 175gr SMK and 41.0gr AR-Comp. I tend to pick full grain loads, or maybe .5 grain loads, but I rarely do a .1, .2, etc. My reason behind this is that if I ever find a load that is so finicky that being off by a tenth of a grain will result in poor accuracy, then I will not use that load. For extruded powders, a tenth of a grain can be only three or four granules. That's not much at all. If you load from a volumetric powder thrower (measure), it's not uncommon for weights to vary by +/- .2gr. Thus, I prefer a load that will hold up to such inaccuracies in the loading process. Granted, some will argue that you need to tighten tolerances during the reloading process and this is a valid argument.
Anyway, when I went to the range to dial in the scope and setup the turrets, I took the time to do some chronograph testing.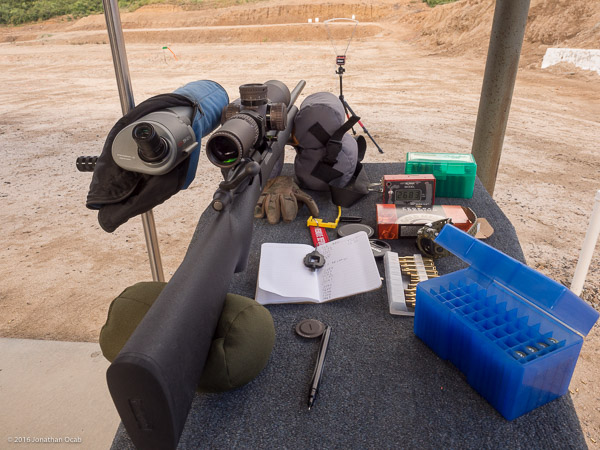 Specifically, I wanted to get a baseline chronograph measurement of some factory ammunition in the gun. I went with Federal Gold Medal Match .308 175gr Sierra Match King from a local dealer. I shot a 5-shot group measuring .960″ edge to edge (.652″ center to center) with an average muzzle velocity of 2673fps and a standard deviation of 10.1fps.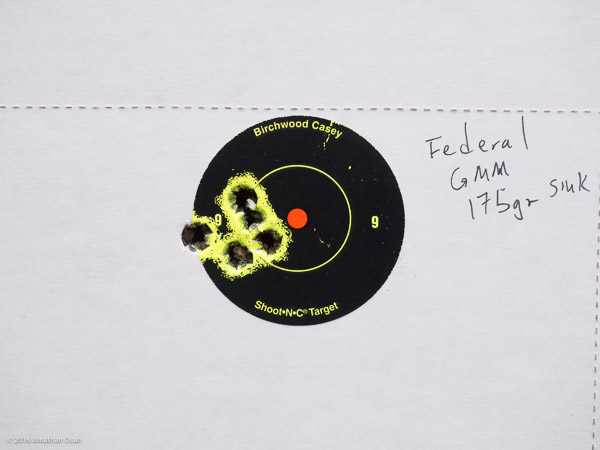 I then chronograph tested the 175gr SMK, 41.0gr AR-Comp, Lapua brass, and CCI BR2 loads. I fired two 5-shot groups, measuring .995″ edge to edge (.687″ center to center) and .780″ edge to edge (.472″ center to center"). The total average muzzle velocity of the ten rounds was 2683fps with a standard deviation of 8.6fps.
Interestingly enough, I didn't make a scope adjustment between firing the Federal GMM and my AR-Comp handloads, and the AR-Comp shot about .3 to .4 MRAD lower than the Federal GMM, and the only difference in muzzle velocity is 11fps (faster for the AR-Comp).
Given the weather on the morning I chronograph tested (52 to 55F), I think the 2673 fps (Federal GMM) and 2683 fps (41.0gr AR-Comp) are acceptable velocities from the 26″ 1-12″ twist barrel. I would have expected 2700 fps. It would be interesting to see how much variance there will be if the temperature were 90F+, particularly with the AR-Comp.
So far, what are my thoughts on the current rifle platform?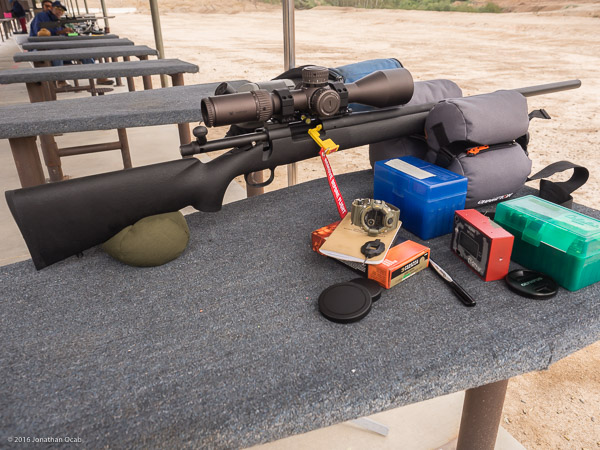 The rifle appears to shoot decently enough with the factory barrel. The barrel doesn't clean easily and it seems like carbon fouling persists even after brushing. But this is common with most mass production factory barrels.
As it stands, I am running the HS Precision stock that came with the 700P right now. Once I save up funds, I will be acquiring the AICS chassis. Right now I am leaning towards the AT ('classic) style as opposed to the newer AX chassis. The main reason I am wanting to go with the AT is because the AX rail actually poses a problem with the scope setup since you need more scope height to ensure the objective bell clears the forend rail. The HS Precision stock feels like a sturdy, durable stock. But I don't like the secant of the stock grip. The palm swell is too big, not to mention there isn't enough cut on the top side of the secant to get my hand in a position where my trigger finger can pull straight to the rear. My McMillan A-5 (on the Savage 10FP), allows me to get the thumb over the top with a standard hand grip, yet still position my hand in a manner to where my trigger finger pulls straight to the rear (and not at an upward angle).
So in order to mitigate this issue on the HS Precision stock, I am essentially lightly gripping the bottom portion of the palm swell and keeping the thumb of my firing hand on the right side of the gun (not over the top to grip). But keeping the thumb on the right side of the stock/grip is not a new concept. It has been around a long time and is a common method of gripping with the firing hand in target shooting.
The TriggerTech Remington 700 trigger actually runs quite nice. It has an excellent, clean pull. There is absolutely no creep. The single stage trigger is breaking right around 1 lb 14 ounces (just a shade under 2 lbs) and appears to be breaking the same every time (verified unscientifically with an RCBS trigger pull gauge). I have no real complaint whatsoever regarding the TriggerTech. If anything, it is just going to take me sometime to get used to a single stage trigger. I am too accustomed to my two-stage Geissele triggers in my AR-15 rifles (especially the Geissele Hi-Speed National Match Service Rifle trigger, which has a 4 lb 1st stage and .5 lb and stage). I have a CG Jackson trigger in my Remington 700 / Eliseo R5 tube gun which is a great trigger (and incredibly light; no safety). Thus, I am used to taking up the majority of the trigger pull weight in the 1st stage, and holding off on a quality 2nd stage wall, before breaking through. With a single stage, I have be quite deliberate with my trigger pull.
The only other triggers I was considering (before I heard of the TriggerTech) are a Timney and the CG Jackson (now known as the CG X-Treme Mod 22). But thanks to Brownells and their customer email list, TriggerTech has a new user.
The Vortex Optics Razor HD Gen II 4.5-27×56 EBR-2C MRAD is arguably the most interesting component of this project. I cannot say I regret not getting the Nightforce Optics ATACR 5-25×56 F1 instead simply because I never got to look through one, but I will say that the Razor HD Gen II will be hard to beat at the $2500 (street) price range. The glass is superbly clear. It has a tremendous amount of useful features, including an effective zero-stop mechanism (L-Tec), locking turrets to prevent accidental turning, and "Christmas Tree" reticle.
The L-Tec zero-stop mechanism is intuitive and easy to setup. Simply take off the tops off the turrets, loosen the turret set screws, dial adjustments, lock the set screws back in, and restore the tops of the turrets.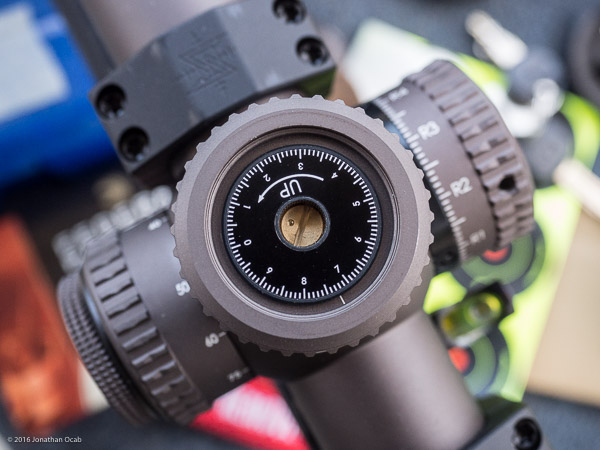 I will say that the scope is definitely on the heavier side. The Razor HD Gen II tips the scales at 48.5 ounces, while the ATACR 5-25×56 weighs in at 38 ounces. This equates to a half pound difference. That is quite significant when it comes to rifles.
Other than that, I am quite delighted with the Vortex Optics Razor HD Gen II.
What are the next steps?
Well, this project still isn't finished, since the ultimate goal for adding a modern precision rifle into my tool kit is detachable box magazine capabilities. I still want the AICS, so that is the next item to get once I scrape up the funds for it. After that, I will look into an Atlas Bipod or some other bipod setup to use in F-Class T/R (Tactical Rifle) matches.
That will pretty much round out the initial project.
Of course, I'll spend a little more time in load development. I'm going to use AR-Comp in the mean time and figure out if I need to adjust the charge weight, or if I need to go back to using Hodgdon Varget.
Hopefully this article proves informative for anyone else new to the precision rifle genre. While I went with a Remington 700, there are definitely a few options out there which may or may not fit your desired criteria.
This article is not meant to be a review, but merely a report. Frankly, a review of the 700 Police is a bit pointless considering the rifle has been around for many years. But I will most likely write a review on the Vortex Optics Razor HD Gen II 4.5-27x56mm EBR-2C MRAD. While there are plenty of reviews on the Internet by media outlets with more resources (particularly in terms of scope comparisons), I think I will give my own personal take on the scope after I get more time behind it.