Father forgive me, for I have sinned. I bought a Rolex.
I never thought I'd pick up a Rolex before I had acquired timepieces from some other notable brands (such as Jaeger-LeCoultre or IWC), especially since I am not much of a Rolex fan at all.
But there is just something about the new Oyster Perpetual GMT-Master II with the black and blue bezel that got me bit by the Rolex bug.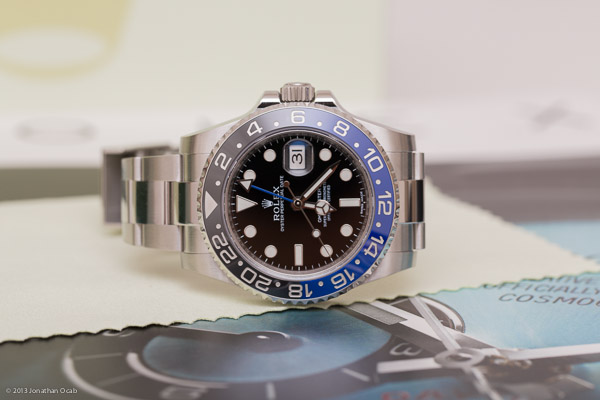 The Rolex Oyster Perpetual GMT-Master II reference number 116710BLNR was announced at Baselworld 2013 and was one of the highlights of the show because of the revolutionary two-tone black and blue ceramic dial.
Dubbed the 'Cerachrom' bezel, this new bezel is actually a single piece of ceramic with two distinct colors. The previous two-toned iterations of the Rolex GMT-Master with the red and black, and red and blue dials (nicknamed Coke and Pepsi bezels, respectively) are actually two different color steel inserts, combined. Rolex stated that the blue and black represent day and night, respectively, and thus this new GMT-Master II is often referred to as the Day and Night.
When I first read about the Day and Night GMT-Master II, it sounded interesting, but I didn't have much attraction to the photos on the web and in magazines. But when I finally got a chance to see and handle one in person, I realized it's an incredibly gorgeous timepiece. Although, even after trying one on, I didn't buy it outright and passed on it. At the time, I was actually leaning towards getting the Jaeger-LeCoultre Master Ultra Thin Moon 39mm in stainless steel.
But as the weeks passed, I began thinking about the Day and Night more and more, and became less enamored with the JLC MUT Moon. Every time I stopped by a Rolex Boutique or Authorized Dealer to see the Day and Night, they were either out-of-stock, or any that they had in store was already on hold for another buyer.
This fueled my desire for the 'Bruiser', another nickname given to the Day and Night GMT-Master II.
The other day I just happened to be near Costa Mesa where a Rolex Boutique is located in South Coast Plaza. I gave them a quick ring and inquired about the Day and Night and the saleswoman indicated they just got one in. I visited the store and after a few minutes of fawning over the freshly unwrapped GMT-Master II, I decided to buy it.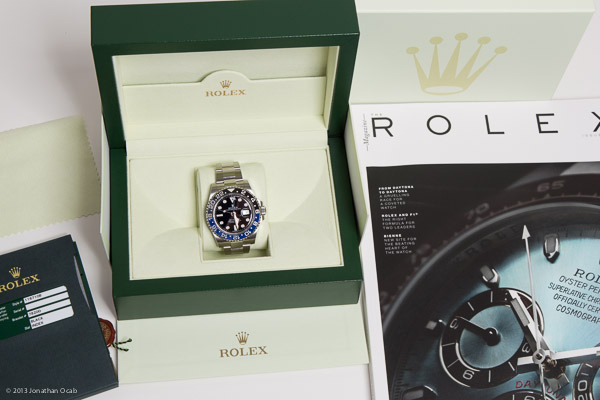 As I indicated initially, I'm honestly not a huge Rolex fan. Don't get me wrong, Rolex makes great watches. But it's just that there's a lot more watches out there that rival Rolex in both the sport and dress line at the same or even less expensive price points. Obviously, OMEGA is one such brand.
That said, of the Rolex product line, the GMT-Master II is the most logical watch for me as far as everyday use. I have to refer to GMT often in my IT Security duties, and it's handy to have the GMT complication on a timepiece, and is even more useful to me than a chronograph.
As far as a breakdown of the specifications, the GMT-Master II 116710BLNR has the Rolex calibre 3186 Swiss certified chronometer (COSC) and utilizes a Breguet overcoil in the patented Parachrom Blu hairspring to maximize accuracy and consistency in the timekeeping, resistant to shock and magnetism.
As already mentioned, it is highlighted by the two-tone, single piece of ceramic, Cerachrom bezel. The bezel engravings are actually coated with a thin layer of platinum
The GMT hand is blue as opposed to green (on other current production GMT-Master II models), while the hands are white-gold.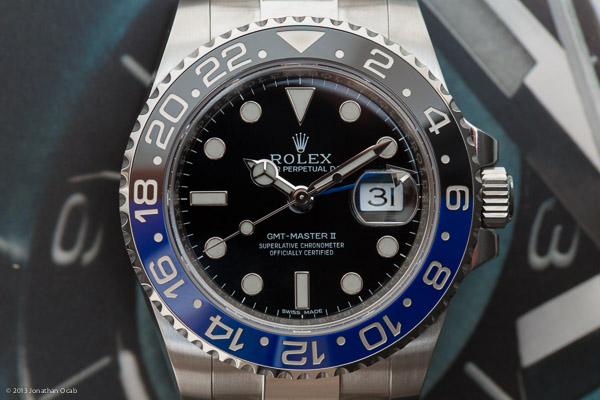 Of course, the iconic 'cyclops' is present over the date to magnify the date wheel window.
The 904L stainless steel case is 40mm and has a sealed case back. I do wish Rolex had an exhibition case back for the GMT-Master II. I understand the closed case back for the Submariner, but in a GMT watch, I think a sapphire back wouldn't be detrimental to the overall case thickness, and would be a nice feature.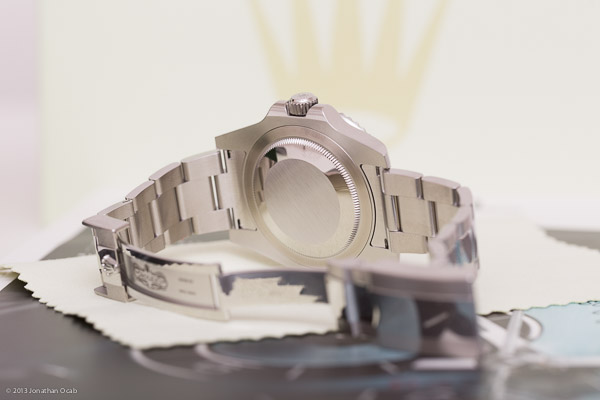 One other notable characteristic of the Day and Night is that the center links on the bracelet are polished and not brushed like the standard black bezel GMT-Master II. I actually prefer brushed links since minor scuffs don't show, whereas a polished bracelet will show minor scuffs and scratches easily. The bracelet is equipped with the Rolex Easylink clasp, so it has a 5mm extension.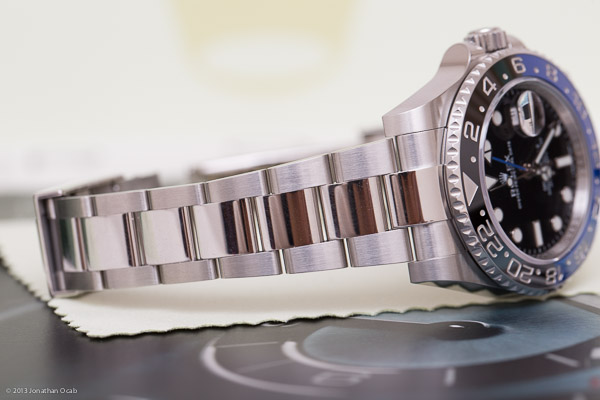 Although, proponents of the polished center links argue that it helps to give the GMT-Master II a dressier look for when you want to wear it with a suit.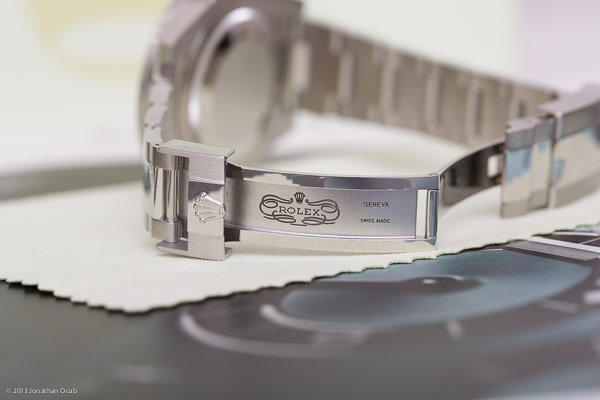 Anyway, this is my new acquisition. If you have been pondering getting the Rolex GMT-Master II Day and Night, be forewarned that they are in short supply. Demand is high and it seems like they sell very quickly once a dealer gets one in-stock.
The US retail price for the 116710BLNR at the time I purchased is $8950.
A short video clip showing off the GMT-Master II:
Lastly, I just want to give another mention of the Rolex Boutique (Baron & Leeds) at South Coast Plaza in Costa Mesa, California. The sales team make for an excellent buying experience. I recommend stopping in at this location if you're interested in a Rolex.