I attended the 2013 SHOT Show this week in Las Vegas just as I have in the previous few years and sadly, this year's show was not exciting as those prior. It just seemed like the show was a repeat of the last, with very little in terms of ground breaking new product.
That's not to say there were not some interesting new products. The major manufacturers had at least one or two new products to highlight their brand at the 2013 SHOT Show.
Glock publicly announced their new pistol model, the 30S, on Media Day (Monday, prior to Day 1 of SHOT Show) and promoted it actively on social media along with a video on Youtube.
The Glock 30S is billed as being a 'hybrid' conceal and carry pistol using a G36 slide on a G30SF frame, which is supposed provide a .45ACP subcompact Glock pistol that has a 10-round magazine, yet streamlined as much as possible for less bulk (barrel height from frame reduced, smaller grip dimension).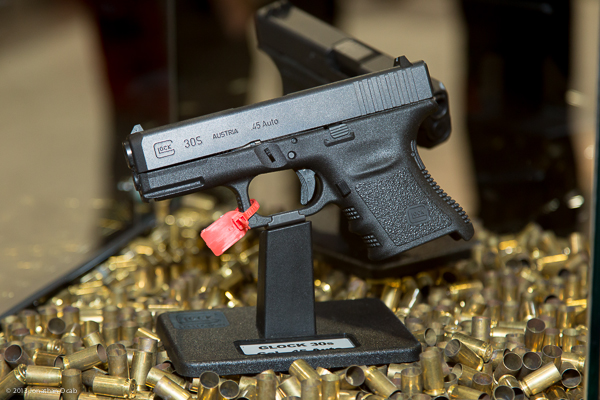 While it feels good in the hand especially for someone like me with smaller hands, I can't say if the 30S offers much more of an advantage in concealment compared to the other Glock .45ACP subcompacts. I'd have to actually carry one concealed for a couple days to quantify this. That said, while the 30S is something new, I just can't get very excited about this new Glock pistol.
Sig Sauer joined Glock by introducing the P227, a compact .45ACP with a 10-round magazine (14-round extended available) with a slim grip design for ergonomics.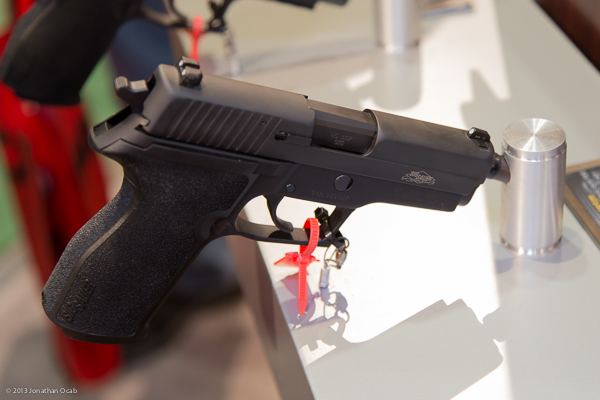 With a 4.4″ barrel and a overall length of just over 7″, there isn't much about the P227 that entices me. This new offering is probably going to be something to satisfy Sig fans or anyone wanting a new .45ACP other than a 1911.
While Sig's P227 isn't all that exciting to me, their MPX is.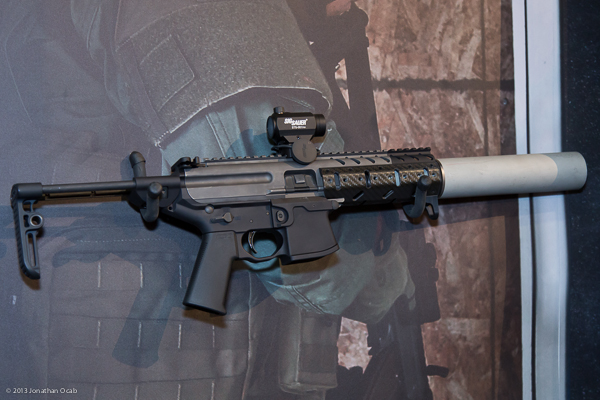 The MPX is Sig Sauer's submachine gun / machine pistol. Billed as a fully adaptive system, the operator can change the barrel length (and cartridge) and stock configuration as needed. Sig indicates the MPX is configurable for 9mm NATO, .357Sig, or .40S&W, and will be available in four (4) Law Enforcement Only / Military configurations *AND* a semi-automatic carbine version which should be legal for civilian sale (depending on State and current Federal laws).
This can be viewed as Sig Sauer's challenge to the long standing and highly renowned H&K MP series (including the venerable MP5). Considering the Sig MPX implements features made popular in recent years (e.g. railed handguard system), I think the MPX could start finding it's way onto military and law enforcement teams.
Heckler and Koch introduced a 'new' MR762A1 Long Rifle Package, which is basically the MR762A1 they introduced last year, but bundled with a Leupold scope, HK G28 buttstock, and LaRue Tactical bipod.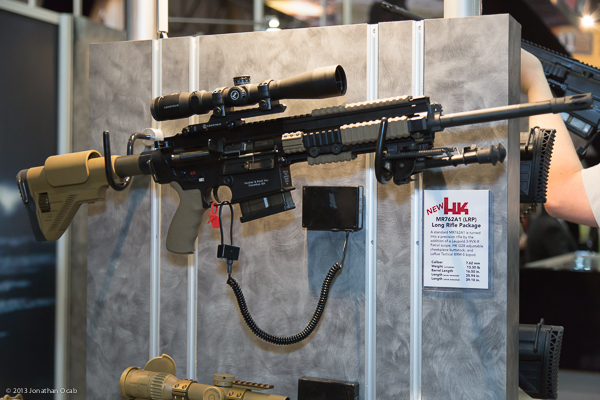 McMillan Group International, probably most well known for their stocks, announced the McMillan ALIAS system.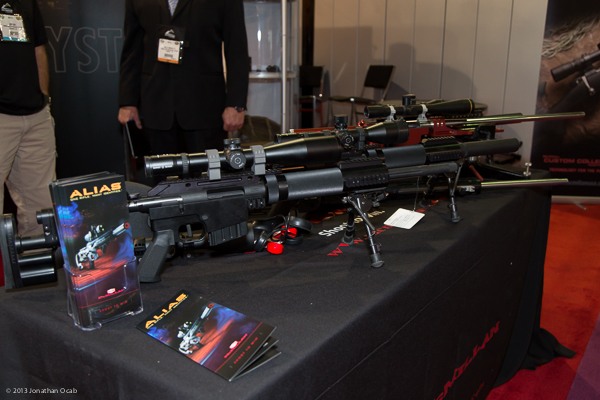 The ALIAS is an evolution of the Tubb 2000 rifle. For those not familiar with the Tubb 2000, it is a rifle system designed by David Tubb specifically for NRA High Power Rifle "Across the Course" competitions (and later used/adapted for NRA Long Range competitions), and has been built by The McMillan Group.
The design strengths are in it's "tube gun" design where the bolt action travels into the stock (much like the buffer tube of an AR-15 is in the stock) so the operator doesn't have to lift his/her head from the rifle stock to operate the bolt. Also, the fact that the gun has numerous adjustments for camber and length of pull on the butt stock, as well as angle of the butt plate, and camber on the handguard/handstop allows the gun to fit the shooter, rather than the shooter having to fit the gun.
In recent years, military operators and gunsmiths have experimented with the tube gun design in tactical applications and it appears to be gaining traction in some circles. Thus prompting the McMillan ALIAS.
The ALIAS is inherently a modular gun because the Tubb 2000's original design intent allowed for easy removal of the stock, handguard, and barrel. This means the operator can tailor the rifle for specific applications with different handguards and different barrel lengths (and cartridges) easily.
I'll admit that I was skeptical when I first saw some tactical / military shooters using tube guns in sniper competitions. While I thought the Tubb 2000 rifle and other tube gun variants were great for NRA High Power and Long Range competitions, I didn't think it would be feasible for actual field use. But it appears that the Tubb 2000 / ALIAS system is very rugged and should be able to hold up in military use.
With all the new products and the hoopla over SHOT Show in general, one issue at hand was looming over the show: President Obama's announcement of gun control initiatives (and Executive Orders). This came to a head on Wednesday morning as attendees came to a stand still to watch it live on the exhibition floor.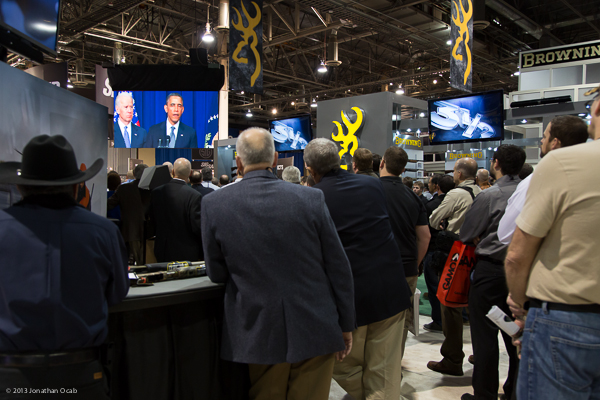 While there was a quite a bit of grumbling and discontent regarding the heightened gun control frenzy, the contingency of SHOT Show attendees was pretty tame. I think it's mostly due to the fact that everyone knew that rambling to another person at SHOT Show was going to be preaching to the choir.
Standby for a continuation of my SHOT Show 2013 coverage in another post to come within the next day or two.