For as long as I have been shooting, I actually do not own much in the realm of rimfire firearms. I do have a Ruger 10/22 rifle and a Ruger MKII pistol, but they hardly get much range time. The Ruger 10/22 is a very classic rifle and is very popular for young and old alike, and is a great rifle for teaching people with. But given that I am doing a lot more bolt rifle shooting, I figure I should get a .22LR bolt rifle as a low cost training gun.
I actually have wanted an Anschutz for awhile, but I just have not been able to bring myself to spending on one. Especially since Anschutz rifles are very specialized and you have to go to specific import retailers to pick one up new, and buying used can be quite the ordeal when you do not know much about Anschutz rifles.
Back when I was still shooting at the Inland Fish and Game shooting facility (shutdown several years ago), the several of the guys I socialized with at that club acquired CZ 452 Varmint rifles. The reason was that the rifles were fairly inexpensive (~$500), came with heavy barrels and good stocks, and shot accurately out of the box. The good quality of the CZ rimfire rifles is well-known and revered.
Fast forward to the present day. We now have the CZ 455 (successor to the 452) with the same relatively low cost and the same quality. There are several models of CZ 455 rifles, with various barrel contours and stock types. One of the most eye-catching models is the CZ 455 Varmint Precision Trainer, which comes with a Manners T-4 stock, and runs for about $900 give or take your region.
A friend of mine has one of these and it is quite impressive. I thought about getting one, but after building a rifle on the Masterpiece Arms BA Competition chassis, and the fact that MPA makes a chassis for the CZ 455, I decided to just get a lower cost model of the 455, and replace the stock with an MPA chassis.
So while I happened to be at Rifle Gear in Fountain Valley (CA), I bought a CZ 455 Varmint Tacticool Suppressor-Ready .22LR rifle. The price at the dealer was $500, but there was a small promotional price that weekend which brought it down to $475.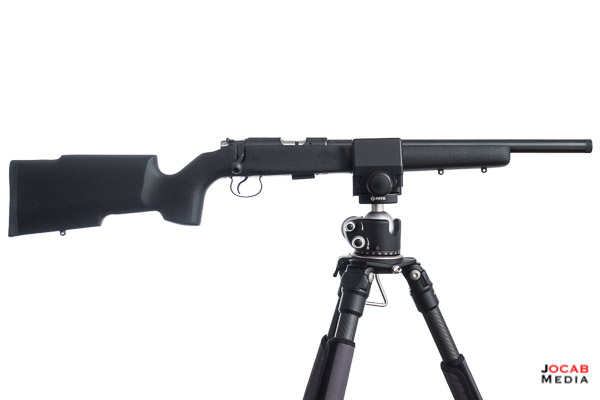 This is basically the CZ 455 Varmint model, with the varmint contour barrel, but in a Boyds stock that is similar in design to a something like a McMillan A-4 or A-5, with a high comb and butt hook, and a nearly vertical grip.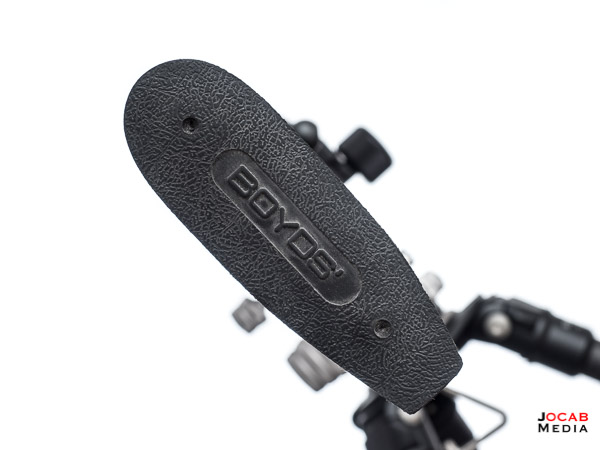 The barrel is 16.5″ (.22LR 1:16″ twist) and threaded to 1/2×28 at the muzzle. I actually wanted to go with a 16″ barrel instead of a longer 18″ or 20″ barrel. When I was messing around with the Ruger 10/22 several years back, I found that 16″ barrels shot more accurately than 20″ barrels in general. The barrel harmonics with a shorter, large diameter barrel seem to result in better accuracy, especially during long range sessions. Longer barrels might be nice for velocity, but seemed to be very finnicky with harmonics. Several of my friends ended up going with barrel tuners on their longer barrel rimfire rifles.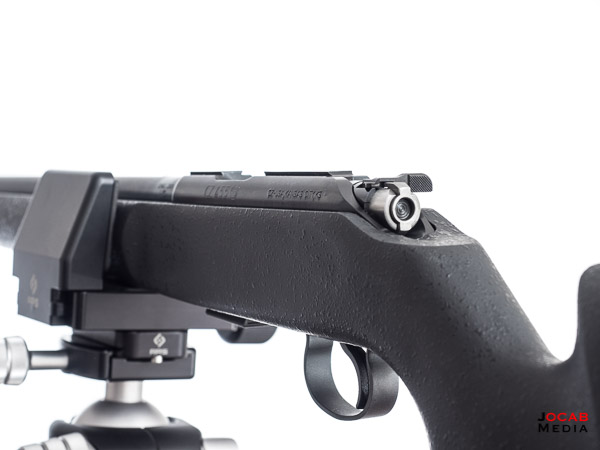 I installed a Picatinny scope rail by Murphy Precision. I picked this one after a quick browse of Rimfire Central where everyone felt this is one of the best Picatinny rails currently. The price higher than all others from what I understand, but I went with it anyway. Incidentally, Murphy Precision is in Fallbrook (CA) right by Marine Corps Base Camp Pendleton.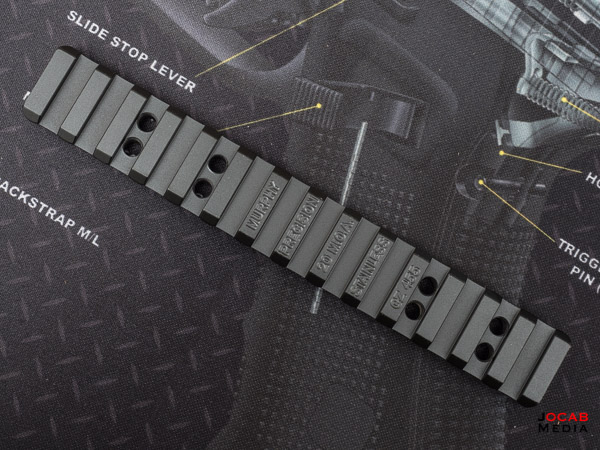 I didn't think much about it at the time I researched and ordered, but the Murphy Precision base uses a set screw design to install it on to the 11mm dovetail of the CZ 455 receiver/action.
There are some flaws in this whole design. First off is the fact that there are two columns of set screws. So when you tighten one side, you need to tighten the other in parallel. If you don't tighten the screws evenly, the base itself can be tightened such that it is not level to the receiver's 11mm dovetail. The other issue is that these set screws can mar or even indent the receiver.
Granted, they use brass tips/ends which should be softer than the receiver steel, it can be an issue. Of course, there is also the propensity for this type of setup to loosen and slide off. Although assuming you use some amount of torque, the screws should remain.
I looked online and their were some variable opinions on 15 or 20 in-lbs, so I just rolled with 15 in-lbs.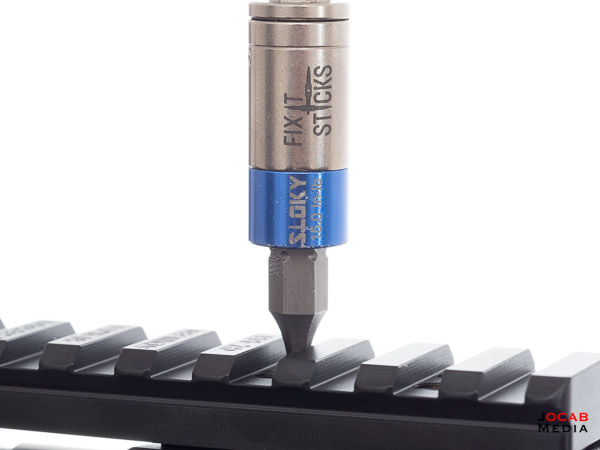 I did not buy a new scope for this rifle, so I just repurposed my trusty Weaver Optics T-36 (36×40 fixed power, 1/8 MOA adjustments, fine crosshair) with an old pair of TSR 1″ rings that I had laying around. Other than throwing on the optics, I didn't do anything to the rifle out of the box.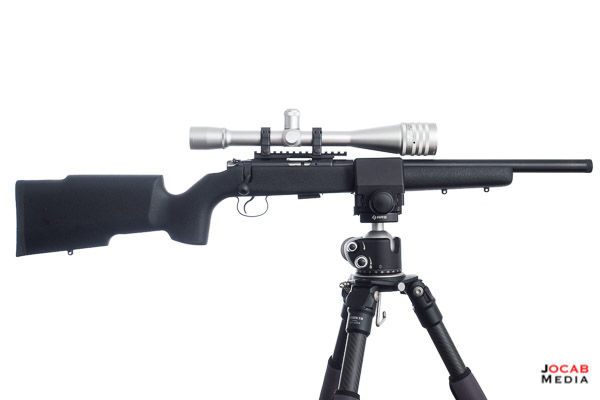 I took it to the range to put some rounds through it with SK Standard Plus ammunition and it shoots under quarter-inch groups at 25″ (1MOA).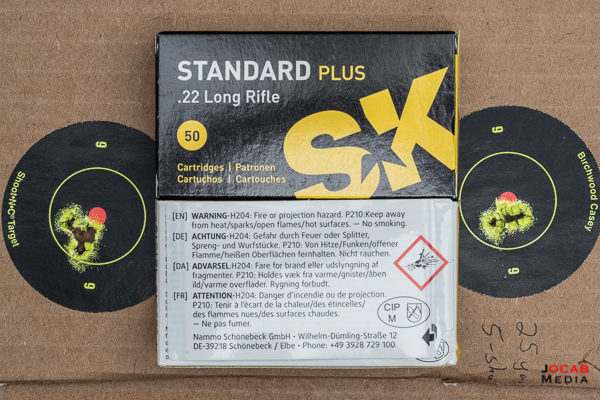 At 50 yards, the groups open up to about 0.75″ to 1″.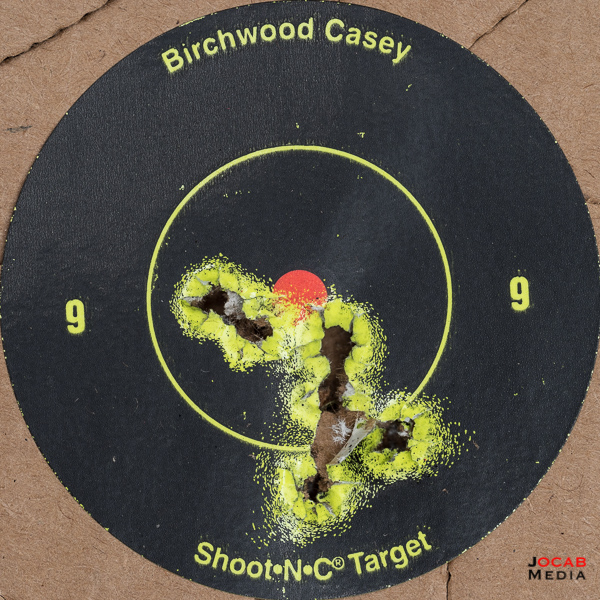 With two different shooters, the groups at 50 yards tended to drift diagonally from up left to low right. This could be a combination of things such as shooter error caused by poor trigger control (heavy trigger) or the way the rifle heats up and harmonics of the barrel. But I am not concerning myself with this. As long as it can hold a predictable group, I am fine with it right now.
The trigger is a bit heavy, but it is crisp with zero creep. Using the basic RCBS trigger pull gauge, it breaks at 3 lbs, 4 ounces (or 3-1/4 lbs). The bolt does take a bit of force to close, but I think this should wear in over time. I may tear it down and apply some grease instead of oil.
The Boyds tactical stock is not that bad. It is actually comfortable to shoot, although the barrel channel could afford to be inletted a little more. The stock forend will easily flex into the barrel. You can run a piece of paper underneath the barrel and find that it is definitely free floating. But the forend flex could result in barrel contact with the stock.
But the CZ 455 Varmint Tacticool Suppressor-Ready is a fine rifle out of the box. The friend with the CZ 455 Varmint Precision Trainer in the Manners stock that I referred to earlier in this article actually has a Lilja barrel on his rifle (he actually bought the Lilja barrel before the CZ 455 rifle). As much as I would like to try a Lilja, I would rather replace the stock on this rifle with the MPA chassis first. I want to run this CZ 455 as a trainer rifle, so I want the MPA chassis on this rifle to have the same ergonomics as my Mausingfield build. It will be nice to be able to setup a barricade and do positional shooting on the rimfire bays at my regular range.
I will be shooting this rifle as is without any real rush to upgrade anything. If anything, I will probably get one of the YoDave trigger kits for a low cost trigger improvement first.
After that, I will acquire a variable power scope so I can take advantage of this rifle as a precision trainer rifle. I am leaning towards a lower cost variable like the Vortex Optics Viper PST Gen 2 3-15×44 FFP. Although, I might just decide to try and save a little money on the scope and pick up a used (discontinued) Viper PST Gen 1 4-16x50mm FFP.
Then I will look to get a Masterpiece Arms chassis. A Lilja barrel would be nice, but is definitely at the bottom of the list right now.
I am more that satisfied with the CZ 455 Varmint Tacticool Suppressor-Ready. This should suffice as a nice bolt trainer rifle with some room for modifications to make it feel like one of my actual centerfire rifles.
It is important to note that Area 419, the company most well known right now for their HELLFIRE muzzle brake, just designed a Picatinny rail for the CZ 455 action. The Area 419 scope base will use screws that clamp onto the 11mm dovetail and does not use set screws against the top of the receiver. I did not know about the Area 419 product until after I ordered and received the Murphy Precision base. I placed a pre-order for the Area 419 CZ 455 scope base and I will discuss this after I receive it.