At the tail end of last year (2022), I wrote an article in which I discussed how I updated my 10/22 for NRL22 competitions. I have made a few more modifications after I was prompted to actually use my 10/22 in NRL22 matches to make it more optimal.
The Ruger 10/22 configuration as of then end of 2021 is as follows
Ruger 10/22 factory receiver
Ruger 10/22 factory bolt (with Volquartsen Exact Edge Extractor)
Volquartsen 18.5″ Stainless Steel match barrel (+1.5″ compensater)
Ruger 10/22 factory trigger (with Volquarsten target hammer)
KRG Bravo 10/22 Chassis
EGW 20MOA scope base
Vortex Optics Diamondback Tactical 6-24x50mm FFP EBR-2C MRAD
After shooting this rifle during non-competition range sessions, I realized there were a few deficiencies with the rifle as configured for me.
First of the length of pull was too short. I did not realize the LOP was an issue until I really started live-firing the rifle in NRL22 stages for practice. Off the bench it was fine but once I started shooting prone at high angled targets, it became apparent. Out of the box, the LOP of the KRG Bravo 10/22 was approximately 12″ and I didn't think to measure it because I am used to most stocks/chassis having a length of pull correct for my smaller build.
A second issue I had with the 10/22 configuration is the scope. The Diamondback Tactical 6-24x50mm FFP EBR-2C MRAD is a decent scope on paper, however the scope had very tight adjustment tension for the magnification and the parallax. Not to mention, the image quality of the Diamondback Tactical is not good at all. I know lots of people will state that the Diamondback Tactical is a solid scope and it is for the price. However I am used to higher tier glass and looking through the Diamondback Tactical makes me dislike using it.
The third issue is that the trigger is not up to my standards for a quality trigger. The trigger pull of my OEM trigger with the Volquartsen hammer is actually relatively light at around 2 lbs with no apparent creep. However, the reset is terrible long on the OEM trigger.
With these three issues identified, I ended up addressing those three.
First off, I acquired the KRG Rimfire Tool-Less LOP system.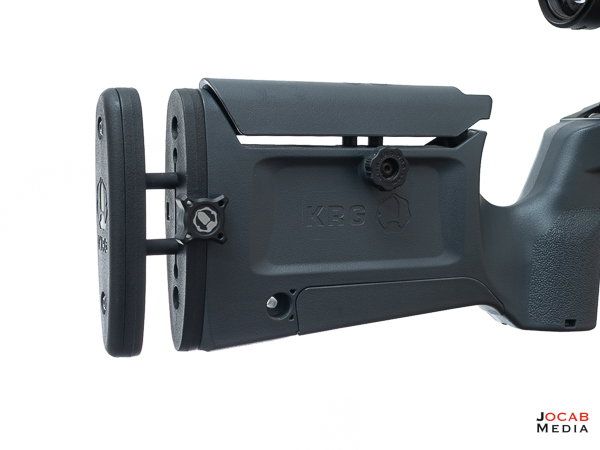 This kit is great for on-the-fly LOP adjustments for different shooters, however, it is flawed in that the tension knob cannot keep it locked into place without pressure or impact pushing the plate in towards the stock. I put some 3/8″ diameter spacers trimmed to length to keep the plate from collapsing.
For me, the bigger issue with the KRG Rimfire Tool-Less LOP kit is that the butt pad is more of a butt plate made out of plastic with nearly zero texture and is quite slippery against the shoulder.
I addressed this by getting the KRG LOP 10/22 Extension Kit which comes with a rubber recoil butt pad. It is my understanding that the KRG recoil pad can be purchased by itself, but it only a couple dollars cheaper than the LOP 10/22 Extension Kit. I used the rubber recoil pad on the Tool-Less LOP mechanism in the fully collapsed state to get an LOP of 12.75″.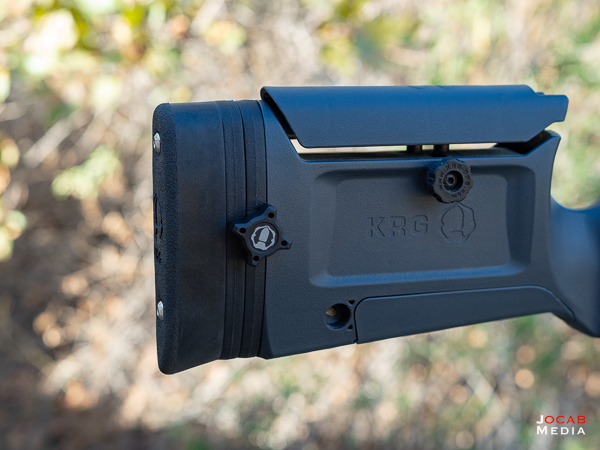 While I could have just forgone the Tool-Less kit by just getting the LOP 10/22 Extension Kit, and I would have had I known the flaw with the Tool-Less LOP kit. However, I retained the Tool-Less LOP because I like having the ability to quickly increase LOP as needed.
As far as the scope, I did not get a new scope and rather mounted a 'spare' Zero Compromise Optic ZC527 MPCT3 scope on it. This particular ZC527 in an Audere Adversus mount was not on any rifle as it was rotated off my Vudoo which now has a ZC527 MPCT3X, with the intent that I would be building another rifle for the ZC527 MPCT3 to sit on.
However, my projects have not kicked off and the scope has sat unused for the past several months. Thus, I decided to put it on the 10/22.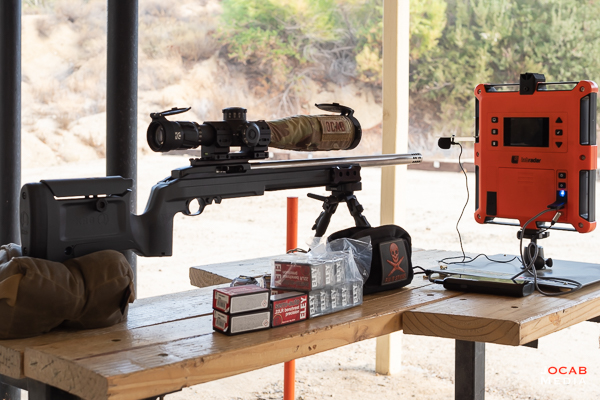 Note that I don't expect to keep this ZC527 MPCT3 on the 10/22 permanently and eventually, I'll have to move the scope to another rifle. Unless I acquire another Zero Compromise Optic scope.
Lastly, I addressed the trigger with a more permanent solution by acquiring a Kidd single-stage trigger.
I have a Kidd single-stage trigger in my 10/22 Takedown and some would argue I should have swapped the triggers between the two. However, I did not want to put a less than optimal trigger in that rifle it it already has a good trigger.
Note that in the above Instagram photo, I had it configured with the speed lever magazine release. After running it in one match, I switched out the speed lever to the low profile magazine release. I was constantly dropping the magazine during a stage of fire because my shooting hand would make contact with the lever when I was changing positions.
A minor change I also ended up making was replacing the OEM bolt with another OEM bolt. I had a spare OEM bolt sitting around, so I sent that bolt to Connecticut Precision Chambering for their bolt rework.
Bolt is disassembled and ultrasonically cleaned. Headspace is surface ground and squared to a .0425 rim depth, the same as a bolt action rifle too tweak in a little accuracy… A hole is "E.D.M.'ed", a hardened ground solid dowel pin is pressed in over the top of the front of the firing pin… This new dowel pin keeps the front of firing pin from raising up and causing flyers and gives more consistent firing pin strikes… Firing pin is reworked and surface ground flat… Rear / bottom of bolt body is full radiused for smoother/better bolt function with standard and high velocity ammo.

https://ct-precision.com/
Along with the above quoted work, I had CPC install their EDM extractor which is basically an improved extractor like the Volquartsen Exact Edge Extractor I have been running for the past 15+ years.
After all these changes this year, my 10/22 is now configured as follows:
Ruger 10/22 factory receiver
Ruger 10/22 factory bolt (tuned by Connecticut Precision Chambering)
Volquartsen 18.5″ Stainless Steel match barrel (+1.5″ compensater)
Kidd single-stage trigger
KRG Bravo 10/22 Chassis

KRG Arca Rail
KRG Tool-Less LOP
KRG rubber recoil pad
Gray Ops CNC MLOK weights

EGW 20MOA scope base
Zero Compromise Optic ZC527 MPCT3 in Audere Adversus 20 MOA one-piece mount
As far as any future changes to this specific rifle, I did want to figure out how to leverage the rear tang screw accommodation in the KRG chassis to get a more consistent receiver to stock/chassis lockup. However, this would require either adding the Kidd rear tang to the OEM receiver, or replacing the action with a Kidd. Although, it is likely I would end up getting a Kidd barrelled action with Kidd bolt if I were to acquire a Kidd action.
I did mention that the Zero Compromise Optic ZC527 MPCT3 was not intended for this rifle. Eventually, I will need to put another scope on it. I honestly do not know what scope this will have on it in the future after I have to move the ZC527 back to another project, but it will pain me to not have a ZCO or another high-tier scope on the 10/22.