I was at the outlet stores in Cabazon (California) earlier today and wandered into the Tourneau Outlet Store and picked up a Wolf Designs Module 1.7 watch winder. A colleague of mine told me that the Tourneau store in the outlet mall had cheap single watch winders and he wasn't lying.
I paid $71 and change for the winder.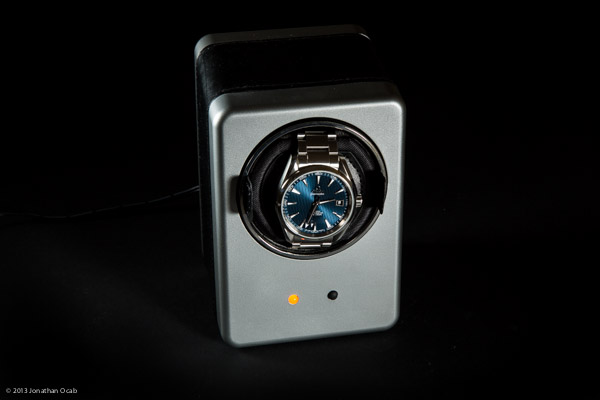 I never really cared about getting a watch winder until I discovered that my OMEGA Seamaster Aqua Terra runs faster when I don't wear it for a day. I'm guessing it's because the movement is running a bit faster in the latter half of the power reserve.
Anyway, I figure if this lasts at least a year, I would have gotten my money's worth out of it. I may decide to get a higher end two capacity watch winder in a couple years depending on what pans out after my next watch acquisition.
But from what I understand, Wolf Designs actually produces a decent product especially considering the price. The Tourneau Outlet Store actually backs this with their own two-year warranty, as well.
This particular unit actually has a built-in battery, which is charged via included the AC adapter. You can leave it plugged in and if you choose, unplug the winder and use it powered by the battery. I think the selling point behind this is for travel use, but I don't know if I would care to travel with a watch winder. To each is own.
Anyway, this is pretty much a no-lose situation for $71 considering the decent reputation of Wolf Designs winders, the warranty, and the price.