If you have not read Part 1 of my 2017 SHOT Show After Action Report, visit that post first before continuing on.
The problem with SHOT Show for someone from California such as myself is that SHOT is a smorgasbord of stuff that Californians cannot buy due to all of our gun laws.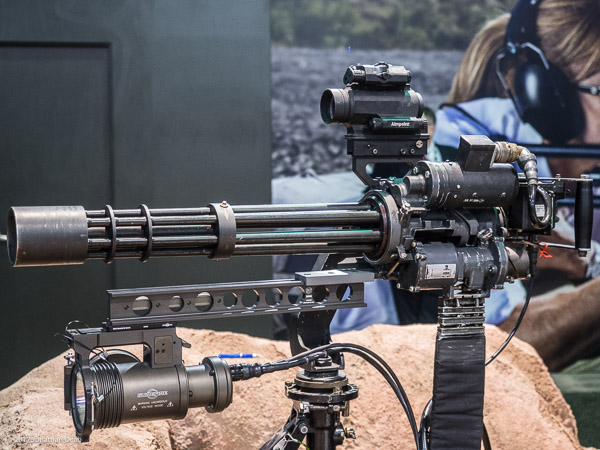 Obviously, California's restrictions on handguns essentially means every new pistol released is unavailable in this state. One new pistol that I actually want is the Ruger Mark IV rimfire.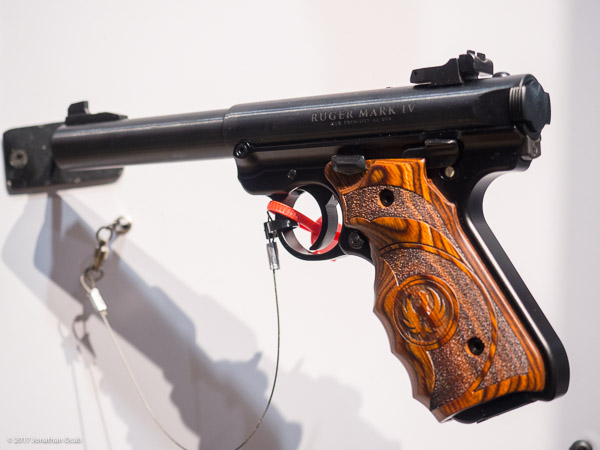 I have owned a Ruger Mark II slabside target model since the early 2000's and it is a great rimfire pistol. It can run dirty and is fun to shoot. But in the event it needs cleaning, everyone who has owned a Mark-series understands the pains in stripping the pistol with the archaic back strap design.
But the Mark IV eliminates the need to pry open the back strap lever and utilizes and easy push button field strip release mechanism. You can easily take the barrel off the frame and immediately pull the bolt without any tools or fumbling with the gun during assembly.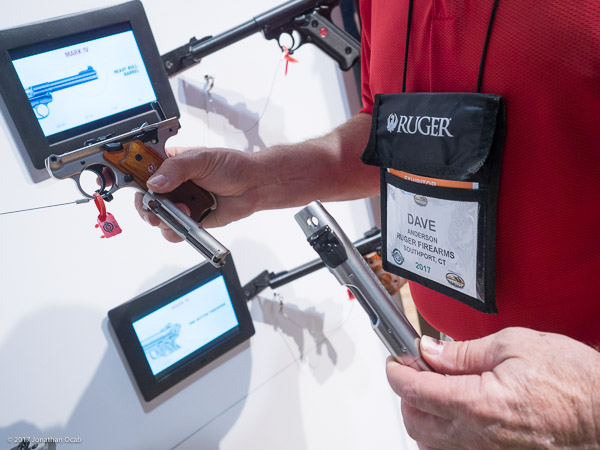 One of the other cool features is that the magazines in the Mark IV have spring action on ejection so it is easy to drop the magazine when you need to reload. My Mark II usually requires me to dig into the magazine well to get the magazine to come out after the magazine release is depressed.
The Mark IV 22/45 Lite deploys the same push button takedown mechanism and the magazine improvement from the Mark IV.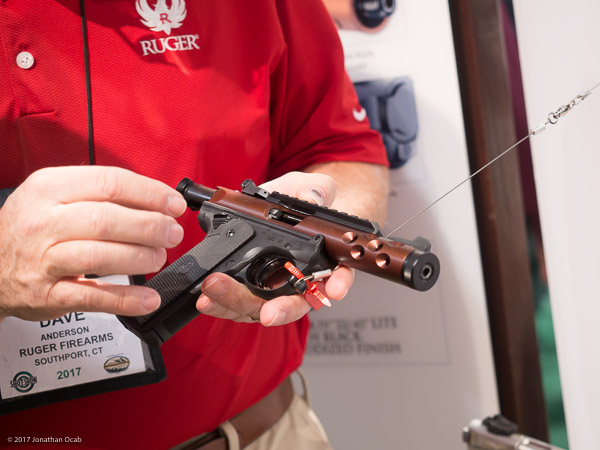 All you 22/45 fans will probably want to get this latest iteration.
The MSRP of the new Ruger Mark IV and Mark IV 22/45 vary based on model, but they start at $529 on the Mark IV side while the Mark IV 22/45 carries an MSRP of $559.
It is fitting to mention the Sig Sauer P320 RX because of the fact that news broke yesterday that the United States Army has selected the P320 to replace the Beretta M9 as the Army's service pistol. Sig Sauer is releasing several pistols as RX models, which is a pistol produced from the factory outfitted (and zeroed) with the Sig Romeo 1 micro red dot sight, including the P320 RX.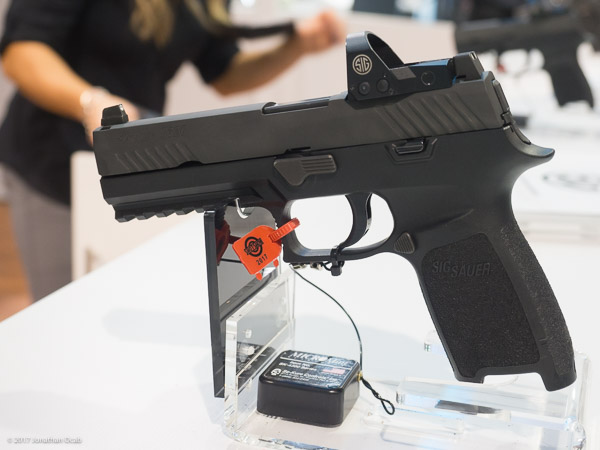 The P320 RX has an MSRP of $869 and not only has the Romeo 1 installed and zeroed out of the box, but also has cowitnessed tall/suppressor height night sights. This is a pretty good value, especially when compared to the Glock MOS line.
The venerable P226 is also getting the RX package, and while I cannot find my notes on this, I recall the MSRP being around $1200.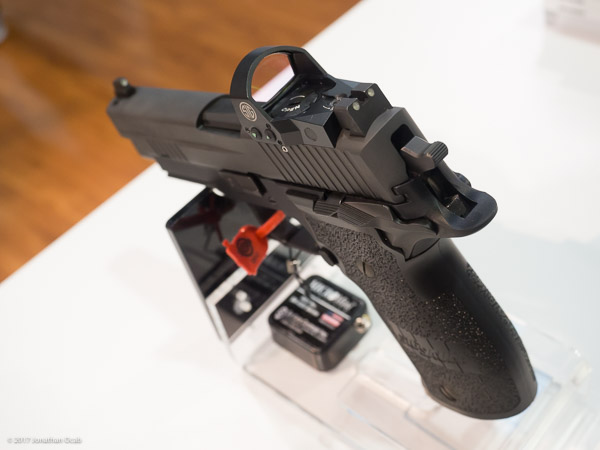 While I do not own a Smith and Wesson M&P, I know there are plenty of folks who run this pistol, and the M&P 2.0 arrived at SHOT Show 2017.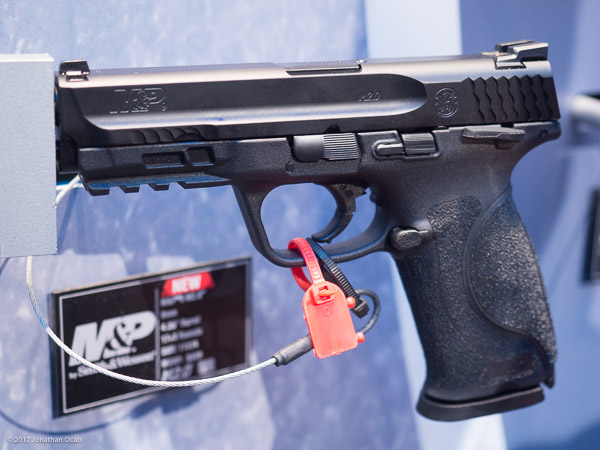 I have limited experience with the M&P platform, but I have never been a fan of the stock M&P trigger and the M&P 2.0's primary focus is the supposed trigger improvements. But when I dry fired a few M&P 2.0 units on the show floor, I found the trigger break typical of stock polymer pistols. That is to say it was a bit mushy before the trigger break. The pre-travel was really long (longer than a Glock), but the reset is quite short.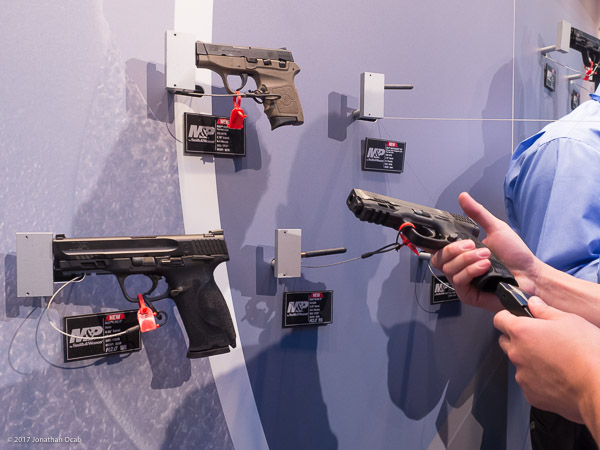 It seems like the AR-15 platform is getting a bit boring when it comes to SHOT Show presence. While I love the AR-15 platform, there really is not much else you can do to innovate on it. It seems like firearms manufacturers are simply creating new models (SKUs) with slightly different parts for the consumer that is unwilling to build their own AR rifle.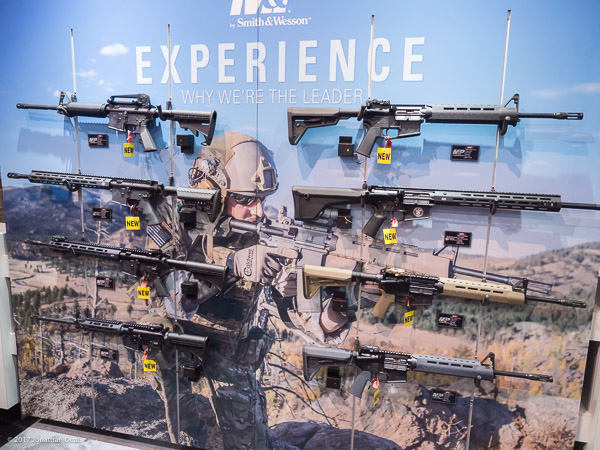 It seems like the last few major rifle manufacturers who do not yet have a line of AR rifles, otherwise referred to as Modern Sporting Rifles, are trying to get a footprint in the MSR marketplace. Both Springfield Armory, Inc. and Savage Arms were showcasing their own line of MSRs.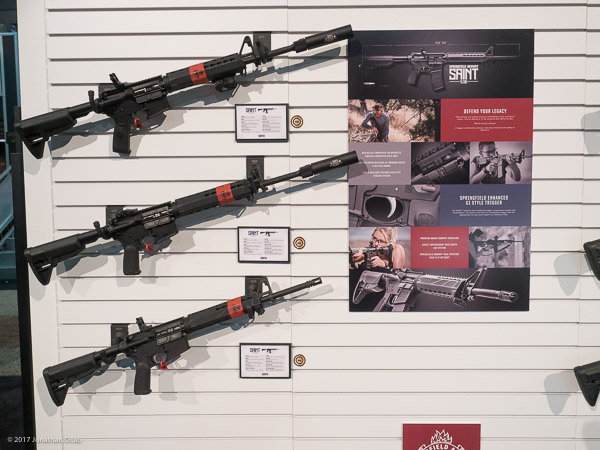 I honestly do not understand why Savage Arms feels the need to get into the AR market. The MSR market is quite saturated and most novice consumers will tend to gravitate towards Colt, Bushmaster, and DMPS. While the more discerning non-home builders will look to the niche, yet established brands like Bravo Company, Daniel Defense, and VLTOR.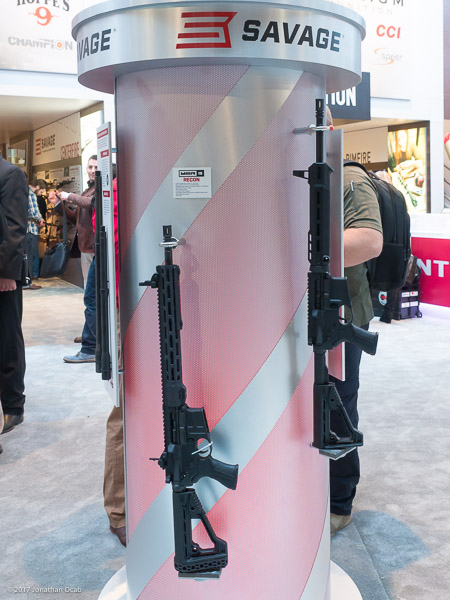 The cost to mass produce an AR rifle is not too much of an investment. But assuming a company such as Savage will back the rifle with a warranty, it will commit a lot of resources in terms of customer and technical support, which may not be a profitable investment in the long run for a company that has been primarily focused on bolt rifles.
But while Savage is branching out into the world of MSRs, they announced a couple of new centerfire bolt-action rifles. One specifically is the Model 10 APO.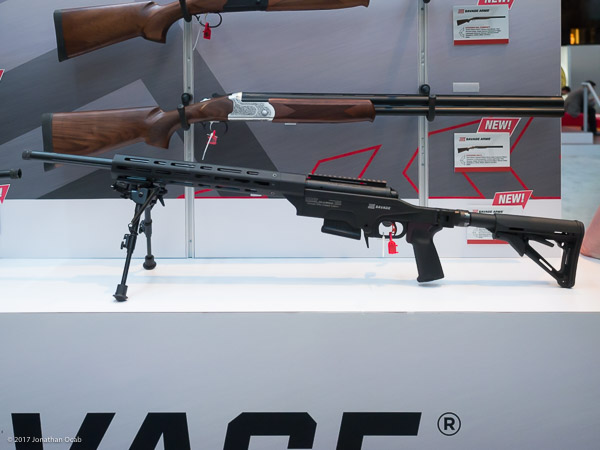 This is a factory model utilizing the Ashbury Precision Ordnance (APO) SABER MRCS-AR chassis. The SABER MRCS-AR is a folding chassis system from APO with a modular design that will accept AR pistol grip and stocks. While the BA Stealth which is Savage Arms' first chassis based rifle was released last year with an MSRP of $1200, the 10 APO has an MSRP of $1800 and should be released in .308 Winchester and 6.5mm Creedmoor. The main difference in the chassis' is the folding capability of the SABER. I am not convinced that the $600 difference is justified.
Savage also announced the Model 10 GRS, which is the 10 action with the GRS Berserk stock by GRS Riflestocks SA out of Norway. The GRS Berserk is a composite stock and not a chassis system, that is inleted to accept AICS pattern magazines. The GRS Berserk has adjustable comb height and length of pull using a push button release system for quick adjustments.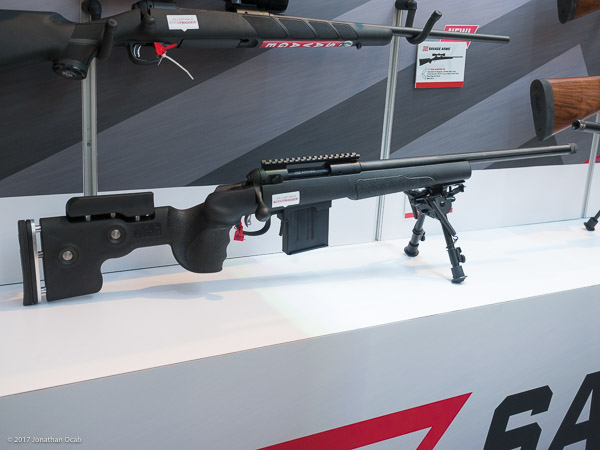 The method for adjusting the comb height and length of pull is better when using two hands, you can technically make adjustments one-handed, but not as easily one-handed like with a turret style comb or LOP adjustment mechanism.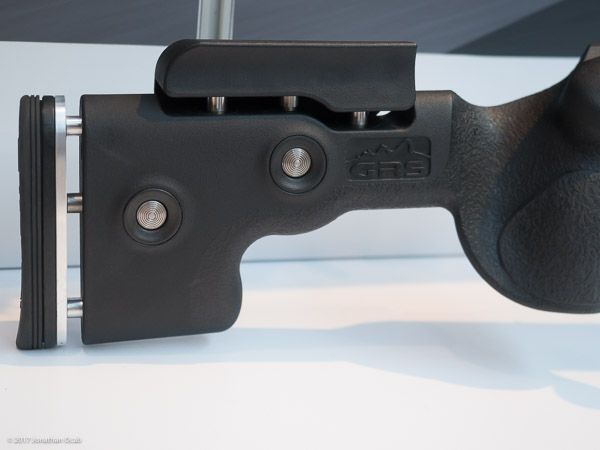 I find this stock option a bit more interesting because it provides Savage enthusiasts a rifle that utilizes a more traditional (yet modern) stock with AICS pattern magazines. The 10 GRS has an MSRP of $1499 and is supposed to be released in .308 Winchester, 6.5mm Creedmoor, and 6mm Creedmoor.
Speaking of VLTOR, I did want to post a few photos of some VLTOR rifles with custom Hydro-dipped stocks.
Hydro-dipping uses water transferred film for a quick and simple process of refinishing parts such as stocks.
The process for Hydro-dipping seems simple enough, and allows a person to refinish a firearm at home with complex patterns without too much effort.
Part 2 of my SHOT Show 2017 After Action Report ends with author and journalist Katie Pavlich.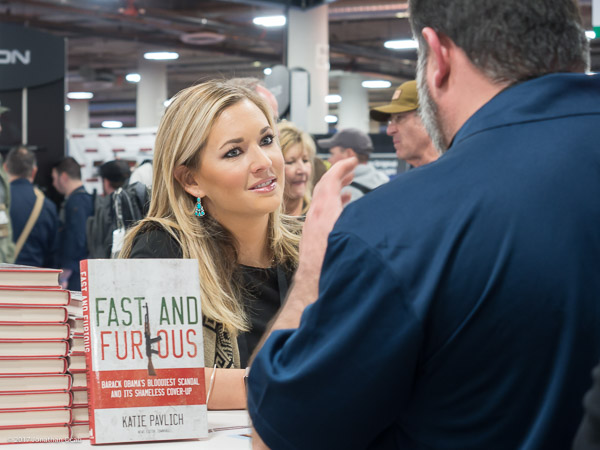 I was able to get a signed copy of her book, Assault and Flattery, at the Project ChildSafe booth this year.
She was also present in other areas of the 2017 SHOT Show promoting brands such as Volquartsen, due to the fact that she is an avid shooter.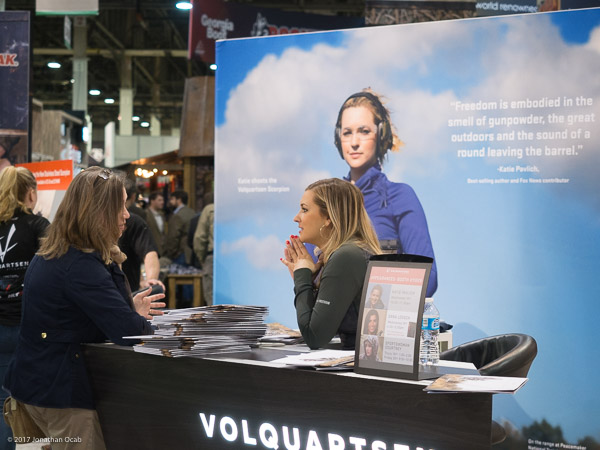 Stay tuned for Part 3 of my 2017 SHOT Show After Action Report which should be posted in the very near future.
Note: All published 2017 SHOT Show After Action Reports can be found in the index / Part 0 or via the blog tag of 2017 SHOT Show.