A couple weeks ago I was cleaning my rifle and noticed that the crown of the exit port of the BattleComp 1.0 muzzle brake had a nick in it from what I believe to be a jacket strike. The jacket strike occurred at the 11 o'clock position (when facing the muzzle) with some minor damage at the 5 o'clock position.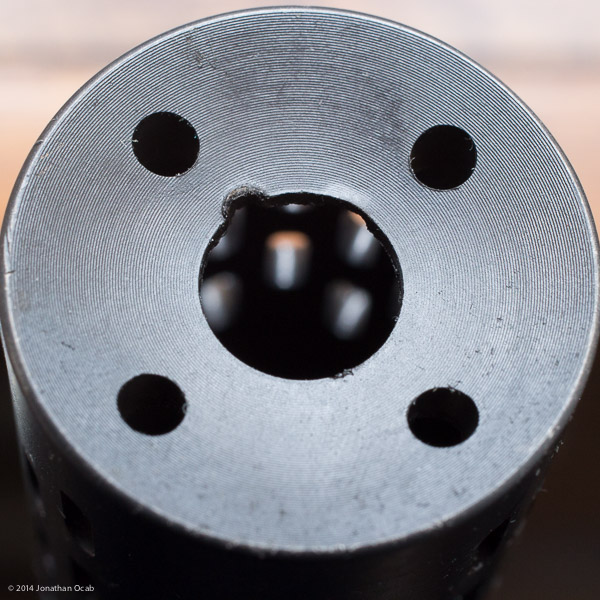 During the range session, I did not notice any keyholes on target, so it's likely I shot that round at distance on steel and just chalked up a non-hit as a simple miss. But the fact that there was a jacket strike was disconcerting to say the least.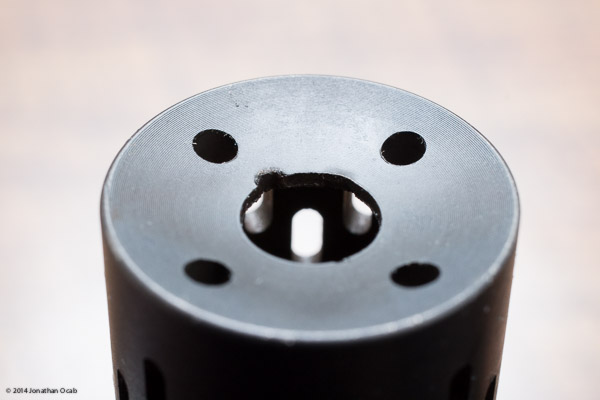 I had about 2000 rounds on the gun after the BattleComp 1.0 was installed, so concentricity of the brake itself wasn't in question. I sent an email along with photos to BattleComp and the hypothesis was bad ammo. I was shooting Federal "American Eagle" 5.56 NATO XM193 ammunition (LC 14 headstamp). While I find that Federal / Lake City ammo is of good quality, that's not to say it's not improbable for a bad round to occur. The response from BattleComp indicated that the brake should be fine with jacket strike damage.
I took the rifle to the range a week after the initial incident and confirmed that the gun was holding zero even with the small nick on the crown of the BattleComp 1.0 exit port. But during that same range session, while running some 10 yard, three target swing drills, I had keyhole on target. I immediately checked the BattleComp and saw another nick at the 1 o'clock position (again, when facing the muzzle).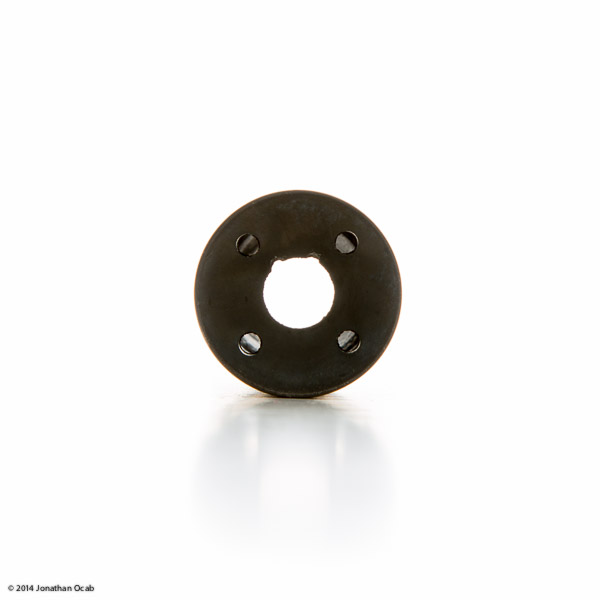 With a second jacket strike, I had the feeling there was something wrong with the BattleComp 1.0.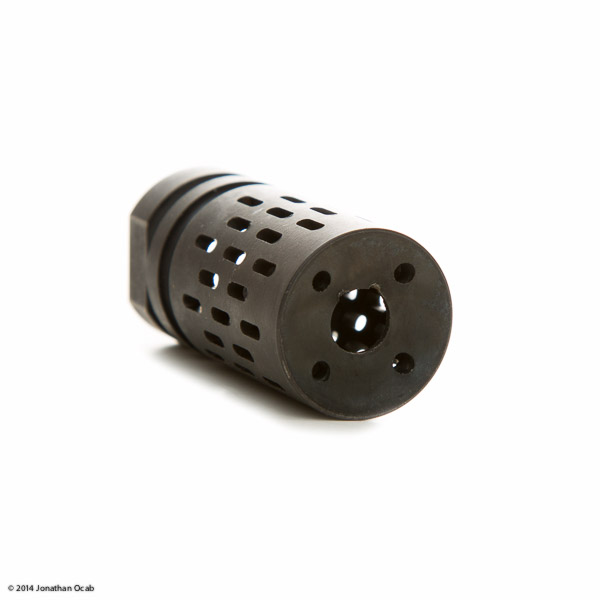 While the BC 1.0 brake is most likely still concentric, my theory is that the crush washer used to index the brake may be succumbing to the heat during a high rates of fire. The torque of the brake on the crush washer may be resulting in an uneven amount of force, possibly more at the 6 o'clock position. This in combination with heat of rapid fire may have been causing the washer to warp, and therefore allowing the 11 to 1 o'clock position of the exit port to be nicked by an exiting round.
This sounds like a stretch, but it's all I can come up with, other than blaming the ammo.
Anyway, I ended up ordering a BattleComp 2.0 and installed it using shims. After a couple of range sessions, there are no issues as of, yet.
We'll see how this goes, but I am going to look into contacting BattleComp the week after New Year's Day to see if I can send them my 1.0 for inspection and to try and eliminate factors.