In early June Canon announced a pair of new EF lenses with a new Stepping Motor (STM) technology. This STM technology allows lenses to smoothly and quietly autofocus which will be beneficial for the Canon T4i (also announced at the same time), since the T4i is the first Canon HDSLR with autofocusing during video recording.
One of the two recently announced lenses is the Canon EF 40mm f/2.8 STM. The 40mm f/2.8 is very distinct due to it's physical form factor with a length of just under an inch and a weight of 4.6 ounces (.2875 lbs). This small and lightweight lens is also dubbed a 'pancake' lens due to it's very flat dimensions.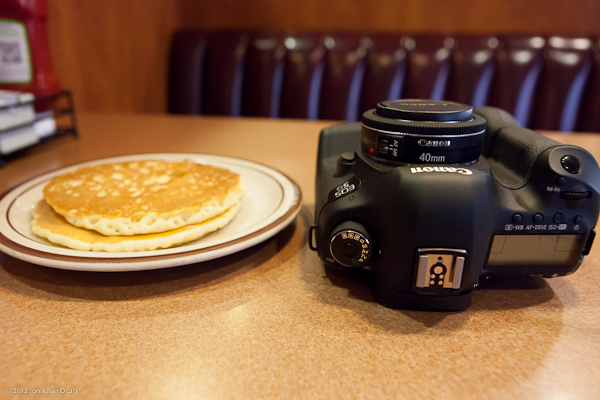 I acquired the 40mm pancake lens a couple weeks ago and had the opportunity to play around with it for a few days and am very enthusiastic about it.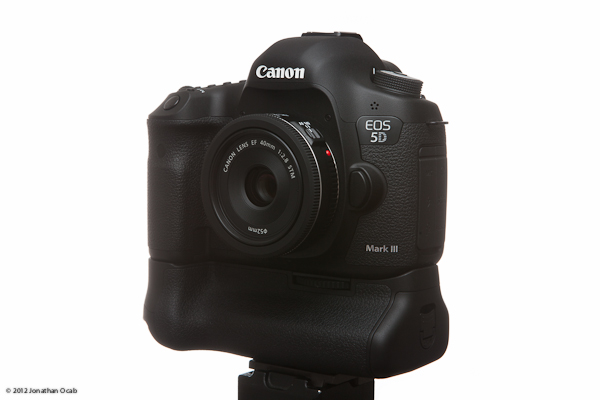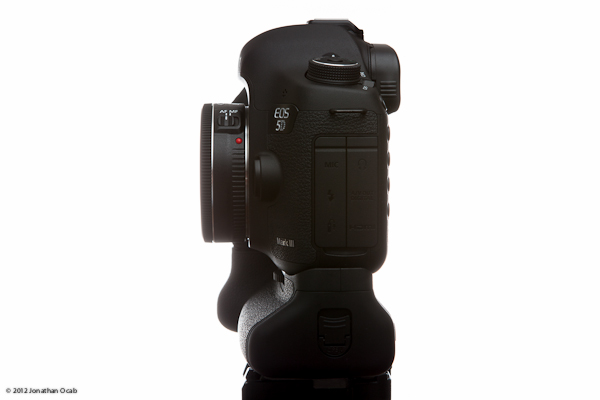 As already mentioned, the lens is small and lightweight and I have been seeking a new lens for a general purpose 'walk around' lens. It is f/2.8 which is fast enough for most low light conditions, especially with today's camera bodies which can shoot at high ISO safely (especially Canon full frame sensors).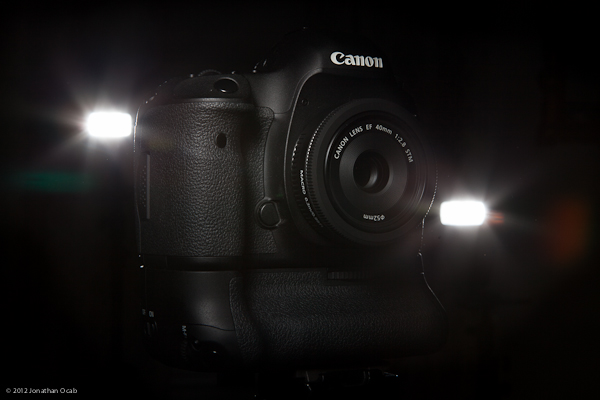 The 40mm pancake is fairly fast with regards to autofocus. Not as fast as my 24-70 or 70-200 L-series lenses, but definitely faster than the entry level consumer lenses like the 50mm f/1.8.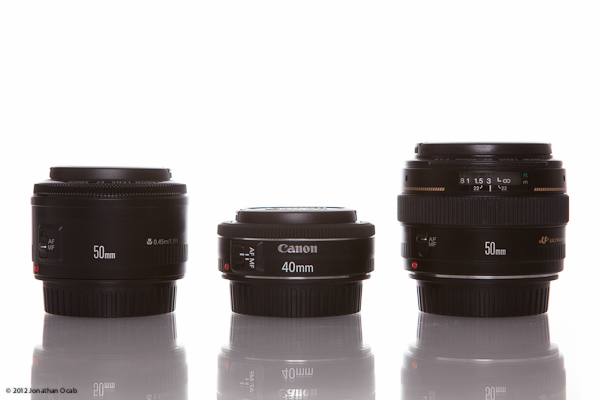 The manual focus ring is on the front of the lens barrel and is smooth to operate. One characteristic to note is that the 40mm pancake has a 'fly-by-wire' focusing motor. This means that the manual focus ring will not focus the lens unless the camera is powered on (thus providing power to the lens itself). This is a characteristic shared with the 85 f/1.2L.
The 40mm f/2.8 lens has seven aperture blades, which is a step above the five aperture blades in the 50mm f/1.8, so it yields decent bokeh.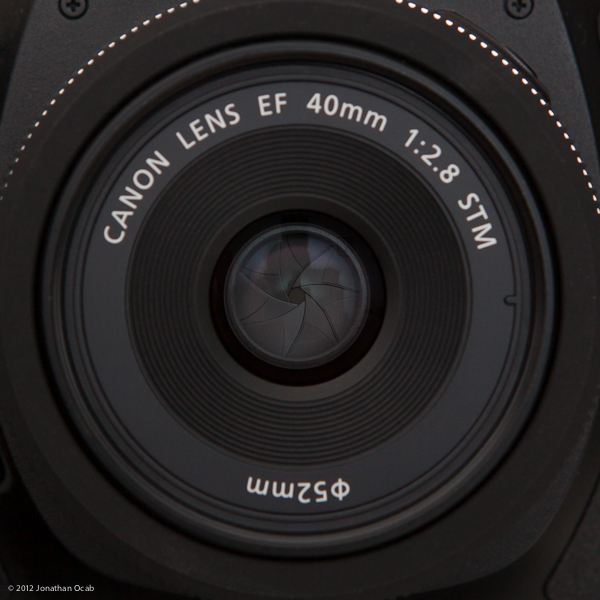 As far a distortion, the 40mm pancake has corner / barrel distortion that you would expect with a short focal length lens on a full frame sensor. The current version of Adobe Lightroom (4.1) doesn't have a lens profile for the 40mm, yet, but any distortion should be easily compensated for.
While this lens is about double the price of the Canon EF 50mm f/1.8 II, it does have a metal mount, and not a plastic mount. So this should please Canon owners who are particular about lens construction.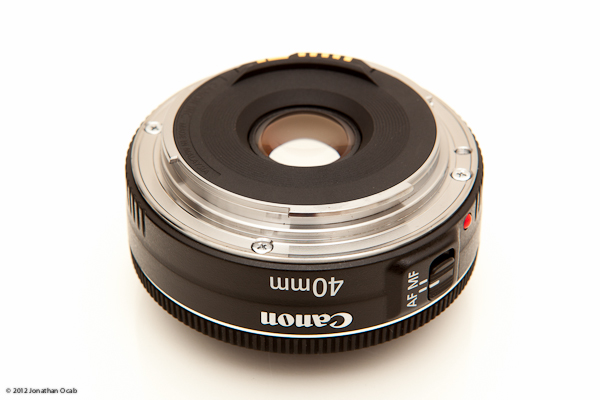 Overall, I think the Canon EF 40mm f/2.8 STM is a great value lens. It should be available for $200 at any reputable vendor. It is an excellent general use lens for all types of photographers; general consumers, beginners/amateurs, or pros.
It is worth definitely buying for your kit and it will literally fit in any camera bag, so there isn't much reason to not have it in your bag.
The following is a short video I posted of the Canon EF 40mm f/2.8 STM on youtube:
Here are a few samples I have taken with the Canon EF 40mm f/2.8 STM: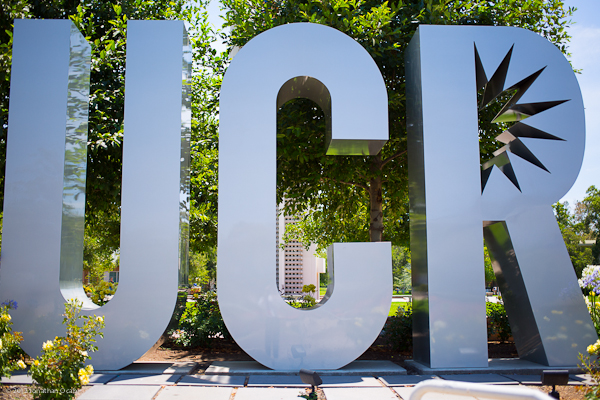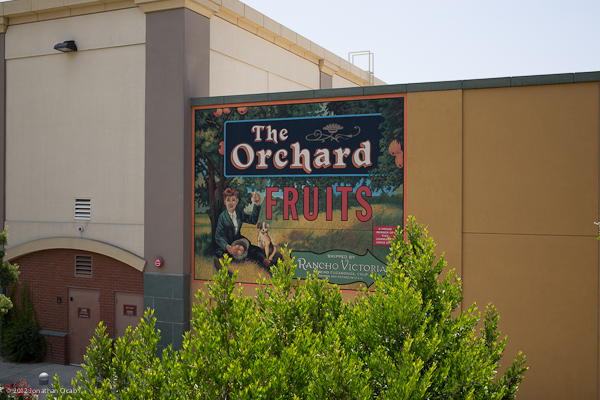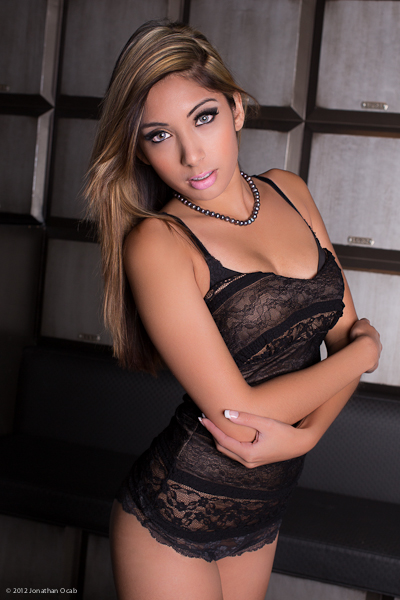 Addendum added 2012-07-11:
There is a slight issue that can happen with EF 40mm f/2.8 STM where the lens will not autofocus and the AF motor will be in a 'jammed' state. This will be alleviated when the lens is unmounted from the camera body and remounted. Reports have been surfacing online including at the Canon Forums. I did not have this issue occur with my personally owned lens until recently, and unmounting / remounting the lens solved it quickly. One theory behind the cause of this issue is that the Stepping Motor design may go into a 'locked' state whenever it detects pressure on the front of the lens (since the lens barrel physically extends / retracts during focusing operation) to prevent any damage. Canon actually released firmware version 1.1.3 for the 5D Mark III to add support for the 40mm lens, so perhaps further firmware updates may do a better job in supporting the functionality of the STM motor. Right now, this isn't a huge issue, but a issue to be aware of nonetheless. Even with this behavior, I still recommend this lens.

Addendum added 2012-08-08:
Canon released a Service Advisory notice describing this AF motor jamming issue and states it will be addressed via a firmware update.