Every now and then I'll attend an NRA Mid-range prone match and shoot in the F-Class category. I have had a Harris Bipod S-BRM model over 10 years and I find myself unhappy with the rubber feet. I don't get any real traction in dirt and can't pre-load the bipod when firing due to the feet sliding with forward shoulder pressure. So a quick Google search yielded the Tactical Supply Bipod Talons. I ended up ordering a set of the Bipod Talons from Tactical Supply and they look quite aggressive.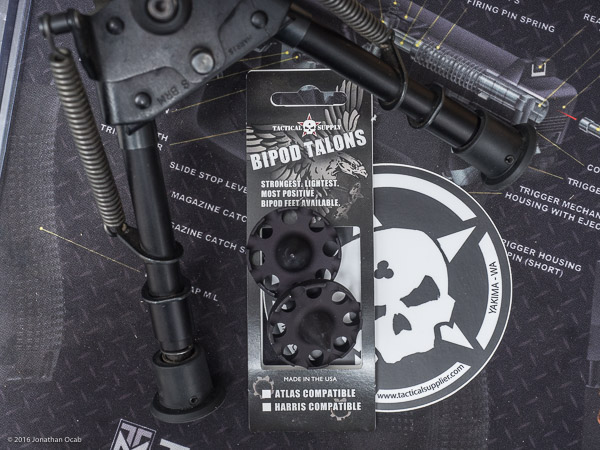 The Bipod Talons are machined aluminum and are fairly lightweight.
Installation is a bit of a pain. The rubber felt are held into place with 1/8″ roll pins. The 1/8″ hold through the bipod leg is very tight, so punching through with a 1/8″ punch needs to be about as dead center as possible.
I recommend putting a few drops of penetrating oil on the roll pin to help it punch out.
After that, just put the Bipod Talon on each leg and use a 1/8″ roll pin to retain the spike on the leg. Note that the original 1/8″ roll pin is 1″, but the Bipod Talon is only 1/2″ diameter externally. So if you reuse the original roll pin, it will protrude from each side.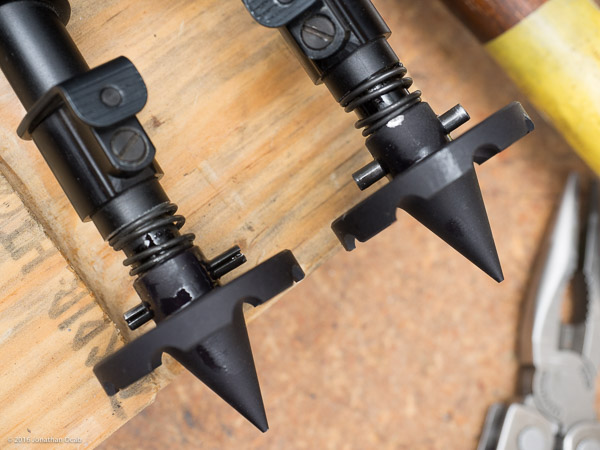 I ran it like this for an F-Class match because I had just installed the Bipod Talons the night before the match. I didn't want to cut the roll pin in the event I needed to get the original rubber feet back on the Harris Bipod.
But after the match, I stopped by a home improvement store and acquired some extra 1/8″ roll pins that I can trim to length so the pin fits more flush in the Bipod Talon.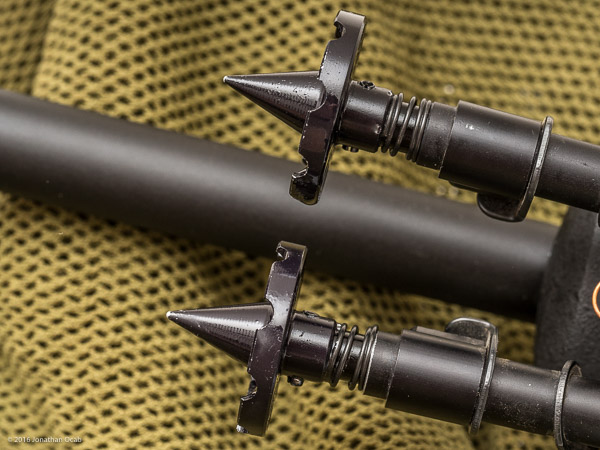 All in all, I am quite happy with the Bipod Talons by Tactical Supply Group. The spikes provide enough traction in dirt so I can exert forward pressure on the gun and 'load' weight into the bipod consistently from shot to shot.
Note that the Bipod Talons grip well not just in dirt, but also on hard surfaces like concrete and wood.