Whether you have one watch or multiple watches, it's not unheard of for one to become 'tired' of a watch. Sometimes a person gets tired of the repetitive appearance of a given watch. Maybe a person doesn't like how the watch looks with certain attire. Or perhaps the watch is simply one of the older timepieces in a given collection, so it's just left in a drawer, watch box, or watch winder in favor of the newer pieces in a collection.
One way to help bring about new life to an older watch is to change the strap or bracelet with a NATO strap.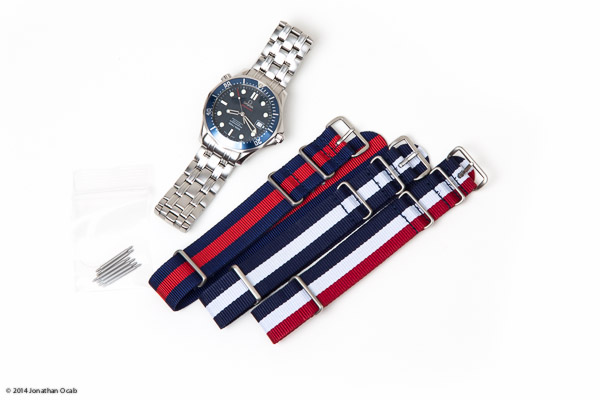 Made out of nylon fabric, the modern NATO strap is based on a watch strap made and issued for British military personnel, which was given a NATO Stock Number (NSN) to identify the equipment. Hence the current usage of the term, NATO strap.
Modern NATO straps are commonly found in 'military' colors such as olive drab green, desert tan, coyote, grey and black. But they are also found in 'trendy' colors and color schemes such two or three color stripes, orange, blue, white, red, etc.
So the wide selection of colorways available make NATO straps an interesting way to trend set as far as coordinating your watch and attire for a given day or season, especially since NATO straps can be swapped out for another NATO strap quickly.
Of course, NATO straps pretty much require you to remove your existing bracelet, leather strap, or other non-NATO strap from the watch. Typically, most watches will use a spring bar system to hold the bracelet or strap, and you'll need a spring bar tool to remove it. I currently use a Bergeon 6767 tool and have both the F and S forked tips (fine and standard).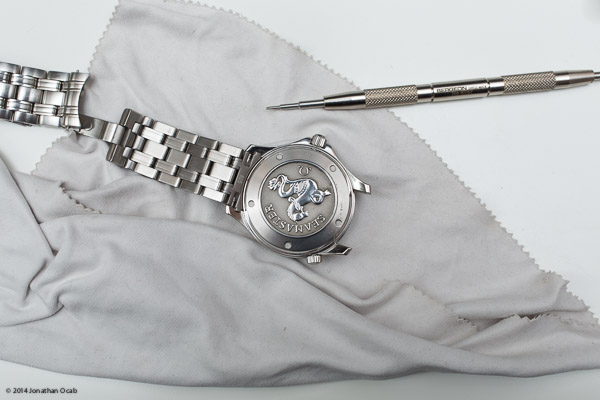 But once you get the factory bracelet or strap off, reattach the original spring bars or a set of new ones, and then you can thread the NATO strap through.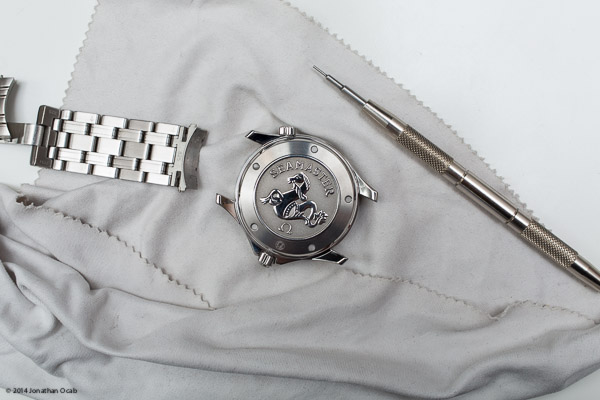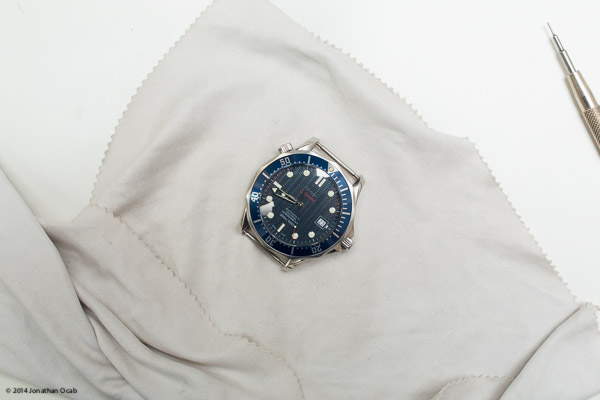 As you can see above, I took my trusty OMEGA Seamaster Professional 300M 2220.80.00 with the blue bezel and wave dial, removed the bracelet, and decided to switch it up with a patriotic strap. I haven't been wearing my Seamaster Pro 300M much at all as of late, especially since I use my G-Shock Rangeman for the shooting range and an around the house watch, and the Rolex GMT-Master II has been my daily watch for the last several months.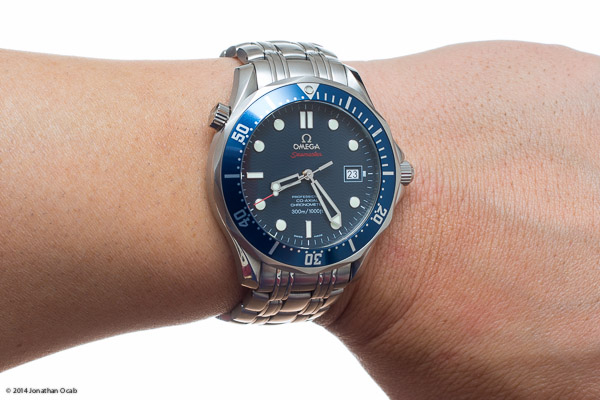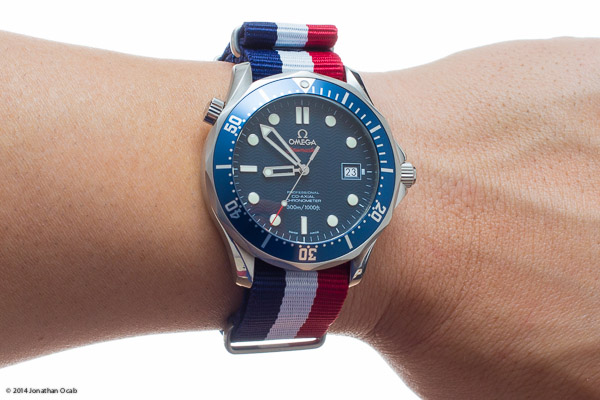 In the above before and after shots, you can see how the watch takes on a different persona with a NATO as opposed to the bracelet. Granted, the Seamaster already has a sporty look to it since it is in fact a diving watch.
But while the bracelet did allow it to be worn with office attire (and even a tuxedo by James Bond in the Bond films), the NATO strap definitely brings it over to the sport watch end of the spectrum.
While NATO straps are a great way to change up the look of a watch, definitely expect that the results will be more suited for casual wear. But of course, there's nothing stopping someone from throwing convention out the window and wearing a NATO strapped watch with a dress shirt and tie to the office.
A NATO strap is ideal for the spring and summer seasons, since fabric watch straps don't feel as hot or restrictive on the arm when the weather is warmer. The red, white, and blue NATO strap in the previous photo looks quite nice in my opinion, and looks to be thematically perfect for the spring and summer, particularly on Memorial Day and Independence Day while manning the grill in the backyard and drinking a nice craft beer.
One last item of note about NATO straps: They're inexpensive. NATO straps are around $15 USD, give or take $5 depending on the vendor or retailer, and options or styling.
So while I did this to freshen up the look of an old watch in my albeit small collection, you can also use a NATO strap to change up the look of any watch in your collection, old or newly acquired).
As far as where to get a NATO strap, the ones in the photos above were purchased last year (roughly August/September 2013) from The NATO Strap Company.
At the time, it was an individually run operation and the owner/operator actually had some sort of personal crisis, and my order was pretty much unfilled for about three months. But the order was eventually delivered and the quality of the straps and included spring bears appear to be very good.
In January 2014, I received an email announcing that the owner of Panatime (another retailer of watch straps) bought The NATO Strap Company and took over operations. As far as I know, orders are caught up and things should be squared away if you decide to place an order with them. So I would recommend giving The NATO Strap Company a try if you want a NATO strap.
The NATO Strap Company can be found at http://natostrapsco.com/.
No matter where you get your NATO strap from, I would definitely recommend that you consider trying out one on one of your watches, especially an older one you may have that you don't wear much anymore. Perhaps put one on a dive watch for the summer and see how it feels while at the beach or lounging pool side. Who knows? Maybe you'll like it.