Last night I went to the OMEGA Boutique at the Beverly Center in Los Angeles to preview OMEGA's Baselworld 2013 timepieces.
The reason I went was primarily for one piece in particular: The OMEGA Speedmaster Dark Side of the Moon.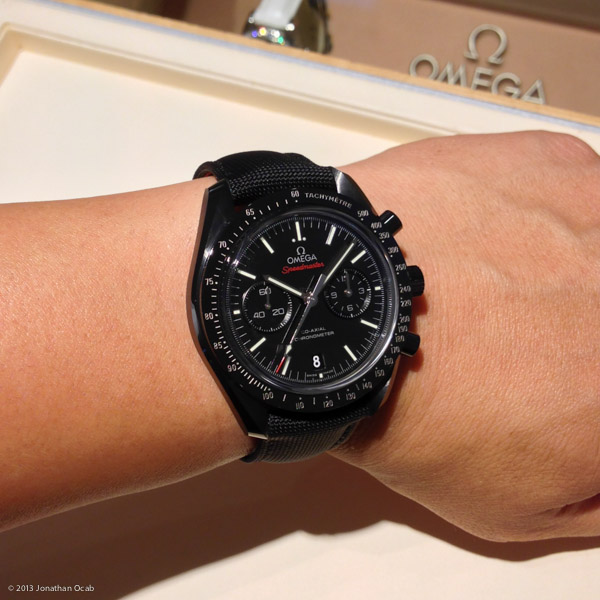 It's a black ceramic watch where the case and dial are all ceramic. The case is an open back with a 9300 movement. The price is $12,000USD with the first pieces to be in the United States in January 2014.
The Boutiques are already taking pre-orders for them and due to the manufacturing process, the Dark Side of the Moon will be in low quantities in the United States for the first year or two. The Boutique requires a 30% ($3600 USD) deposit to reserve one. The deposit puts you next in line to purchase a Dark Side of the Moon as they begin making their way stateside.
The watch is amazing. Photos look good, but they still don't do the watch justice. The all black ceramic watch gives the watch a sleek, clean, 'professional' appearance. While a Speedmaster is considered a sporty, work watch, the Dark Side of the Moon conveys a handsome look.
When I first read about the black Cordura strap that the watch was going to be released with, I was disappointed. But when I saw it in person, I think the Cordura strap was a good choice. I don't think a leather strap would look as good as the Cordura strap.
Anyway, the Dark Side of the Moon is a fantastic watch. It's definitely on my want list.
Special thanks to Rona Lu, Boutique Key Holder at the OMEGA Boutique in the Beverly Center who emailed me the invite to the preview event. If you're interested in an OMEGA watch and are good with visiting the Beverly Center, then talk to her (email: rona DOT lu AT swatchgroup DOT com).