As you may have already read in a previous article, I am working on a precision rifle project for 2017 and am very close to having it completed. The limiting factor was actually receiving the American Rifle Company Mausingfield action, and having it handed over to a local gunsmith to get a barrel put on it. Right now as I type this, the gunsmith I chose to work on this action has my Mausingfield, Bartlein blank, and Area 419 HELLFIRE brake in hand, and I am waiting for his call to tell me it is done.
In Part 1 of this series of article, I covered the parts list which accounted for everything for the actual rifle itself. But while I indicated the trigger I selected, I had not received it, yet. But just yesterday, the Huber Concepts 2-stage trigger was finally received.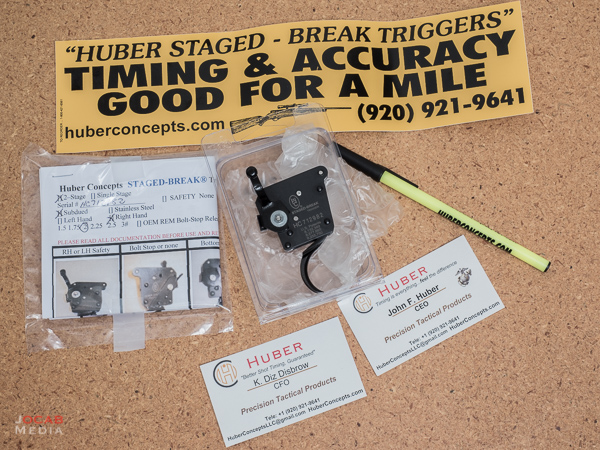 As you may be able to see in the above photo, it is a 2-stage trigger in a 'subdued' (not bare stainless) finish, with a 2-lb total trigger pull. I elected for a 1-lb first stage and a 1-lb second stage.
Of course, this is a trigger to fit a Remington 700 footprint action, but mine does not have a standard Remington 700 bolt stop built-in, since the Mausingfield uses a receiver integrated bolt stop.
It took about six (6) weeks for this trigger to be made. The website indicated 3-4 weeks is usual lead-time, but it seems like Huber Concepts is running a little behind right now.
The receipt of the Huber Concepts 2-stage trigger now accounts for all the parts of the rifle:
American Rifle Company Mausingfield short action, .474″ bolt face, with a 20MOA scope base
Bartlein stainless steel 5R 29″ blank with 6mm (.237″ bore), 1:7.5″ twist, and Remington Varmint contour (to be chambered in 6mm Creedmoor)
Masterpiece Arms BA Competition Chassis in Flat Dark Earth
Huber Concepts 2-stage trigger
Area 419 HELLFIRE self-timing muzzle brake
But there is one critical piece left: the scope (and rings).
After a lot of debate, I ended up acquiring another Vortex Optics Razor HD AMG 6-24×50 EBR-7 MRAD.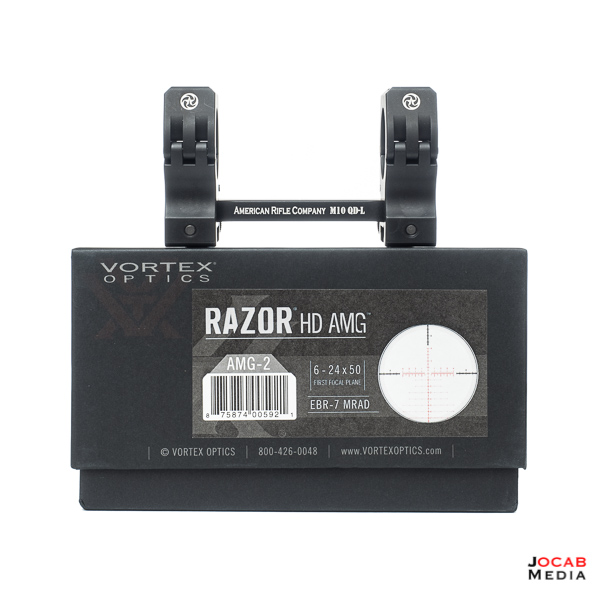 As you can see in the above photo, I also acquired an American Rifle Company M10 QD-L mount in 0MOA cant and 35mm (1.38″) height for a 30mm tube. Note that I could have acquired the ARC scope mount for a lower price in the group buy deal, but at the time, I was not sure what scope I would be running with this rifle, so I held off getting a scope mount/rings until after I decided on the scope.
As far as the American Rifle Company M10 QD-L, it is a one-piece mount design that is highly regarded in the rifle community.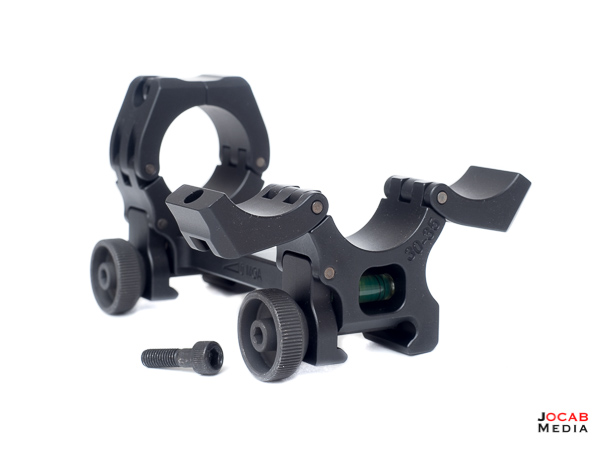 With traditional scope rings where the rings are halves (top and bottom), when the scope half rings are tightened, there is the tendency for scope to rotate due to the uneven distribution of torque as the rings are tightened causing reticle misalignment. Since the ARC M10 uses a vertical split ring, this mitigates scope rotation when tightening the rings.
Note that the rings are tightened to the scope body with only one screw, which further mitigates uneven torque.
The scope mount itself is secured to the scope rail with thumb screws, which may also be tightened with a torque limiter, if desired.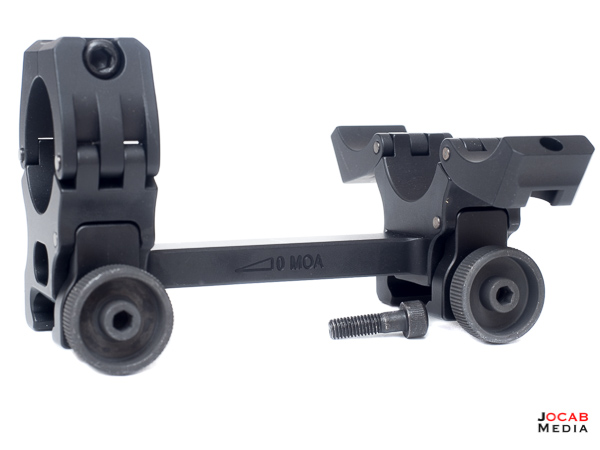 I was actually considering getting another Spuhr mount, but the American Rifle Company M10 is a smart design and while the Spuhr is well engineered, the six screws per scope cap is a bit excessive. Not to mention the idea of having a 99% "Made in the USA" rifle did appeal to me. So I went with the ARC scope mount.
Going back to the Vortex Optics Razor HD AMG 6-24x50mm MRAD, the reason why I decided on this scope for this rifle project is simply because I am very happy with the one on my Savage 10FP rebuild/refresh.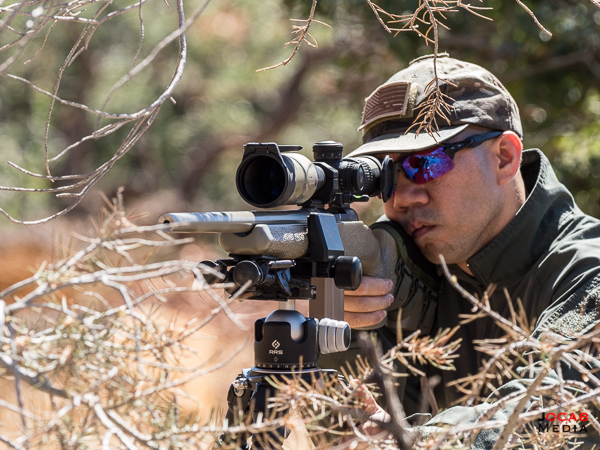 All aspects of the Razor HD AMG are fantastic. While some will argue the merits of a 34mm tube over the 30mm tube the AMG utilizes, I feel that the 30mm tube is not a hinderance, and makes for a smaller and lighter form factor.
Thus, after giving considerable thought on acquiring a Kahles k624i, I decided to go with the Razor HD AMG once again.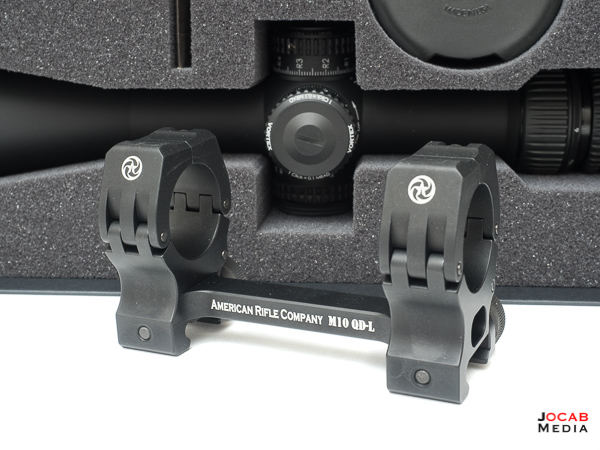 Just earlier in this article, I noted this rifle would be 99% Made in the USA. Essentially every part on this rifle is American made except one small item: the reticle of the Vortex Optics Razor HD AMG. The EBR-7 MRAD reticle is actually made in Germany for Vortex Optics.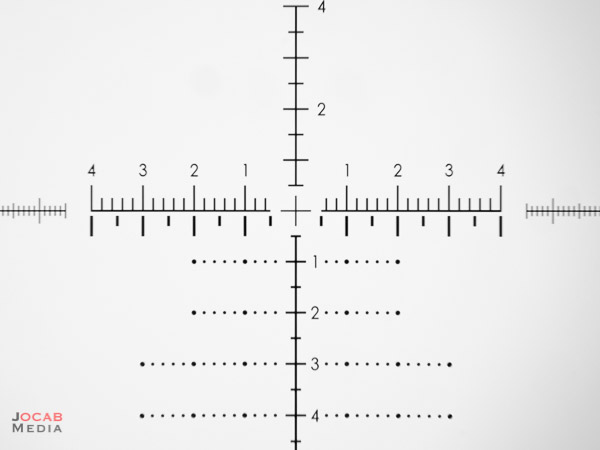 Anyway, this is a short update to my 2017 precision rifle project on the Mausingfield action. I hope to have my barreled action in the next couple of weeks, at which point the rifle will be assembled and another update will be published.