Decided to head over to the West End Gun Club shooting facility yesterday afternoon. Dug my Shooting Chrony Alpha Master chronograph out of the cabinet to verify the loads that I've been running in the Glock 17.
I have been using a load of 4.4gr Hodgdon Titegroup behind a Berry's Manufacturing 124gr 9mm RN which is considered the maximum load by Hodgdon's load database, but never really cared to verify the muzzle velocities.
From Hodgdon's load data website:

125 GR. SIE FMJ Hodgdon Titegroup .355″ 1.090″ 4.1(gr) 1069(fps) 27,300(CUP) 4.4(gr) 1136(fps) 30,600(CUP)
Six rounds of the 124gr 9mm Berry's RN with 4.4gr Hodgdon Titegroup yielded velocities of:
1149 fps

1174 fps
1147 fps
1131 fps
1114 fps
1153 fps
Average – 1144.66667 fps, Standard Deviation – 20.40261 fps
That works out to an average of 1144.66667 fps, with a standard deviation of 20.40261 fps. So it's just about in line with Hodgdon's data for a 125gr Sierra FMJ.
I can afford to take it down a notch, though, and I did try out 4.0gr Titegroup with the same 124gr 9mm Berry's RN bullet:
1055 fps

1087 fps
1113 fps
1114 fps
1095 fps
1075 fps
Average – 1089.83333 fps, Standard Deviation – 22.75449 fps
~1090 fps for a 124gr 9mm is fair and those actually shot noticeably tighter than the 4.4gr load. I guess I'll scale it back for future loads of the 124gr 9mm Berry's RN.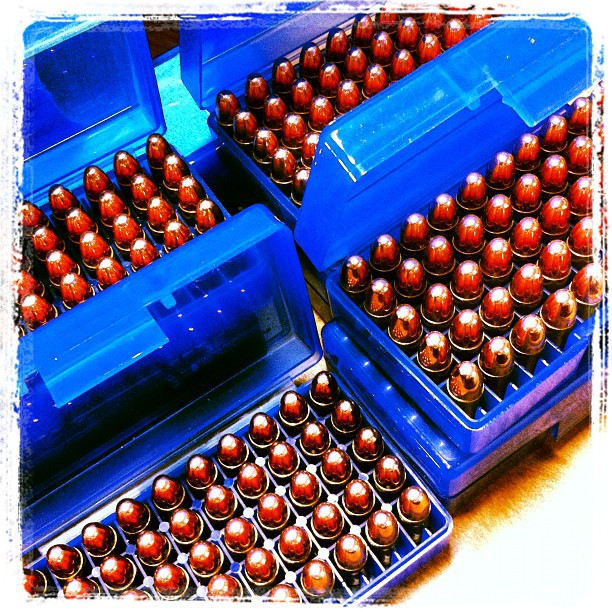 Note: The Shooting Chrony line of chronographs are solid. I've been using them ever since I started reloading in the early 2000's and they work. They're inexpensive, too (as low as $75 depending on the model and retailer). I suggest getting one of the 'Master' models which has the LCD display on a separate unit that you can have at your shooting position as opposed to on the unit itself. Makes it easier for you to read the display having it right next to you as opposed to trying to look 10 feet away with all that daylight glare against the LCD.