I utilize a Micro Red Dot sight on my primary CCW firearm (Trijicon RMR HRS Type 2 on a G26) and the lens collects a lot of lint and other particles during regular carry.
There are some schools of thought on how to properly clean an optical lens while minimizing damage. While I usually don't use LensPen products on camera glass, I will use them on sports optics like rifle scopes, binoculars, and spotting scopes because more than likely I'll be in a field situation where I can't carry around clean microfiber clothes and a blower bulb.
The LensPen is essentially a brush on one end and a non-liquid (dry) cleaning tip on the other end. Fits in a pocket much like a pen. I have found myself using one to clean my Trijicon RMR (and Holosun 507C) lenses while at home.
But I discovered that there is a LensPen MiniPro which is substantially smaller than the standard LensPen.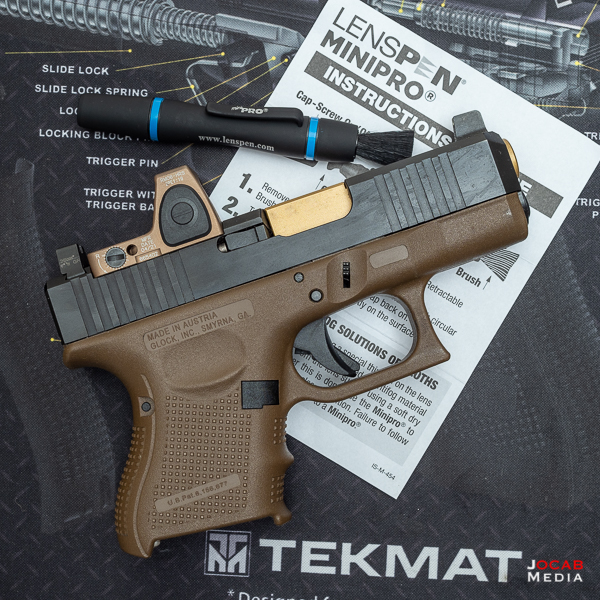 The compact size makes it even more feasible to carry around in a pocket or keep in a backpack and not add any bulk or weight.
Simply brush the loose particles from the lens with the brush and then wipe smudges off the lens with the felt tip containing the dry cleaning agent.
Unfortunately, the felt tip of the LensPen is not very good for cleaning the rear facing lens of a Micro Red Dot sight due to the fact the rear facing lens element is concave and more often than not, the rear iron sight blocks straight access to the lens. But you can still use the brush to clean the rear lens, which is ideal as most of the crud that finds its way into the rear lens of an MRDS is lint.
If you run a Micro Red Dot sight for your CCW, you should consider getting a LensPen MiniPro for a compact, lightweight, and relatively safe way to clean the lens.