A case gauge is a very handy tool to have in order to diagnose and troubleshoot possible ammunition related issues with firearms.
Case gauges are generally used by reloaders or handloaders (people who make their own ammunition) as a quick test for checking oversized or undersized brass. But the gauges are also extremely useful for checking the size of the case on loaded ammunition as well.
A lot of times, I'll come across people who say they had problems at the range chambering, feeding, extracting, ejecting, etc., ammunition in their guns. If it's a new build, I'll always ask if they headspace checked the rifle, and the answer is usually no.
But I will also if they case checked the ammo, and the answer is almost always no, as well, and they often don't understand how.
Checking the case is a very simple task and only requires a fairly inexpensive gauge, such as the LE Wilson case gauge.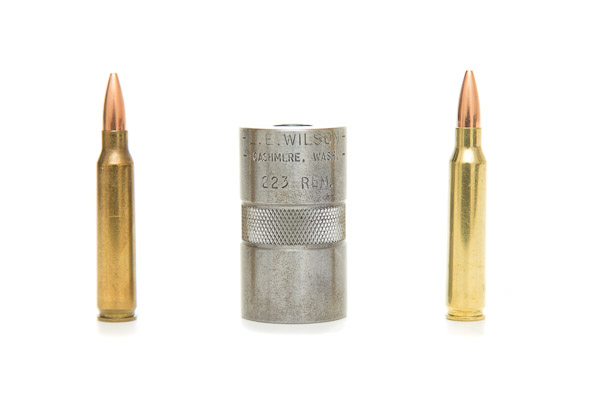 The case gauge can be used on loaded ammo by simply inserting the cartridge into the gauge and seeing if the head of case is flush with the back of the gauge.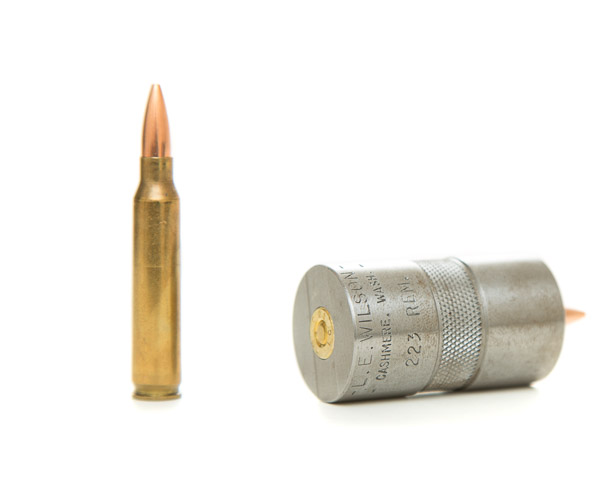 You'll notice that the flat of the gauge has slight groove. This is supposed give you an idea of max and min headspace, and generally the case head should be between the top and lower portion of the groove. I personally don't utilize this considering the groove is so small in depth (.005″ according to the LE Wilson instructions), that eyeballing that is not very precise. My main concern is to check to see if the case head itself cannot sit flush with the flat of the gauge.
If the case head does not fit flush with flat of the gauge, then I know the ammunition (or the case itself, at least) is out of spec: undersized body or base, bad headspace / shoulder bump, etc. From this point, I know the cartridge itself should be rejected and not used because it will most likely result in the gun being out of battery if chambered.
The above photos show an out of spec cartridge. This case is most likely undersized as far as the shoulder is concerned. Another common issue that would result in a case not fitting is an oversized base. This is usually something you'll see with reloaded once-fired 5.56 NATO brass that was originally shot out of M249 or some other fully automatic weapons system. Brass that is shot out of an M249 or other light machine gun usually comes out quite expanded, particularly in the base area (body of case closest to the case head). This this because the chambers of light machine guns may have looser tolerance chambers to aid in feeding. When reloaders resize the once-fired brass from an M249, a lot of times the setup of the resizing die is not sizing the base enough, resulting in a base that is too large in diameter to fit in a .223 Remington or 5.56 NATO chamber.
Anyway, this is the basic gist of using a case gauge to check your ammo. Again, a case gauge is a fairly inexpensive tool at around $25 depending on the retailer, and you don't have to be a reloader to make effective use of one, since it can be used to test factory ammo as well.
Note that you do need to get a gage for each specific cartridge type you want to check, so in that regards it does get expensive.
But considering the cost, I think a .223 Remington case gauge is a must have for any AR-15 owner, no matter what ammunition (factory or remanufactured / reloads / handloads) you use.