I was in South Coast Plaza today and stopped by the Rolex Boutique and they had the 'disappointing' Rolex GMT-Master II 116719BLRO Red/Blue 'Pepsi' dial.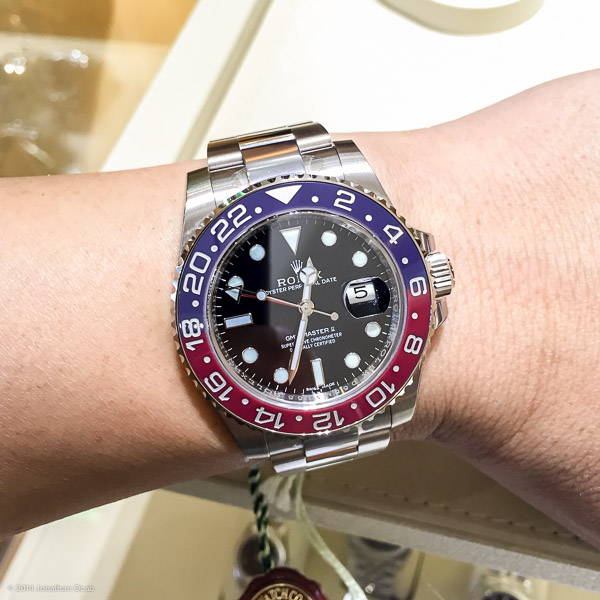 The reason why I say this watch is disappointing is because while this watch is a re-release of the famed GMT-Master Red/Blue in a ceramic bezel format, it only comes in white gold. This means it also comes with a price tag of $41,000 USD.
All of the people who were praying for a red/blue ceramic GMT-Master II after the release of the black/blue ceramic 116710BLNR were proverbially punched in the gut at the 'white gold' specification when the 116719BLRO was announced a Baselworld 2014.
I know plenty of people who want this watch, but all but a few I personally know can afford this watch, and even fewer would actually put $40K+ towards this watch, as opposed to something else in the same price range.
Anyway, the watch is impressive in person, although the red isn't as vibrant as I was expecting. The above photo was taken with the boutique lighting and my iPhone 6, and I tried to run it through Adobe Lightroom to get the colors a bit more true to what I remember seeing. The vibrance of the red in the photo is close to what I saw. If anything, it's a bit flatter than what you see in the above photo.
Aside from that, you really can't tell that it's a white gold watch, unless you're a hardcore watch enthusiast. Personally, it looks like stainless steel to me, and I didn't really notice the white gold until I put it on. On the wrist, you can definitely tell you're not wearing a stainless steel GMT-Master II.
If you're one of the lucky ones who has $41K and change to drop on the 116710BLRO, head over to the Rolex Boutique in South Coast Plaza and buy the only one they have in-stock at this moment in time. Maybe you can ask for a discount because I touched it and soiled it with my grubby paws.