Being a recently minted Jeep Wrangler owner and an off-road novice, I committed a lot of time to research into recovery gear. After I brought my 2018 JK Unlimited Rubicon home, I was dead set on acquiring a winch for self-recovery, but beyond that, I still needed other accessories to make the Warn Industries Zeon 10-S winch effective.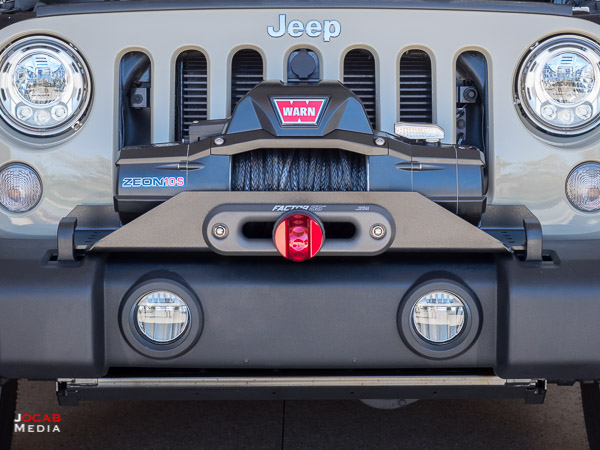 First and foremost, I swapped out the default bundled Warn winch hook with a Factor 55 ProLink shackle mount.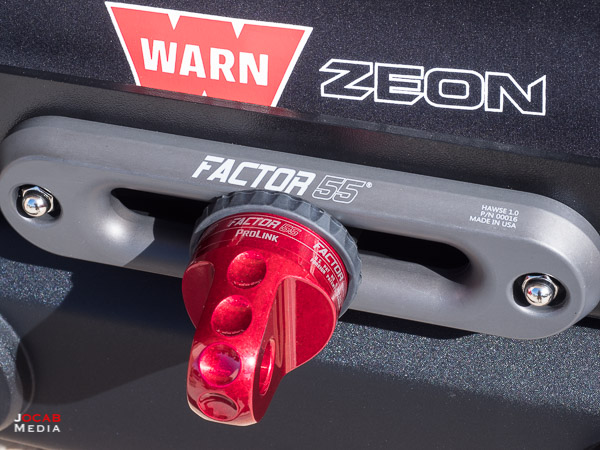 The reason for going with the ProLink is because I liked the ideology behind closed system winching. Factor 55 has a write-up describing closed system winching, but the premise is maximizing security, safety, and reliability during the winching process by eliminating the inherently weak design of open hooks with latches.
Even with the stout American made Warn Industries Zeon 10-S and the Factor 55 ProLink, I still needed supplementary gear in order to make the winch trail worthy, and so I put together a recovery gear kit.
As far as the recovery gear, it is all contained in a Blue Ridge Overland Gear large recovery bag.
One side has MOLLE compatible PALS webbing, where I placed two 5.11 Tactical 6″ padded pouches. One pouch holds my Warn Industries Zeon 10-S winch controller, and the other holds two (2) Crosby 3/4″ steel shackles (more on the shackles later).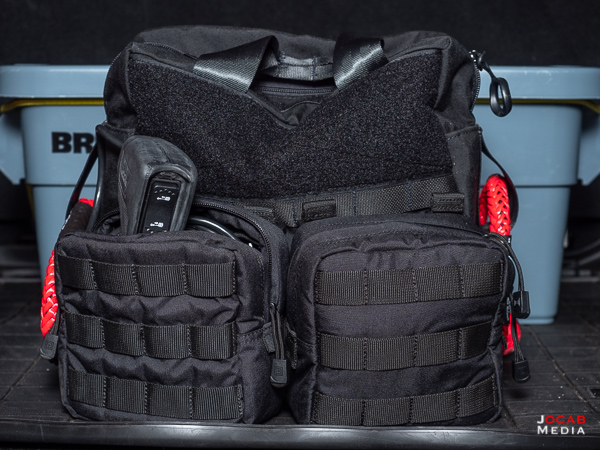 The other side of the BROG large recovery bag is a mesh pouch, where I store a pair of Mechanix Wear Material4X FastFit gloves.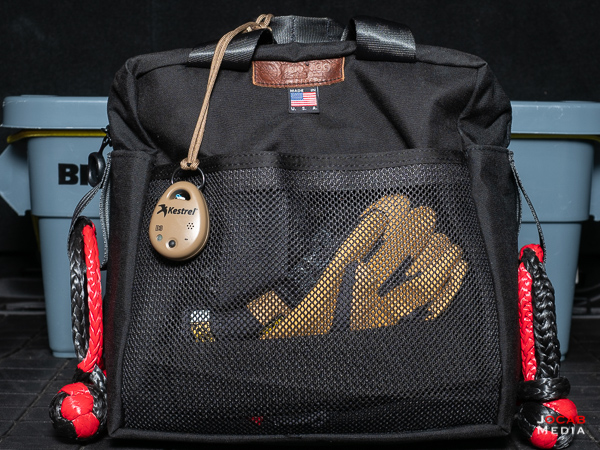 On each of the short sides of the bag, there are loops where I placed two (2) Gator-Jaw Pro Synthetic Shackles by Bubba Rope.
As far as shackles, I opted for a pair of steel shackles and a pair of soft shackles. Steel shackles are quite common on Jeeps and other off-road vehicles. I went with Crosby 3/4″ shackles which are made in the USA.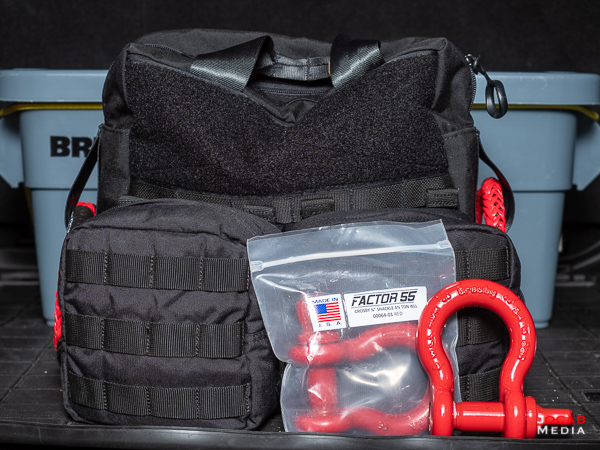 Steel shackles can become projectiles if they break under load, so I wanted trustworthy steel. The specific Crosby 3/4″ shackles I have are rated for maximum working load of 4-3/4 tons (9500 lbs).
As mentioned earlier, I also went with a pair of Gator-Jaw Pro Synthetic Shackles by Bubba Rope. Synthetic shackles, or soft shackles, are safer in that if they break, they generally should not launch and become a dangerous projectile. The Bubba Rope Gator-Jaw Pro Synthetic Shackles actually have a breaking strength of 52,300 lbs. Assuming working load limit is one-third breaking strength, this equates to 17,433 lbs working load, which is quite impressive.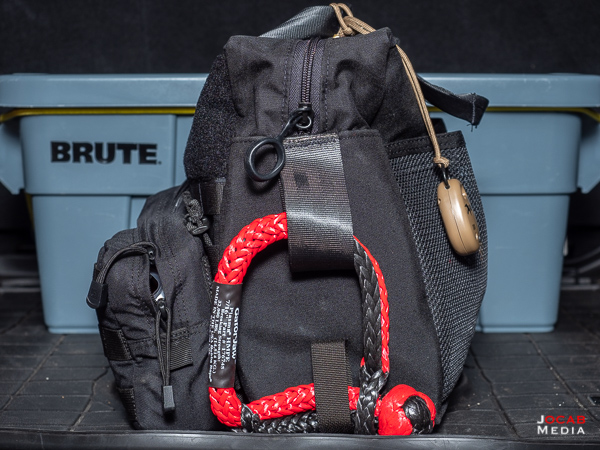 Aside from safety, I wanted soft shackles to use with my factory Jeep Wrangler JK Unlimited bumper's tow hooks. Steel shackles won't hold nicely on the tow hooks, especially since I have the Rock Hard 4×4 winch plate snugged up against the hooks. Soft shackles will provided me a way to attached to the tow hooks if I want someone to pull me out with a recovery strap.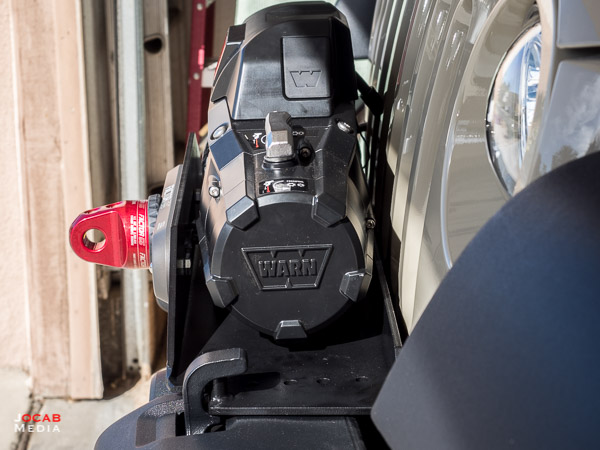 The main compartment of the Blue Ridge Overland Gear large recovery bag holds the tree saver strap, recovery (snatch) strap, and the snatch block.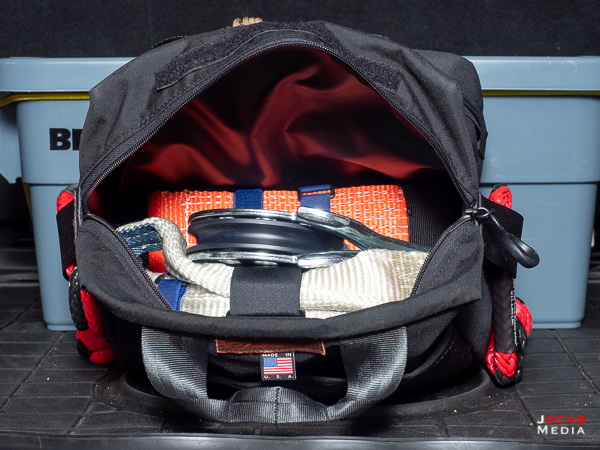 A tree saver strap is an important accessory for any winch since it allows you to effectively winch yourself using an anchor point, such as a tree, boulder, or even a concrete pillar.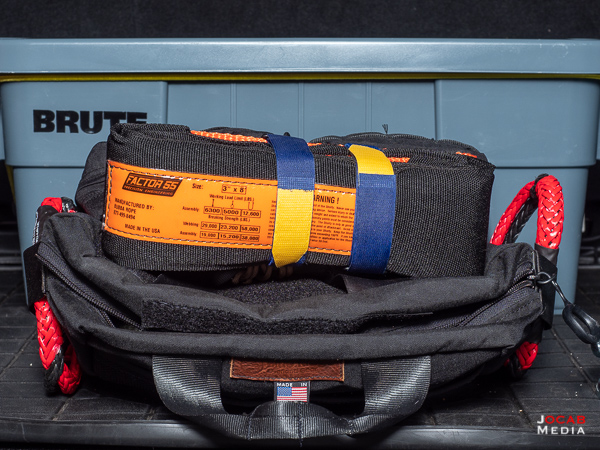 There are many tree saver straps out there, but I opted for the Factor 55 product which is actually made in the USA by Certified Sling Corporation (Bubba Rope Company). As far as design and construction, the Factor 55 tree saver strap is quite stout and well made. The low stretch polyester material along with the Cordura webbing and high quality stitching demonstrates high quality.
The next item that is critical for any recovery kit is a snatch strap. This is probably going to be used more often than a winch, assuming you have a second capable vehicle to pull out the stuck vehicle. A snatch strap is basically attached to both vehicles, and the rescue vehicle pulls the stuck vehicle out of the situation. A snatch strap, unlike a tow strap, has a little stretch built-in to the strap in order to allow the rescue vehicle to gain momentum prior to the actual pulling force. This stretch allows for a build-up of kinetic energy, as opposed to a sudden jolt that will increase the chance of a recovery point failure.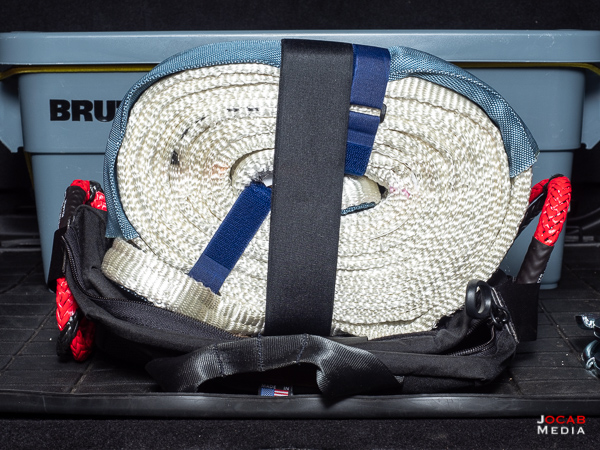 I opted for a Warn Industries Premium Recovery Strap (30′ x 3″) with it's 21,600lbs rating simply because the price was pretty decent compared to other recovery straps out there. While it isn't going to affect the integrity of the strap, the edges of the strap are susceptible to hook material (e.g. Velcro), and I noticed that when I was cinching the Warn recovery strap with a cinch strap, the Velcro will catch the strap. I would like to handle some of the ARB recovery straps to see how those are designed, and may opt for one of those in the future.
The snatch block is one item I definitely wanted in a recovery kit because it allows you to increase (nearly doubling) the winching power of the winch and it also allows you adjust the direction / orientation of the winching if the situation requires it.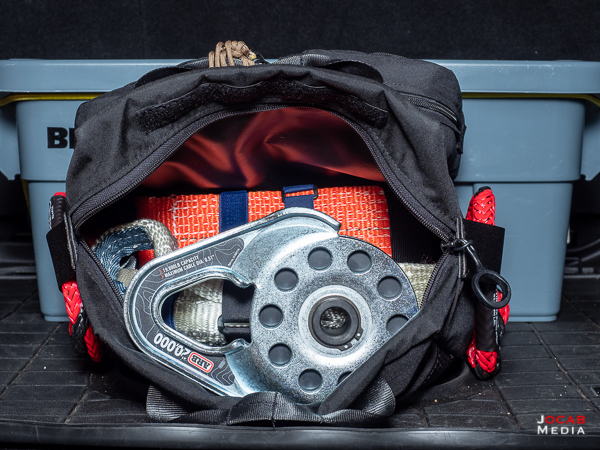 I was looking into quite a few snatch blocks and ended up settling on the ARB Ultra Light Snatch Block. It has a 20,000 lb working load (38,500 lb breaking strength), but only weighs 5.3 lbs. This may sound like a lot, but the Warn Epic Snatch Block 18,000 lb rated weighs over 16 lbs.
This sums up my recovery gear bag that I pieced together. There are obviously other ways to go as far as a recovery bag, in terms of actual items, manufacturers, and quantities. But after a lot of reading and watching videos covering recovery techniques, I figured what I came up with to outfit this recovery gear bag should be sufficient to facilitate an emergency vehicle recovery.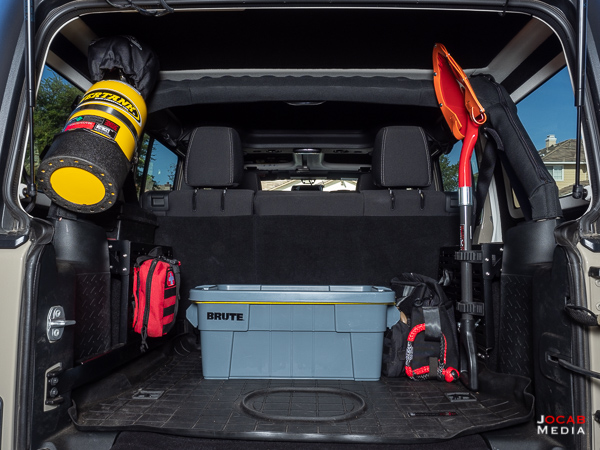 Note: One 'recovery' item you may also see above is the Krazy Beaver Super Shovel. While a shovel is helpful to help dig around a stuck tire, dig holes for an anchor, etc., the reason why I carry a shovel is because it is a range requirement at my primary shooting facility. All members are required to have a "full size" shovel for fire control.