Five years ago on Halloween day, I bought the Rolex GMT-Master II 116710BLNR with the blue and black bezel while out in Orange County taking care of a work related task. Initially referred to as the "Day Night" by enthusiasts, but now more often referred to as "The Batman", the 116710BLNR has remained a desirable watch by watch enthusiasts across the spectrum.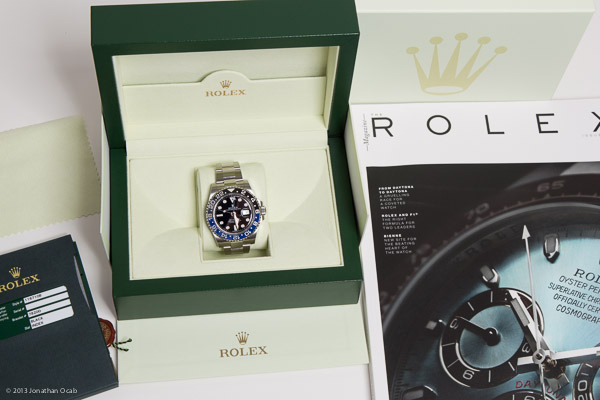 After five years of ownership, the 116710BLNR remains my daily worn watch. While I do rotate watches particularly on weekends or when at home, the GMT-Master II with the blue and black ceramic bezel is my go watch to for the office.
So what are my feelings regarding the Rolex GMT-Master II 116710BLNR five years later?
I still think the 116710BLNR is a fantastic timepiece in terms of style, form, and function. Rolex watches will always have critics, but the fact remains that the GMT-Master II is not just an iconic watch in terms of recognizability and heritage. As far as an everyday watch, the 116710BLNR is right at edge of being the appropriate size for business attire (40mm) and has the right amount of sportiness for casual wear.
It still keeps accurate time and only gains a few seconds per day. As far as wear, I have definitely scuffed up the bracelet and clasp in the five years of ownership. The case itself doesn't look too bad and the ceramic bezel looks the same as the day I acquired it.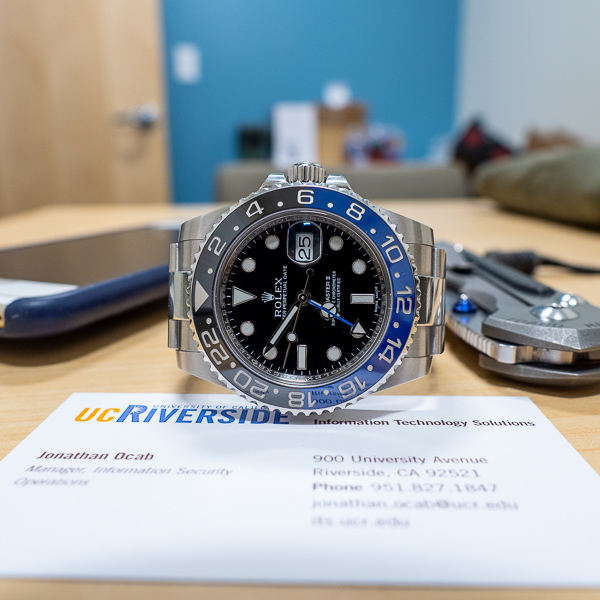 Having paid actual retail MSRP (plus sales tax) for this watch back in October 2013, some would argue that I could have bought it for less through other channels. Fast forward to today and saying that I paid retail MSRP for the Rolex 116710BLNR sounds like a solid deal.
That is because stainless steel Rolex watches, particularly the Submariner, Sea-Dweller, GMT-Master II, and the Daytona are being bought and resold for what many feel are outrageous prices. Right now, the GMT-Master II 116710BLNR is being resold online for over $11,000 USD new. This watch still carries the same MSRP as it did five years ago with a price of $8950 USD, which means a 22% markup over retail.
Rolex (as well as other upper tier watch brands) has created an artificial scarcity of their stainless steel sport watch lines through careful underproduction and control of the retail supply chain. Ariel Adams of A Blog To Watch wrote an excellent editorial article on this specific trend earlier this year that I highly recommend everyone to read.
Essentially, Rolex's stainless steel sport watches are very popular and highly sought after by watch enthusiasts thanks to the brand and the historically decent pricing. I say decent because while Rolex watches would be considered expensive by most people's standards, a Submariner or GMT-Master II is still attainable. Attainable is the keyword. While $8,000 is a significant amount of money to spend on a watch for the average person, it is more accessible compared to buying a $35,000 yellow gold Rolex Day-Date.
Anyway, Rolex understands why their Submariner, GMT-Master II, and Daytona watches are quickly sold and in order to elevate the stature of Rolex further as premier brand, they started underproducing those lower priced, high demand stainless steel watches to create exclusivity for even an entry-level Rolex.
I do not want to digress, so I recommend reading the A Blog To Watch article mentioned earlier. But I bring up this topic because it does have impact on my attitude towards the 116710BLNR today.
Regardless of the perceived exclusivity of this watch today, I am very happy with the Rolex GMT-Master II 116710BLNR. But given today's Rolex market, any feelings of regret I may have had paying MSRP back then is definitely gone now.
So five years later, I am still enamored with the Rolex GMT-Master II 116710BLNR. It has a great balance of sporty and dressy characteristics that works for my lifestyle. As polarizing as Rolex has become in the watch community, the 116710BLNR is easily recognized and appreciated by watch enthusiasts in general, including MLB 2nd Baseman Howie Kendrick who noticed and complimented my Batman while at SHOT Show 2018.
If you happen to have stumbled across this reflection post while researching and deciding on whether or not to acquire a Rolex GMT-Master II 116710BLNR, I wholeheartedly recommend snapping one up if you see one at or below MSRP. Even if you fall out of love with the watch, you cannot lose money on it in the current market.