Continuing from Part 1 of my SHOT Show 2010 After Action Report, the Lapua booth was one of the few booths I made sure to visit because I am a huge fan of Lapua brass and their 22cal 77gr Scenar.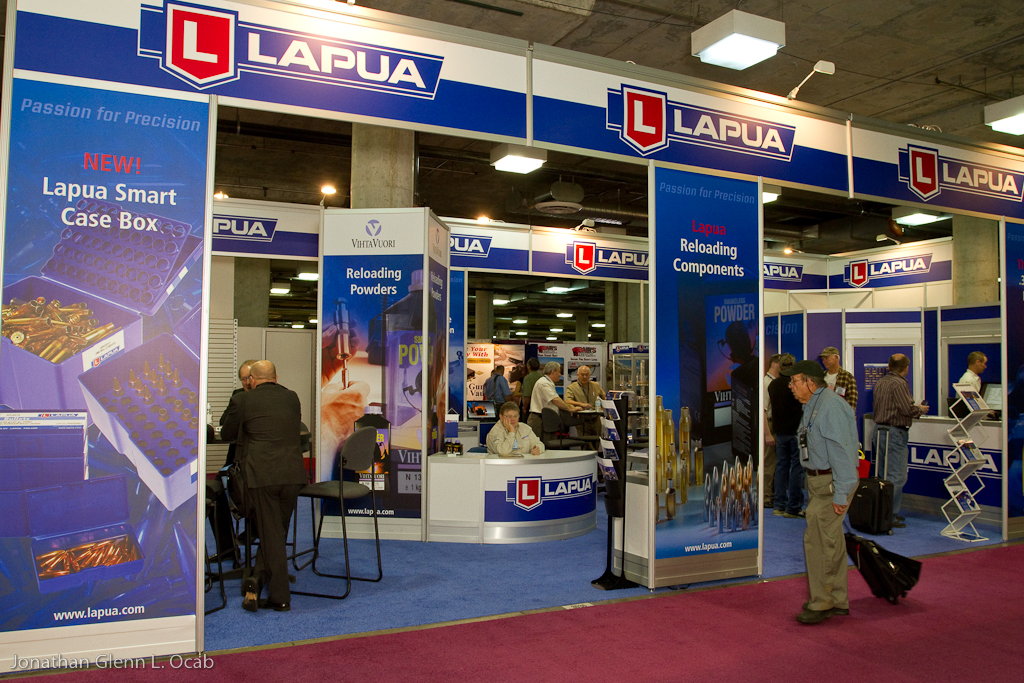 Lapua had a couple new items like the small primer pocket Winchester .308 'Palma' brass, which I had already heard about. While it may appear mundane to some, I was happy to see new product packaging in the form of Lapua's 'Smart' box (PDF product information).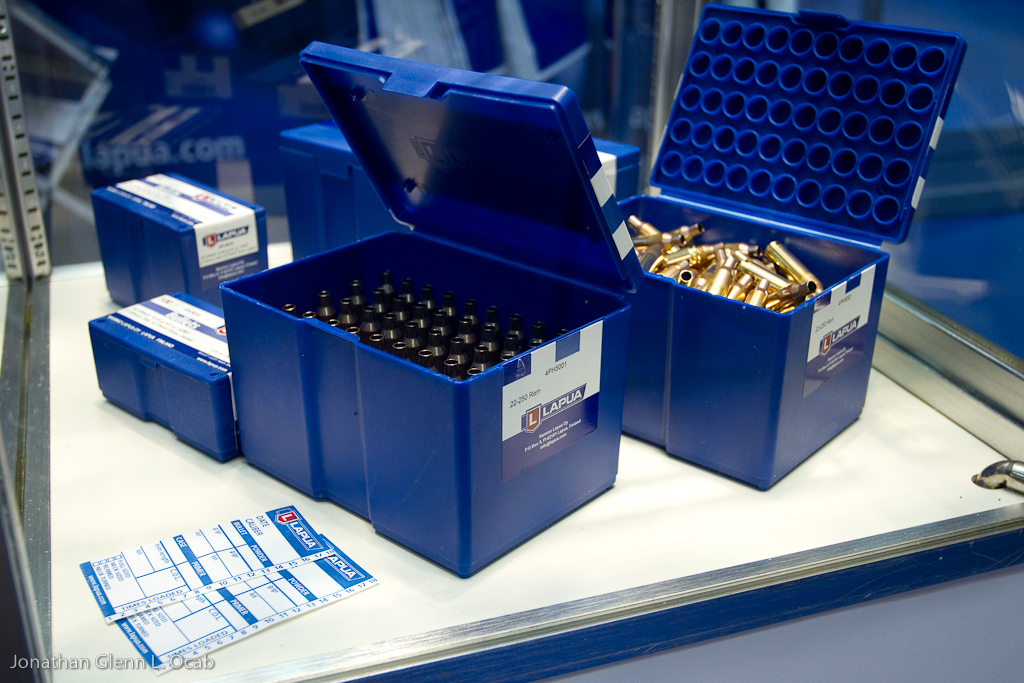 Lapua is now shipping all brass in blue plastic boxes and phasing out the current gold cardboard/paper boxes. The so-called 'Smart' boxes are reusable as cartridge containers so handloaders buying Lapua brass are also getting ammo boxes. Note that the boxes hold 100 cases, but an insert folds down which allows retention of only 50 loaded cartridges.
Lapua is also phasing out the cardboard packaging used for their bullets to the blue plastic box designs. This is definitely a much needed improvement for Lapua products considering most every other bullet manufacturer uses plastic boxes for better product protection in distribution transit. I neglected to find out if Lapua was going to also ship 1,000-count bulk packaged bullets in the blue plastic packaging.
I mentioned the Leatherman MUT in Part 1 of my SHOT Show report, but I neglected to mention their cool booth theme. Leatherman put up a booth designed out of particle/press board.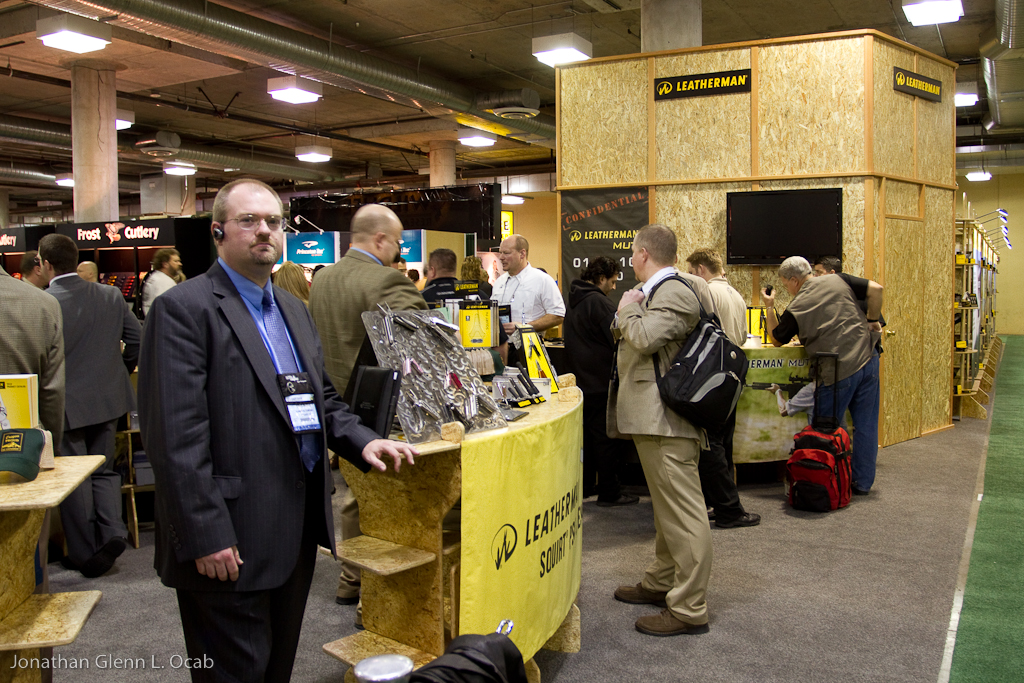 I thought Leatherman's booth was the best design at the show. It was a great concept and I felt it fit the company theme for a working (wo)man's tool.
While the SHOT Show is a great place to see new products, it's also a great place for people to see products that aren't new to the market, but new to them. With all the firearms manufacturers present, attendees have the opportunity to handle and inspect guns and items that they don't usually find in their locales.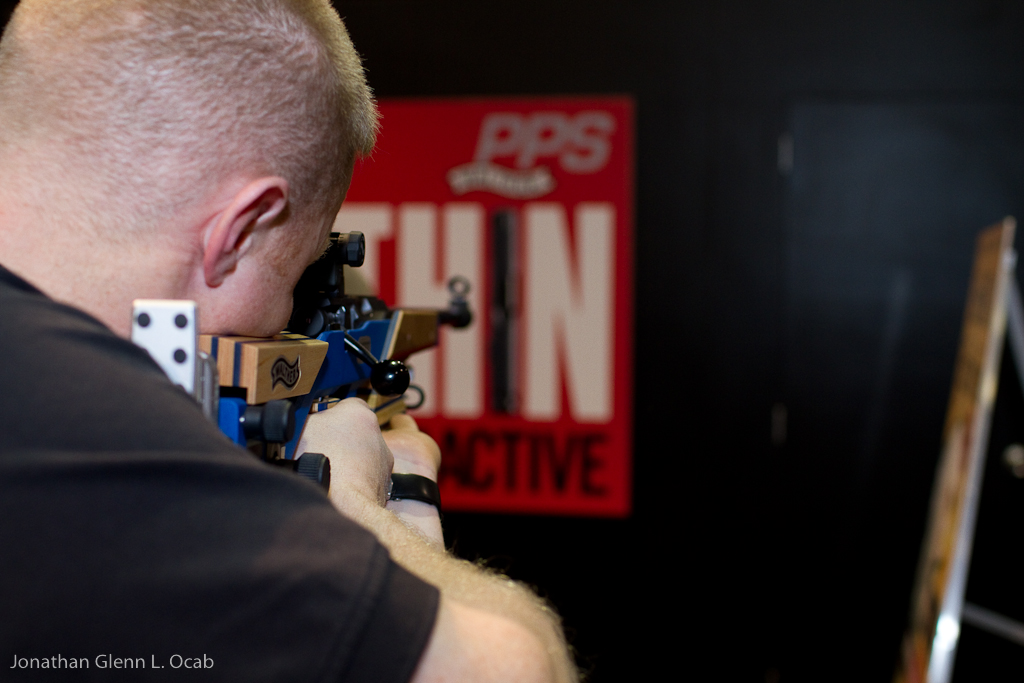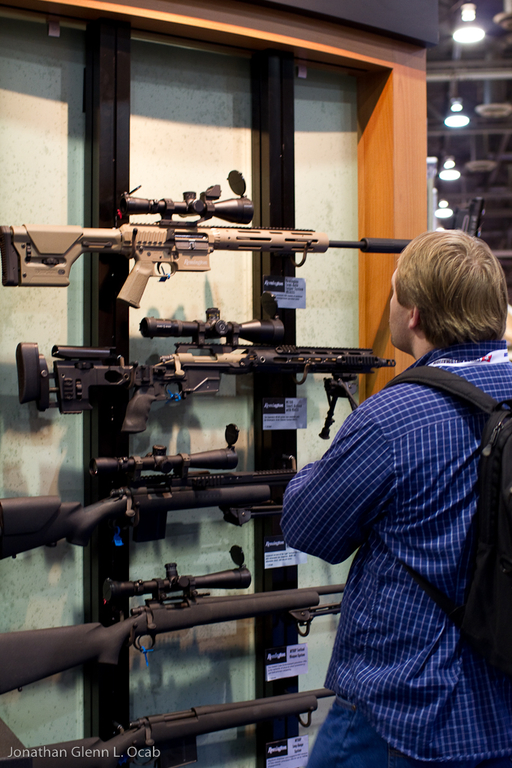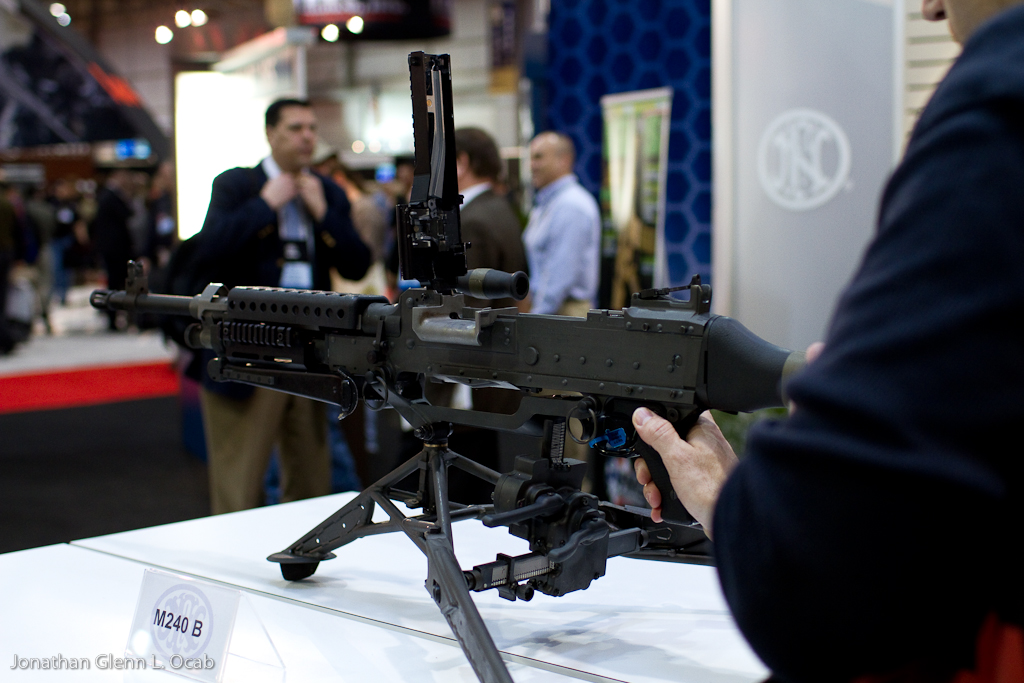 Probably one of the cooler highlights of SHOT Show for me was when I walked by the McMillan booth on day 2. I didn't really need to stop by since I was already familiar with McMillan products and didn't need to check on anything, but was rounding their booth to get to the next row. I passed a beautiful girl sitting at a table center of the McMillan booth who appeared to be in a bunch of posters on the table in which she was posing with a Tubb 2000. As I rounded the table I came upon the one and only David Tubb.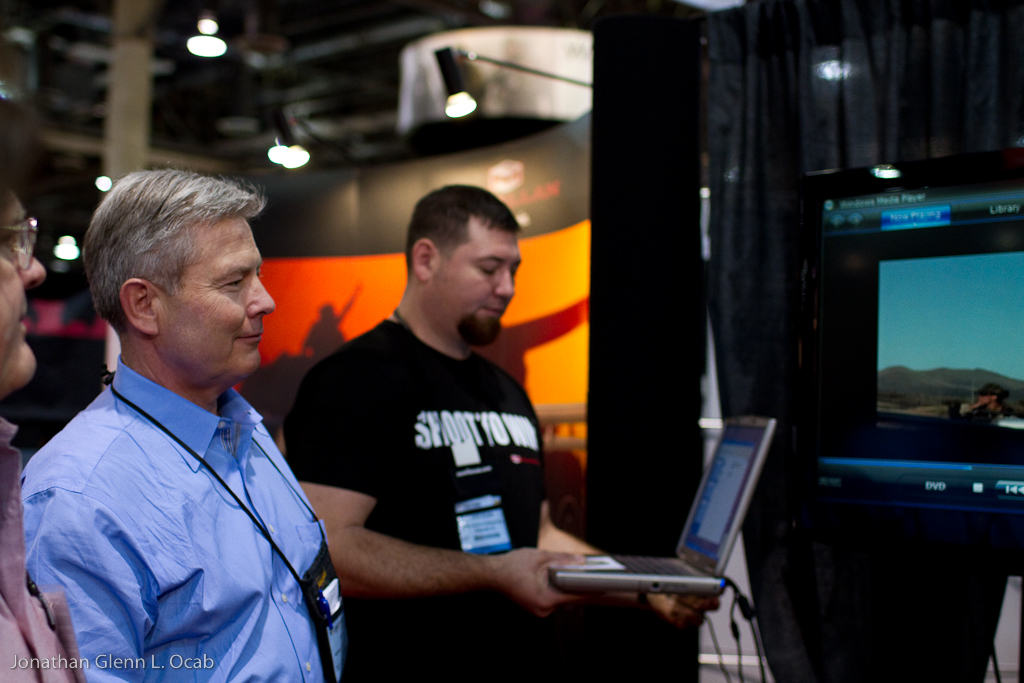 I approached him, shook his hand and engaged him in conversation relating to High Power and had mentioned how valuable the information is on his DVD set "The Art and Technique of the Modern Match Rifle".
When I brought it up he sort of smiled and looked towards the girl I had passed by earlier and she had said some words to David Tubb. Then I realized that the girl was Christie Tubb, his daughter, who was also in the video as an assistant during the rifle fitting demonstration.
After this revelation I went over and talked with her and she signed a poster for me.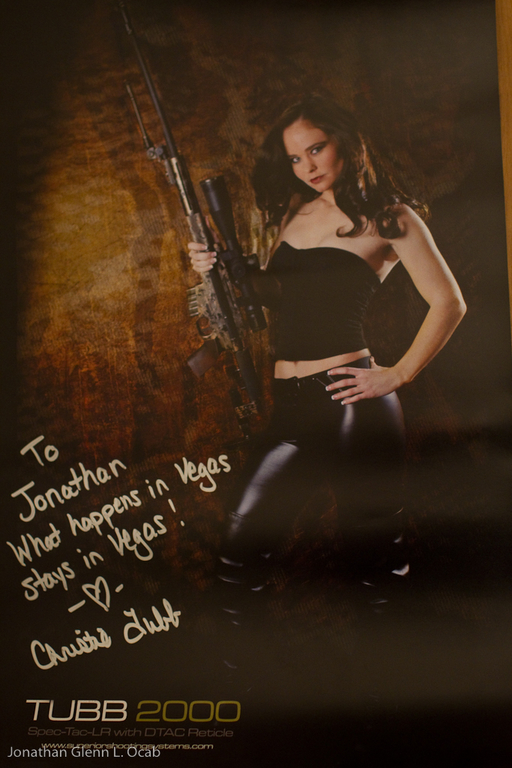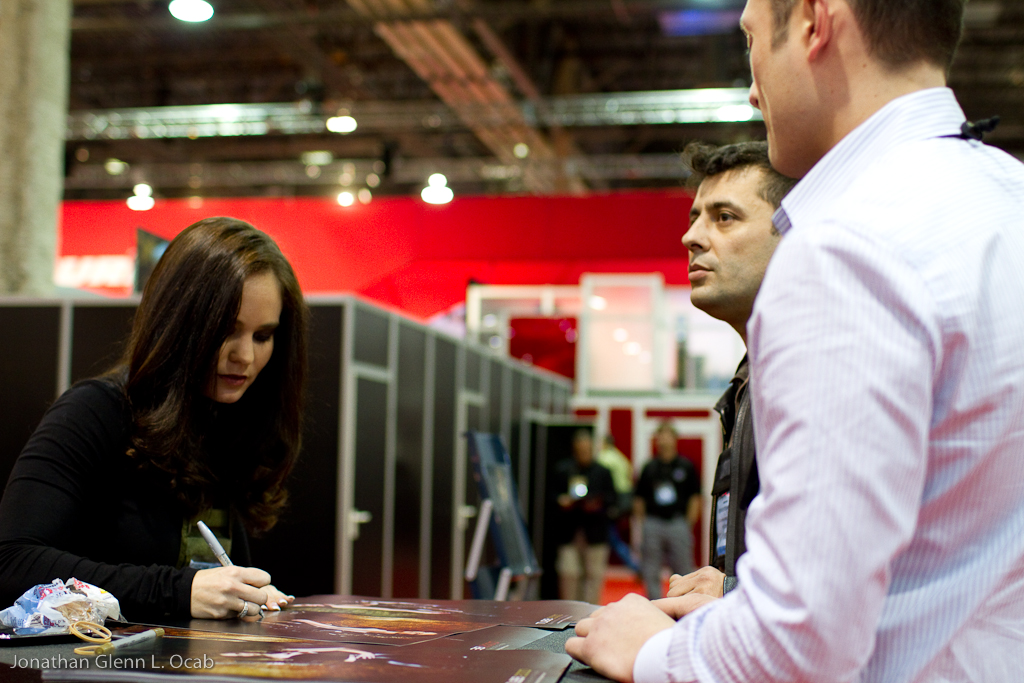 If that wasn't enough of a cool encounter, Sherri Gallagher (USAMU member and reigning NRA National Long Range Rifle Champion) came by to see the Tubbs at the McMillan booth. After Sherri had spoken to Christie, I was able to approach Sherri and ask her some questions about the wood block she uses on her Tubb 2000 rifle. Ends up Sherri brought her rifle to the show and invited me to see her at the Army Marksmanship Unit booth a little later and she would give me a hands on demo of the rifle setup.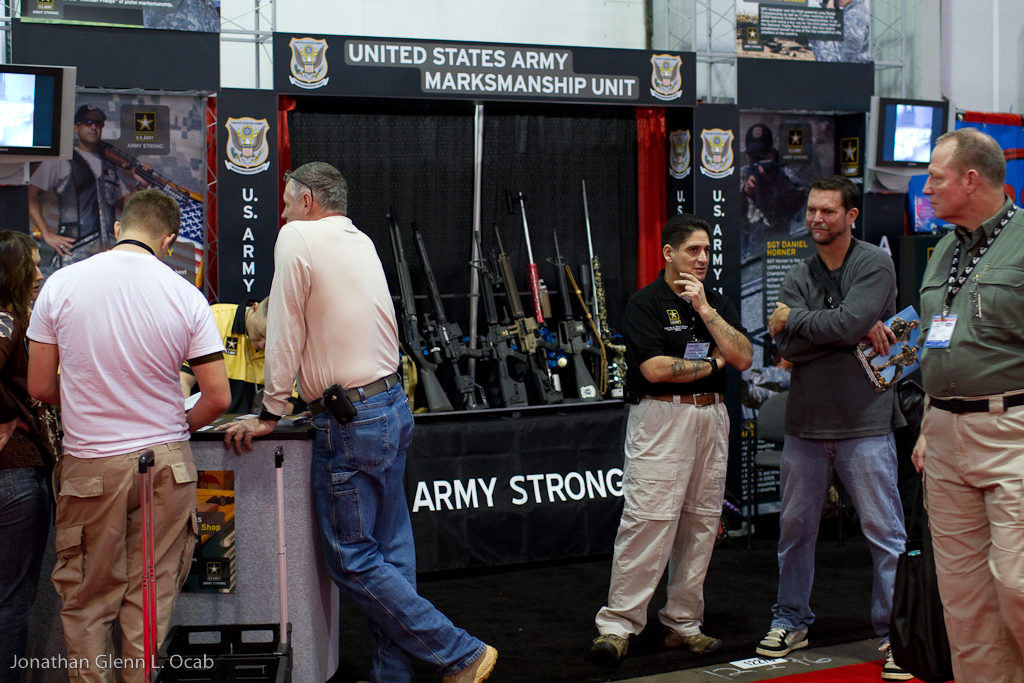 So a little later when I came upon the AMU booth, Sherri was there and she took several minutes to give me the run down on her setup. As far as the wood block on the handguard just in front of the magazine well, I may put one on my Eliseo R5 to help in sitting (more elevation on the muzzle).
I thought that sequence of chance encounters made for an interesting SHOT Show experience.
That said, there were also a few other celebrities of the firearms industry taking the time at SHOT Show to sign autographs for attendees.
The ever popular R. Lee Ermey spent time at both the SOG and Glock booths to sign autographs and he was a popular draw.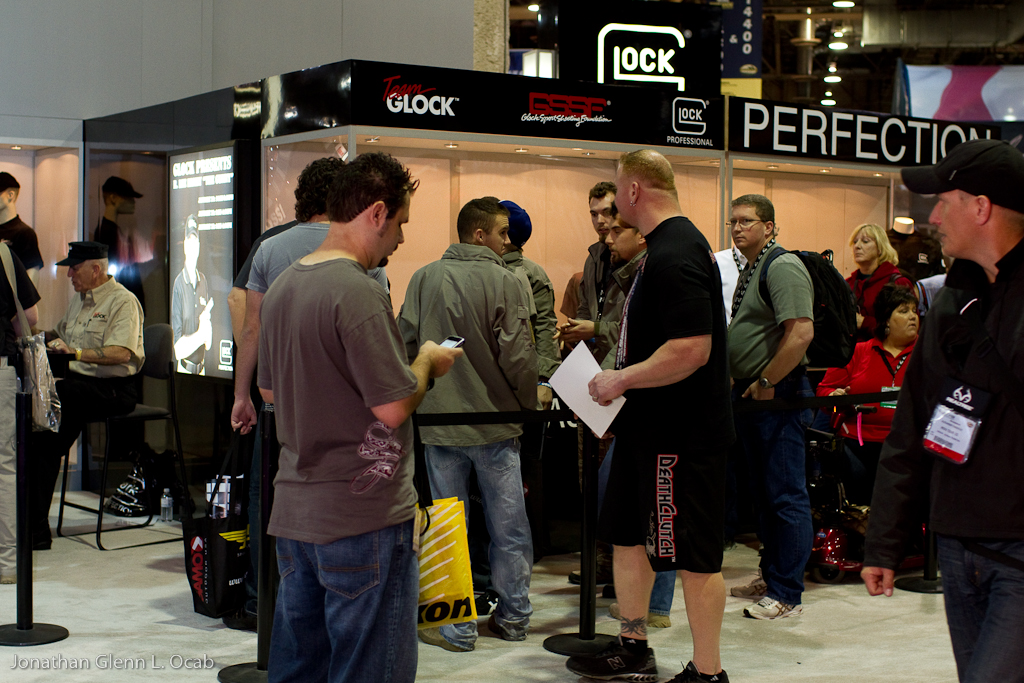 Jim Scoutten of Shooting USA was present to cover the show, but also took some time to sign autographs.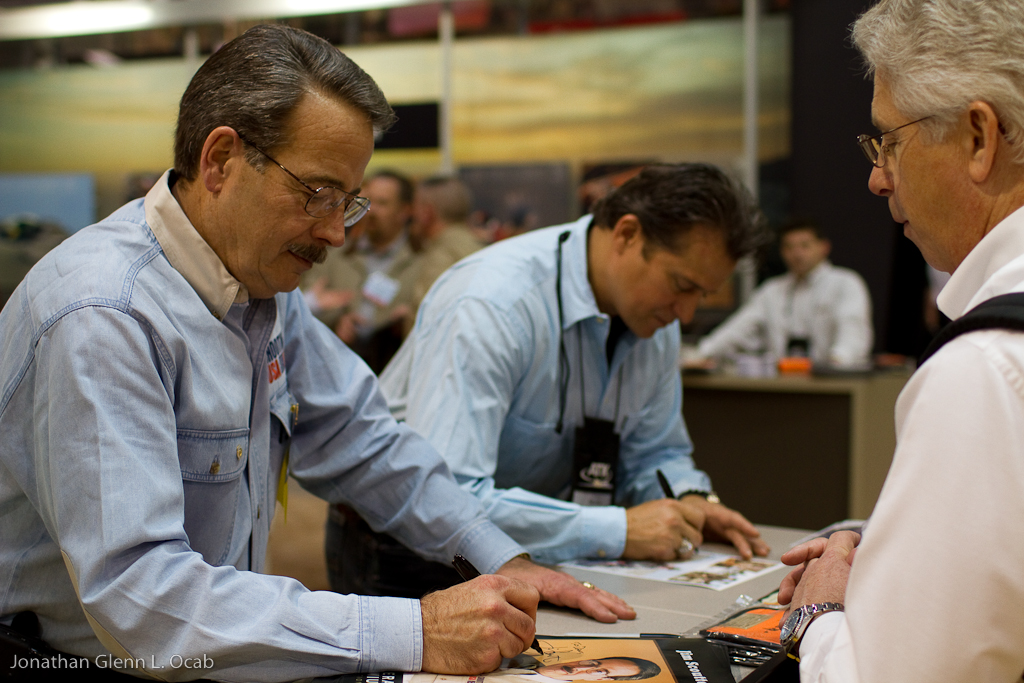 Cathy Rankin of Dillon Precision calendar fame was also on hand signing calendars for charity.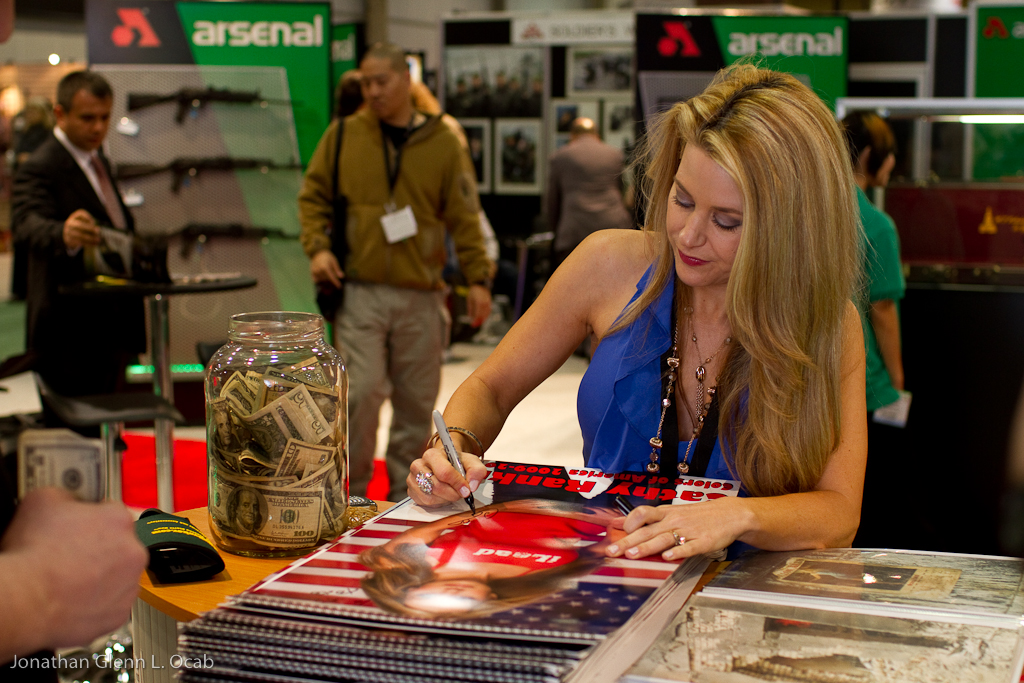 I did a quick once through on Thursday morning before I left Vegas (around noon) and ended up passing the Berger Bullets booth while Bryan Litz was there. I recognized him and his name tag confirmed who he was, so I approached him and engaged him in conversation about his book "Applied Ballistics for Long Range Shooting". I complimented his work on the book (because it *is* a great book) and he mentioned to me that he is currently working on a second edition which will add information for more bullets. I definitely plan on picking up the second edition when it is published.
As far as the venue, I really liked having it at the Sands Expo as opposed to the Las Vegas Convention Center. I think the Sands Expo has far better floor space than the Las Vegas Convention Center (at least compared to SHOT Show 2008) and if i recall correctly, the Press Room location for this year's SHOT Show was closer to the other wings of the exhibition halls than in 2008.
I stayed at the Harrah's Hotel and Casino which is just a short walk to The Grand Canal Shoppes at the Venetian, which connect to the Sands Expo. Considering the rainy weather, this was great since walking to the SHOT Show exhibit halls from the Harrah's only required walking about 25 yards without overhead cover. I could have stayed at The Venetian or The Palazzo (both of which are connected to the Sands Expo), but Harrah's was only $50 a night compared to $200 a night for the aforementioned two hotels.
One last item of note is that I was approached by several people on the exhibition floor regarding my camera rig. I was wearing the Cotton Carrier vest with the Cotton Carrier holster on a Think Tank Photo Steroid Speed Belt to carry my 7D and 40D (both gripped). I ended up handing out the three Cotton Carrier Camera Systems business cards I had as well as handing out my own personal cards with the cottoncarrier.com URL handwritten on the back. Several people were very impressed with the system, especially after I demonstrated it for them and I am confident that at least four people will be ordering Cotton Carrier vests and/or holsters based on my attendance at the show.
That pretty much covers my own experience at this year's SHOT Show. It was a solid show. While there weren't many 'new' products announced that appealed to me, it still was a great opportunity to meet and talk with other firearms industry people and real shooters, as well as get product literature.
For more photos of SHOT Show 2010, visit my SHOT Show 2010 album in the ocabj.net photo gallery.