A few months back, I developed the notion that I should put together an Everyday Carry Bag, or more popularly known as the EDC Bag. The endeavor to build my own EDC bag was sparked by how I often find myself needing varying items on any given day, which crossover between my work life at the office and my personal / hobby time outside of the office.
There is also the fact that I drive two different vehicles, a car and a truck, and switch between them whenever the situation or mood dictates. If I drove just one vehicle all the time, keeping essential items in the vehicle would be convenient. But since I drive two, it would be easier to just to have a bag with EDC gear that I keep with me no matter which vehicle I'm driving.
When I decided to build an EDC bag and began looking into the bag itself, my initial requirement was that it would be a small form factor bag. I didn't want to use a backpack (like a three day assault pack) because I didn't want something excessively big that wouldn't fit behind the seat of my truck (regular cab Toyota Tacoma), and also so I wouldn't get into a pack rat mentality and try to put too much into it.
I also wanted something with PALS webbing so I could attach accessories as desired.
After researching on the Internet and coming across various gear write-ups and reviews, I ended up choosing the Maxpedition Lunada Gearslinger. It is the medium sized bag (external dimensions: 12 inches x 8.5 inches x 5 inches) in their Gearslinger line (between the Remora and Malaga). While I was already familiar with the Maxpedition brand, the Lunada was actually my first Maxpedition bag. Maxpedition's reputation for making solid gear helped bring me towards them, the Lunada's form factor and aesthetics were what attracted me.
I don't want to get too deep into reviewing the Maxpedition Lunada Gearslinger in this article, so you can visit the Maxpedition product page for more details: http://www.maxpedition.com/store/pc/LUNADA-GEARSLINGER-p484.htm
Now that I chose a bag for EDC, the question is what to put in it?
While I have an office job as a Computer Security Analyst (IT Security), I'm also quite active particularly in the shooting sports, and tend to drive all around Southern California for photography and leisure as well.
I angled my EDC bag contents to encompass all aspects of my work and personal life, and thus, has items that are strong in specific applications, but are still functional in other environments.
Rather than doing one long list, I'll walk through the contents by working from the outside of the bag and going towards the interior.
Outside
There are several items that are visible on the exterior of my EDC bag.
Benchmade / HK Axis-lock knife
Benchmade small rescue hook
ITS Tactical Tallboy Trauma Pouch
MOJO Medical Shears
Combat Application Tourniquet (C-A-T) in Cleer Medical Kydex Sheath
Keychain / Hook
Master Lock combination lock
Two 18″ cable / zip ties
I actually place the Benchmade 916 Triage blunt-tip, serrated, and coated blade (916SBK) in the lower most PALS webbing on the sling strap. The Triage is a great utility / rescue knife and keeping it on the front of the body seemed like the most expedient place to put it (if I'm not carrying a blade on my person, e.g. pants pocket).
The rear pocket of the bag has a pair of Mechanix Wear 'Original'-style gloves. Gloves are handy whenever I need to do lifting of equipment or gear so a pair found their way into my EDC bag.
The front side PALS panel has another Benchmade / HK Axis-lock folding knife. This is actually a fairly old knife (~10 years) and I don't even remember the model number and it's not on the Benchmade website anymore. I believe it was one of the very first Benchmade / HK collaborations. Anyway, I threw this on the outside of my EDC bag more for a backup. Attached to the front PALS is a generic keychain / hook that I believe I picked up from LA Police Gear several years ago.
Both the left and right side of the Lunada have two columns of PALS webbing. On the left side, I have a Leatherman MUT and supplementary wrench and AR front sight tool in the Leatherman MOLLE sheath, and an older Benchmade Rescue Hook in a MOLLE sheath. The Leatherman MUT is a handy multi-tool for me, since I utilize a lot of the features for firearms maintenance (carbon scraper, T15 torx, punch, etc) when I'm not near my toolbox. The inclusion of the discontinued Benchmade Rescue Hook was more of a placeholder than anything. It doesn't really add any weight, and I figured it's nice to have there than nothing at all, even if I have a rescue hook on my 916SBK Triage.
On the right side of the Lunada, I have an ITS Tactical Tallboy Trauma Pouch attached via Molly Stix (quick release PALS / MOLLE clips). The ITS Tactical Tallboy Trauma Pouch also has PALS webbing on the sides, and I have a pair of MOJO Medical Shears as well as a C-A-T (Combat Application Tourniquet) in a Cleer Medical Kydex Sheath attached to the Tallboy.
The inclusion of the trauma kit on my EDC bag is something not common for most EDC bags, and is specifically a personal lifestyle choice. As I mentioned, my EDC bag will travel with me everywhere, and than includes the shooting range. My 'home' range (West End Gun Club) is a bit off the beaten path, so having life saving medical supplies can be critical. But while the trauma kit is strongest in the shooting sports aspect of my life, it still serves purpose in all other aspects of my life (e.g. roadside emergency).
Note that I initially mentioned the ITS Tactical Tallboy as a trauma *pouch* and not a trauma *kit*. I purchased the Tallboy Pouch only, and not the complete pouch plus kit from ITS Tactical. I already had some of the core items in the ITS Tactical Trauma Kit, so I just put those items (and added a few more) into the Tallboy Pouch.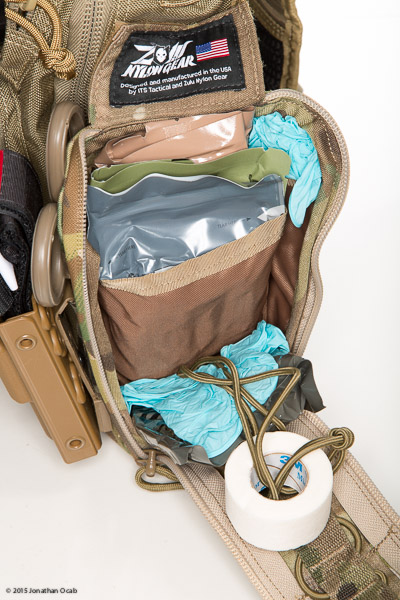 The contents of my ITS Tactical Tallboy Pouch are:
2 pairs of nitrile gloves
1″ Medical Tape Roll
Attached to one of the D-rings is a four tumbler Master Lock combination lock. I wanted to keep a lock on me in the event I need to stow the bag in a locker (e.g. gym) or secure some other lockable container.
On the top-front of the bag is an area with a sleeve secured with bungee cord. I decided to put a couple of disposable items here: a 6″ green chemical light ("glowstick") and a pair of 18″ cable / zip ties. The chemlight is nice handy way for visually marking someone (stick in PALS webbing, tie to lanyard on body, etc) or something / some place (spot on road ala road flare). Cable ties serve a multiple of purposes and in the absence of duct tape, gaffers tape, or rope, ties can be quite handy.
There is a open pocket on the backside of the Lunada where I decided to store a pair of Mechanix Original gloves. Note that I currently use Mechanix FastFit gloves for shooting. The FastFit style is thinner and less durable than the Original style, but the FastFit fit snugger on my hands with more tactile feel. I put Originals in my EDC bag because I wanted a longer lasting all purpose glove for general use (e.g. loading/unloading gear from the truck, handling heavy equipment, etc).
Top-Outside Pocket
The Lunada has a small zippered compartment on the top front of the bag, close to the top handle. I keep a few items in this compartment.
Small pack of facial tissues
Lip Balm
SureFire EP5 ear plugs
Microfiber cloth
Apple earbuds
Victorinox Spartan Swiss Army Knife
The tissue and lip balm are pretty much self explanatory. The SureFire EP5 ear plugs serve primarily for the range, but I also sometimes wear ear plugs at the office and will go to the EDC bag if I need them. The microfiber cloth in this compartment is a Canon branded cloth is one of many I got for free from Canon, and keep it in the bag since it's always nice to have a cleaning cloth for eyeglasses, camera lenses, phones, etc.
The Victorinox Spartan knife was an item I actually picked up from the 2015 SHOT Show as part of a fundraiser. I decided to keep this in my bag as another general purpose utility tool (e.g. corkscrew).
Outside Pocket 1
On the front side of the bag which is also a compartment, there is a small/thin zippered pocket. I currently only keep two items here.
Small bottle of hand sanitizer
Sample vial of cologne
Hand sanitizer is self-explanatory. The cologne vial is another personal lifestyle choice. In the event I'm at the office and forgot to put on cologne, I can go to the EDC bag for it, or if I'm going to a social even after work and don't have time to go home, I can 'refresh' my scent. I have and acquire a lot of cologne samples, so I just keep any random one that I think smells decent in my bag.
Outside Pocket 2
The larger exterior pocket contains a lot of my utility items.
One Black Sharpie Marker
One Silver Metallic Sharpie Marker
Fisher Space Pen
Sharpie Fine Tip Pen
Rite-In-The-Rain Notepad
SureFire C2 Centurion (with Malkoff Devices LED head) flashlight
Coast HX5 LED flashlight
Burktek Pocketwrench II
6″ Chemical Light
I've reserved this pocket for a lot of my smaller utility items as you can tell from the list.
Writing utensils make up several pieces. I use Sharpies a lot. I keep a silver metallic marker in the bag because I like them for index marking screws and bolts to see if they come loose (e.g. optics mounts). Incidentally, they're nice for autographs if you want someone to sign a poster or photo. Keeping pens in the bag is also important to me since I have a bad habit of pocketing a pen while at the office, going home, un-pocketing it onto my dresser or what not, but never re-pocketing when I go to work the next day.
The Rite-In-The-Rain notepad can be any small notepad. I also like the small Field Notes books even though they only have 48-pages, since they're thin and if I want, I can keep a separate Field Notes memo book for individual projects, conferences, or trips, rather than in a thicker Moleskine. But I have a Rite-In-The-Rain currently in the bag because I acquired one from the Glock booth at the 2015 SHOT Show.
I went with two flashlights. I have an older SureFire C2 Centurion light. This light is over 10 years old and long since discontinued. But I converted it to an LED (from the original incandescent head) using a Malkoff Devices LED head. It has a 100 lumen, 10+ hour runtime bulb, which is a great general purpose utility light. I wanted a non-CR123 powered flashlight, and I was given a Coast HX5 flashlight at the 2015 SHOT Show. It runs on a single AA battery at 130 lumens for 3.75 hours. This is a good backup if the SureFire C2 dies on me. Not to mention, if I'm in a situation where I need to scrounge a battery to power a flashlight, AA batteries are easier to come across than a CR123.
The Pocketwrench II is a simple tool that I came across a few weeks back and I ordered one. It seems like a nice handy last resort wrench tool in the event I need one.
Main Compartment
The main compartment holds the larger items on my EDC load out.
8 ounce bottle of water
Oakley Glasses Case with Oakley M-Frame prescription sunglasses
Large Oakley Watch Vault with microfiber cloth
Pelican 1020 case with minor first aid supplies
Sunscreen
Several individually wrapped hand wipes
One CR2032 battery
Apple Lightning cable
Rain cover from a Think Tank TurnStyle 20 sling pack
There is a lot of not-so-random gear in the above list and I should probably address each one of them.
The 8 ounce bottle of water is simply an emergency water source. It's small enough to put in the bag, and not weigh down. While not a lot of water, it's enough to provide a refreshment.
I unfortunately wear corrective lenses, so I keep my prescription Oakley M-Frames in my bag. I'm always wearing these at the range, and often when I'm driving.
The large Oakley Watch Vault with microfiber cloth inside is more of an emergency container in the event I need to take off my watch and put it in my bag. The Oakley Watch Vault is somewhat big, but it can hold the excessively large watches (probably 48 or 50mm case diameters). Granted, since my largest luxury watch is a 43mm case, I could probably switch to a CASEBUDi watch travel case which will save a little room. But, I'm debating on taking this out of the bag altogether.
I decided to store some minor first aid supplies in this EDC bag and decided to house all of that in a Pelican 1020 micro case. It's mainly some non-critical first aid supplies such as self-adhesive bandages, individually wrapped gauze, medical tape, alcohol wipes, and individual doses of Tylenol, Ibuprofen, and Aleve.
Sunscreen is an item that I find myself needing often since I do a lot of stuff outdoors in my spare time. One time I left my sunscreen in my truck and I was driving my car when I attended a car show. Then I left my sunscreen in my range bag when I was out and not at the range. Keeping a small bottle in the EDC bag seemed prudent.
The individually wrapped hand wipes were chosen for size and ease of use. I initially put a 12 pack of wipes in the bag, which was in a resealable plastic bag of sorts. But when I resealed it, it wasn't sealed well and the liquid from the wipes began to seep out into the EDC bag. Individually wrapped hand wipes keeps things tidier in the bag.
I decided to keep four (4) CR123A batteries in a small holder (to protect the terminals) to backup the SureFire C2 Centurion in the EDC bag, but also so I could administer my weapon lights if the batteries died. I use SureFire weapon lights on my pistols, rifle, and shotgun, all of which use the CR123A battery.
I put one CR2032 battery in the bag specifically for the Aimpoint Micro T-1 red dot sight that I use on my carbine. Granted, I keep a spare CR2032 in my rifle bag and another in my range supply bag, but since the CR2032 takes minimal space, I included one in my EDC bag load out.
The Anker E1 2nd generation battery is a emergency power source to charge my iPhone if I find myself running low. I actually have an Anker E4 2nd generation battery, but it has a bit of weight and size to it and the E1 is a great fit for my EDC bag. The E1 can provide nearly 2 full charges for an iPhone 6, which is more than enough for emergency charging until I get to a real charger. Naturally, I keep a spare Apple Lightning cable along with it.
The Pelican 0955 Sport Wallet was something I purchased specifically for this EDC bag. I wanted to keep some emergency cash, along with a second form of identification (US Passport Card) and a spare credit card in the event I lose my actual wallet / card holder
Lastly, at the bottom of the bag I have a rain cover that actually came with a Think Tank Photo TurnStyle 20 camera sling bag. This rain cover actually fits the Lunada perfectly, but not my specific configuration due to the extra gear attached to the exterior (mainly the ITS Tactical Trauma Pouch). But I wanted a rain cover to at least cover the trauma kit, and I can stick the TurnStyle 20 rain cover on the bag such that it is snug and covers the side with the trauma pouch along with the top and front of the bag. Unfortunately, Maxpedition doesn't make rain covers for their bags, and I couldn't find a rain cover being sold online that would fit the Maxpedition Lunada Gearslinger because it's such as small bag. All the rain covers I came across were for full sized backpacks and large camping / hiking packs.
That's essentially the breakdown of the load out in my EDC bag. But this is what I consider the first iteration / version. I think it's going to evolve as time passes. I'll shuffle around where I store items in the bag, and I might find that certain items aren't worthwhile whereas other items not in the bag would be more useful.
I'm already rethinking existing gear in the bag that I listed above, such as the Oakley Watch Vault travel case. One item I think I should include in the bag is a USB flash drive just for utility use. So I'm probably going to put a 16GB or 32GB USB stick in the bag when I come across a deal on one.
But this is how I have my EDC bag setup for myself right now and I'll probably post a followup in 6-12 months to provide an update on how my EDC bag evolved (if it did at all).
Addendum:

I did want to mention the issue I had with the Lunada Gearslinger stitching for the top handle. The stitching on one side of the top handle next to one of D-rings broke completely.

If you notice in photos of the Lunada Gearslinger, the top handle has two sets of stitching on each side. There is one box stitch on each side that secures the handle to the bag. Then above that box stitch on each side is a pair of stitches that secures a D-ring in place.

First (Returned) Maxpedition Lunada Gearslinger

When one line of stitches broke by the D-ring, the D-ring itself was no longer secured. Granted, the handle is still secure, this design is slightly flawed. The box stitches, which are the most secure for load bearing are towards the end of the handle, while the pair of single stitches are towards the top, bearing the load.

I googled for Maxpedition top handle stitching and actually came across a post in the EDC Forums by a person who had the same issue with his Malaga Gearslinger.

I returned my Lunada Gearslinger to Amazon for a replacement and what I noticed is that the stitching on the replacement bag was different. It seems there is more stitching in the areas noted as weak points in the aforementioned EDC Forum post, specifically for the D-rings on the top handle and for the PALS / MOLLE webbing on the sling strap.

Replacement Maxpedition Lunada Gearslinger

First (Returned) Maxpedition Lunada Gearslinger

Replacement Maxpedition Lunada Gearslinger

So I'm not sure if the first Lunada Gearslinger I received was NOS (New, Old Stock) and the replacement was from a more recent production run.

First (Returned) Maxpedition Lunada Gearslinger

Replacement Maxpedition Lunada Gearslinger

Anyone that buys a Maxpedition Lunada Gearslinger should make note of the stitching when they receive it and return it if it doesn't have the extra stitching on the D-rings and on the sling strap top most PALS / MOLLE webbing.