C-Stands, otherwise known as Century Stands, are equipment commonly used in the film industry as grip for rigging various light modifiers and lights themselves. But while C-Stands are big in film, photographers have also adopted C-Stands because of they provide a great amount of versatility in being able mount studio strobes at angles, heights, and in locations often unattainable with standard light stands.
This versatility is the reason why I decided to purchase a C-Stand. I wanted a way to mount a light over a subject (specifically a model). I looked into boom arms that are meant to be used with standard light stands, and I tried the Westcott boom arm. I tried it immediately upon receiving it and I was dissatisfied with it. It didn't seem very sturdy and stable when attached to the light stand and the tilter bracket didn't seem very tactile or easy to manipulate. Thus it sat in a closet for several months until I sold it to someone else who could make better use of it.
During this time I was still researching C-Stands online, checking out forums and the Adorama and B&H websites for the various C-stands, kits, and options. I eventually settled on and purchased the Avenger A2030D Kit. I paid $176 and change with free shipping from Adorama.
The A2030D kit comes in a turtle base (detachable) configuration and the Avenger D200 grip head with a 40″ extension (boom) arm. I really wanted the detachable base because I wanted maximum portability in the event I wasn't using my truck and needed to throw the C-Stand into the trunk of my car (small trunk).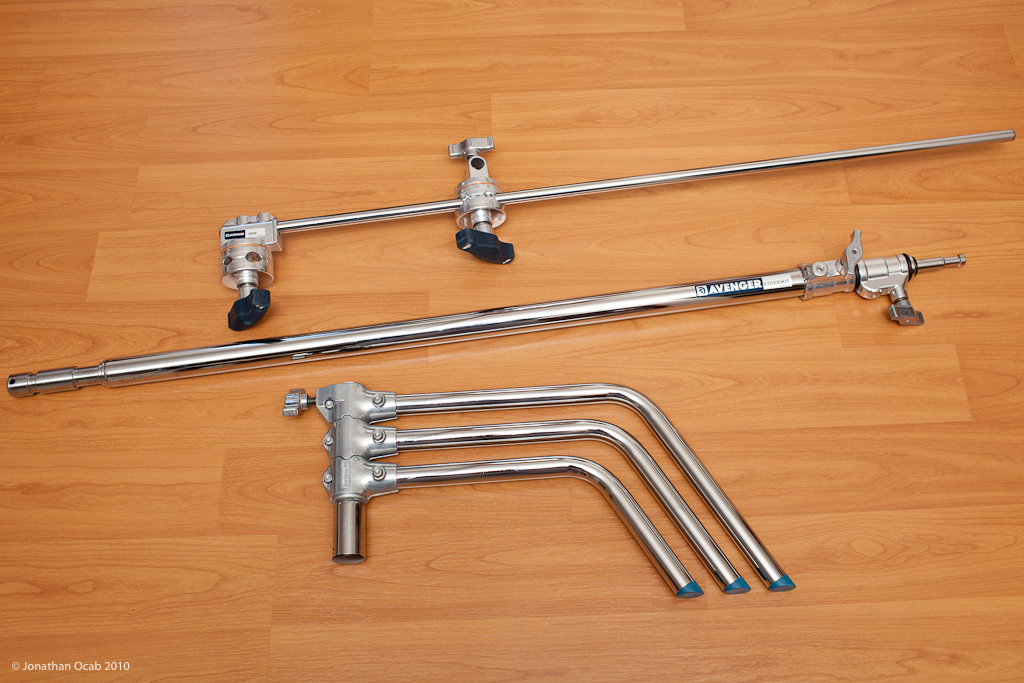 Assembly and breakdown is very easy. Short of a few rubber parts (o-rings, pads) the entire C-Stand is constructed of steel.
That said, the Avenger A2030D fully assembled weighs in at 18.4lbs (13.7lbs without the grip head and extension arm). A bit of heft compared to the 3.7lb Giottos LC-244 light stands I use all the time. But the heft comes at the benefit of having a very rugged stand.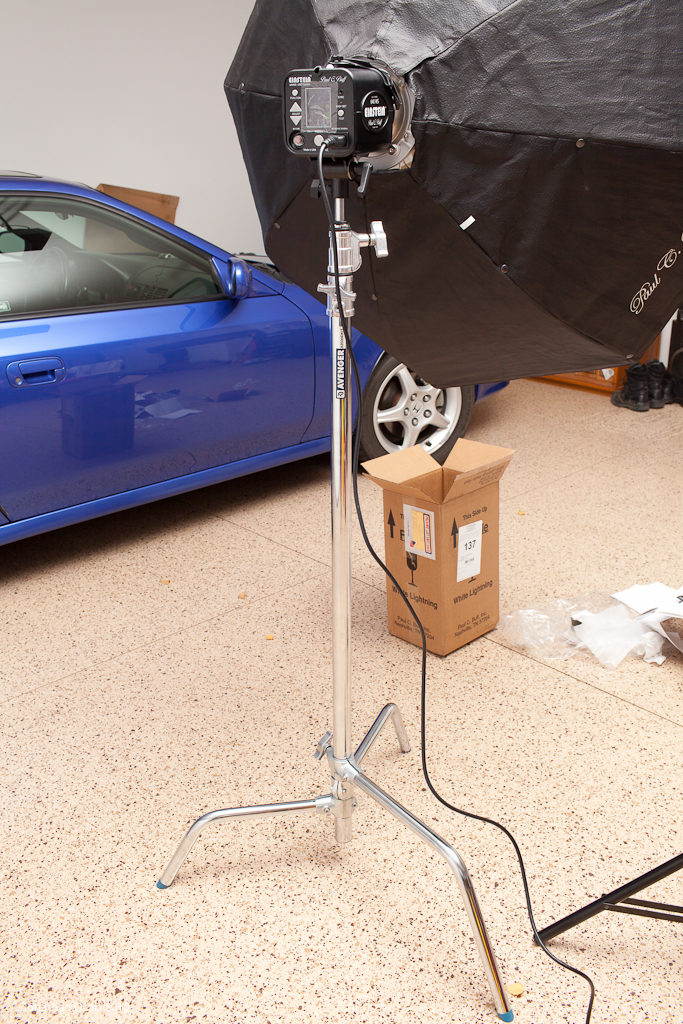 I really love the rugged construction of the C-Stand. The steel knobs for the locking mechanisms are large and you can hand tighten each arm and segment properly. The grip head adjustment knob for the clamp that holds the extension arm is larger than the other knobs and is also rubber coated. The large rubber coated knob allows the operator to attain a better grip and ensure the extension arm is adequately clamped (important since you'll often have a expensive studio light on it).
Also, the knobs don't unthread completely off. If you try to unscrew the knobs all the way, there's a positive stop. Thus, there's no chance knobs getting lost.
I've had the opportunity to use my new C-Stand at a couple of photo shoots this past month and I have found it to be very useful and easy to use.
While I was at a recent photo shoot, I totally forgot to get some wide-angle shots demonstrating how I deploy the C-Stand in a multiple light setup. Though, I was able to show some practical usage of the C-Stand in a video I cut with footage from another photo shoot earlier this month (first scene after opening titles, 3 seconds into the video).
I also cut a fairly bland video showing off the C-Stand.
Anyway, I highly recommend getting a C-Stand. If you're into portrait photography, you should at least have one. Granted, the Avenger A2030D kit is pricey compared to a standard light stand at $176 and even without the extension arm and grip head, the Avenger A2030D is still $140. This is over three times as much as the Giottos LC-244 at $43.
Note: Prices cited reflect those on the Adorama website on 2010-11-27.
But the price is justified by 1) the rugged construction and design of the C-Stand, and 2) by the fact that a C-Stand with an extension/boom arm is so flexible by providing a multitude of ways of orienting a light.
If you wish to help support this blog, use my affiliate link with Amazon (http://amazon.ocabj.net) to make your next photography purchase.