Several months ago I acquired a platform mounting system known as the MOD DOS, which is made and sold by The MUB LLC.
So what is the MOD DOS and why would you buy one?
The MOD DOS could be viewed as a tac-table (tactical table) by some and in some regards it is. For those who don't know what a tac-table is, it is a term used for a small flat platform placed on a tripod for various purposes including rifle support.
Tac-tables are mainly used in NRL/PRS style shooting disciplines as it allows you to rest the rifle on a tripod without locking in (using Arca clamp or vise-style clamp) and still have a stable front position. This can also be used in hunting situations.
However, the MOD DOS is more than just a tac-table as it is meant to be a platform that can be adapted for mounting various items, including optics, and that is why I acquired one. I intended to experiment with a singular platform to mount various items to be used while spotting and/or observing while on the firing line.
The MOD DOS has 27 1/4″-20 holes and eight (8) pairs of MLOK slots to facilitate mounting, and the bottom of the MOD DOS has an Arca-Swiss style dovetail to support clamping on any tripod head that supports this dovetail.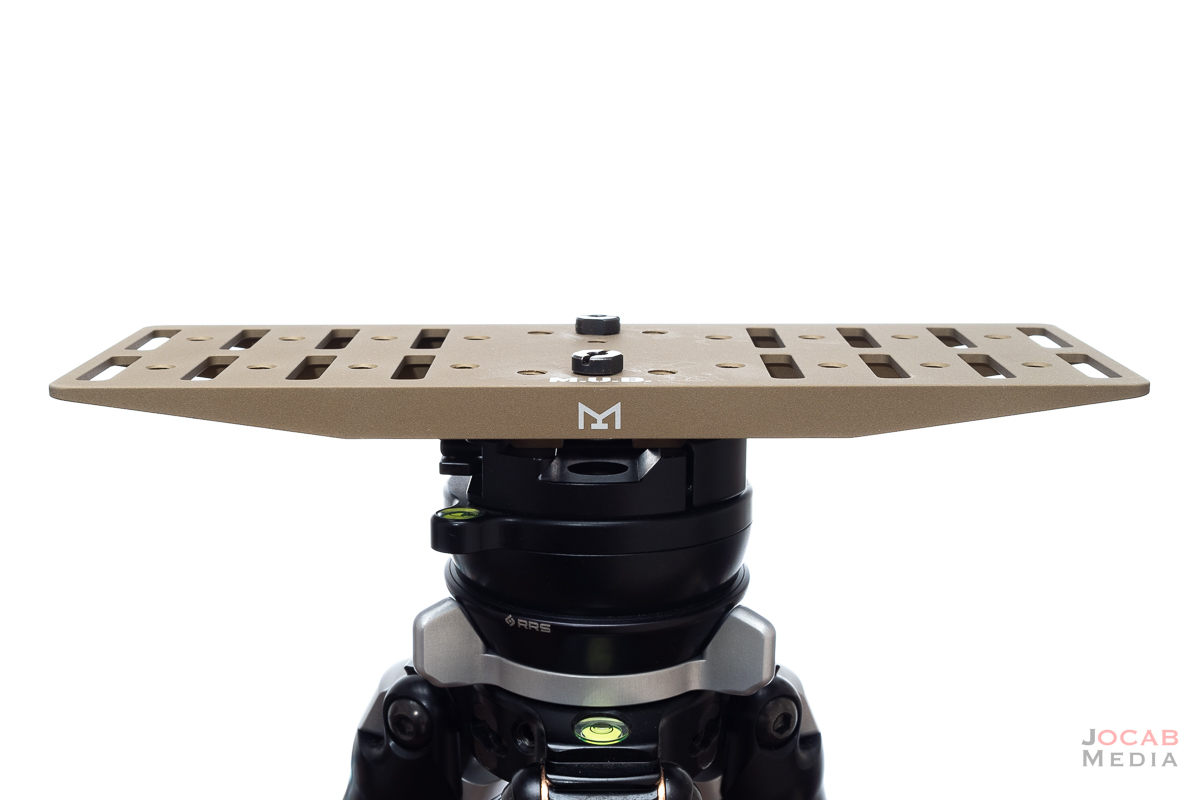 The MOD DOS is 3.5″ x 9″ and weighs 10 ounces. It is relatively small, but is large enough of a platform for shooting bags such as the Armageddon Gear / Reasor Precision Gamechanger bag.
Note that the MOD DOS is advertised to be an anodized finish. However, the Flat Dark Earth finish on the MOD DOS feels very matte / flat like a Cerakote. I am a bit ignorant of anodized aluminum, but I assumed that anodizing is a slick, smooth finish as opposed to a flat, rougher texture.
From there, the user needs to figure out ways to mount whatever equipment and gear will be used on the platform.
One highly useful mounting item that would adapt to the MOD DOS is the Really Sight Stuff BC-18 Micro Ball Head.
The RRS BC-18 has a single stem that is threaded for 1/4″-20 threads, so it will simply thread onto one of the holes on the MOD DOS. From there, the BC-18 gives the user a small single-lever controlled ball head with a 10 lb load capacity.
Along with acquiring a RRS BC-18 Micro Ball Head, I looked into other options for mounting items on the MOD DOS.
Since the MOD DOS supports MLOK, I looked into MLOK capable adapters such as a Picatinny rail section and acquired a Magpul 7-slot Picatinny rail section for MLOK. This offers me the ability to mount a Picatinny clamping item such as a scope mount.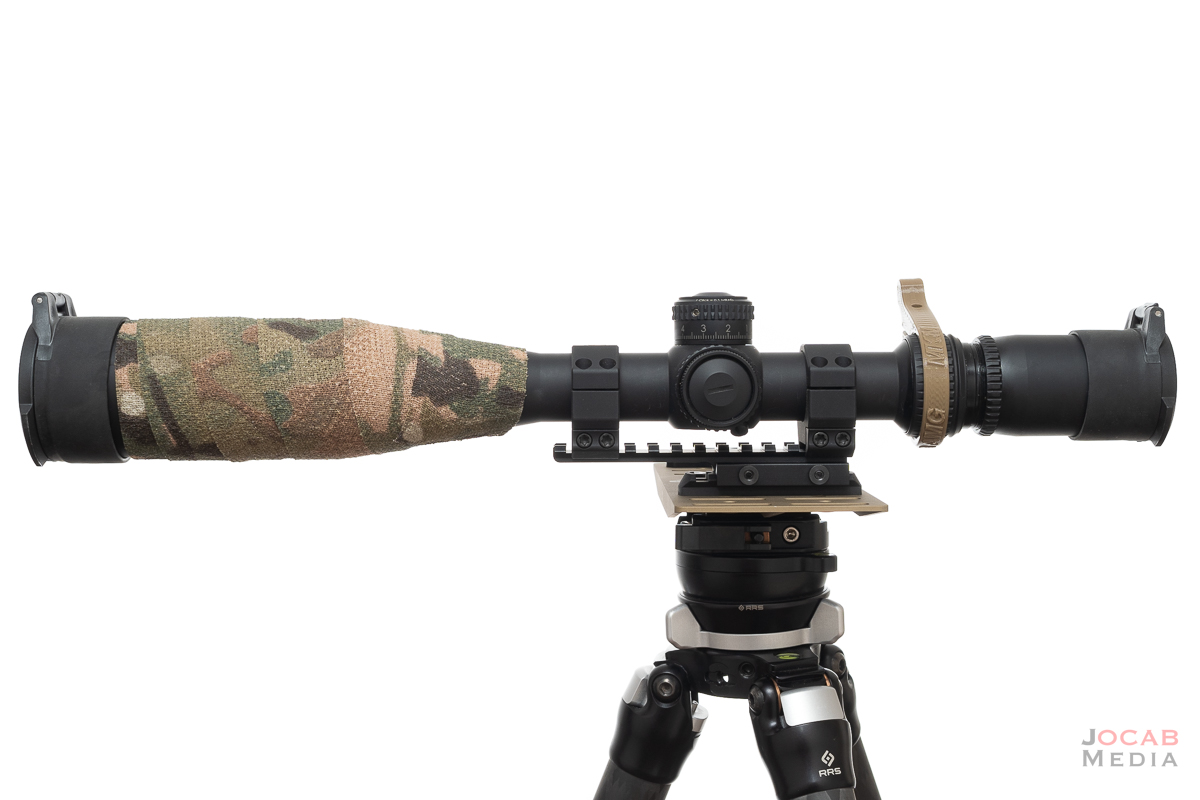 While not a common interface that I would need for an observation table, Picatinny will give me a great way to mount a rifle scope for optical testing, and allow me to even attach items such as a laser, flash light, or other Picatinny rail accessory.
I then looked into non-ball / static clamping solutions. The issue at hand with mounting an Arca-Swiss clamp to the MOD DOS is that the spacing of the 1/4″-20 threads hinders what clamps can be directly mounted to the platform. This leaves the user to rely on the MLOK slots.
I found an interesting item on Amazon referred to as a Tripod Adapter Compatible with MLOK (Arca-Swiss to MLOK Adapter).
This item attaches to MLOK slots and provides a center 3/8″-16 threaded hole with a 1/4″-20 threaded hole offset about 14mm. I am not sure why it is called Arca-Swiss to MLOK when it still requires another plate to attach to it. I assume that it really means MLOK to Arca-Swiss plate. Then again, it is a no-name foreign made part.
I was able to find an Arca-Swiss style clamp by Leofoto on Amazon which has the same 3/8″-16 center screw hole with the same offset 1/4″-20 threaded hole for anti rotation.
This adapter combination seems to work well and is relatively inexpensive compared to the other option for clamp mounting which is listed on The MUB LLC's website.
That other clamp mounting option is the True North Raven MD Spacer.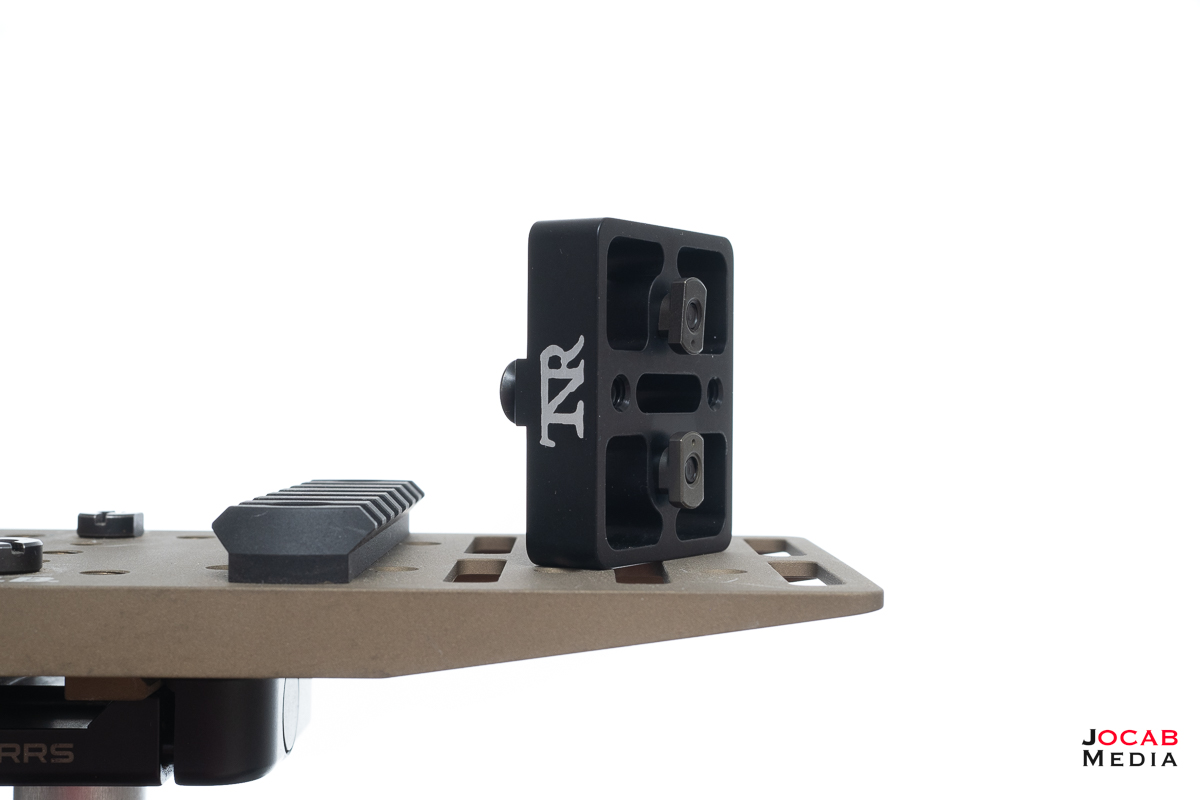 The TNR MD Spacer is a billet aluminum square that attaches via MLOK on one side and has an A.R.M.S. 17S (ARMS17S) interface on the other. This will allow the user to attach one of the many ARMS17S clamps made for bipods (e.g., Atlas) to the MOD DOS.
While very clean in implementation, this is quite a bit more expensive than the Amazon sourced approach, as the MD Spacer is $40 while an ARMS17S Arca-Swiss can run $85 and up (at least for a quality US made clamp).
As you can see, setting up the MOD DOS can get pricey depending on the route you want to go (or need to go) in order to mount items on to it. Factor in the fact that the MOD DOS costs $185 and you are looking into a pricey spotter / observer setup.
Should you get The MUB MOD DOS?
This is very niche product and unless you have specific use cases that would warrant an observation platform to use on a tripod, the MOD DOS is not for you. Even if you want a tac-table, you could just buy a much less expensive metal plate with an Arca dovetail on the bottom.
If you have needs for a versatile mounting platform for observation-related items, the MOD DOS is a valid option. The MOD DOS has multiple 1/4″-20 threaded holds and MLOK slots in order to adapt various heads, clamps, rails, and other attachment points to facilitate spotting scopes, binoculars, cameras, laser rangefinders, or whatever else you want to mount on your observation setup.
Not to mention, you can still place a shooting back on to of the MOD DOS (sans attached optics or gear).
However, if you decide to get a MOD DOS, be prepared to spend more than the $185 cost for the MOD DOS. You can pay nearly the same amount if not more to equip the MOD DOS with all the mounting adapters you need for your given accessories and gear.
This MOD DOS setup you see here comes out to a total of $460 USD prior to shipping+taxes:
MOD DOS – $185
RRS BC-18 – $140
True North Raven MD Spacer – $40
RRS SOAR BTC Pro clamp – $80
Magpul 7-slot Picatinny MLOK Rail – $15
As you can see, it is pricey to outfit an observation platform. Although, with the other alternatives, mounting adapters will still factor into total cost in a similar manner.
The MUB MOD DOS can be purchased directly from The MUB website at https://www.themub.com/.