Do you want a free compact flash card wallet? I'm giving away one (1) brand new Think Tank Photo Pixel Pocket Rocket Compact Flash card wallet (no memory cards included).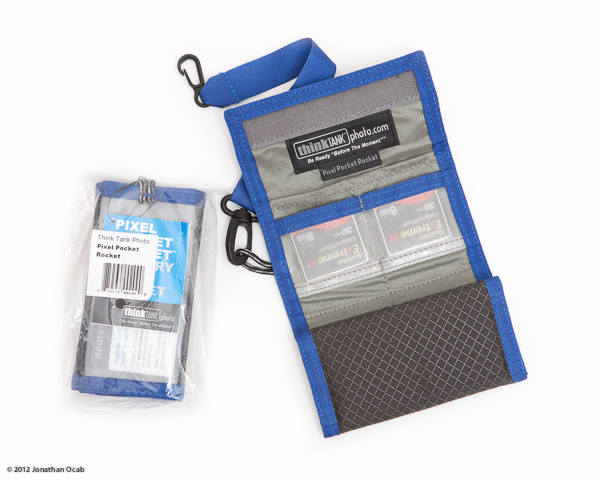 How do you win it?
Just visit the recently posted product review of the Think Tank Photo Airport Navigator rolling bag review on my blog and leave a comment on the review with your name and a legitimate email address because that's how I'm going to contact the winner (email address remains hidden to public). No registration required.
Also, for an additional or optional entry, tweet a link to the review along with a mention for @ocabj. It doesn't matter if you use a link shortening service, as long as the link redirects to the review and the tweet contains @ocabj (otherwise I won't get a log of it).
To keep things simple, you may copy and paste the following message into a tweet:
Read a review of the Think Tank Photo Airport Navigator rolling bag written by @ocabj at http://wp.me/p1VXFZ-Oi
I will randomly select a winner on December 19 (2012) at 12:00 Pacific Standard Time. The cutoff for new entries will be on 19 December 2012 at approximately 11:45 Pacific Standard Time.
So to enter, go to my review of the Think Tank Photo Airport Navigator and leave a comment and/or tweet the above message for a maximum of two (2) entries. Don't worry if you accidentally tweet more than once. I'm not going to disqualify you for that. And if you comment multiple times for the purposes of carrying a discussion regarding the review, no worries about that either. Your entry will still be counted.
The following rules will apply to this giveway:
No purchase necessary to enter or win.
You must be 18 years or older to enter.
You may submit a maximum of two (2) entries

One comment on review article using valid email address. Multiple comments from the same email address will only count as one entry.
One tweet from a twitter account with a valid URL to the review article and a mention for @ocabj. Multiple tweets from the same twitter account will only count as one entry.

US residents responsible for any taxes (if any) incurred as winner. If you live outside the US you are responsible for any taxes, custom duties and shipping in the event you win. Prize will only be shipped to a US address. Non-US winners must be able to retrieve the prize from a US address to be eligible to win.
Anyone using multiple email and/or twitter accounts to enter multiple times will be disqualified.
Randomly selected winner will be contacted via Twitter (if tweet entry) or email (if comment entry) when the winner is chosen. Winner will have five (5) 24-hour periods to respond. If no response received, a new winner will be randomly selected.
Prize (Think Tank Photo Pixel Pocket Rocket) will be sent via USPS Postal Service.
Family and friends of Jonathan Ocab are not eligible to win. You may tweet or comment on the review, but your tweet and/or blog comment will not be entered into the giveaway drawing. Sorry, but I want to keep this fair (and official). Also, anyone affiliated with ocabj.net or Jonathan Ocab Photography are ineligible for this contest.
This giveaway / contest is in no way affiliated with Think Tank Photo. This is an independent giveaway being conducted by myself.