Five years ago I published an article about how I acquired an Induro carbon fiber tripod and Really Right Stuff BH-55 ballhead to use for precision rifle, as my tripod that I bought for photography (Manfrotto) was not up to snuff for rifle use. While the RRS BH-55 ballhead is a fantastic piece of support equipment, the Induro GIT-204 tripod is not on the same level of performance and still left much to be desired.
After the five years of running a less-than-optimal tripod, I stepped up my tripod kit by acquiring the Really Right Stuff TVC-22i Mk2 SOAR tripod. This was a significant upgrade to my gear and the TVC-22i performs phenomenally. However, while the TVC-22i is a great tripod, it only collapses down to a long 38.2″. I wanted the same sturdiness and stability of the TVC-22i in a more portable form factor.
This desire finally ate at me enough, prompting me to purchase a Really Right Stuff TFCT-34 Mk2 SOAR with the Anvil-30 ARC ballhead.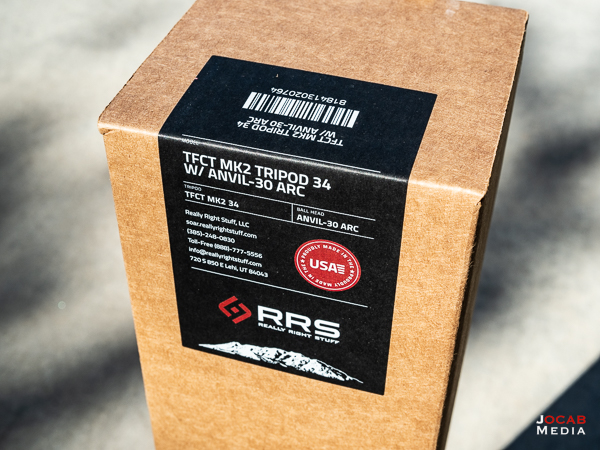 The RRS TFCT series of tripods with the Anvil-30 head have become the bar for the top-tier tripod in the precision rifle community. High quality and craftsmanship, excellent stability and sturdiness, and a weight and form-factor combined in one package that arguably best all other tripods currently on the market.
Coming in at 5 lbs 1 ounce, the TFCT-34 + Anvil-30 ballhead is right around the same weight as my TVC-22i + TA-2U-SC leveling base (4 lbs 15 ounces), but at a collapsed and folded length of 24″ vs the 40″ of the TVC-22i.
Also, the apex base where the legs and head connect to is smaller in diameter on the TFCT than the TVC, decreasing the overall footprint of the TFCT-34 when packing down.
The load capacity of the TFCT-34+Anvil combination is effectively 35 ft-lb of torque. The Anvil-30 load capacity is based on torque, while the TFCT-34 tripod legs have a load capacity of 50-85 lbs (varies on leg positions). The TVC-22i legs have a load capacity of 60-95 lbs and the TA-2U-SC leveling base rates at 25 lbs. But this highlights that the TFCT-34 and TVC-22i legs are both sturdy tripods.
I did acquire the TFCT-34 and Anvil-30 in late 2022, so technically I have the TFCT-34 Mk2 SOAR and the Anvil-30 ARC SOAR. While the Mk2 (2nd Generation) TFCT-34 has been out for a few years now, the Anvil-30 ARC is a recent development. ARC is a designator used to indicate those clamps compatible with the recently released R-Lock system.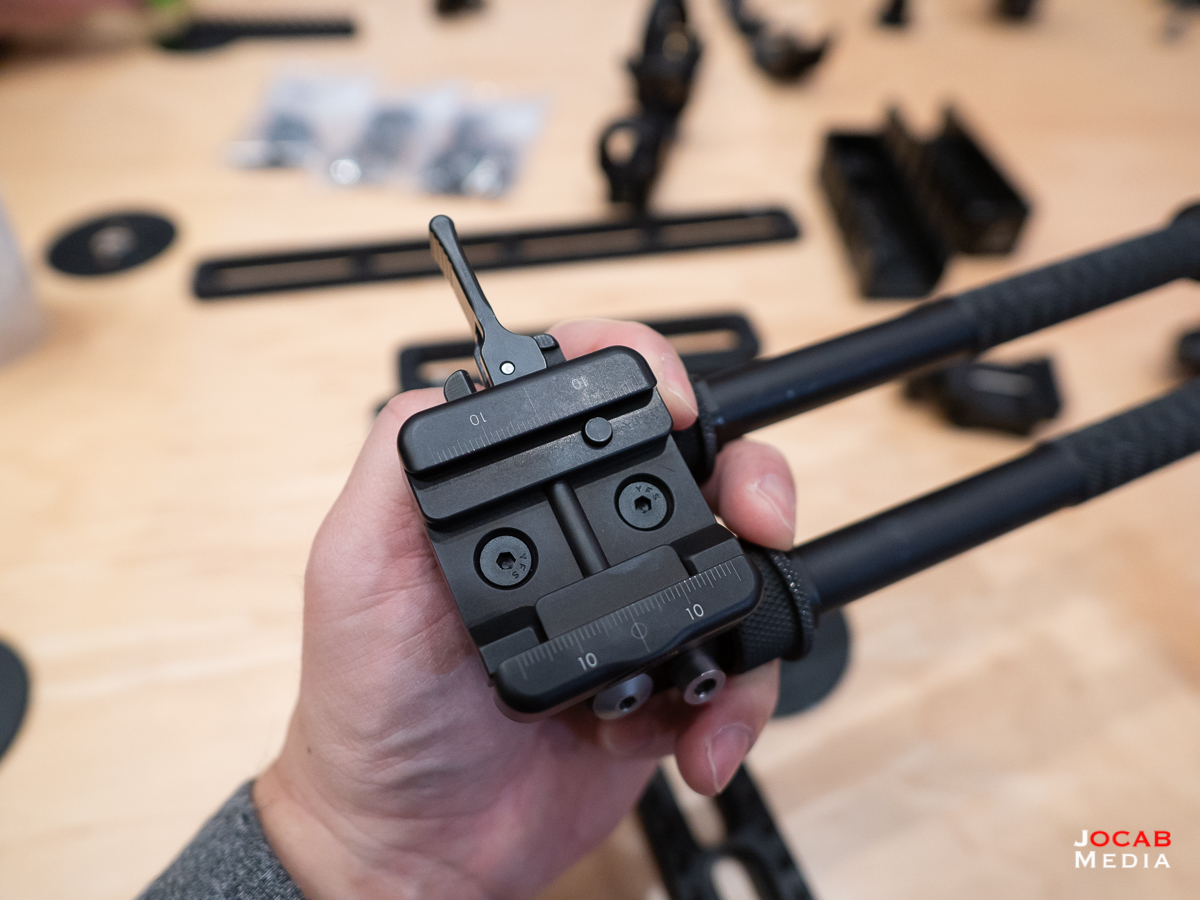 R-Lock is a specification where a spring loaded pin protrudes from the face of the clamp to interface with detents in the surface of the surface to be clamped. As you can see above, the Arca rail/plate has detents along two sides of the interfacing surface to interact with a pin in the clamp. What this is meant to do is prevent the device from slipping in the clamp (e.g., rifles during recoil).
Arca-Swiss / dovetail interfaces are a pressure and friction fit type of system, so the tolerances of lever-release style clamps must be very specific to the plates / dovetails being used. Sometimes plates can wear and this fit can effectively loosen over time. Having an additional locking or anti-slip mechanism does mitigate this and other companies have already done this (e.g., Area 419 ARCALOCK).
Anyway, the Anvil-30 I received has the new R-Lock capable clamp.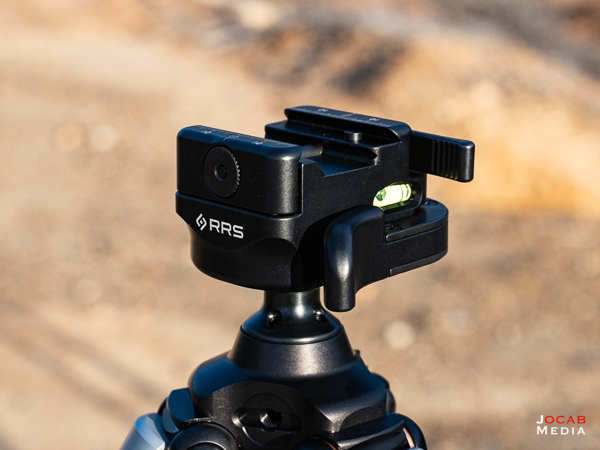 Also, you can see the circular 'gear' in the above photo on the side of the clamp. This is actually new to the second generation of the Anvil-30 and this pinion mechanism supports making adjustments to the clamping force or the width of the clamp when it is locked down. This is meant to facilitate the use of any plates or dovetails of varying width specifications.

As you can see, the RRS Arca-Swiss style dovetail has a 1.500″ width with 45 degrees on the dovetail angles. It is not uncommon to get non-RRS branded plates that do not properly fit in RRS lever-release clamp. So having an adjustable lever-release clamp is handy to accommodate off-brand clamps or out-of-spec dovetails milled on chassis systems.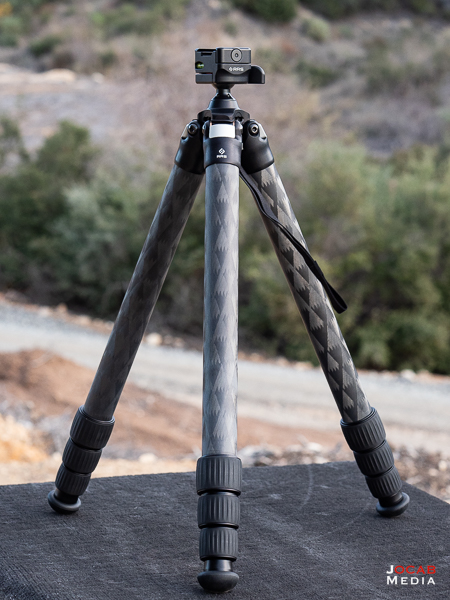 Naturally, I took the TFCT-34 and Anvil-30 combination to the range to put it through its paces and it is just as stout and stable to shoot off of as the TVC-22i.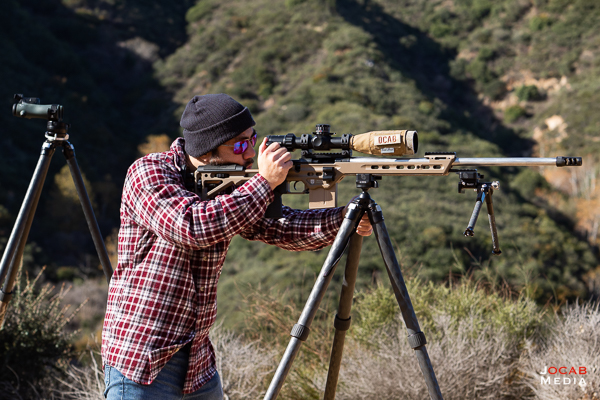 I will say that while the Anvil-30 is considered the head to get for rifle shooting, I feel that it is not as easy to use as the TA-2U-SC leveling head. There is only one control lever which is off to one side. The operator needs to use the support hand to reach out and manipulate the lever to lock up the tension. This is a bit cumbersome because the lever is on the head itself. This means that if the mounted object (e.g., rifle) is moving, so is the lever control. So any force on the lever while locking tension can affect the mounted object's position.
The TA-2U-SC on the other hand is a tri-wing right style mechanism which gives multiple points of leverage and is easier to manipulate regardless of the load on the head/base, as the ring not moving with the clamp itself.
I actually have five (5) tripods on-hand, three of which are suitable to shoot off of.
Manfrotto 055XPROB and Manfrotto 488RC2 ballhead (converted to Arca using RRS clamp) circa mid-2000s
Induro GIT-204 and Really Right Stuff BH-55
RRS TVC-22i Mk2 SOAR and TA-2U-SC leveling base
RRS TFCT-34 Mk2 SOAR and Anvil-30 ARC ballhead
The Manfrotto is has been relegated to home use for my camera or webcam. The Gitzo is a very lightweight tripod similar in load capacity to the Manfrotto that folds down very small, which I use for in the field camera and optics support (e.g., vlogging).
In any case, I am now running the Really Right Stuff TFCT-34 Mk2 SOAR with Anvil-30 ARC head and the Really Right Stuff TVC-22i Mk2 SOAR with TA-2U-SC leveling base as my go to tripods for precision rifle shooting tasks, whether for actual rifle support or for spotting optics.
Both tripods can serve in either aspects, shooting or spotting.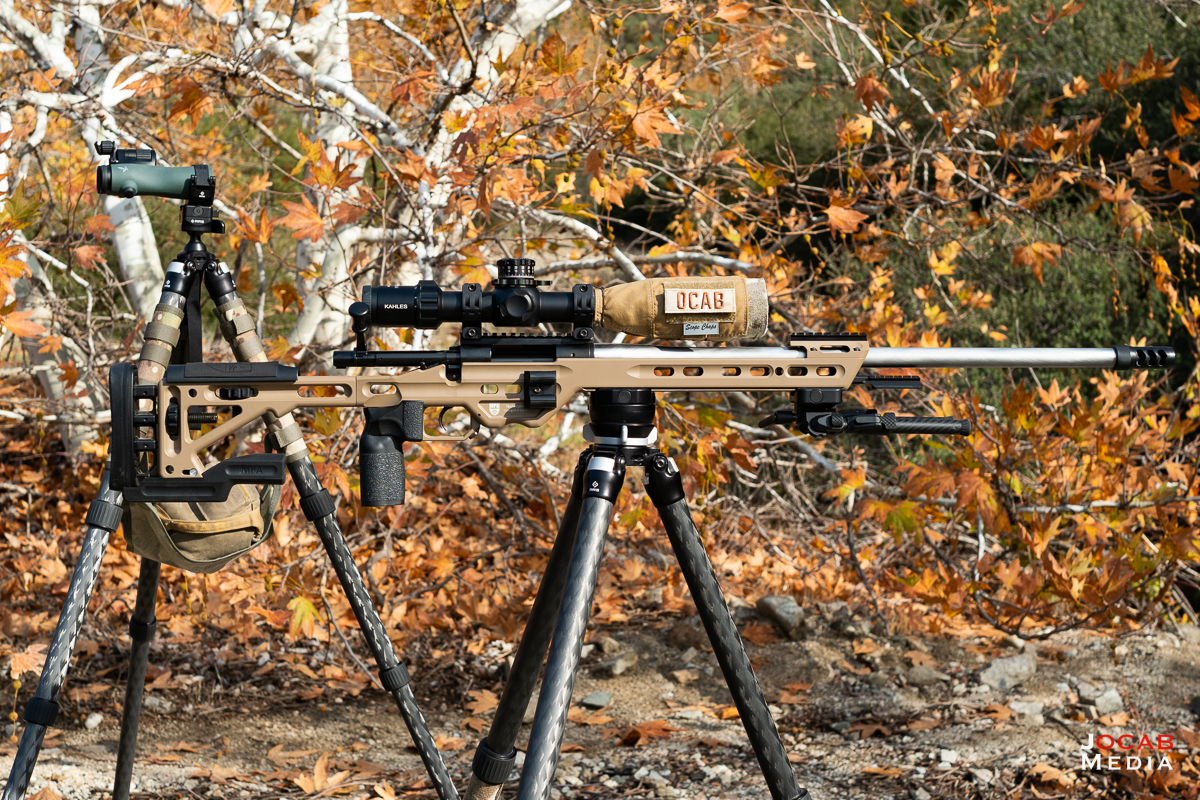 The TVC-22i and TFCT-34 both have minimal torsional flex, unlike the Induro GIT-204 I tried to make work for shooting applications. Of course, each can function as support for spotting optics.
However, the TVC-22i is my go to for flat-range, non field shooting where packing down as small as possible is not a priority.
---
To close this discussion, it is worthwhile to spend some time talking about tripods in the shooting industry.
Tripods have become a staple in precision rifle shooting as well as hunting and many manufacturers have jumped on to the tripod train. I wholeheartedly believe that Really Right Stuff is making top tier tripod support equipment. Unfortunately, this distinction also comes with higher prices compared to everything else on the market.
However, shooters have a lot of options today from photography-based manufacturers products sold on Amazon (e.g., Leofoto, Sirui, Slik) and from shooting industry manufacturers (e.g., Athlon, Revic, Two Vets, Vortex).
Are these competitors going to be just as good as Really Right Stuff? I think it is possible that some will perform close enough at a lower price point. In particular, I feel that tripod legs from other manufacturers can match the quality and capability of RRS. I feel that consistently producing a high grade tripod is going to be easier than consistently producing a high grade head and clamp system given the complexity of the heads and clamps, and the tolerances expected.
It is not uncommon to see RRS heads on non-RRS tripods. I did this myself using the RRS BH-55 on an Induro tripod and I have seen the RRS Anvil-30 on non-RRS tripods.
Often discussed in the shooting community is how Leofoto has copied Really Right Stuff designs heavily in producing some of their products. For example, the Leofoto SO-322C is a near copy of the RRS TVC-22i and is often seen at shooting matches. Having handled one, I have a hard time arguing the cost savings when the SO-322C is half the price of the RRS equivalent. I also have to admit that it does pain me when I shell out the money for Really Right Stuff products as they carry a premium price.
But I will justify opting for RRS because I personally elect to put my money towards a manufacturer who has been producing quality gear that I was using for photography long before precision rifle applications, who is committed to producing products specifically for the shooting community, and is manufacturing in the United States.
In any case, shooters have options when it comes to tripods at various price points and should take the time to research and evaluate tripods as much as possible before selecting one to purchase.