A few months ago at the gym, I was listening to the Vortex Nation (Vortex Optics) Podcast and they dedicated an episode to talking about their new binocular dubbed the Triumph HD 10×42. In the podcast episode, the hosts spoke about this new binocular which offers good performance at a $99.99 price point.
I was skeptical that a binocular would be any good at $100, yet was still intrigued by it. At $100, I was willing to shell out my own money just to get my hands on a unit to try out.
I ended up going to a local big box retailer who had the Vortex Optics Triumph HD 10×42 binocular in-stock and bought a unit.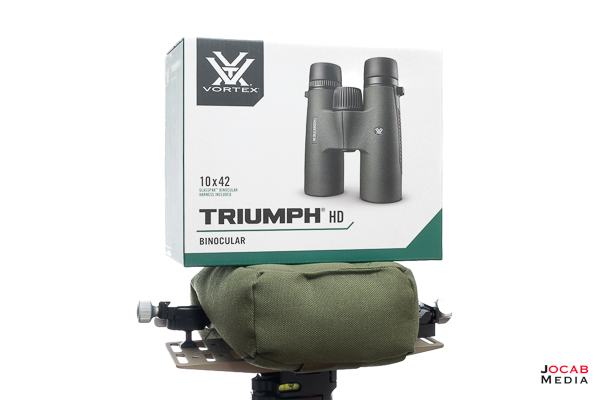 Out of the box, the Triumph HD 10×42 comes with quite a few accessories:
GlassPak™ Binocular Harness and Case
Comfort Neck Strap
Tethered Objective Lens Covers
Eyepiece Lens Covers
Lens Cloth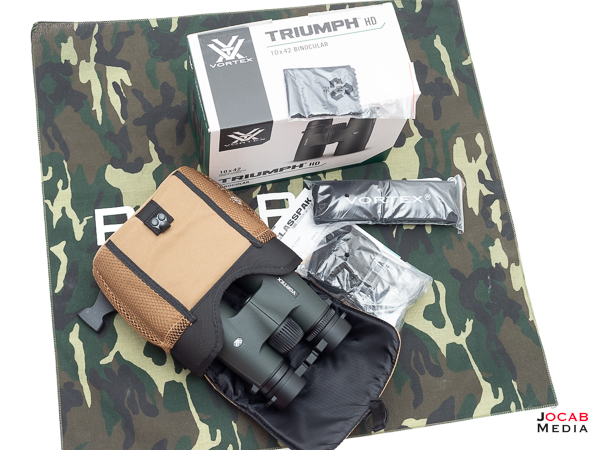 The basic specifications for the Triumph HD are as follows:
Linear Field of View: 334 ft
Angular Field of View: 6.4 degrees
Eye Relief: 17.0mm
Height: 6.1″
Width: 5.0″
Weight: 22.9 oz.
Pupillary Distance: 55mm – 75mm
Minimum Focus Distance: 15.3 ft
The Triumph HD 10×42 is a roof prism design, has adjustable eye cups with 3 settings, a center bridge focus knob, diopter ring on the right barrel, and is advertised as waterproof, fog proof, and shock proof (nitrogen gas purged).
Of course, if the Triumph HD, or any binocular for that matter, was not nitrogen gas purged and sealed, it would be completely useless as a field binocular.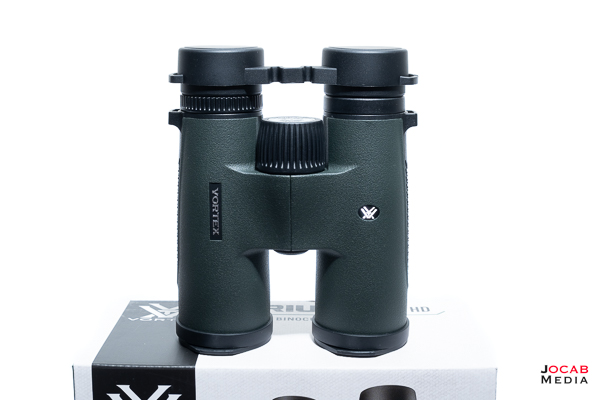 During the unboxing, the first impressions were about on par with what I expected. The binocular felt light in weight when pulled out of the box. While some will consider this a positive, to me it is more indicative of the lower quality of the optical system (e.g., less optical elements, plastic optical elements, etc.).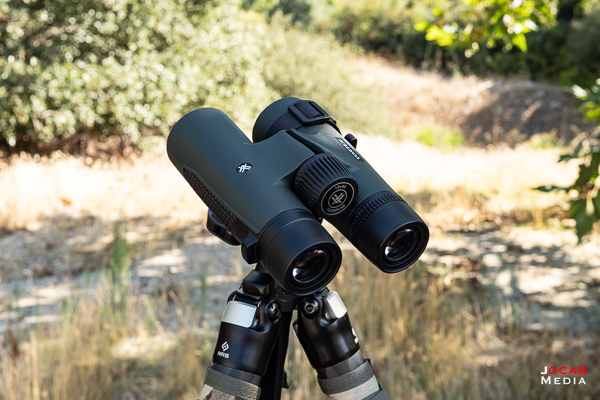 The feel of the rubber outer skin felt relatively rugged. It has a similar feel to other Vortex binoculars like the Diamondback and Viper. It also has a nice textured grip on both sides.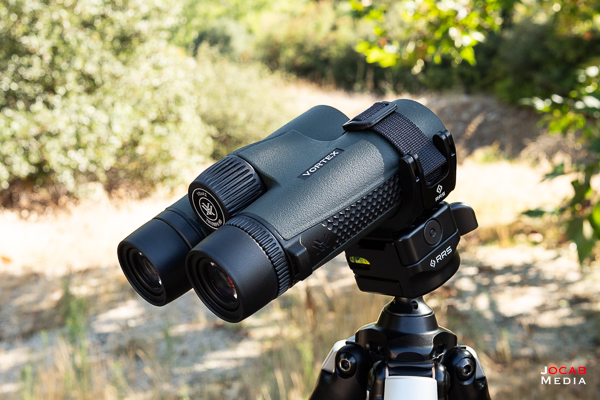 I found the 17mm eye relief adequate for my needs. I do wear corrective glasses and did not have much trouble using glasses while observing with the Triumph HD.
It does support tripod adapters using a 1/4″-20 thread on the bridge.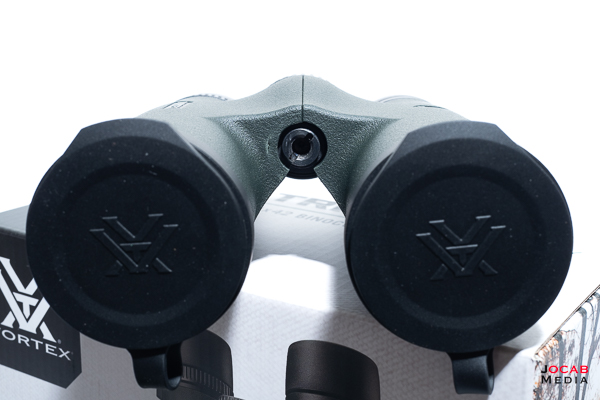 The one glaring build quality issue that I discovered in my unit is the focus knob. It is surprisingly smooth, but at the middle of the adjustment range, there is chattering as if it there is a mechanical issue with the focus mechanism. I cannot imagine this was intentional as it disturbs the smooth focus from end to end.
I intend to reach out to Vortex Optics on this issue, as they will likely repair or replace this binocular under their well-known warranty program.
As far as the image quality, it is surprisingly decent considering it is a $100 binocular. Center of the field of view clarity is good and doesn't start to fall of until half way away from center (to the edge). After that, the image does have rapid distortion at closer to the edges. This is to be expected, especially from a budget binocular.
The colors in the image of the Triumph HD could be described as flat or neutral. There's no 'pop' in the color. One could argue there is a lack of contrast.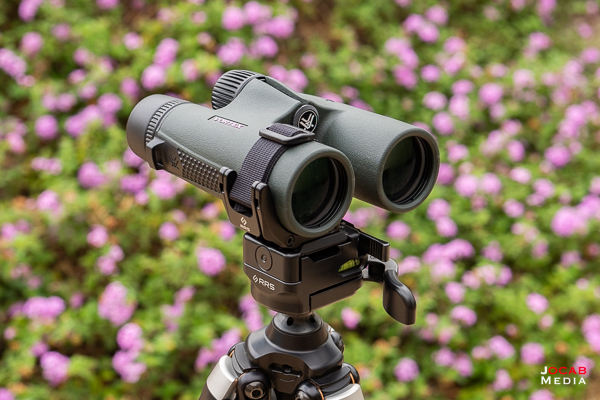 From what I remember of my previously owned Vortex Optics Viper HD 10×42 and the Vortex Optics Diamondback Tactical HD binoculars I have handled, the Triumph HD is definitely a step below the Viper HD 10×42. I do not recall the Viper HD having the same amount of image quality fall off at the edges like the Triumph HD does.
As far as the Diamondback HD, I feel like the Triumph HD 10×42 are just as good in terms of the optical performance. Considering the Diamondback HD 10×42 runs for about $225 give or take retailer sales, the Triumph HD 10×42 will be the better value as I do not see any substantial benefit of the Diamondback HD over the Triumph HD.
Is the Vortex Optics Triumph HD 10×42 the binocular for you? If you do not already own a binocular, I highly recommend that you invest a little more into a binocular.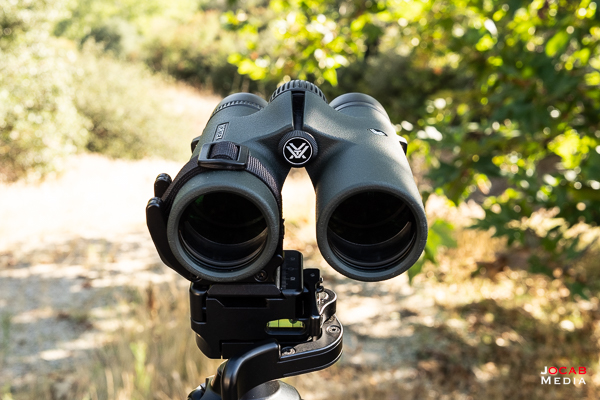 Getting a Vortex Viper HD 10×42 at $500 or another binocular in the $500 to $1000 range may be the way to go as it will get you a binocular that will have better build quality and noticeable optical performance gains.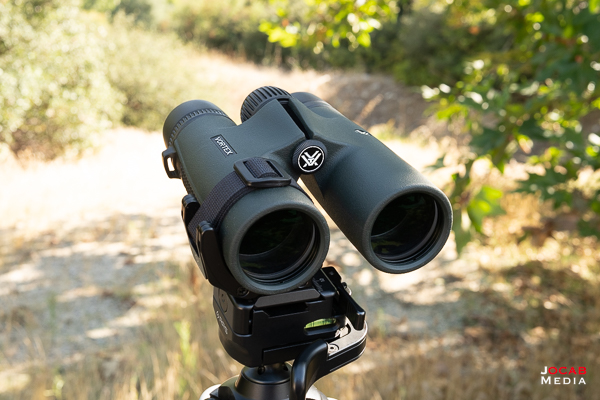 If you are really tight on the budget and/or want a beater or backup binocular, the Triumph HD 10×42 is going to be a good option for you at $99.99 USD. Just keep in mind that you will get decent optical performance with questionable build quality. But at this price point it is very low risk.
If I did not know anything about the Triumph HD 10×42 beforehand and someone handed it to me try out, I would have never guessed it is a $100 binocular.
Addendum – 2023-10-01
After I published this write-up and a video overview, I sent in my Triumph HD unit to Vortex Optics to address the focus knob issue. A couple of weeks later Vortex sent me a completely new-in-box Triumph HD 10×42 binocular which does not have the chattering focus knob.