Continuing on from Part 1 of my 2015 SHOT Show After Action Report, I wish to note my observation of what I feel is the stagnation of the AR market. That is not to say AR-15 rifles are no longer popular or selling. I have just found that major innovations in the AR rifle and accessory market has slowed significantly, which I found to be inevitable after the various trends have played out in previous years (direct impingement, side charging bolt carriers, 6.8 SPC, etc). There's only so many ways to modify the AR, and I think manufacturers are simply running out of ideas on how to make something different to sell.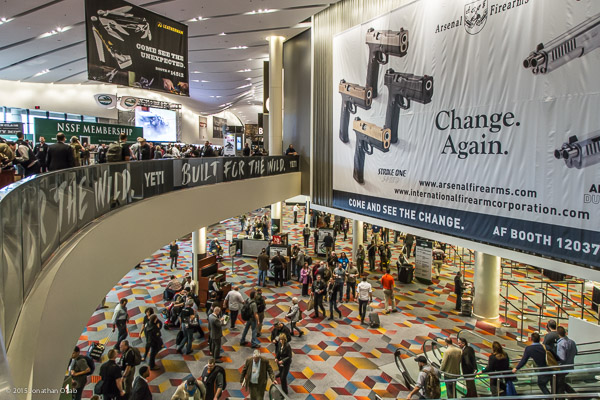 That is not to say new AR related accessories haven't been released. Bravo Company in collaboration with Haley Strategic Partners released the BCMGUNFIGHTER Kinesthetic Angled Grip a couple months ago, and I actually bought it.
At the 2015 SHOT Show, Seekins Precision showed off their newest accessory which I actually pre/backordered after I got back from SHOT Show: The Seekins Precision Safety Selector Kit.
What is the SP Safety Selector Kit? It's essentially an anodized aluminum safety selector that is a direct replacement for the standard MILSPEC / generic lower parts kit safety selector. Why bother with it? It can operate in the standard 90 degree turn from the safe position to the fire position, but it can also be configured to operate in a 60 degree turn from safe position to fire position. This is short throw action allows for faster fire control manipulation.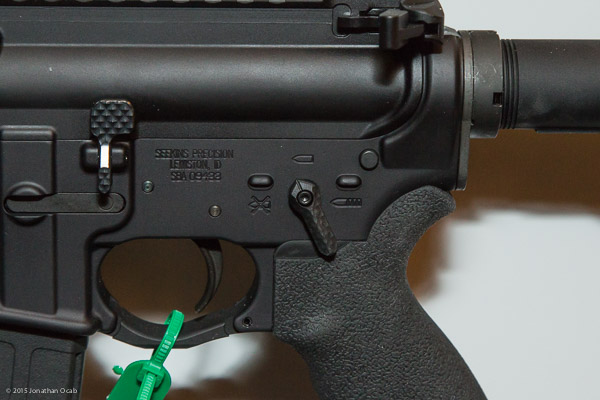 I highly doubt this is going to translate to faster shooting for the majority of shooters, but what I did like about the 60 degree throw is that it felt more comfortable to get the selector in fire position. Also, the operation of the safety selector felt a lot more significant in terms of positive locking in either safe or fire position. When the safety selector locks into position, you notice the deliberate feel of that movement. This fact means that while the throw is shorter by 30 degrees, there isn't any concern of 'easier' accidental manipulation of the safety selector from safe to fire (e.g. caught on sling, belt, MOLLE plate carrier, etc).
The Seekins Precision Safety Selector is also ambidextrous, with one side lever shorter than the other. The shorter lever is meant to be on the trigger finger side of the receiver, such that it provides adequate clearance for the firing hand, yet still allows manipulation of the trigger with the trigger finger if necessary.
It will be available anodized in black, as well as several other colors including but not limited to red, blue, OD green, and FDE. Note that Seekins Precision is going to start manufacturing most their AR parts in the various colors to allow for shooters to customize their guns.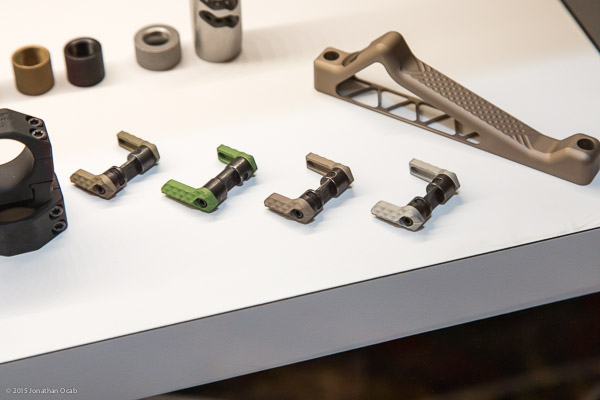 For those that might have missed it, Magpul has their new 'standard' handguard attachment system dubbed the MLOK and took the opportunity to promote it at SHOT Show this year. M-LOK was actually announced back in Spring 2014, but accessories have been slowly forthcoming in the past few months.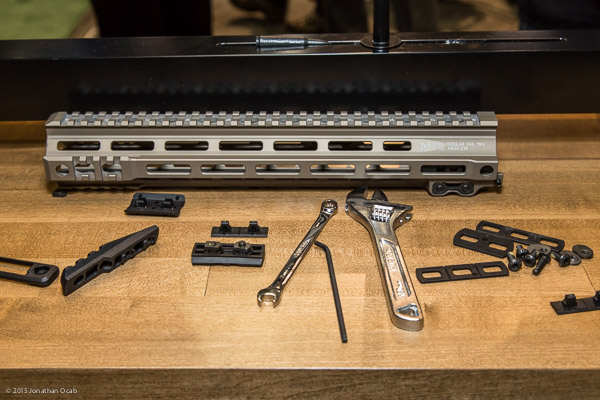 So far only Geissele appears to be one of the few major players in the M-LOK handguard arena, along with Midwest Industries.
I stopped by the Knight's Armament Company booth and inquired about the possibility of KAC producing M-LOK handguards (since KAC is currently producing Keymod handguards and accessories) and the KAC representative essentially said they have no plans at this time to produce an M-LOK handguard.
I played around with installing and removing M-LOK accessories while at the Magpul booth, and I will say that I am indifferent towards M-LOK. Being a BCM KMR owner and having used Keymod accessories for the past 12 months or so, I think that Keymod simply works, and works well. I'm fairly confident that M-LOK will become established in the market and will co-exist with Keymod, but when it comes down it over the course of this year, I think M-LOK ownership will be more about personal preferences with regards to aesthetics.
One new AR-15 variant that did catch my eye is the LWRC IC-PDW. The IC-PDW is a compact carbine with an overall length of 20.5″ to 25.5″ (stock fully extended) with an 8.5″ 1:7″ twist 5.56 barrel. Overall weight is 5.9lbs without optic / sights.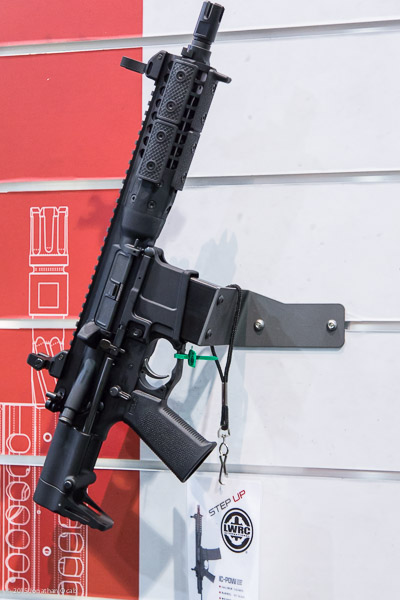 While a short AR-15 carbine is nothing revolutionary, I just thought the IC-PDW is an attractive carbine and brings the AR platform into a length that's actually shorter than the baseline of all submachine guns, the MP5.
Aimpoint released the Patrol Rifle Optic (PRO) back in late-2010 / early-2011 as a budget optic targeted for law enforcement agencies, and now Aimpoint just released the ACO or Aimpoint Carbine Optic. This is targeted towards, as one Aimpoint representative worded it, "someone who just bought their first AR-15." This is created to be a budget minded red dot optic for the 'everyday' consumer, and is ready to mount right out of the box (mount included).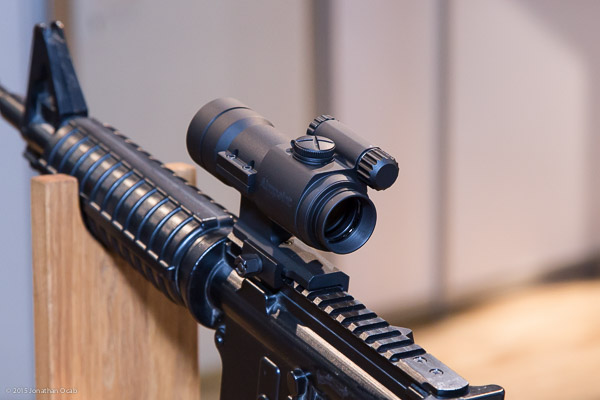 The ACO is a 2MOA dot with 1-year constant on from a single battery.
The ACO will have an MSRP of $393 compared to the current MSRP of $453 for the PRO. This lower price point is achieved mainly by dropping Night Vision compatibility and not including any flip-up covers, but flip-up covers as well as lens accessories are available and can be added after the fact (objective and eyepiece bells on the body have internal threading for accessories).
But I'm not sure if there's any reason for someone to get the ACO over the PRO. The price difference is only $60, and the extra $60 up front cost for a PRO will get the purchaser NV compatibility which can't be added on later to the ACO, the flip-up covers included, along with anti-reflective coating on the lenses, and 3-years of continuous on vs 1-year. Granted, NV isn't something the majority of shooters will ever use with their red dot, but I think the anti-reflective coatings and extra 2-years of battery life on a single battery are more than $60 more for a PRO.
I think the consumer is better off getting the PRO rather than the ACO, unless they are really pinching pennies.
One new optic worth noting is the Vortex Optics 1-6x24mm AR-BDC Strike Eagle. The 1-6x24mm scope is meant to compete against other intermediate range 1-6x optics, which are very popular for 3-gun shooters and anyone else that wants fast target acquisition and engagement at CQB distances out to mid-range distances (300-600 yards). The 1-6x24mm Strike Eagle has a comfortable 3.5″ continuous eye-relief across the magnification range and should satisfy most people.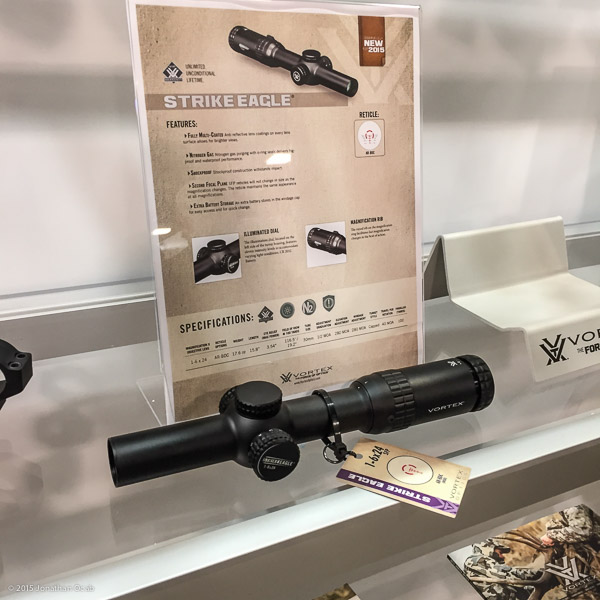 The Vortex illuminated AR-BDC reticle [external links: reticle image, reticle manual – vortexoptics.com] looks like a combination of the circle and horseshoe Trijicon VCOG reticles, with the BDC designed to fit a 50 to 600 yard trajectory (center crosshair to bottom hashmark) with .223 / 5.56. Illumination has 11 brightness settings and an off position
Looking through the glass in the Sands Expo lighting conditions, it stilled looked quite clear and the reticle was very crisp.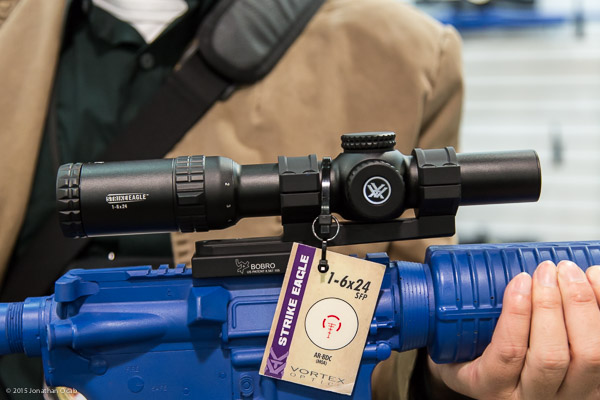 The 1-6x24mm AR-BDC Strike Eagle has a secondary focal plane reticle, so the BDC is only valid at the 6x magnification. But with a price point of only $429 MSRP, this is a great value, all things considering. I think this scope will be quite popular, especially when there are other 1-6x scopes out there with illuminated BDC SFP reticles at much higher price points. The Vortex Optics 1-6x24mm AR-BDC Strike Eagle is expected to be available in April of this year.
Check this site again soon for Part 3 of my 2015 SHOT Show After Action Report.
For those that are new to SHOT Show, always keep situational awareness because you'll run into random people you know in the shooting community, whether they're people you personally know, or in this case people that you know of because of 'celebrity' status.