The 2015 SHOT Show officially came to a close this past Friday and according to the National Shooting Sports Foundation, attendance was the second highest in SHOT Show history at just under 65,000 attendees (2014 being the highest at 67,000). The same press release noted that SHOT Show is the fifth largest trade show that takes place in Las Vegas, bringing in $90M in non-gaming revenue to the city of Las Vegas.
Before I finish my 2015 SHOT Show After Action Report, I wanted to mention a few more items from this year's show. One specific company is Tracking Point.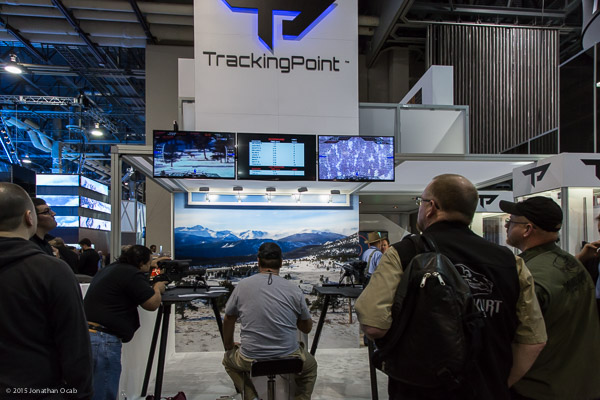 I first heard about the Tracking Point "Mile Maker" rifle via technology sites (Slashdot, Engadget, etc.). Tracking Point produces a weapons platform that is essentially an advanced fire control system with automatic tracking and ranging capabilities.
Essentially, a Tracking Point rifle is operated by placing the scope reticle onto a target and 'tagging' it. The computer (Linux based) will then run calculations given the various conditions including range to target, angle to target, and cant of the rifle. After calculating, the scope will adjust itself accordingly for the given range and other non-wind conditions. When the operator is ready to fire, the trigger (fire control) is pulled or otherwise depressed, and held in the fire(d) position, and then the operator will then guide the reticle back onto the 'tagged' target (identified by a dot) and once the reticle intersects the tag (while the fire control is activated; trigger pulled) the rifle will fire.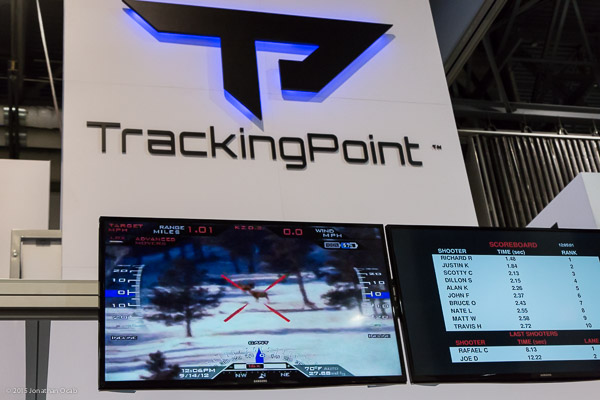 This fire control procedure increases accuracy in a couple ways. First off, the Tracking Point system handles ranging and properly accounts for angle to target, which leaves less chance for shooter error in terms of range estimation. Second, the Tracking Point handles the scope adjustment by automatically adjust elevation for the ranged target. Lastly, it mitigates shooter error in terms of inconsistent trigger pull (e.g. jerking trigger, pulling when not precisely on target) since the fire control will 'send' the round automatically once it detects the reticle is on the tagged/ranged target (as long as the fire control is 'activated').
A weapons platform such as this will be highly dependent on a known ballistic trajectory, and this is why Tracking Point is dependent on using their own ammunition. The representative at Tracking Point I spoke to indicated that they have partnered up with Barnes Bullets to manufacture the ammunition within the specifications that the Tracking Point system expects.
The system is essentially 'closed' to the user such that the operator cannot simply add a given cartridge load into the computer so it can use that given ammo and target correctly and accurately. Tracking Point will not release any information regarding ballistics of the given factory ammunition so as to not encourage users to try to (re)load their own ammunition for use in a Tracking Point rifle.
Granted, it will be theoretically possible to duplicate the factory load since the bullets used are going to be made public (e.g. 175gr 30cal Sierra Match King). Using the bullet manufacturer's data in conjunction with accurate muzzle velocity, a person could duplicate a given ammo recipe.
That said, the Tracking Point bolt rifles range in price from $7000 all the way to $50K for the Tracking Point Bolt-Action .338 TP. .338 TP is Tracking Point's own cartridge, based on the .505 Gibbs necked down to .338″.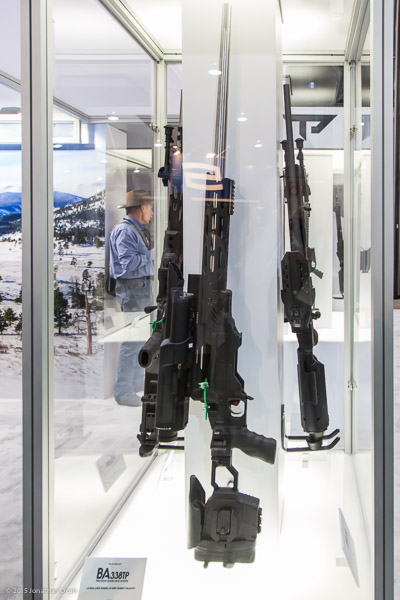 There are also semi-auto AR Tracking Point rifles in the $7000 range.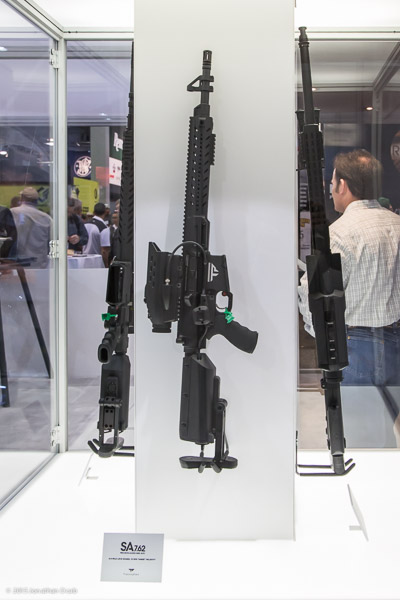 This system is quite intriguing and while I don't see myself buying one (price), I think this is definitely good for the industry in terms of innovation. Although, the marksman in me feels this is kind of cheating. Of course, this system would be greatly beneficial in combat applications, as we want our troops to take every advantage they can get.
One interesting product that I stumbled across is the SecureIt Tactical FAST Box series of safes.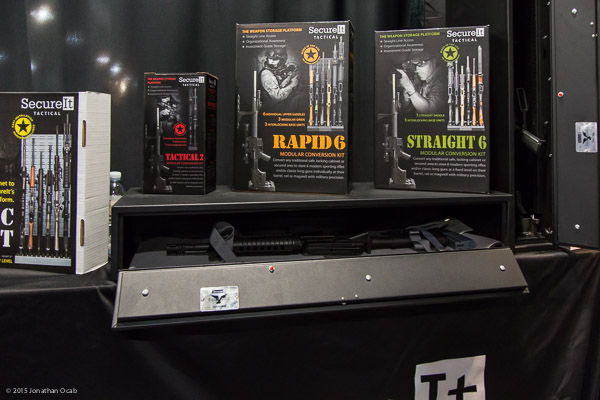 These are thin safes that can be mounted horizontally or vertically, to hold a single long gun (or 2 in the case of the 'Falcon' version).
I ended up speaking with the President of the company, Thomas Kubiniec, who gave me some background on the FAST Boxes. SecureIt Tactical had a soft rollout of these safes last year and are starting to go into a full rollout because of the positive reaction to the FAST Box. The longer versions were intended to be mounted underneath a bed, or in a closet. But the shortest version, the FAST Box 'Harrier' is fully intended for mobile applications (vehicle) and can hold a patrol carbine with an optic (up to 39.5″ in length).
My personal interest in FAST Box is for mounting in the bed of my truck, providing me another secured box/safe for transporting a firearm. If my notes are correct, the FAST Box Harrier is under $300, which is pretty good price point, especially when you compare it to other current mobile safe offerings (e.g. Truck Vault).
Victorinox had a nice promotion at the SHOT Show to benefit Homes For Our Troops. Donate $20 or $30 gets a customized Classic SD or Spartan Swiss Army Knife in one of three different camo patterns.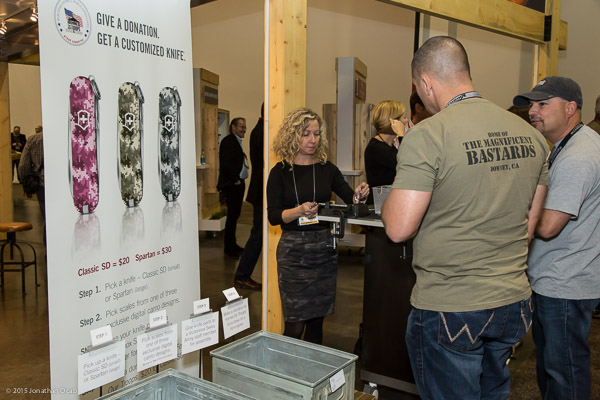 In previous years, Victorinox would custom knives on site as a promotion for business buyers, so it was a nice change of pace to see Victorinox have a tie-in for charity. Naturally, I picked up Classic SD in pink for my mother.
That pretty much wraps up my 2015 SHOT Show After Action Report. My 4-part AAR is only a small drop in the bucket as far as covering SHOT Show. There were hundreds of new products and revisions released this year across the firearms and outdoor spectrum. Definitely scour the Internet for other reports and stories coming out of SHOT Show for even more news.
While I have no direct affiliation with any of the following news outlets, these are some other places in which to get more 2015 SHOT Show stories:
Nissan once again sponsored the SHOT Show Press Room. I am thankful the NSSF make the Press Room available for media to relax, catch a breath, grab a refreshment, and congregate and discuss with other media.

Nissan also took the opportunity as the SHOT Show Press Room sponsor to show off their new diesel powered 2016 Titan XD pickup truck.

For more information on the 2016 Titan XD, refer to the Nissan Press Release.