In the previous segments of my 2022 SHOT Show After Action Report, I mentioned absent exhibitors and some empty spaces with lounge areas. I did notice that the number of attendees seemed less than 2020. It was more noticeable in the mornings when I usually see people lined up in front of the hall entrances to get in right at 0830.
Frankly, it was actually quite nice to not be bumping shoulders with people trying to get that early start to the day in the Sands Expo.
A popular stop for many SHOT Show attendees is the Magpul Industries booth. Whether your love or hate Magpul products, there is no denying they are an established company within the firearms industry.
Magpul had several new products being displayed at SHOT 2022 and one of them I wanted to highlight is their new Pro 700 Lite SA chassis for Remington 700 action rifles.
It is essentially the front of the Pro 700 chassis, but with a different buttstock (PRS Lite). You get the a billet aluminum skeleton / frame wrapped in polymer, with a lighter weight buttstock that lacks thumbwheel adjustments that are present on the Pro 700. The Pro 700 Lite also omits the night vision bridge.
The Pro 700 Lite SA shaves 1 lb off the Pro 700 (fixed stock) weighing in at 4.4 lbs as opposed to 5.4 lbs, respectively.
This results in a lower price point with the Pro 700 Lite SA at $599.95 USD vs the $899.95 of the Pro 700 (Fixed).
I feel that the Magpul Pro 700 is a solid chassis system that gets a lot of detractors from all aspects of the community. Precision rifle shooters shy away from the Magpul Pro 700 because there's chassis systems from more precision rifle focused companies that they prefer to go with. Magpul fans shy away from the Magpul Pro 700 because of the price point ($900 or $1000, fixed or folding stock, respectively) as they are used to less expensive Magpul products.
The Pro 700 Lite gives Magpul a mid-budget chassis system for the precision bolt rifle shooters. It feels decent enough to me and it should be quite usable for many people. However, I feel like the Magpul Pro 700 Lite does not really offer much over other chassis or stocks (or hybrids) in the same price range such as the ever popular KRG Bravo or the MDT XRS. If anything, the Pro 700 Lite will most likely be acquired to pre-existing Magpul users such as AR shooters that happen to have a Remington 700 (or similar action).
Magpul also released a new bipod in the form of the Magpul MOE Bipod.
It is an 8 ounce polymer bipod that interfaces with sling swivel studs and has a pretty beefy wheel for tightening and loosening the bipod from the stud.
The polymer controls feel a bit clunky, but they work. The legs have notches with an adjustment leg length range of 7 to 10 inches. The rubber feet are removable to accept Atlas-compatible feet.
The MSRP for the Magpul MOE Bipod is a low $74.95, which is even less expensive than the original Magpul Bipod that rings in at an MSRP of $104.95.
While I would never buy a Magpul Bipod considering there's so many more tried and true (and more versatile) bipods out there, the Magpul MOE Bipod will probably sell quite well. There are many people trying to put bipods on rifles with a sling swivel stud and surprisingly find the Harris bipods to be too expensive for their tastes. I see a lot of Chinese made knock offs of the Harris and it is likely the Magpul MOE Bipod will take over that segment.
Magpul released information on a platform collaboration they have with Maztech dubbed the X4 System. The X4 system is a series of electronic enhancements to the AR platform to provide weapon information to the operator. One specific item is the round count left in the magazine.
The idea is that there would be a way for the firearm operator could get immediate status of the rounds left in the magazine (much like a first-person shooter video game).
The preceing photo is just one proof of concept, but the goal is to get this information transmitted within the optic (e.g., LPVO) of the rifle platform.
The technology described is 'secure' Bluetooth, near field communications, and "ultra wideband" systems. I know a lot of people will be skeptical of 'smart' technology in firearms, but this is a feasible future. The Tracking Point system was pretty revolutionary and shows the potential of smart optics, even though the company has since gone dormant due to failed efforts in establishing a market. Gunworks has the Revic smart rifle scopes with ballistics data integrations. Time will tell if the Magpul / Maztech collaboration will yield the next generation of weapons platforms.
One last item new item from Magpul that I wanted to bring up is their Enhanced Ejection Port Cover.
I saw this announced days prior to SHOT Show and one part of me was thinking, "Why?" Another part of me was thinking, "Sounds like classic Magpul."
$14.95 USD gets you a polymer ejection port cover for the AR-15 platform that is quick, tool-less install that doesn't require removal of the handguard.
Magpul cites that it is more durable than a USGI ejection port cover and has corrosion resistant components.
Frankly, I do not see these as valid reasons to get this ejection port cover. I don't know about the rest of you out there, but I have not seen rust on an ejection port cover assembly, nor have I bent one.
At $15, it is about the same price as a USGI ejection port cover. I really only see Magpul fans buying these up so they can go full Magpul on their AR-15 rifles.
Moving away from Magpul, there was one optic I was wanting to take a look at during SHOT Show and that is the Apex Optics Rival 4-32 scope.
I discovered Apex Optics because of an interview with Apex on the Rimfire Nation Podcast.
For those wondering, Apex Optics is a new Canadian company that started off by a competition shooter that wanted to achieve higher tier quality at a lower price point. The result is the Rival 4-32 which has the following specifications:
4-32x magnification with 56mm objective
34mm tube
FFP
ED Japanese glass
Competition / Tactical turrets with zero stop and revolution indicator with 15 MIL per revolution
one-tenth MIL clicks
Illuminated FFP reticle with 6 levels and off position
32 MIL elevation, 20 MIL windage
Parallax 15 yards to infinity
15 inches / 381 mm long, 37 ounce / 1049 gram weight
Apex Optics was not at the SHOT Show but their scope was on rifles at the Cadex and MDT booths.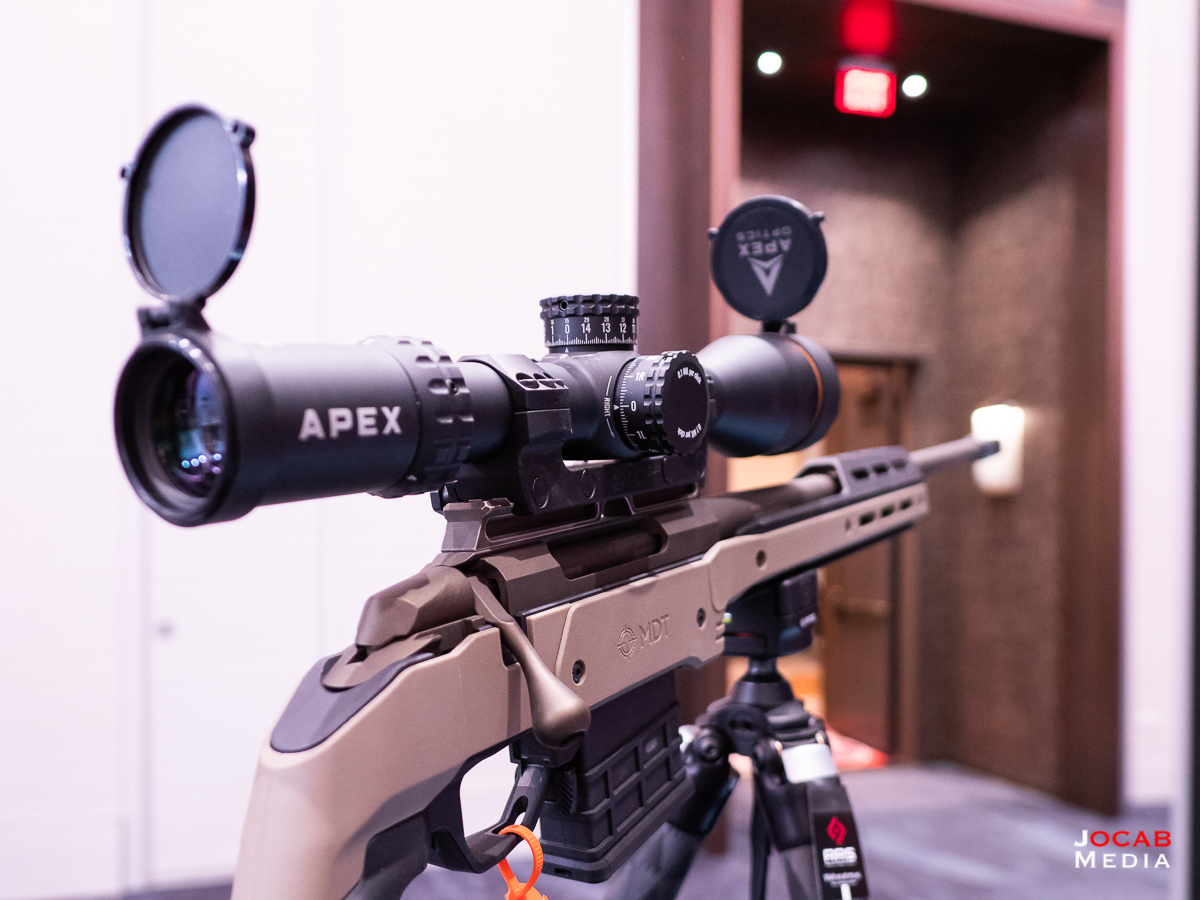 I will not comment on the glass because I can't make any sort of estimation of the quality from the show floor. I will say that the reticle seems pretty sound. It has what they dub the CLR Reticle.
The CLR uses floating dots at the lower cross sections of the tree which is a novel concept. It has two-tenth MIL hash marks (along with .5 MIL) along the cross hairs which I like.
The turrets of the Rival 4-32 are above average. They're definitely better than a Vortex Optics Viper PST Gen 2 in terms of tactile feel and clicks, but not at the level of a Kahles or Zero Compromise Optic. It feels somewhat like a Vortex Optics Razor Gen 2, but not quite. I don't know how to describe it, but the clicks feel sharper when you turn the knob.
The magnification ring has smooth tension and includes an integrated throw lever.
The price point is still not finalized but the current pre-order price is $1900 USD / $2100 CAD with a target ship date of Q1 2022.
The Apex Optics Rival 4-32 looks like an interesting new optic given the price point it is positioned at. I have always said that the sub-$2000 segment is a bit stagnant. Rifle scope manufacturers tend to focus on $1000 and below or $2500 and up, with the $3K+ segment getting the most notice due to the top tier segment populated by Schmidt and Bender, Kahles, Tangent Theta, ZCO, and the like.
Of course, the Burris XTR and Bushnell Elite Tactical are two scopes in the $1500 range which are well regarded, not to mention the Nightforce NX8 at the $2100 range, so the Apex Optics Rival 4-32 will need to prove its worth.
The Rival 4-32 is made in Japan (as is the glass), so I would expect that the scope will have excellent optical quality.
This scope looks attractive to me as a rimfire shooter since it has 15 yard minimum parallax and has above average elevation travel of 32 MIL. I would definitely like to try one of these out at the range sometime.
Speaking of Vortex Optics, they were one exhibitor that was not present and it was unfortunate because I wanted to see the new Razor HD Gen 3 6-36×56. Thankfully, CS Tactical had a couple of them at their booth.
CS Tactical is a well regarded retailer based in Northern California that is an authorized dealer of top tier scopes.
I'm not going to dwell too much on the Razor HD Gen 3 6-36×56 since authoritative opinions have been published online prior to SHOT 2022. That being said, this scope looks to be a winner at the $2999 USD street price that it is being sold at.
6-36x magnification with 56mm objective
34mm tube
36.1 MIL elevation, 15.5 MIL windage
Parallax adjustment of 10 yards to infinity
15.3 inches long
45.1 ounces weight
The new zero stop mechanism is a single set screw design (down from three on the Razor HD Gen 2). The magnification knob on the sample I handled was nowhere near as stiff as the three Razors I have owned. Assuming this is standard across the units, it is a huge improvement to me. Turret clicks seem sharper than the Gen 2 from what I can remember (I would need two side by side to compare effectively).
As a Zero Compromise Optics ZC527 owner (x2), I can honestly say that this scope looks to be a nice option. Some have the opinion that if you spend $3K, you may as well step up a little more for the ZCO. That is not a clear cut decision when "a little more" is actually $1K USD.
I am seriously considering buying a Razor HD Gen 3 6-36 just so I can actually use one then sell it, or perhaps keep it and sell my Razor HD Gen 2 4.5-27 (although I doubt I can get much for it now).
Not to be outdone, Schmidt and Bender did quietly release the 6-36×56 PM II.
The 6-36×56 PM II is what the name implies: 6-36x magnification with a 56mm objective. It has a 34mm main tube and with the applicable turret (MT II MTC LT) it has up to 39.5 MIL elevation adjustment.
The parallax adjustment range is 20 meters to infinity.
The S&B PM II line is the forefather of all the top tier scopes. Some will argue that S&B is becoming less relevant because other scope manufacturers are directly competing against them with great success. But S&B still makes great optics.
There currently is no price on the 6-36 PM II. For comparison, the 5-25 PM II ranges from $3500 to $5000 given the options, while the 5-45 PM II starts at $5500 and can exceed $6000. It is likely the 6-36 PM II will be at around the $4300 price range, if not more.
To close out this segment of my After Action Report for SHOT 2022, I wanted to highlight the continuous presence of live coverage of SHOT. There were several live stream crews littered throughout the show floor.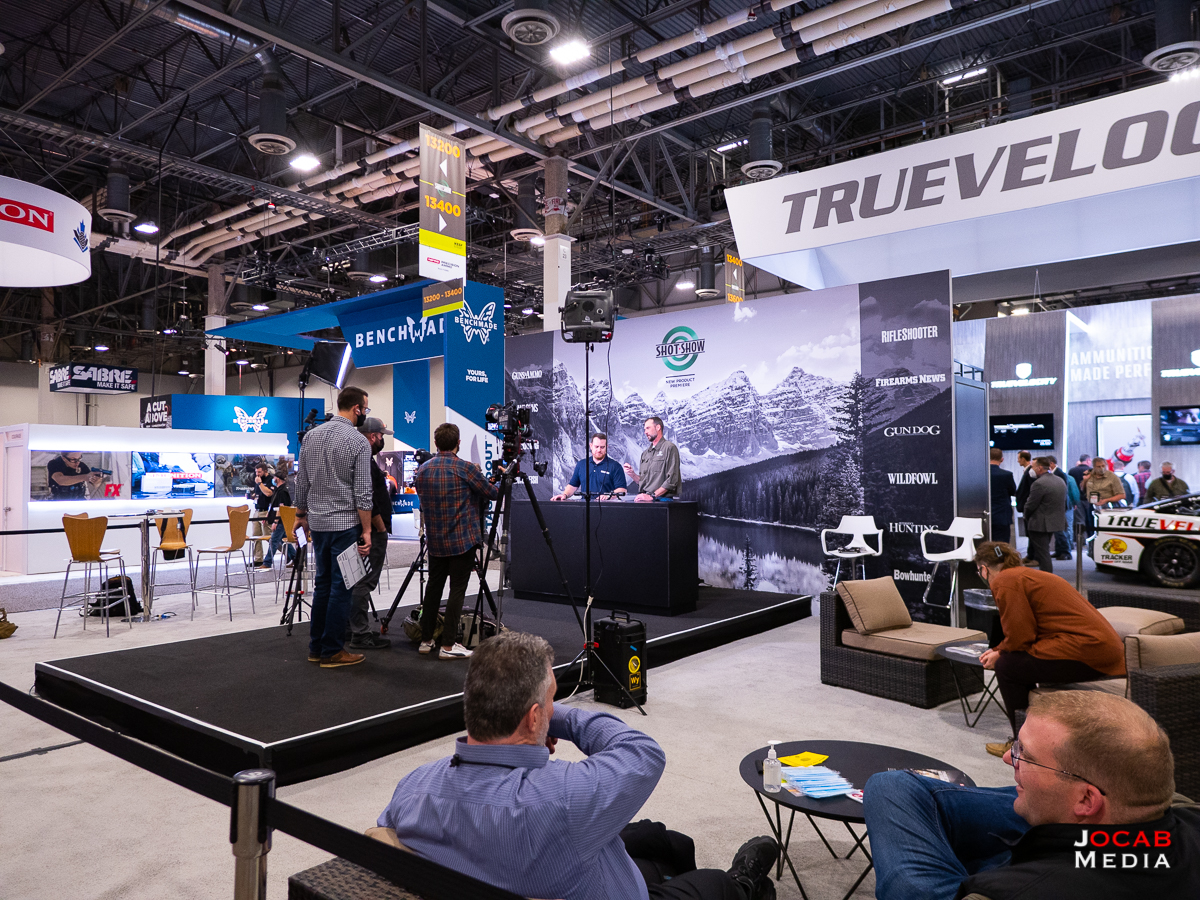 While this may have been prompted by the need to provide more real-time coverage of SHOT for those that cannot travel due to COVID restrictions, this should be a mainstay for future SHOT Shows. Having more live stream, real-time coverage of SHOT will be beneficial given that SHOT Show is not open to the general public and providing product and information news to more people (e.g., consumers) will help the industry.
Stay alert for the next part of my 2022 SHOT Show After Action Report.