If you have not read Part 1 or Part 2 of my 2017 SHOT Show After Action Report, visit either of those posts first before continuing on.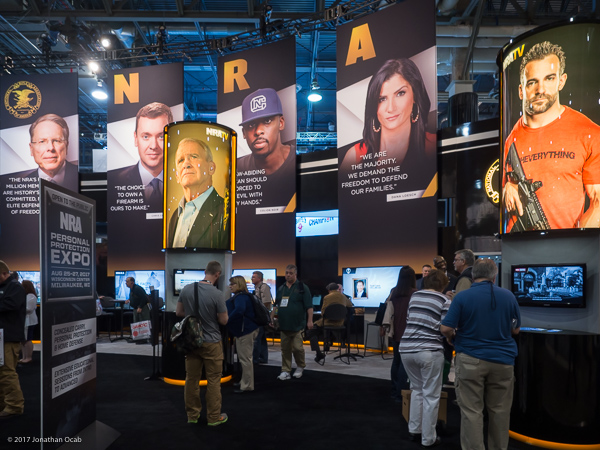 I mentioned in the previous segment of my 2017 SHOT Show coverage that SHOT can be bittersweet for California residents. Yes, you see a lot of wonderful firearms at the SHOT Show, but a lot of it is unavailable to Californians. But SHOT Show still has relevant new products for those behind enemy lines.
While not truly new since it was actually released in mid-2016, the Barrett Fieldcraft rifle is new to SHOT Show.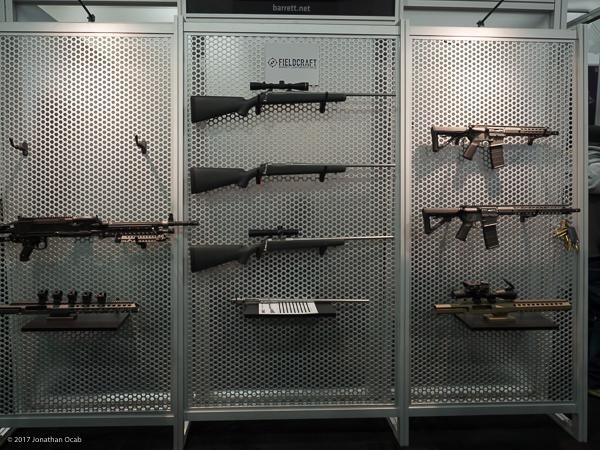 The Barrett Fieldcraft is a lightweight hunting rifle designed by a company more well known for their long range precision rifles, specifically their .50BMG chambered rifles. The Fieldcraft is Barrett's foray into the outdoorsman market, providing a higher quality rifle for hunters.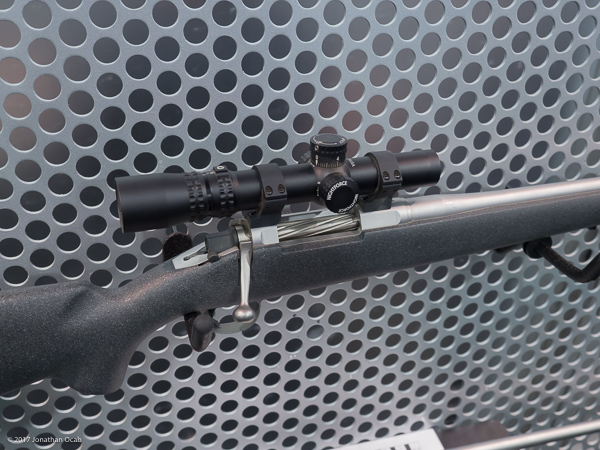 Utilizing a custom action by Barrett in a carbon fiber stock, the Fieldcraft weights between 5 and 6 lbs depending on the cartridge it is chambered for (since the action is scaled to the given cartridge) and the barrel contour the customer specifies. The Barrett Fieldcraft is available in several chamberings including:
.22-250 Remington
.243 Winchester
.25-06 Remington
6.5mm Creedmoor
6.5x55mm Swede
.270 Winchester
7mm-08 Remington
.308 Winchester
.30-06 Remington
All variants carry an MSRP of $1799 and serve as a great hunting rifle option versus the mass produced hunting rifles by Remington and Savage.
Speaking of Remington, there are two new Model 700 variants being released: the 700 AWR and 700 MagPul.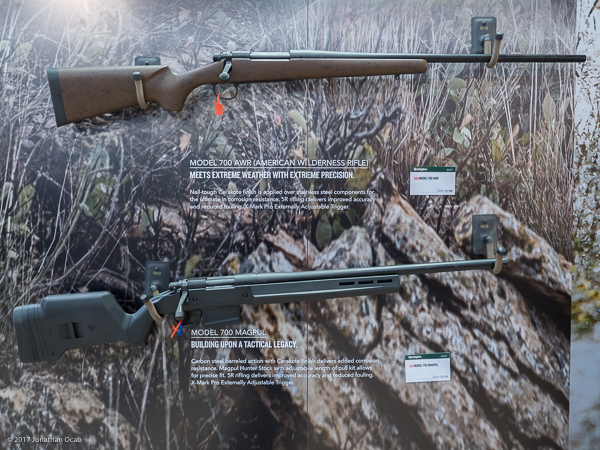 Both of these rifles come with 5R barrels, but unlike the previous Remington 700 5R variants which have 1:11.25″ twist rates (for .308 Winchester), these two new variants have faster 1:10″ twist rates.
The AWR, or American Wilderness Rifle, is specifically a hunting model configuration and is going to be available in:
.270 Winchester
.30-06 Springfield
7mm Remington Magnum
.300 Winchester Magnum
The AWR actually utilizes a Grayboe stock. Grayboe is a stock manufacturer that has been trending in recent months due to their permission to use McMillan design in a fiberglass constructed stock at a lower price point.
All variants of the AWR will have 24″ barrels with 1:10″ twist rates (except the 7mm Remington Mag at 1:9.25″) and has a $1150 MSRP
The 700 MagPul is more of a tactical configuration and actually uses the MagPul Hunter 700 stock (hence the 700 MagPul model nomenclature). It will be available in a 22″ barrel chambered in either .260 Remington or .308 Winchester, with a 1:8″ or 1:10″ twist rate, respectively. The 700 MagPul also has a 'tactical' bolt handle as opposed to the standard 700 bolt handle.
The 700 MagPul looks like an interesting factory option for the 700 family because it gives the consumer a variant that is compatible with AICS pattern magazines out of the box. The 22″ barrel might be a bit of an odd characteristic, though. I know that some people like short barrels for bolt rifles, but I am in the camp that prefers longer barrels and don't mind a 26″. 24″ is about as short as I want to go, but it seems like people are willing to sacrifice muzzle velocity for shorter barrels. I surmise Remington is angling this as a 'field' rifle and went with a shorter barrel for maneuverability.
With an MSRP of $1175, I anticipate the 700 MagPul will actually be a popular model, especially if retailers sell it at $1000 or just under.
As I am writing this, I just so happened to check the weekly ad for Turner's Outdoorsman (a Southern California based firearms retailer) and they have the Remington 700 MagPul in .308 Winchester on sale for $979.98 during the week of 2017-01-20 through 2017-01-26, with a regular price of $1039.99.
For all the anti-Remington folks who have been taking every opportunity to talk badly about the Freedom Arms era Remington 700 rifles, the metal of the 700 AWR (416 Stainless Steel) and the 700 MagPul (carbon steel) are both Cerakoted in black.
Juggernaut Tactical is a company I had never heard of until this past year when I acquired a DPMS pattern .308 AR lower before the end of 2016. I went to a Turners Outdoorsman and they had the Juggernaut Tactical available so I bought one.
As I passed through SHOT Show's smaller halls for tactical vendors, I came across Juggernaut Tactical and saw some of their soon to be released stocks to facilitate feature-less AR rifles.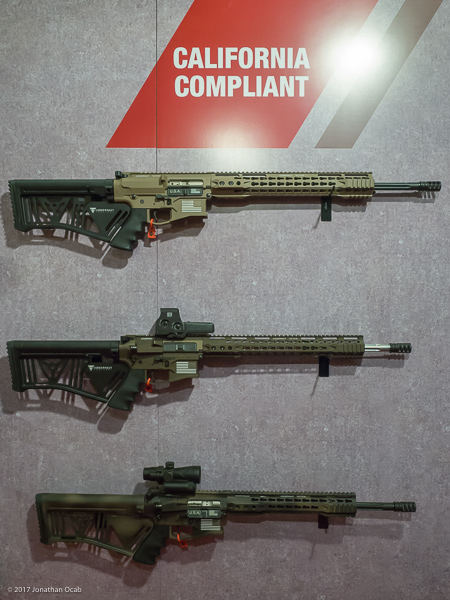 Based in Southern California, specifically the City of Orange, Juggernaut Tactical could be a significant player in the current state of California compliant AR market considering it is smack dab in the middle of this anti-gun environment.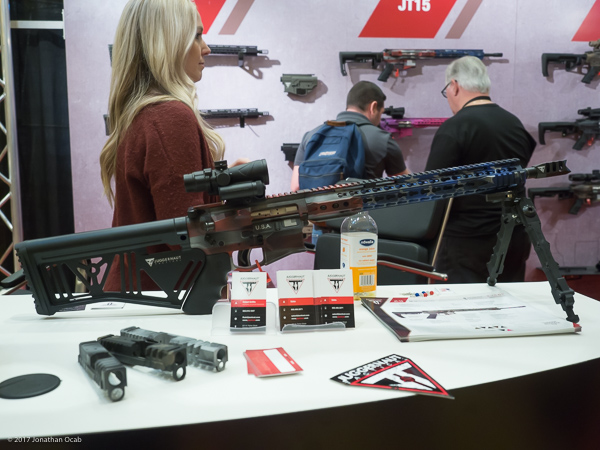 Keep an eye on the Juggernaut Tactical website for more information on these feature-less compliant stocks.
American Rifle Company, the makers of the Mausingfield action, is going to release an AICS-style magazine.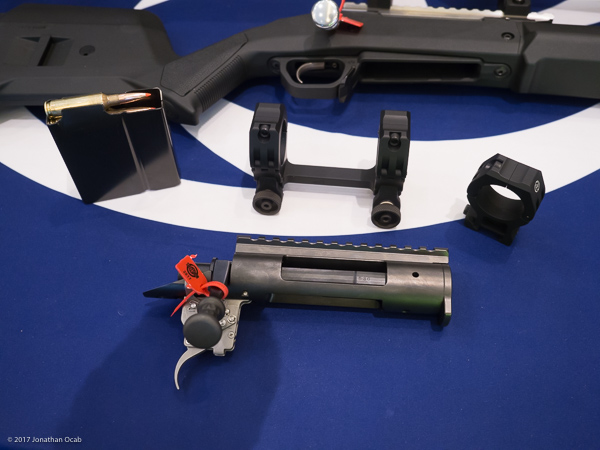 The ARC AICS-style magazine is a steel magazine with shorter feed lips that are designed to help improve the feeding of shorter body cartridges, such as the 6.5mm Creedmoor.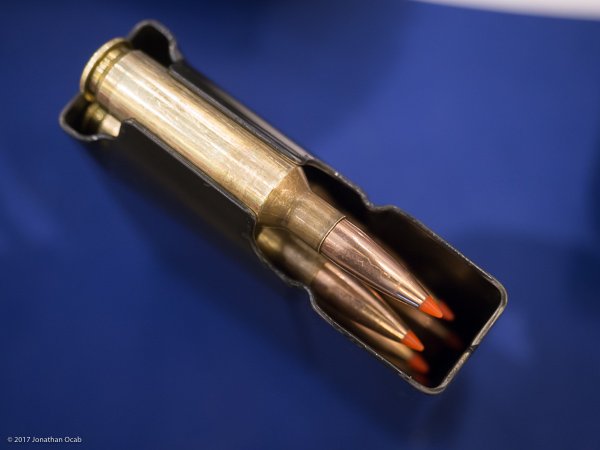 The 10-round magazine from ARC should be out in the next couple of months with a targeted price point of around $70.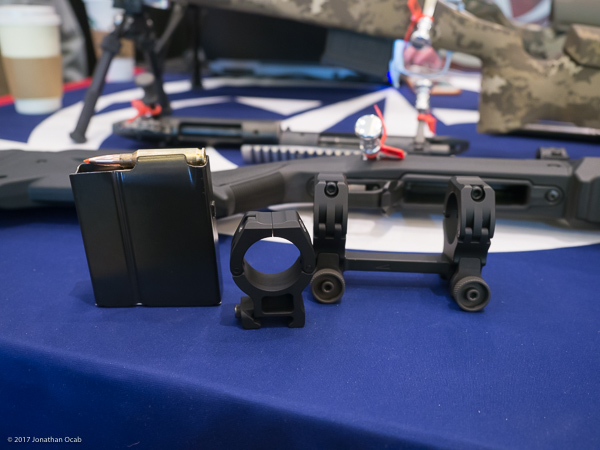 Speaking of 6.5mm Creedmoor, Lapua had a display of their much anticipated 6.5mm Creedmoor brass at their booth.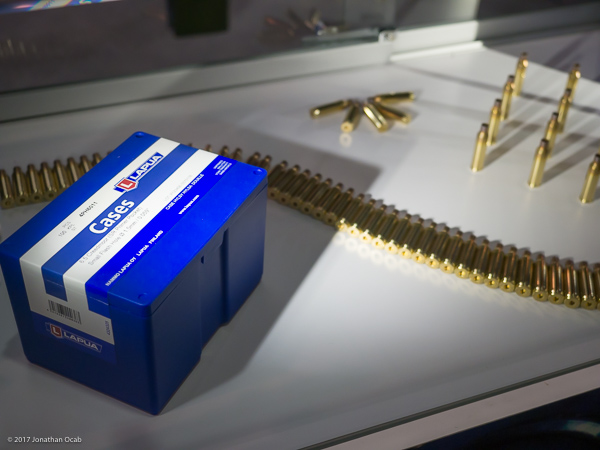 I know that some people are disappointed in Lapua's decision to only produce the 6.5mm Creedmoor brass in a small rifle primer variant, but I think shooters with custom actions will provide plenty of demand for this brass.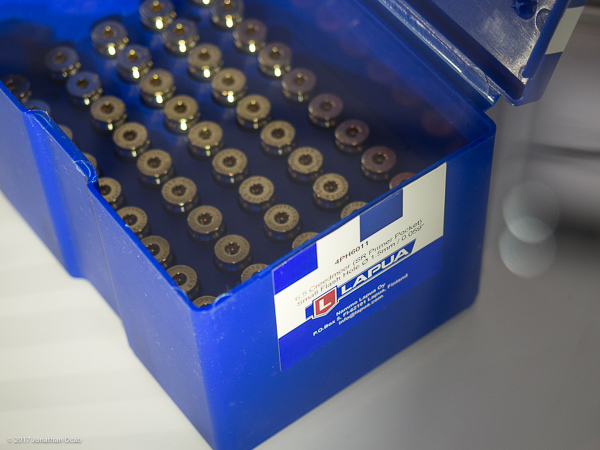 On a sidenote, I do anticipate firing pin hole bushing services will increase as some shooter decide to go with a smaller firing pin in their 6.5mm Creedmoor rifles to make effective use of the Lapua 6.5mm Creedmoor brass. Gre-Tan Rifles is one gunsmith that provides this service.
Part 3 of my 2017 SHOT Show After Action Report will close out with the Knights Armament Company booth visit. On Day 2 of SHOT Show, I stopped by KAC to get a copy of the Vickers Guide AR-15 Volume 1, which was signed by Larry Vickers as well as C. Reed Knight, Jr (founder and owner of KAC).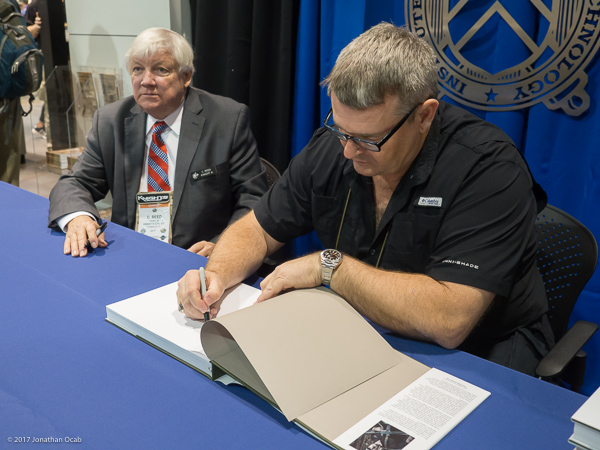 Note the Rolex Explorer II black dial on the wrist of Larry Vickers.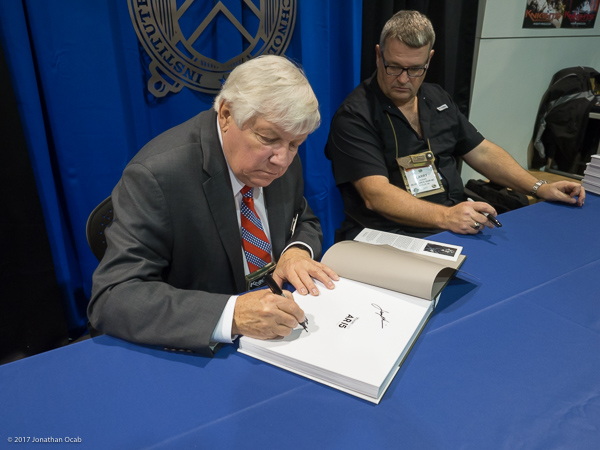 Stay tuned for Part 4 of my 2017 SHOT Show After Action Report which should be posted in the very near future.
Note: All published 2017 SHOT Show After Action Reports can be found in the index / Part 0 or via the blog tag of 2017 SHOT Show.