Be sure to read through the preceding parts of my 2017 SHOT Show After Action Report. The index for SHOT Show 2017 can be found in Part 0.
The SHOT Show has been held at the Sands Expo and Convention Center since 2010 and is spread out over multiple floors and several halls and rooms. With all of this walking over the claimed 630,000 square feet of exhibitor space, you're going to see a lot of backpacks.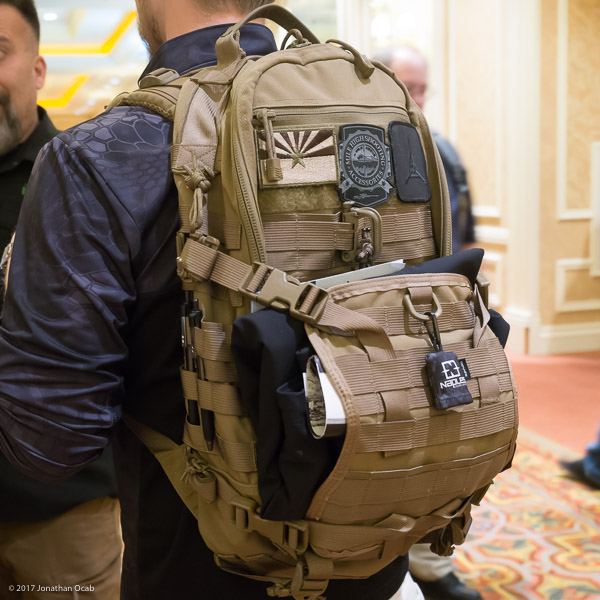 Granted, there are plenty of free tote bags being given away on the exhibition floor, a backpack is just much more comfortable when hauling whatever literature, swag, water, or existing gear you brought to the show (e.g. Media gear).
While people flocked to the MagPul booth as they usually do, MagPul did not really have anything noteworthy. 2017 marks the 10th anniversary of the MagPul polymer AR magazine, so they were playing that up at the show.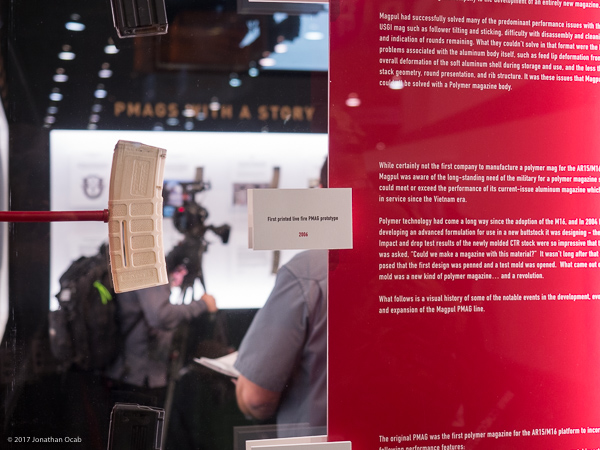 But other than that, there wasn't anything noteworthy in my eyes (as a Californian). MagPul did debut their Hunter X-22 Takedown and X-22 Backpacker stocks, which are basically versions of their Hunter X-22 designed for the Ruger 10/22 Takedown models.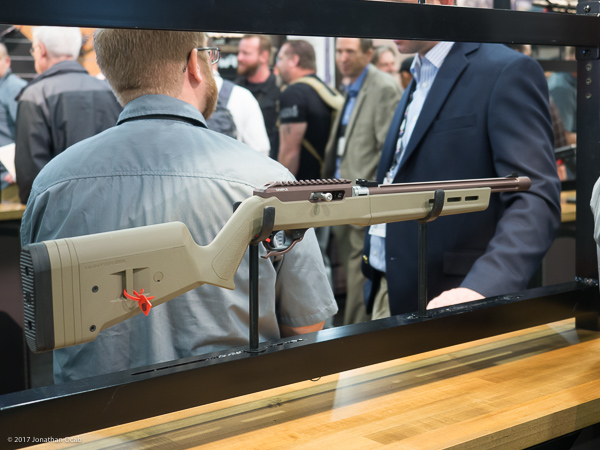 The X-22 Backpacker adds one specific feature and that is to allow the barrelled forend to fit into the bottom of the buttstock when broken down.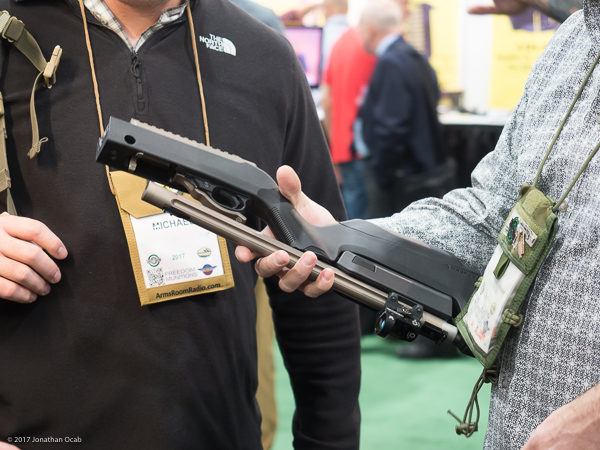 It looks like a nifty way to transport a rimfire rifle while backpacking in the woods. I personally have never tried a Ruger 10/22 Takedown before, though.
I did question MagPul about the UBR GEN2. Simply, where is it? The only response I got was that they just let production dates slide and made a few minor modifications. There was no definitive reason, but considering MagPul said they would have the UBR GEN2 out in Summer of 2016, I can only surmise they found problems with the design. I was told that the UBR GEN2 should be out this year.
I am generally not one for pre-packaged cleaning kits, but Otis Technology did catch my eye with some new kits they are coming out with. The two new cleaning systems are the Patriot series and the Defender series.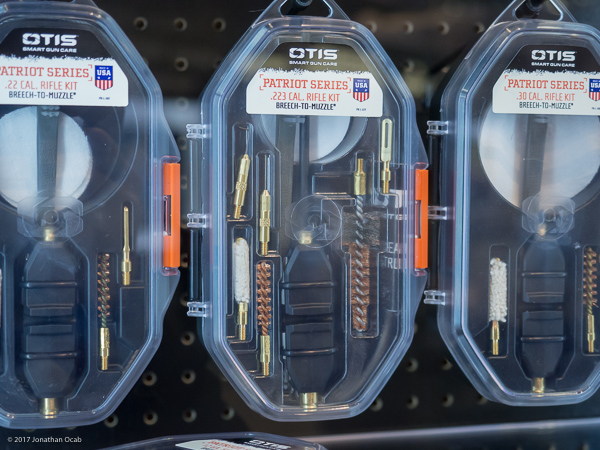 The Patriot series is a kit that is based on their breech to muzzle, pull through tool, and includes the various items necessary to clean the bore. The system is caliber / cartridge specific in that a given kit will come with specific sized brushes depending on the caliber (and in the case of cartridge, the .223 kit comes with an AR chamber cleaning brush).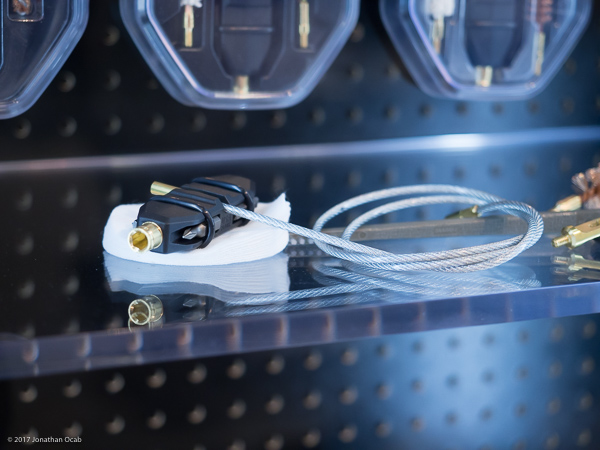 But the Patriot series also includes a handle of sorts which can be used with attachments as a chamber cleaner, for driving bits with 1/4″ hex bits, or even as the pull handle for the Otis cable. The Patriot series kits should run for around $25.
The Defender series is a cleaning kit that comes in a nylon case and is also caliber specific. It does not include the same accessory handle as the Patriot, but it does come with a segmented cleaning rod an an Otis Ripcord tool.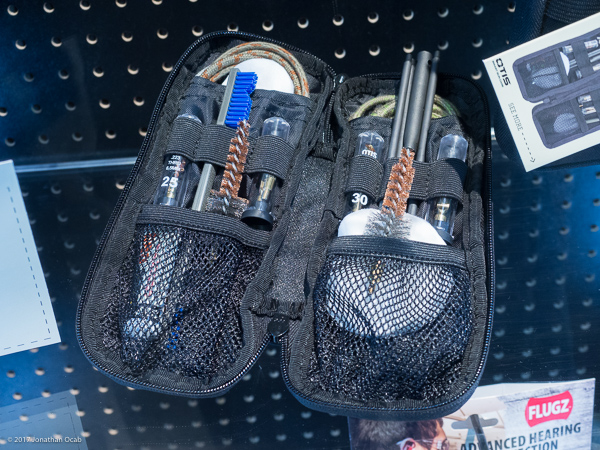 The Defender series is what I would call a true field kit due to the inclusion of the segmented rod. I am not a fan of segmented rods for cleaning, but a segmented rod is a great emergency tool for when a rifle goes down because of a stuck case, or worse, a squib. You can't clear a bore or a chamber with a pull through cable. You need a cleaning rod, and if you're in the field, odds are you don't have a full length cleaning rod on you. But if you packed a segmented rod, then you can get your rifle running again.
The Defender series are more expensive than the Patriot series with kits running for $70.
Caldwell Shooting Supplies (of Battenfeld Technologies, Inc.) was showing off a new pistol magazine loader called the Mag Charger Universal Pistol Loader.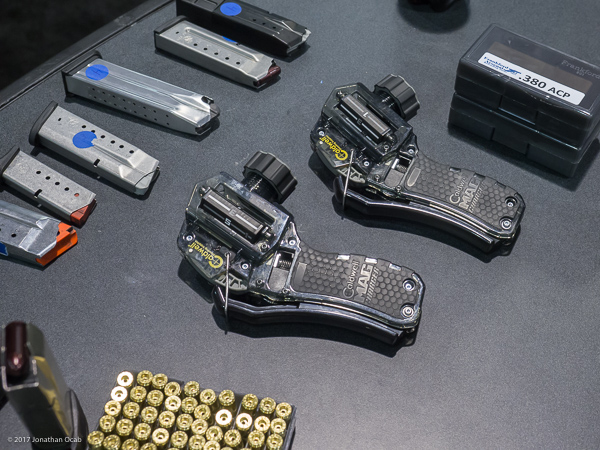 It is supposed to work with most pistol magazines in 9mm, 10mm, .357, .40, and .45 by virtue of rotating adjustment spacers on each side of the loader to hold the magazine snugly. Once the spacers are adjusted for the given magazine, you simply drop a round into the port and compress the grip to insert the cartridge. I would compare the action of the loader to using a hand priming tool.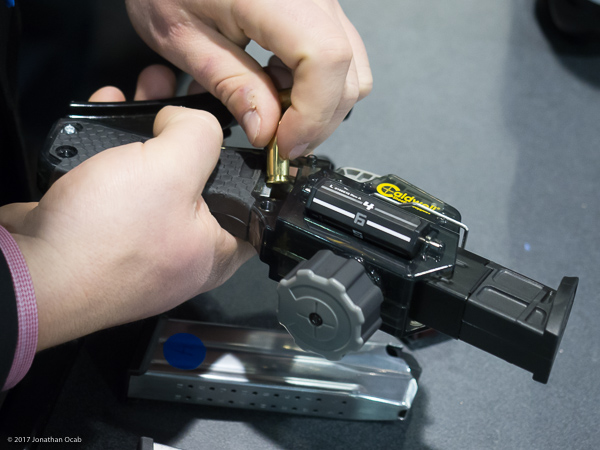 Watching it being used looked pretty simple and smooth, but when I tried it myself, it did seem a bit clumsy. Sometimes, the round would not insert fully when I compressed the grip. The representative said it would take some getting used to, which is probably correct.
Personally, the Mag Charger Universal Pistol Loader does not feel as simple or effective as the Maglula UpLULA, which is arguably the best universal pistol magazine loader out there. The Caldwell Mag Charger Universal Pistol Loader has an MSRP of $48.
There is another magazine loader which I wanted to see because I had heard about it on social media. Elite Tactical Systems Group had a prototype of their 9mm pistol magazine loader on the show floor.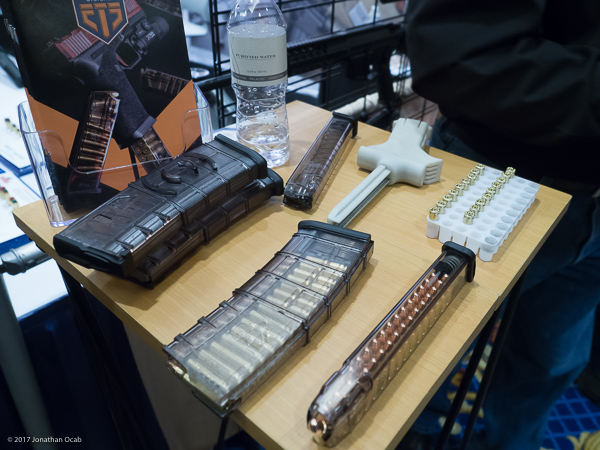 You essentially preload several 9mm rounds onto a slotted guide that is fixed to the magazine loader, and then use an assist piece to compress the 9mm rounds into the magazine in one solid push, just as if you were using a stripper clip. It is actually quite puzzling to see the ETS Group magazine loader in action because you don't understand how the rounds can feed in one motion without pushing down the top round and sliding in the next round underneath the feed lips.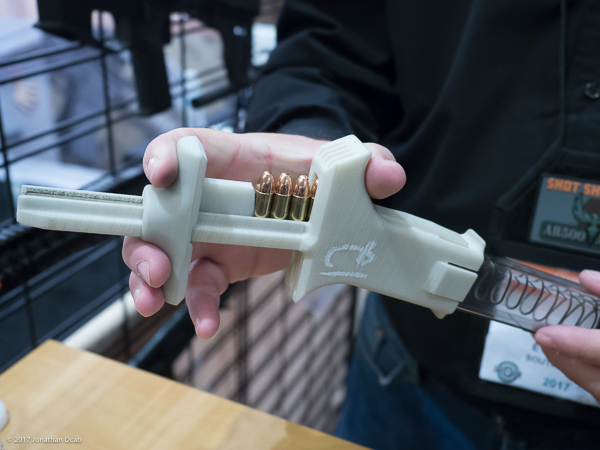 "It is not magic," as the ETS Group representative said. Rather, they simply had to find the right geometry to get the loader to angle the rounds to get underneath the feed lips. The loader does not distort the feed lips in anyway during loading. The ETS Group magazine loader will be cartridge specific and the first one will be a 9mm version, and will work with all pistol magazine types, both single and double stack.
While the floor model was a prototype, they should be going to production soon. MSRP is TBD.
Assuming the production model works as well as the prototype on the shot floor, I anticipate this will be a hot selling product.
I would like to end Part 6 of my 2017 SHOT Show After Action Report with a mention of Fix It Sticks, who was present at SHOT Show in the Rifles Only booth.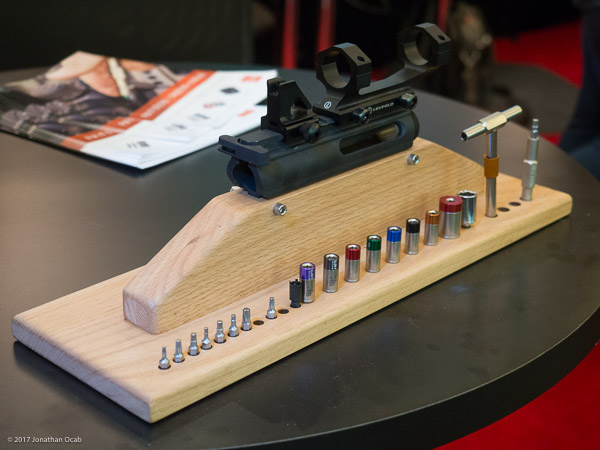 I actually have two Fix It Sticks pairs that I bought myself, as well as several torque limiters, so I am a fan of the product. I have been in touch with the folks at Fix It Sticks and I can tell you they are continuously working on products relevant to shooters. As you can see in the photo above, there is an AR-15 front sight post tool which fits 1/4″ hex drive. But there are other items they have in various stages of testing, so expect to see more from Fix It Sticks in the very near future.
I anticipate at least one more published post in my series of 2017 SHOT Show After Action Reports, so check back in the near future for Part 7.
Note: All published 2017 SHOT Show After Action Reports can be found in the index / Part 0 or via the blog tag of 2017 SHOT Show.