When it comes to firearms maintenance, I'm always on the lookout for interesting tools, and a couple weeks back I came across Fix It Sticks in one of my social media feeds.
The original Fix It Sticks multi-tool is essentially two shafts with bit drivers on both ends, that can be joined together to form a T-handle. The original Fix It Sticks have fixed drivers, and the sticks you choose to carry determine what tools you have available (e.g. slotted, hex, Torx, etc). The two (or more) piece design means it breaks down easily for portability and small form factor, since it was originally designed by a bicyclist for bicyclists to be carried while on rides.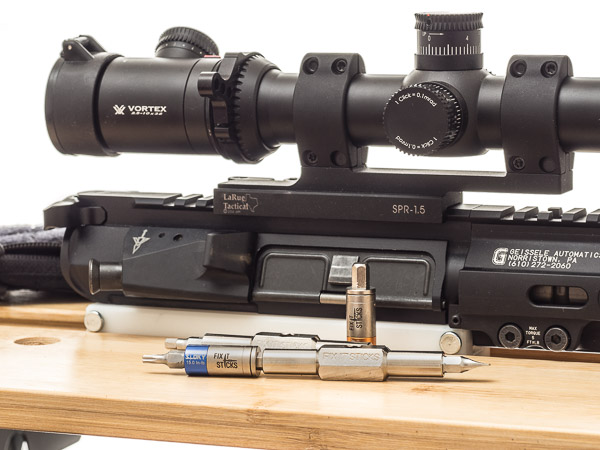 But what caught my attention were the Fix It Sticks preset torque limiters. Fix It Sticks created 1/4″ compatible torque limiters to fit their multi-tool, and come in 15 in-lb, 25 in-lb, 45 in-lb, and 65 in-lb presets. This is exciting for me because these are common torque settings for firearms bolts / screws.
15 in-lbs is widely accepted as the torque setting for scope rings, whereas action screws for rifles are often torqued to 45 or 65 in-lbs depending on the type of stock material, pillar, bedding, and what not.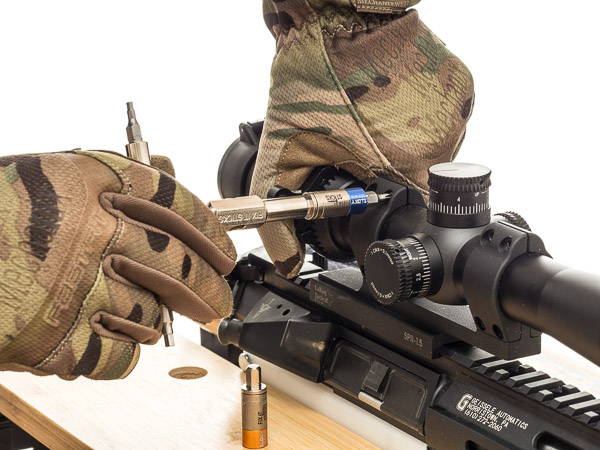 I ended up ordering the Fix It Sticks Replaceable Edition shooters kit with the 15 in-lbs and 45 in-lbs torque limiters. There are other kits available with different pairs of torque limiters, and you can buy the torque limiters individually as needed.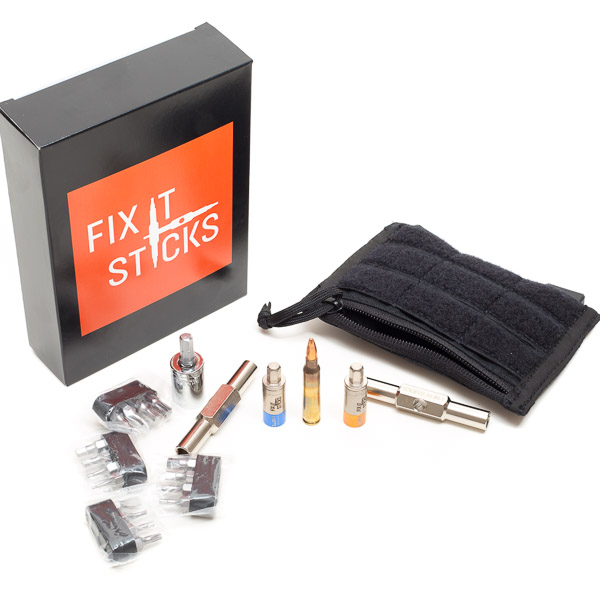 The Replaceable Edition simply means the bits in the two-piece T-handle tool can be swapped out for different 1/4″ bits. Magnets in each end of the driver shafts help keep the bits in place.
Dubbing it a "shooters kit" makes me assume they are marketing the torque limiters to firearms owners. Note that the kit also includes 16 different 1/4″ bits, a 1/2″ socket, 1/4″ drive adapter, and a MOLLE pouch to hold the tools.
The Fix It Sticks multi-tool actually deserves more credit after first glance. I have a couple of T-handle hex tools for my Eliseo R5 Match Rifle to adjust the stock for each shooting position. The Fix It Sticks would be a better option since I would only need one Fix It Sticks tool vs the two T-handle hex tools.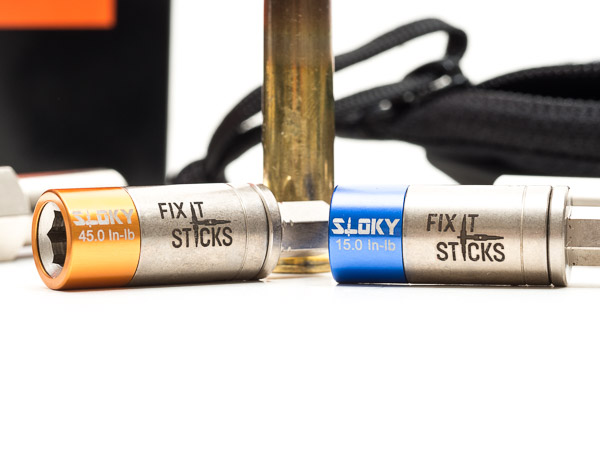 The torque limiters are very compact and is a great portable option for shooters, especially those who need maintenance tools in a small form factor where a dedicated torque wrench would be too cumbersome.
The versatility of the Fix It Sticks multi-tool is impressive, and one can utilize the included 1/4″ bits, or use their own as applicable. I'm currently using Wera T-15 bits because T-15 is used in a lot of firearms applications including Keymod accessory attachments, and I have distorted generic T-15 bits (e.g. Lowes Husky brand) with nominal torque.
The way the Fix It Sticks multi-tool is designed, the two-pieces form a T-handle, but I've found you can simply run one piece directly attached to the torque limiter, especially if you have long bits, like my Wera T-15 bit.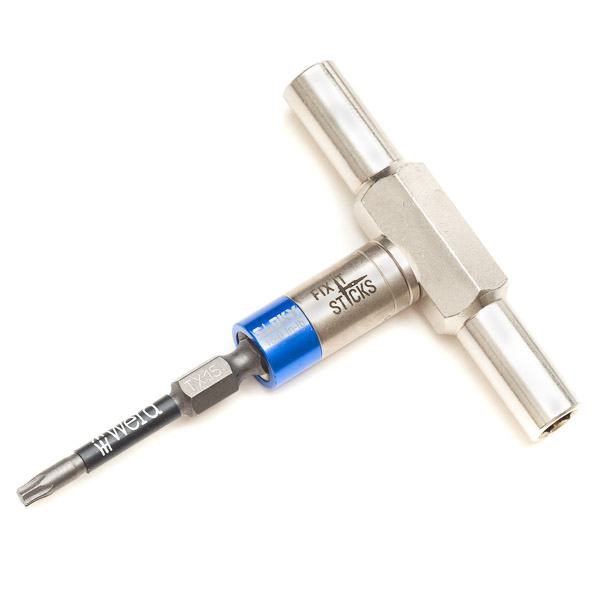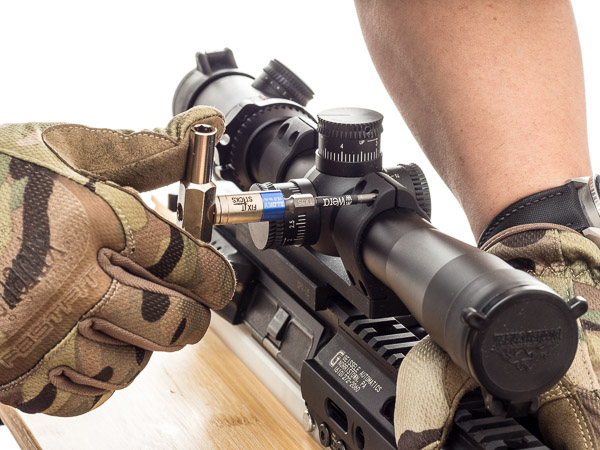 The Fix It Sticks tools are not US made even though the company is in Chicago. The Fix It Sticks multi tool is made in China, while the torque limiters and bits are made in Taiwan. The pouch is made in the USA (by Tactical Tailor).
The price for an individual torque limiter is currently $40, while a "shooters kit" with the Fix It Sticks multi-tool, 16-bits, two torque limiters, and pouch is currently $112.
There are those that will argue a non-US made variable torque wrench can be had for $50, but the Fix It Sticks torque limiters have their advantages.
Again, the Fix It Sticks torque limiters are small – shorter than a 5.56 NATO cartridge – so the size makes for great portability in cases where gear space is at a premium.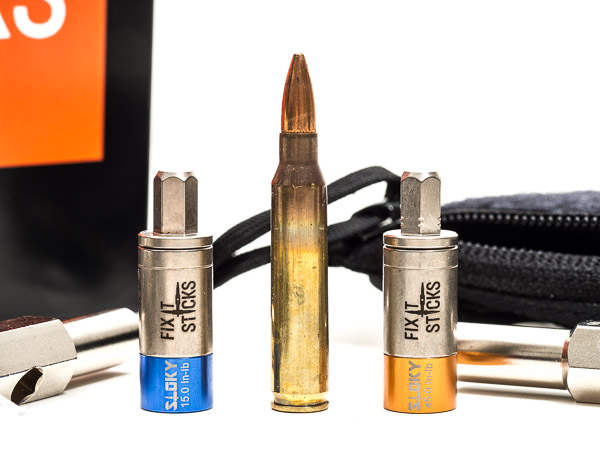 Then there's the issue of the accuracy of variable torque wrenches. Preset torque limiters are going to be more reliable than a variable torque wrench in the long run, because variable torque wrench mechanisms lose calibration more easily due to design.
Of course, Fix It Sticks torque limiters aren't the only game in town when it comes to inch-pound torque tools. There are the Borka Tools torque wrench and limiters which have been around for several years now. Borka has a good reputation in the shooting community, with both an adjustable torque wrench and preset torque limiters available, albeit in larger form factor than the Fix It Sticks torque limiters. For those who want the least expensive option, then there's always the Wheeler FAT Wrench which is an inexpensive variable inch-pound torque wrench.
I personally think the Fix It Sticks torque limiters are a great addition to any shooter's range kit, load out bag, weapons platform maintenance kit, etc. You don't even need the actual Fix It Sticks multi-tool. Just get the torque limiters and use the existing 1/4″ driver in your portable toolkit. I don't see why a precision bolt rifle shooter should not carry the Fix It Sticks 15 in-lb torque limiter and another torque limiter with the correct preset for his/her rifle's action screws.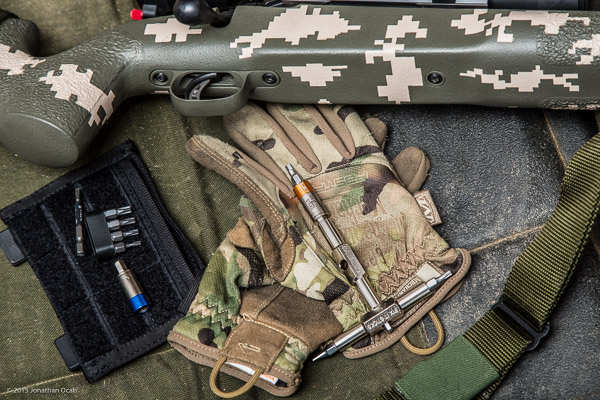 After buying the shooters kit to try out the Fix It Sticks torque limiters myself, I'm going to finish off the set and order the 25 in-lb and 65 in-lb torque limiters.
For those of you who are interested in what Fix It Sticks has to offer, visit their website at fixitsticks.com for more information and to place an order for your own Fix It Sticks tools.