Be sure to read through the preceding parts of my 2017 SHOT Show After Action Report. The index for SHOT Show 2017 can be found in Part 0.
I have attended nine of the last ten SHOT Shows (skipping the on in Florida) and SHOT can be a be repetitive in terms of the layout. Most of the big name, high volume manufacturers are in the main hall of the second floor, and I can usually find booths in the same spot they were in last year. Some booths did shuffle around, while others like Aimpoint were in the same spot but with a new booth design.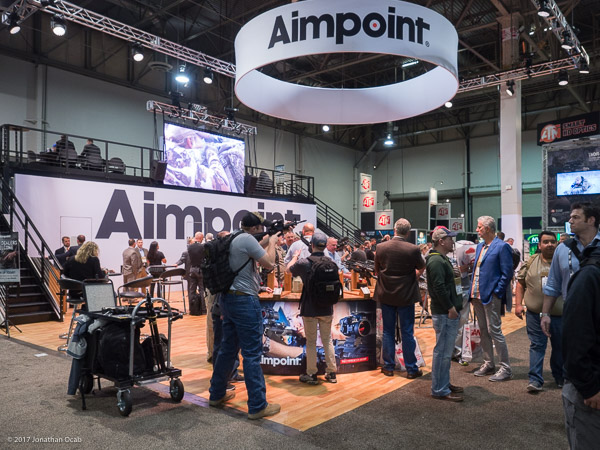 There was one interesting change I noticed at SHOT Show and that was the change to the EOTech logo.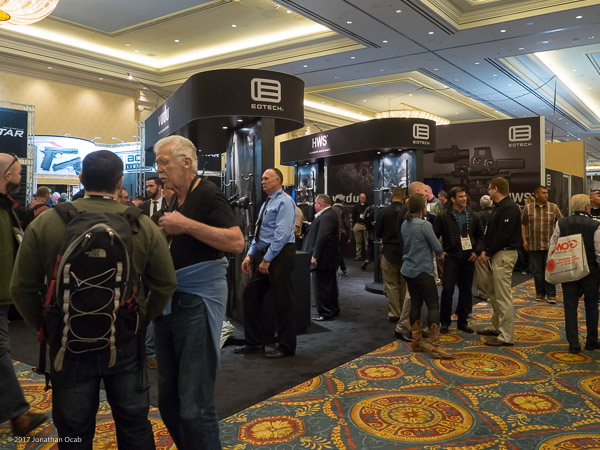 The familiar EOTech logo with the EOTech name and the recognizable EOTech holographic sight reticle was replaced by the subdued EOTech 'flag' logo.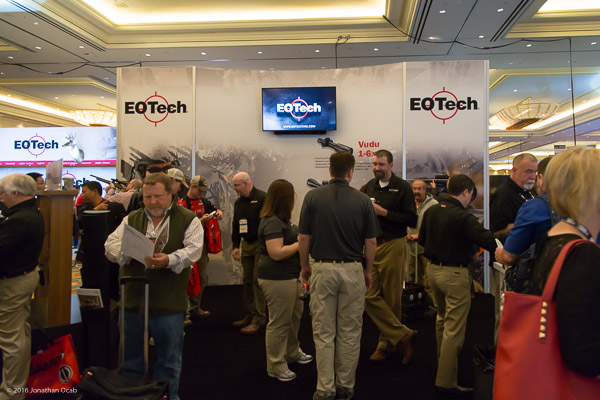 While the representative said they were looking to get a more subdued logo for their products, I feel that the logo refresh might have something to do with the scandal regarding the extreme temperature performance of their holographic sights. EOTech makes good sights, and it is unfortunate their reputation took a hit after all of the performance issues (and their supposed coverup of the issues in testing) came to light. So I think the logo change is most likely one way for EOTech to put the past behind them and more forward.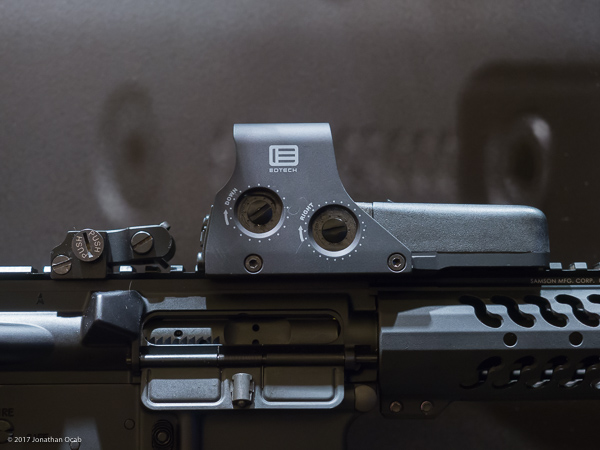 Whether or not EOTech can recover their position in the tactical sight market remains to be seen. Aimpoint and Trijicon definitely took a lot of Government, Military, and Law Enforcement customers and given that these types of customers are contract based, it could be several years before EOTech can even start gaining back ground.
I have discussed SecureIt in previous SHOT Show After Action Reports because they are trying to innovate the gun storage market with portable and stowable gun safes. At SHOT 2016, I covered SecureIt's Cradle Grid system, which allows retrofitting existing gun safes and cabinets to hold guns more effectively and efficiently.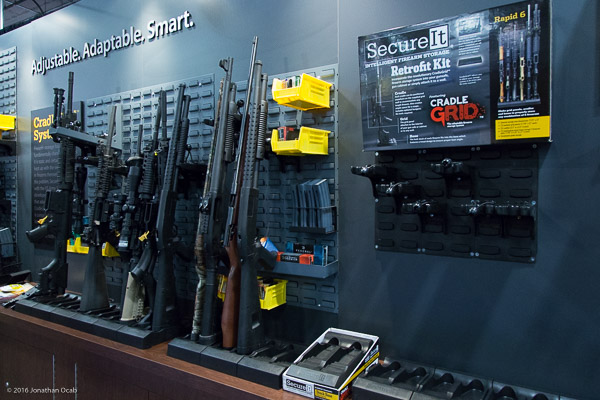 At SHOT Show 2017, SecureIt is expanding into the gun cabinet market with the Model 40 Ultralight Gun Safe. In the middle of 2016, SecureIt actually debuted the Model 52 Ultralight Gun Safe, but at SHOT Show they were playing up this smaller iteration.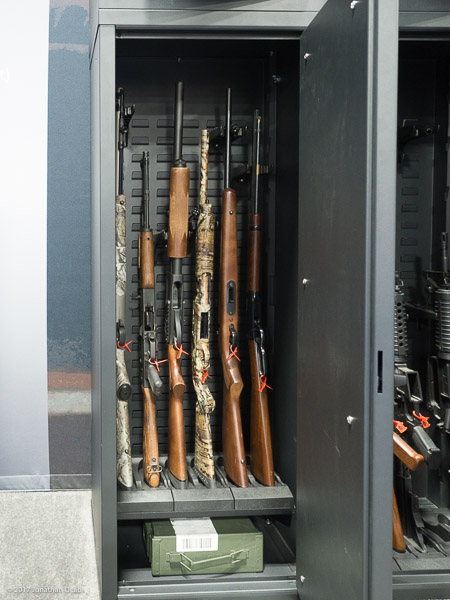 SecureIt has stirred up some controversy and discussion amongst gun owners with recent videos and posts criticizing the effectiveness of existing gun safes.
I actually do agree with SecureIt to some degree that gun safes are not going to keep a determined thief out, but I do believe that gun safes should be designed to maximize the amount of time necessary to break into them. The whole goal is to keep the contents safe long enough for armed response (e.g. intrusion alarm -> police).
That being said, I do think a gun cabinet is acceptable for locked storage for indoor (in-home) situations, and this ready to go package from SecureIt with the Cradle Grid system is a worthy solution for a lot of folks. But the SecureIt Model 52 Ultralight Gun Safe has an MSRP of $599 (Model 40 MSRP TBD), which is a bit excessive in my opinion. I would almost prefer buy my own gun cabinet or small gun safe, and retrofit it with the SecureIt Cradle Grid system for less price.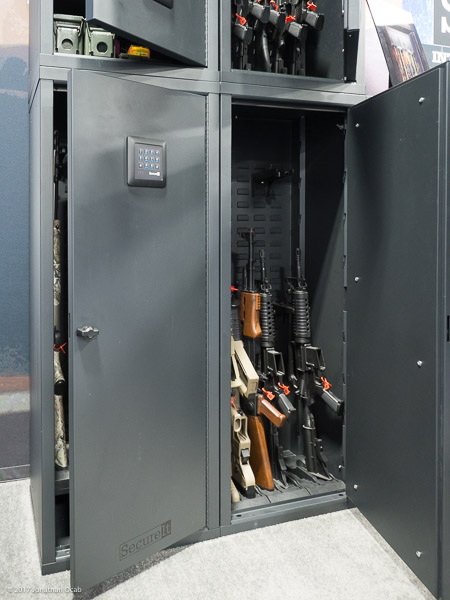 I overheard a comment that SecureIt is not trying to compete with Stack-On (one of the most well-known gun cabinet brands). While SecureIt might not be trying to compete with Stack-On, they actually are by virtue of creating and selling this product. Anyway, if the Model 40 can come in at a relatively comparable price point to one of the Stack-On cabinets of similar size, with maybe a $100 up-charge for included Cradle Grid accessories, I don't see why the SecureIt Model 40 cannot be successful.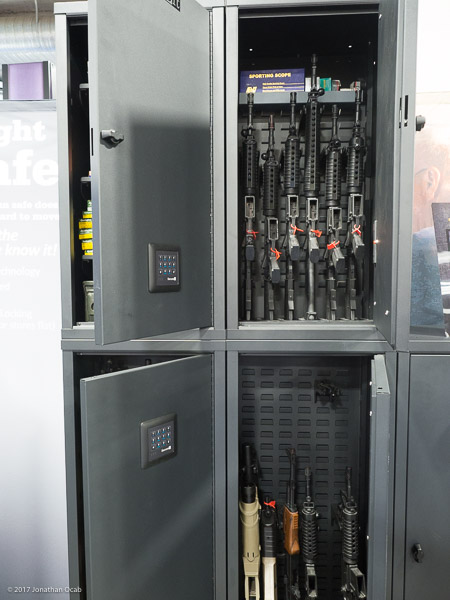 The Model 40 is not ready to ship, yet. SecureIt is working on the finishing touches of a new lock and keypad, which they want on the Model 40, as opposed to shipping it with the lock from the existing Model 52.
Dark Angel Medical had recently announced their A.A.R.K. line of products in the days preceding SHOT Show. The Adventure And Recreation Kit series of products is Dark Angel Medical's foray into less 'tactical' products and more for every day type activities.
The AARK flagship item would be the Adventure And Recreation Kit Backpack.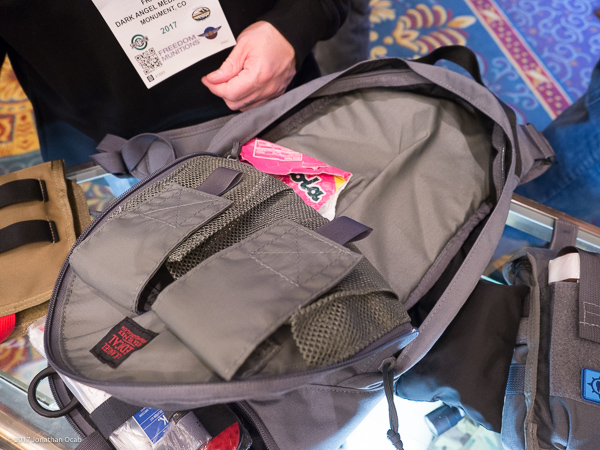 This is a 500D Cordura wolf grey backpack that weighs 2lbs with dimensions of 17.75″ x 10″ x 5″. It has a main compartment, a butterfly opening secondary compartment, and a built-in quick open medical kit compartment on the bottom of the pack.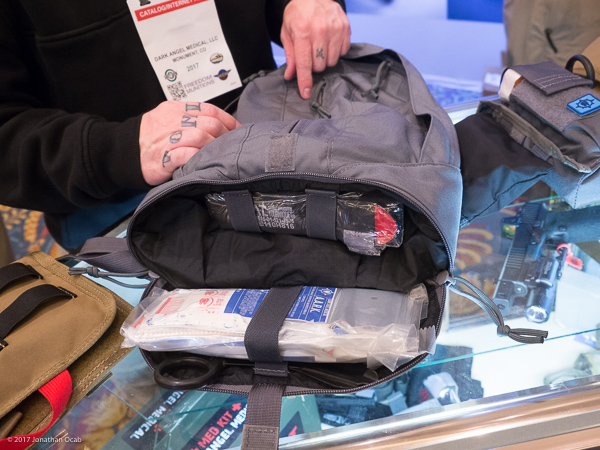 This medical compartment is designed specifically for the Dark Angel Medical DARK (Direct Action Response Kit), but you can add your own medical gear as you see fit. The backpack is actually a nice low profile bag that would be more than adequate for EDC use. The AARK backpack sells for $130 by itself, or for $240 bundled with the contents of an AARK medical kit.
I had the opportunity to test out two new electronic hearing protection headsets from Peltor: the Peltor Sport Tactical 300 and the Peltor Sport Tactical 500.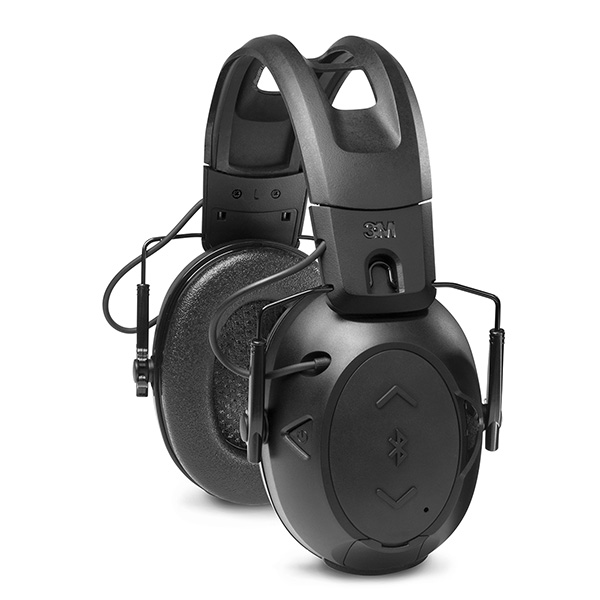 I used them in an enclosed sound booth they had at their exhibition booth and both performed well to electronically regulate the simulated gunshots. But what I was keying on was how well they would amplify human voice when having a conversation. When speaking with a Peltor representative, the Tactical 500 did and excellent job isolating his voice while negating the loud ambient noise of the other attendees in the exhibitor hall. Apparently, the new Tactical 300 and 500 have what they dub "Clear Voice Tracking" which is supposed to help isolate a human voice from the rest of the noise.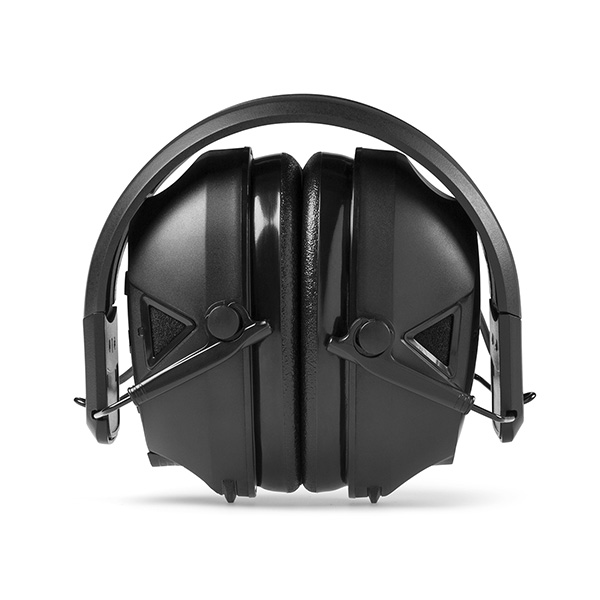 The MSRP of the Tactical 300 and Tactical 500 are $149 and $199 with Noise Reduction ratings of 24 and 26, respectively, and are slated for release in early 2017. The Tactical 500 seemed to perform a little better in noise cancelling, but the other upgrade from the 300 is that the 500 has Bluetooth capabilities to allow use with a phone if desired (two-way communication).
I own a pair of Peltor Tactical 100 muffs and I honestly don't like them. They are not comfortable to wear because the ear cups seem to compress very hard, and wearing with glasses is even worse. The amplification of vocals is non-existent. But the Tactical 300 and 500 are both very comfortable and I did not have issues with my glasses on.
While not a new product at this year's SHOT Show, I did want to end Part 7 with a mention of the Leupold DeltaPoint Pro micro red to sight.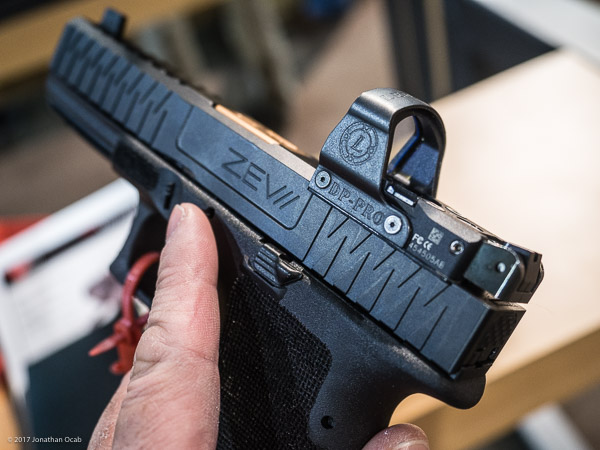 I used to run a Trijicon RMR RM07 on the Glock 17, but ended up ditching it after a little over a year when my third RMR failed on me (windage broke; LED moves left to right freely). My dominant eye condition is such that pistol iron sight shooting is not ideal to say the least, and a red dot is great because I can shoot with corrective glasses and still see the sighting system because the red dot is set to infinity.
So I have been pondering retrying an RDS on the pistol and have been looking at the DeltaPoint Pro. I found only a couple of slides being sold that accept the DeltaPoint Pro and interestingly enough, ZEV Technologies is not one of them even though the slide in the above photo is a ZEV slide. The investment could be about $1000 for a new slide and a DP-Pro, so we will see if I decide to risk it again.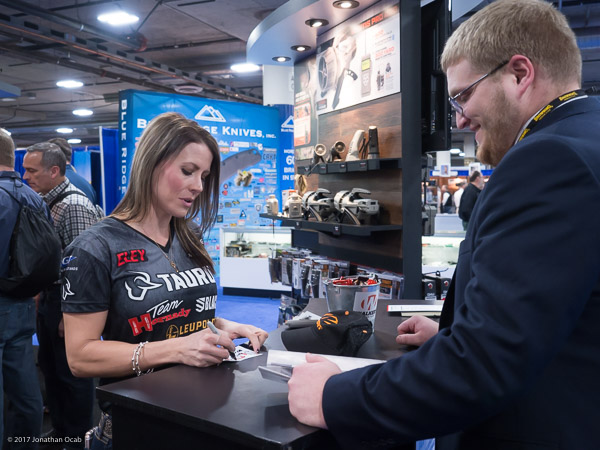 I spoke with Jessie Duff at this year's show about the DeltaPoint Pro and she indicated that she has not had any issues with it. Granted, she could be biased due to her Leupold sponsorship, but you would have to think if she thought there was a serious issue with it, she would not run it in a match (and just go with more 'classic' frame mounted red dot).
Part 8 of my 2017 SHOT Show will contain some closing thoughts and opinions regarding the 2017 SHOT Show (and SHOT in general). Stay tuned for Part 8 which should be posted in the next couple of days.
Note: All published 2017 SHOT Show After Action Reports can be found in the index / Part 0 or via the blog tag of 2017 SHOT Show.