The COVID-19 pandemic since 2020 has resulted in many changes to daily life including impacting large-scale events such as conventions and trade shows. One of which is the Shooting, Hunting, and Outdoor Trade Show, otherwise known as SHOT Show. SHOT 2021 was cancelled due to COVID-19 concerns and given the safety concerns as well as the inability for various exhibitors to attend in 2021 due to travel restrictions, it was probably for the best.
With the 2022 year, the National Shooting Sports Foundation (or NSSF) was committed to making SHOT Show 2022 happen and on the week of January 17, the SHOT Show took place at the Sands Expo and Convention Center in Las Vegas.
If you have been following my blog or read my previous SHOT Show After Action Reports, my articles are not an all inclusive write-up of the show. There is simply too much to see at SHOT and I only mention things that caught my eye. I may have missed something that was notable at SHOT, but there are plenty of other media outlets that attend SHOT so it is likely one of those outlets was able to cover that particular item.
There were already some new product announcements in the weeks preceding SHOT 2022, but I didn't know what to expect in the world of new products this year. I was honestly keeping my expectations low given that supply chain issues still persist in the firearms industry as well as all other manufacturing based industries.
I figure most companies were focused on keeping their existing product lines humming along while still maintaining quality control.
With that said, the first item I took a look at was the recently announced Aimpoint Duty RDS.
The Aimpoint Duty RDS (Red Dot Sight) is billed as a budget friendly and rugged red dot sight for law enforcement. It has a 2MOA dot with 30,000 hours of constant operation (at setting 7) and 4 night vision compatible settings and 6 daylight settings. It weighs 108 grams and is submersible to 25 meters.
On paper, it is comparable to the Aimpoint Micro T-2, which has a 50,000 hours of constant operation.
The housing design of the Duty RDS is different from a Micro T-2 in that the Duty RDS uses buttons for the brightness settings while the Micro T-2 uses a knob. The Duty RDS requires a T10 torx to adjust the elevation and windage. There are no external knobs and the adjustments are flush with the Duty RDS body. The Duty RDS also has flip-up see-through lens covers.
The glass on the Duty RDS appears just as clear as a Micro T-2 and works with Aimpoint magnifiers.
As I mentioned the Duty RDS is billed as budget friendly and thus comes with an MSRP of $499 USD which includes a Picatinny compatible mount. Compared to the Micro T-2 which is $797 without a mount, this is a pretty good price point.
The Aimpoint Duty RDS is an interesting addition to the Aimpoint product line and it should prove to be a solid red dot sight for duty rifle / carbine use, particularly for those who want a smaller form factor RDS on their carbine / rifle (as opposed to the Aimpoint PRO) and don't want to spend on the Micro T-2.
Holosun may be a polarizing company, there is no denying they have an impressive array of products. One of their new releases is the AEMS.
The AEMS is an enclosed reflex sight with a 7075 T6 aluminum housing that is IPX8 water resistance rated (1 meter submersion). The sight includes a Picatinny mount and flip-open see-through lens covers.
In Holosun fashion the AEMS has the Multi-Reticle System which allows for either a 2 MOA dot, 65 MOA circle, or combined 2 MOA dot and 65 MOA circle.
The AEMS has 50,000 hour battery life, solar capability, and the Shake-Awake technology found in other Holosun sights. The window size is 1.1″ x 0.87″ and the glass looks on par with other Holosun sights.
The Holosun AEMS comes at an an MSRP of $470 USD with retailer pricing to be around $400 USD. Considering the aforementioned Aimpoint Duty RDS runs at a similar price point, some may opt for the more renowned Aimpoint option, especially those who are Holosun opponents. But the Multi-Reticle, Shake-Awake, and solar technologies that make Holosun sights stand out are present in the AEMS to make it an attractive sight.
Continuing on with Holosun, the new Holosun SCS or Solar Charging Sight.
The Holosun SCS name hints at how the sight is powered. It relies on solar technology to charge the battery because the battery is not user serviceable; the battery cannot be removed. It also has no external controls for brightness. It is self adjusting for brightness and only has one button to turn off/on the sight and to cycle through the reticles (Multi Reticle System: 2 MOA dot, 32 MOA circle, 2 MOA dot + 32 MOA circle).
What this does is allow the SCS to be more streamlined in the body and if you notice in the photos, the sight can be very low on the slide of a gun that is designed to accept an RDS like a Glock MOS.
Why is this important? It allows the Holosun SCS to cowitness with factory height iron sights.
Those that want iron sights on their micro red dot sight equipped pistols often run taller sights (e.g., suppressor height sights) in order to have iron sights for backup. The front sights tend to be quite tall and can snag on holsters, belts, and other items on the body.
Being able to run factory height sights with a red dot eliminates that snag point.
The SCS has 20,000 hour battery life on a full charge and if for some reason the battery stops working, Holosun can service the SCS and swap the battery.
The Holosun SCS has an MSRP of $399.99 and $435.28 for red or green dots, respectively, and it appears that Holosun will be making these for the Glock MOS, the HK VP9, and other factory optics-ready pistols.
Holosun also released another closed emitter red dot sight in the form of the EPS and EPS Carry.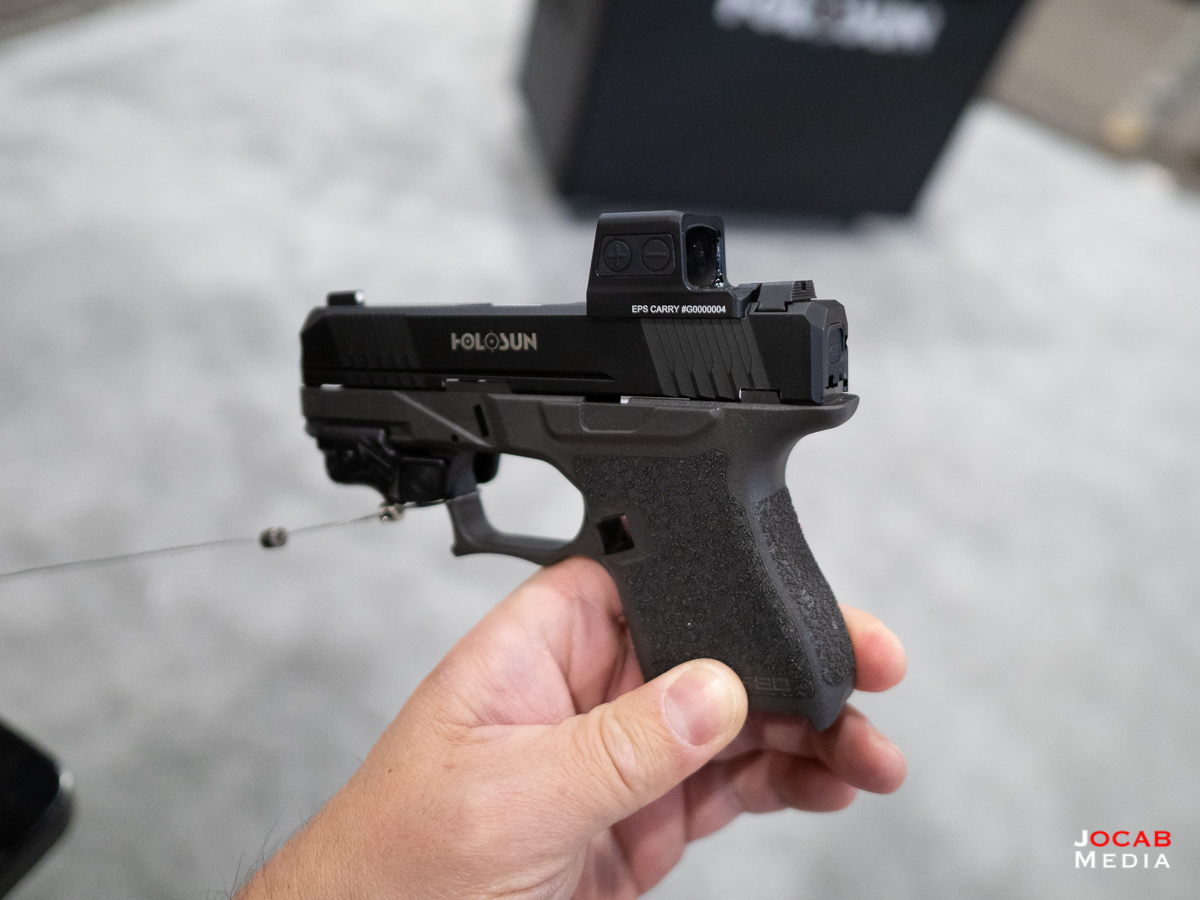 The EPS and EPS Carry are smaller than the 509 and bring closed emitter red dot sight to subcompact, single-stack CCW platforms with the Holosun K footprint. They have 50,000 hour battery life and only have a 6 MOA dot. The EPS and EPS Carry both have solar and Shake-Awake.
The EPS is just slightly larger than the EPS Carry to give a slightly larger window and is more oriented towards double-stack CCW platforms, with window dimensions of .90 x .63″ vs .77 x .58″, respectively.
The EPS and EPS Carry will have an MSRP of $435.28 and $458.81 USD for red and green dots, respectively.
Holosun is definitely continuing to push forward on red dot sight innovation. People may not like Holosun because they are produced in China, but Holosun is definitely showing up the lax development by other manufacturers.
To break away from red dot sights, I want to bring up the new Kestrel Ballistics KST1000 Shot Timer.
As a match director and someone that trains with a handgun under timers, the KST1000 shot timer looks to be a must have item.
For background, I personally use two different shot timers: the Competition Electronics Pocket Pro 2 and the Competitive Edge Dynamics CED 7000. The Pocket Pro 2 has been very fragile in my experience as I have broken two in a span of a couple years. The Pocket Pro 2 is not weather sealed and so if you leave it in the bed of a truck for a couple nights it may fail (especially the LCD). The CED7000 is also not weather sealed, but seems to be less fragile from being dropped, unlike the Pocket Pro 2. But the CED7000 lacks a belt-clip and the LCD can wash out.
So when I saw the KST1000, I was quite impressed by what appears to be a rugged shot timer. Kestrel claims it is drop-tested, and is both waterproof and dust-proof (no IP rating).
Furthermore, Kestrel claims the KST1000 will work with dry fire and suppressed shooting.
The display appears to be very readable and has a lot more real estate to display information.
There is the large screen on the front and a small screen on the top for belt / hip use. Furthermore, it will have the ability to support presets, which means if you have different types of stages (e.g., different par times), you can have those pre-configured for the match.
It is my understanding that the KST1000 will operate on CR123A batteries.
The Kestrel KST1000 Shot Timer has an MSRP of $299 which makes it an expensive shot timer considering it is more than double the price of the two shot timers I mentioned earlier. But given the feature set, capabilities, and durability of this shot timer, it should justify the price tag.
SHOT Show is a large event and it impossible to compose a single article to mentioned the notable items and topics from the show. Thus, I will end this article which is Part 1 of my SHOT Show 2022 After Action Report and release the next part shortly.
Before I close out Part 1, I did want to address the fact that several exhibitors did not show up to SHOT Show 2022. One notable company was CZ.
Given state of COVID-19 and the latest variant spreading rapidly, it is understandable that companies such as CZ would elect to not attend, especially when CZ does have a good amount of non-US employees. One notable foreign exhibitor, Swarovski (and Kahles), was also not in attendance.
But while there were a several absent companies, SHOT Show 2022 was still attended by most of the usual companies and I have plenty more to report on that will extend into several more parts of my 2022 SHOT Show After Action Report.
Stay tuned.