I mentioned in Part 1 of my 2022 SHOT Show After Action Report that several companies did not attend this year's show. This did result in a noticeable 'openness' of the show floor which I had not seen in my 10+ years of attending SHOT Show.
Booth spaces were still purchased by companies, but they remained vacant with place holders (e.g., the Swarovksi booth with a Swarovski wrapped truck) or lounge areas set up with seats and tables. This was actually really nice to have compared to past 'normal' years' shows where it was nearly impossible to find a comfortable place to rest while on the show floor. I would normally have to go find the edge of the hall and rest along the wall, or retreat to the Press Room.
While it was unfortunate some companies did not attend, there was a positive side effect in so far as having more room to move around and the availability of more lounge and rest areas within the confines of the show floor.
Continuing on with products that I noted during show, the one new precision rifle that caught my eye is the Aero Precision A700 bolt action receiver. Aero Precision is an established name in the AR-15 space and has decided to step into the bolt action arena.
The A700 is a Remington 700 footprint that utilizes Savage threads (small shank) and will allow for user barrel changes as with other barrel nut systems. The A700 is a 3-lug design with a 60-degree bolt throw.
The A700 will be available in standard, medium, and magnum bolt face sizes.
There is no definitive price on the A700 action, but it is expected to be released with a sub-$1000 USD price (possibly ~$900).
I think this is an interesting offering from Aero Precision. However, much to the chagrin of Aero Precision, I feel as if this might not be a successful foray into the precision bolt rifle scene. There are already plenty of quality bolt actions out there, including in the sub-$1K price range (hint: Zermatt Arms / Bighorn Arms). Not to mention, when it comes to a bolt action receiver, the difference between $900 and stepping up $200 to $300 more for other established, quality receivers is not a big deal.
The A700 does not look like enough to really grab a piece of the precision bolt rifle market.
But I understand that Aero Precision is trying to diversify and push towards getting established outside of the AR realm.
Along with the A700, Aero Precision is releasing their own in-house chassis that will be sold separately as well as with the A700 as a complete rifle. I do not have much to say about the chassis other than it seems to have characteristics seen in other chassis systems out there (e.g., adjustable LOP and cheek riser, Arca rail). The Aero Precision chassis is expected to be at or under $1100 USD.
Speaking of chassis systems, I went to the Mile High Shooting booth to check out the Spuhr Ideal Chassis System (SICS). The SICS was announced in late-2021 and there were mixed opinions on it because of the aesthetics.
I will admit that the appearance of the Spuhr chassis isn't all that attractive on first sight.
But getting hands on the chassis, I can see that it is a well made chassis with some solid design choices.
First off, it has a quick adjust length-of-pull of mechanism and has the ability to have two presets on the LOP similar to that of the Magpul UBR stock (e.g., short setting for with body armor and regular setting for without).
The bag rider is a bit odd looking and it has Spuhr interface mounts on the bottom for accessories. It is a fixed height bag rider and if Spuhr doesn't make height spacers or other types of bag rider attachments to facilitate different widths, users will have to figure out DIY attachments.
The Spuhr Ideal Chassis System is a folding stock design and will appeal to those who want a compact method of storage. Personally, while I appreciate folding stocks to help during cleaning, I feel a folding hinge is just another failure point to worry about and I can go without this feature.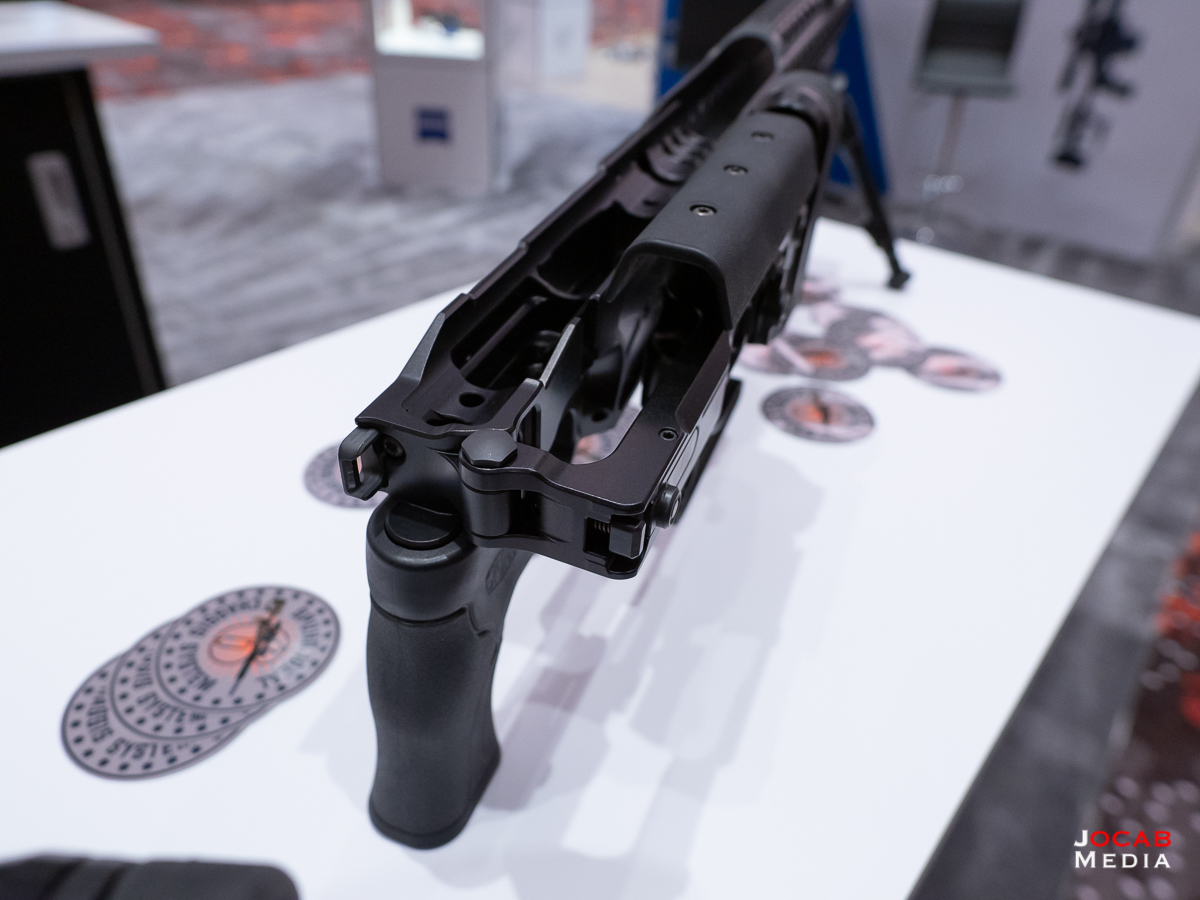 The SICS has Spuhr interfaces all along the handguard on all four sides with an Arca dovetail on the bottom. The Spuhr interface is the same as on the Spuhr ISMS (scope mount) so it can accept Picatinny rails and other Spuhr interface adapters.
The bottom of the handguard exhibits Spuhr's own "railgrabber" system which functions just like the RRS R-Lock. There are detents that work with their clamp design to lock the clamp accessory in place wherever it is positioned on the handguard. The Spuhr detents are a different specification than the RRS R-Lock.
The SICS has a nice feel to it in terms of all the edges and the apparent quality of construction and machining.
Initially released for Remington 700 short action footprint actions and the Tikka T3 short action, the Spuhr Ideal Chassis System will carry an MSRP of $1895 USD.
I think the SICS is actually a nice chassis and I would not mind shooting with one to get more of a feel for it. The more I looked at it while at the Mile High Shooting booth at SHOT, I started to appreciate the Spuhr Ideal Chassis System.
Speaking of the Really Right Stuff R-Lock, I did a quick visit to the RRS booth to look at the new clamps.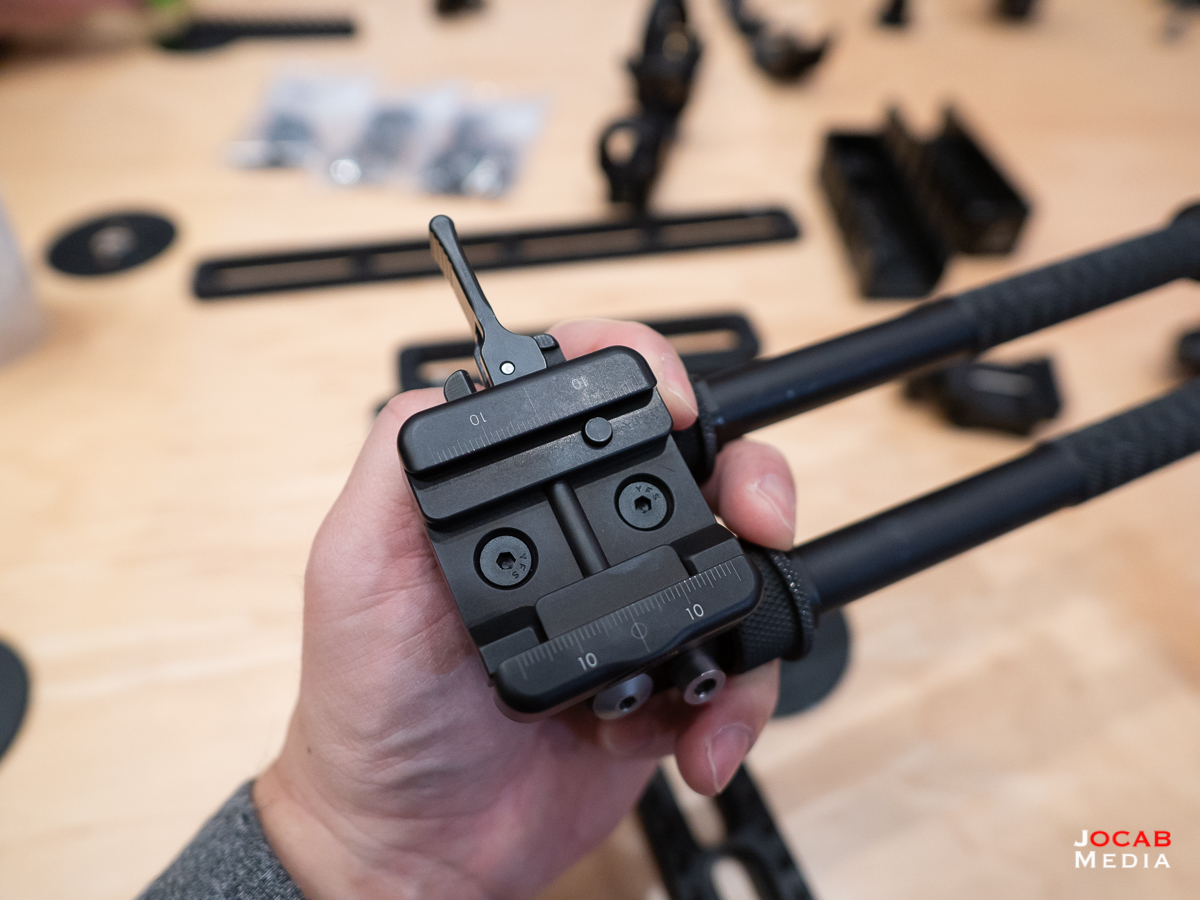 Area 419 first came up with a locking Arca clamp mechanism that worked with their thumb screw clamps based on serrated edges. I never used the Area 419 locking system as I use RRS lever clamps. RRS announced the R-Lock in mid-2021 to bring the locking feature to their product line.
I think it is a nice system and should be great for those that want the added security and stability from their Arca clamps. My only complaint is that if you are already invested in RRS clamps, you essentially need to replace all of your clamps.
That is the nature of the game when new products come out.
One other chassis system I made sure to check out is the Kinetic Research Group C-4.
The KRG C-4 was already announced prior to SHOT 2022 and is the next level up from the popular KRG Whiskey 3. While I have the KRG Bravo I have never used the KRG Whiskey 3. From what I can tell, the C-4 seems like an improved Whiskey 3. The C-4 is billed to as a monolithic design with aluminum construction. Essentially, it is a full aluminum chassis, with polymer attachments (e.g., grip, recoil pad, cheek riser).
There is an adjustable height bag rider along with the standard LOP and cheek riser adjustments.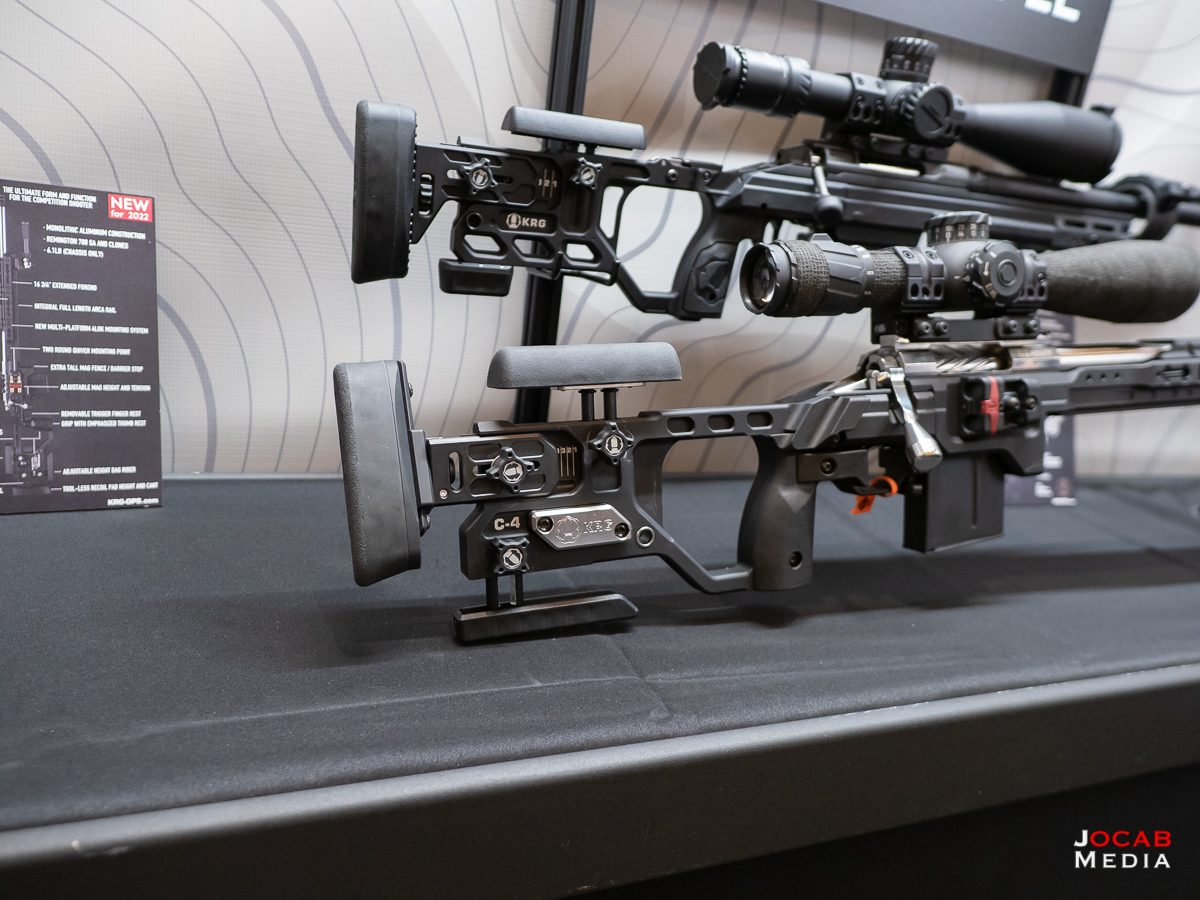 The front of the magazine well has been intentionally designed to act as a barricade stop. Also, since the C-4 is full aluminum, the foreend is milled for an Arca dovetail (which is pretty much standard for bolt rifle chassis systems).
While I like the overall feel of the KRG C4-, I am not sure if I like the knob design for the LOP, bag rider, and cheek riser adjustments. I really like tool-less adjustments for buttstocks but I find knobs on these types of designs to be snag points.
Overall, based on what I saw on a dimly lit show floor, the Kinetic Research Group C-4 chassis looks like a good chassis system. From what I understand, a few competition shooters had the opportunity to use the C-4 and there was positive feedback after the C-4 was used heavily.
I did not get an estimated price, but the Kinetic Research Group C-4 is slated for a Spring 2022 release. Given supply chain being what it is, the price and availability could change between now and when it is actually released.
To close out Part 2 of my 2022 SHOT Show After Action Report, I wanted to mention Fire Department Coffee who was giving out free espresso and nitro cold brew shots.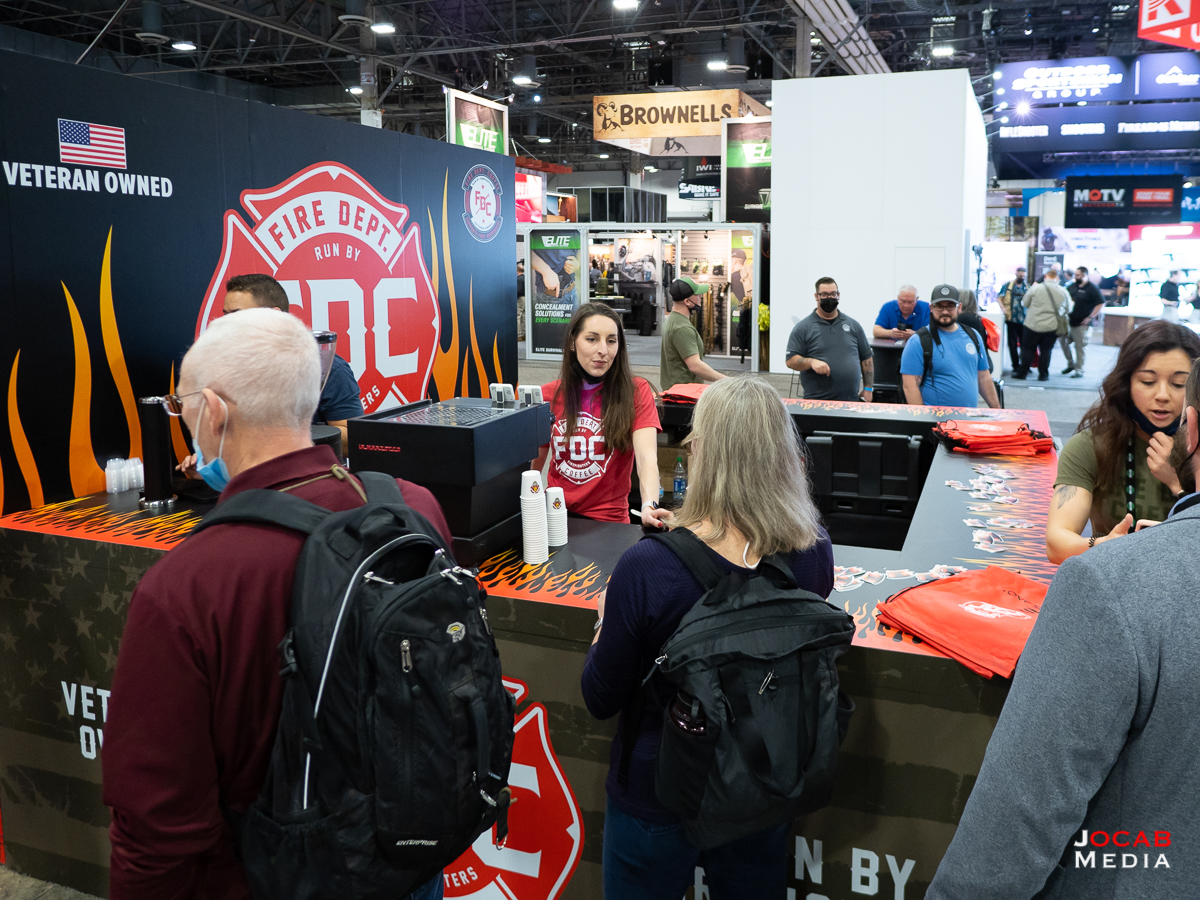 Fire Dept. Coffee is a veteran-owned business and certified by the National Veteran-Owned Business Association (NaVOBA), we're dedicated to providing great-tasting coffee to people everywhere. Every order is freshly roasted in Rockford, Illinois, by a dedicated team of firefighters, first responders, and coffee connoisseurs.

https://www.firedeptcoffee.com/pages/about-us
It is always nice to get free caffeine to get help power through a day at SHOT Show.
There is still more to come in my After Action Report for SHOT Show 2022. Stay tuned for the next segment with more products, thoughts, and opinions from my perspective.