As I write this opening to my After Action Report for the 2023 SHOT Show, the convention has already ended several hours ago. I am sure booths are being broken down and packed away at this very moment to clear the Venetian Expo and Caesars Forum for the next convention rolling into town. Exhibitors and attendees are on their way back home and news coming out of SHOT has already spread across the Internet.
Naturally, I made the trek out to Las Vegas for SHOT Show 2023 and will be recapping the notable observations I made at SHOT.
I must preface this after action report as I do every year with the message that I am only reporting on a minuscule portion of SHOT Show. I will undoubtedly not discuss something new that was announced at SHOT because I either missed seeing it, was not something that was of interest to me, or simply something that I did not care about. While I like try to be objective in my discussions, what I discuss upon will be biased because I will actively seek out specific industry product segments that I am interested in.
With that said, this year's show was essentially a return to normal in terms of attendance. According to the National Shooting Sports Foundation, there were 52,000 industry professionals in attendance at SHOT Show 2023 in some capacity. Based on my visual observations, it definitely felt like a packed show as there were often crowded aisles.
Granted, there were still a few notable companies not in attendance. For example, both Sig Sauer and Vortex Optics did not attend, just as they did not attend the year prior. Sig Sauer publicly indicated they would no longer attend SHOT Show and focus more on their own events. Vortex Optics did not make any indication they would no longer attend SHOT in the future. However, I anticipate they will follow Sig and focus on utilizing the Internet to spread product news and connect with retailers.
In any case, the large majority of the industry players were in attendance and there were plenty of new products being showcased.
At the 2023 SHOT Show, I found a handful of new bolt action rifles being highlighted by manufacturers at the show.
A new complete rifle that already hit the news prior to the 2023 SHOT Show is the Colt CBX Precision Rifle. Colt is a polarizing brand name at this point of time and people will likely be skeptical of a Colt precision bolt rifle. However keep in mind that CZ now owns Colt Manufacturing (under the currently named Colt CZ Group). Given that CZ has a deep history in firearms, there could be a future for a Colt bolt rifle.
The Colt CBX Precision Rifle will be sold in a 26″ 6.5mm Creedmoor and 24″ .308 Winchester configuration, both with button rifled and threaded barrels. It is my understanding that the Colt CBX uses the same bolt design as in the CZ 600 action with a 60 degree throw.
The chassis is supplied by MDT. Even if you did not see the MDT branding on the grip, the style alone screams MDT. It is not exactly an off-the-shelf MDT chassis and appears to be an OEM-design.
The Colt CBX includes a Picatinny one-piece scope rail (appears to be 0MOA / no cant) and the entire package carries an MSRP of $1899 USD.
I was not impressed by the Colt CBX, although I did not have any glaring negative impressions either. Although, my criticism is rooted in whether or not there is a market need for this rifle. Given that CZ and Colt are under the same umbrella, it is likely CZ rifle models will cater towards the hunters while the Colt rifle models will cater to non-hunting applications such as PRS/NRL.
I personally have some skepticism on the potential success of the Colt CBX. If the price were in the sub-$1500 USD range, I feel that this could be a winner. In my opinion, the Colt CBX is going head to head against the Savage Arms and Tikka lines of precision rifles given that they are using their own proprietary actions (not 700 footprint) and thus have their own triggers.
Speaking of Savage Arms, I took note of a few new rifles at their booth. First off, it appears Savage is expanding to more lighter weight options by outfitting rifles with carbon fiber wrapped barrels.
The Savage Arms 110 Carbon Predator and 110 Carbon Tactical models are rifles built using their 10/110 action and using Proof Research carbon fiber barrels. Aside from a $90 different in MSRP between the two (the Tactical being more expensive than the Predator at $1789 USD vs $1699 USD), they are largely the same rifle. However, the 110 Carbon Tactical includes a 20 MOA 1-piece Picatinny rail and a larger tactical-style bolt knob, which would justify the price different.
The 110 Carbon Predator cartridge offerings include .22-250 Remington, .223 Remington, 300 AAC Blackout, .308 Winchester, 6.5mm Creedmoor, and 6mm ARC, whereas the 110 Carbon Tactical is available in .308 Winchester, 6.5mm Creedmoor, and 6.5mm PRC.
What really caught my eye at the Savage Arms booth is the A22 Takedown.
The A22 Takedown is Savage Arms' take on a takedown rimfire rifle that has become more popular in recent years due to the Ruger 10/22 Takedown. On the surface, I saw a .22LR takedown / break apart style rifle with a 1-piece Picatinny rail with a channel cut through to allow use of included iron sights. I believe the stock is built in-house and it has storage in the stock for three magazines and dry storage in the grip.
Furthermore, the A22 Takedown comes apart with a 90-degree twist of the foreend and barrel assembly. There is no lever stop like with the Ruger 10/22 Takedown.
I did not take notes and have to recall all this from memory, but what was explained to me is that they used tool steel for the interface between the barrel and the receiver, so the wear is supposed to be minimized over time.
Unfortunately, I cannot recall the details on the timing and consistency of barrel receiver lockup. However, I do remember that it appeared that there should be no issues over the life of the rifle. Although, I do not know if a barrel from one A22 Takedown could be put onto another A22 Takedown receiver without any fitting issues.
The MSRP of the A22 Takedown is $479 and given what I saw, this looks like a worthy attempt at a takedown rimfire rifle. For an off the shelf takedown rimfire rifle, I think the Savage Arms A22 Takedown should be seriously considered.
Right above the A22 Takedown was a new version of the Savage Arms B22 in the form of the B22 Precision Lite.
The B22 Precision Lite takes the B22 action, adds an 18″ carbon fiber wrapped barrel, and places them into an MDT chassis with an MDT 20 MOA Picatinny scope rail.
The carbon fiber wrapped barrel is in-house (Canadian-made, if I remember correctly) and is button rifled.
I'll admit that I have zero experience with the Savage Arms B22. However, the B22 Precision Lite that I handled seemed extremely smooth with a crisp trigger. At ~6.7 lbs, it felt relatively light albeit a little back heavy. The $949 MSRP is seems like a very fair price to me considering it does have a carbon fiber wrapped barrel and MDT chassis.
Note that carbon fiber wrapped barrels are still a contentious topic. There have been debates about carbon fiber wrapped barrels having wandering groups while others debate who makes a better carbon fiber wrapped barrel based on how the layers are applied, the thickness of steel barrel core, etc. However, I would give the B22 Precision Lite a chance at its $949 MSRP.
In recent years, we have seen bolt rifles being produced by manufacturers who were primarily rooted in the AR-15 space. At SHOT Show 2023, this trend is continuing.
Aero Precision showed off the new SOLUS short action receiver at the show.
The SOLUS will be sold as a complete rifle or action-only for those wanting to build on the Aero Precision SOLUS action themselves. The SOLUS uses Savage barrel threads and will accept Savage pre-fit barrels. However, the SOLUS will also be cut to accept Zermatt Origin pre-fits which can negate the need for a barrel nut.
The SOLUS has your typical bolt action features including integral recoil lug and integral Picatinny 20 MOA scope rail. However, the SOLUS is also cut to accept both AI and AW magazines with the ability to accept binderless magazines (translation: cartridge overall length up to 3.00 inches, according to Aero Precision).
The SOLUS has a 3-lug bolt design and supports interchangeable bolt heads.
Even more impressive is that the SOLUS bolt has tool-less disassembly which makes it very user friendly.
What is interesting is that Aero Precision debuted the A700 bolt action during SHOT Show 2022 and I do not think this ever made it to market, and the SOLUS looks nearly identical to the A700. Based on photos I have of the A700, the main difference is that the A700 booth samples utilized barrel nuts for the Savage pre-fit barrels.
The specifications on paper with all the features and the price point of $899 USD makes the Aero Precision SOLUS a serious contender. Furthermore, in discussion with my gunsmith, he indicated to me that Aero Precision has solid manufacturing capabilities and they should not be overlooked.
The SOLUS bolt operation was smooth and bolt lift was about average. Given what I handled in the Aero booth, I think the SOLUS is a worthy action and there was not anything that popped out as being an issue.
Many people noticed that Stag Arms, another well known AR-15 manufacturer that goes back 20 years, also showed off a bolt action rifle at the 2023 SHOT Show dubbed the Stag Arms Pursuit.
The Stag Arms Pursuit bolt rifle is actually using an Aero Precision supplied receiver and for all intents and purposes, it appears that the Pursuit is using the SOLUS receiver and has the same tool-less disassembly bolt design with three lugs.
There are no other details I have on the Stag Arms Pursuit other than it will be available in .308 Winchester, 6.5 Creedmoor, and 6.5 PRC. Pricing was not established and the release date is targeted for Q2/Q3 of 2023. I assume that the uncertainty of release is tied directly to the OEM supply for the actions and on who will be providing the barrels.
Given that the floor models that Stag Arms had on display did not have barrel nuts, I assume they will be using shouldered pre-fit barrels. The Stag Arms Pursuit action ran identical to the Aero Precision Solus, which is no surprise.
There was one other bolt rifle receiver produced by another well-known AR-15 manufacturer, Faxon Firearms.
There are no printed specifications on the new Faxon Firearms bolt action. From what I can gather it is a 700 pattern action with a 60 degree bolt throw and a 3-lug action. I saw Faxon refer to it as a 6-lug, but I like to call it a 3-lug even though it is three pairs.
The samples in the booth did not operate as smoothly as one would hope. I did take note of slop in the bolt. Not as a bad as a Savage action, but within the vicinity.
My gunsmith who attended the show had his own take on the Faxon and he thought it was the better action of the new ones he saw at SHOT Show. His opinion was that the construction and build quality of the bolt was of a high degree. I am not a machinist, so I cannot refute his opinion and will take his word on this.
I did not get an official price or release date, but caught wind that Faxon Firearms is targeting a sub-$1000 price point for the action and a release date of Summer 2023.
During the 2023 SHOT Show social media blitz, I saw that Vudoo Gun Works posted a photo of a Vudoo centerfire rifle. Naturally, I was intrigued and made my way over to the Vudoo booth.
The Vudoo Gun Works Morpheus is Vudoo's foray into building centerfire rifles. However, the Morpheus is using the recently announced Coup De Grace action by American Rifle Company.
While some may be disappointed that this is not an in-house centerfire receiver by Vudoo, I took advantage of the opportunity to see the new ARC Coup De Grace action. This $899 receiver implements design features from the other ARC actions that precede it such as the Nucleus and the Archimedes.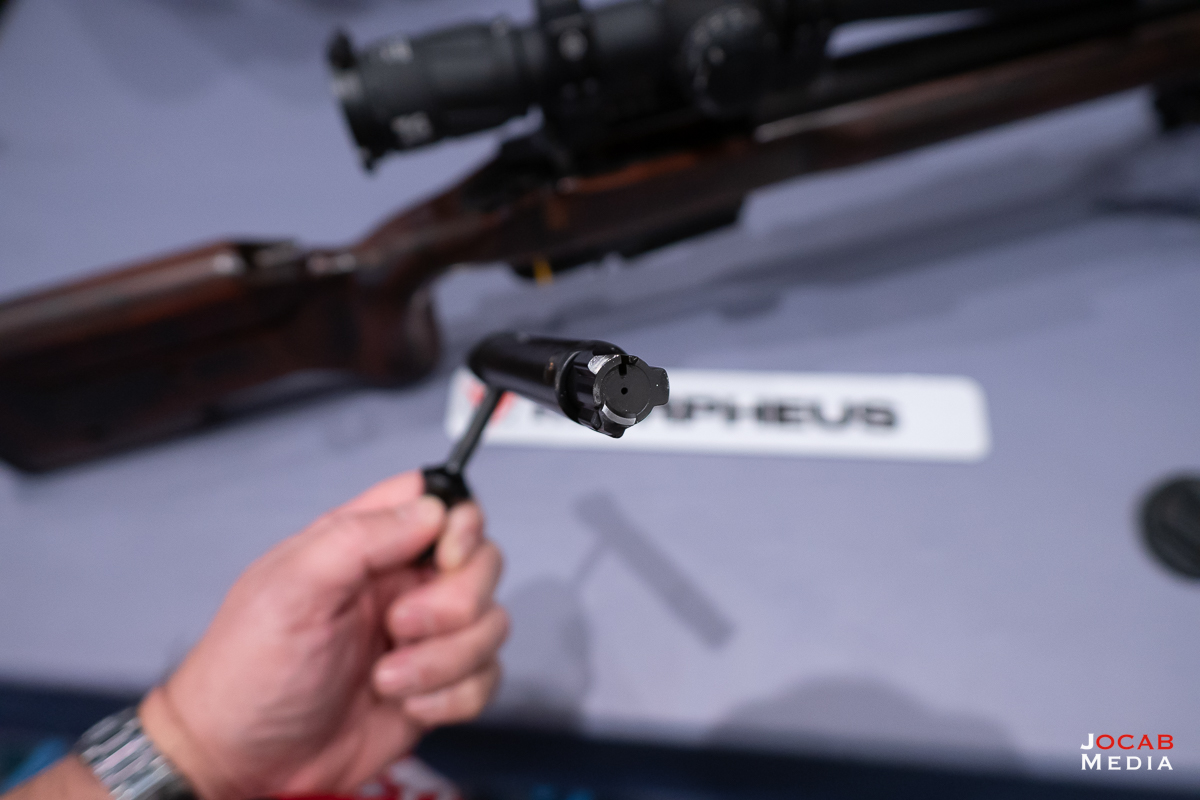 As with prior ARC actions, the Coup De Grace uses Savage small shank barrel threads to accept Savage pre-fit barrels, and employs a controlled feed, 3-lug, and 70-degree throw bolt with interchangeable floating bolt heads. The receiver will be cut to accept both AI and AW magazines and will support tool-less bolt disassembly. The Coup De Grace as seen in the above photos of the Vudoo Gun Works Morpheus has the pivoting bolt handle like the ARC Archimedes to allow the operator to open a bolt that is stuck (e.g., overpressure round), yet the handle can be replaced with a standard fixed / non-pivoting handle.
The action is very smooth just like all the other ARC actions before it. As someone who owns an ARC Mausingfield (Gen 1), I can say that the Morpheus / Coup De Grace just as smooth if not better with regards to bolt lift, which is a common complaint with older ARC actions.
The ARC Coup De Grace appears to be a very impressive action especially at the price point of $899.
As far as the collaboration between Vudoo Gun Works and American Rifle Company, I feel that this relationship will allow Vudoo to delive ready-to-go out-of-the-box centerfire rifles with excellent accuracy and reliability for those who want custom built quality and what I hope will be a nominal price point.
While on the topic of Vudoo Gun Works, I was able to see the new billet aluminum magazine design that Vudoo Gun Works has made for their V-22 rifles.
The one I inspected at SHOT Show 2023 was a 15-round capacity version and is reflective of the final production design.
The key changes are are slightly modified angle to the stack of rounds as they are in the magazine and the adjustable magazine catch notch.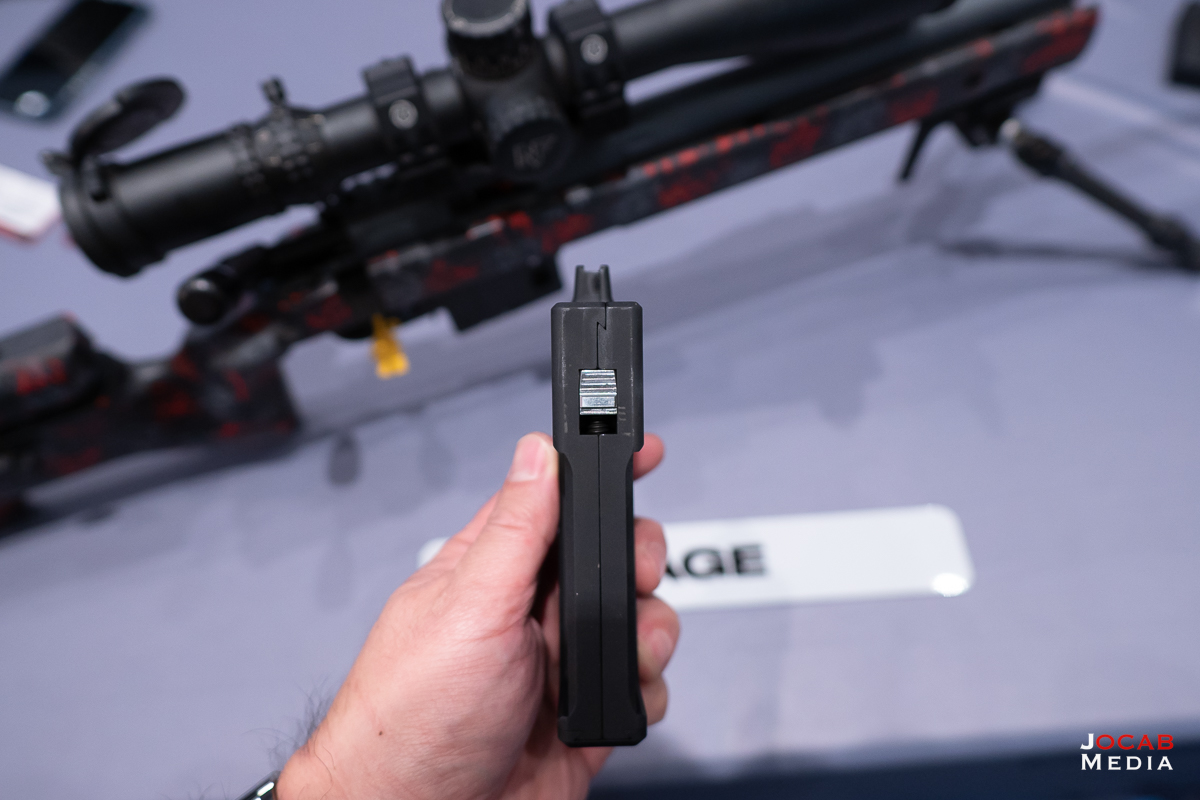 The design allows the user to run an Allen key up into the magazine to adjust the height of the magazine catch.
The front sloped cut design of the magazine body is to provide for better engagement with the shooting bag on a barricade.
I am personally not all that excited by the new billet magazines, only because what I have runs perfect right now. The original 10-round anodized billet aluminum magazines fit perfect in my MPA Matrix Pro such that even without the barricade stop in front of the magazine well, I can put weight into the gun and press the magazine into a bag or barricade without affecting the feeding operation of the Vudoo.
However, I know that some Vudoo owners still deal with feeding issues with externally affected magazines (e.g., pressure against shooting bag) and others are wanting the larger capacity magazines (which were discontinued for this new redesign).
There are other products and topics of discussion still to be covered and rather than continue on making a very long article, I will be splitting my 2023 SHOT Show After Action Report in to multiple parts, just like prior years.
To close out the first segment of my 2023 SHOT Show After Action Report, I wanted to mention the media presence and circle back to my preface at the start of this article.
There are hundreds of industry media in attendance at SHOT Show, whether they are attached to big name news outlets, affiliated with firearms (digital) magazines, independents such as myself, or even the in-house media teams of the actual companies. Thus, there is going to be coverage of everything shown at SHOT, just not by one single person or news outlet. If there is something I don't cover during my recap of the 2023 SHOT Show, hit the Internet and you should be able to turn up information by someone else on that particular item.
Check back later for Part 2 of my 2023 SHOT Show After Action Report.