In Part 1 of my 2023 SHOT Show After Action Report I covered several new bolt action rifles and receivers. Naturally, optics go hand in hand with precision bolt rifles and this year's SHOT had a few new interesting scopes on display.
For those who prefer top tier scopes will be enamored with the new Tangent Theta TT735P scope.
If you have never heard of Tangent Theta, it is a Canadian company (division under Armament Technology Incorporated) that produces very exacting scopes that are renowned for their high degree of quality including optics, functional performance, and construction and durability.
Prior to SHOT 2023, Tangent Theta only produced four scopes: a 5-25×56 and three types of 3-15×50. All of these scopes start at just under $4K USD and exceed $5700 USD.
The new TT735P from Tangent Theta is a 7-35x variable magnification scope with a 56mm objective. Unlike the other Tangent Theta models already in production which have a 34mm tube, the TT735P uses a 36mm tube. The TT735P has the same tool-less zeroing turrets which are highly regarded in existing Tangent Theta scopes.
The one huge feature in the TT735P is that it has a minimum parallax of 10 meters. Tangent Theta scopes prior to the TT735P only have a minimum parallax of 50 meters. This makes Tangent Theta scopes not ideal for precision rimfire shooting where targets are often closer than 50 yards.
Some may point out that people would not put a $4K rifle scope on a rimfire rifle, however, people do this more often than expected as some want the best quality of glass on their competition rimfire guns. I am sure that it will be quite rare to see a TT735P on a rimfire gun as it is rare to see a Tangent Theta scope in the wild in general. But the minimum parallax of 10 meters adds to the appeal.
I really do not know how to convey the quality of the TT735P scope to anyone who has not handled a Tangent Theta before. The turrets are superb in tactile feel and the tool-less turrets are arguably the best in the industry. The eye box of the TT735P is on par if not better than other high magnification variables such as the Nightforce 7-35 ATACR or the Vortex Optics Razor HD Gen 3 6-36.
There is no definitive price on the new TT735P scope and it is expected that they will be available for order through Armament Technology Incorporated in a few weeks. I anticipate that the TT735P will start at around $5500 USD given that the Tangent Theta 5-25×56 Professional starts at $5100.
I will say that acquiring a Tangent Theta TT735P for an NRL22 rifle will be the ultimate scope flex.
I went to the Leupold booth to see if they finally released a Mark 5HD 3.6-18 with the PR2 reticle. Unfortunately, they did not and the Leupold representatives I spoke to had no information relating to this possibility.
However, Leupold did have a new Mark 5HD iteration in the form of the 2-10×30.
The Mark 5HD series of Leupold scopes has become well-regarded in the precision rifle shooting community as a scope with above average glass quality, excellent features, and solid repeatability. It is quite apparent based on the magnification range that new Mark 5HD 2-10×30 is meant to compete in the Low Power Variable Optic (LVPO) arena.
I has the typical features found on prior Mark 5HD scopes including a 35mm main tube, locked elevation turret, capped windage turret, and the mini-throw lever on the magnification ring. Unlike other LVPOs, the Mark 5HD 2-10×30 has adjustable parallax from 40 yards to infinity.
The Leupold Mark 5HD 2-10×30 will be available in MOA with the PR1 reticle and in MIL with the TMR reticle (either illuminated or non-illuminated), and all are front focal plane. The MSRP is $1999.99 for the non-illuminated reticle versions and $2499.99 for the illuminated version.
LVPO is a bit polarizing. I personally am not that much of a fan of the 1x variants of LVPO, yet I do understand their use case. However, I feel like a LVPO to be used as a CQB to mid-range sight is getting the worst of all worlds, while arguably doing just enough at the same time. I would honestly prefer to go with a mid-range optic and add an offset red dot for an all-purpose platform, if not red dot with magnifier. The 2-10×30 is a weird spot where it is begging for an offset red dot, and even if you ran one with the Leupold Mark 5HD 2-10×30, I feel like you would be wishing you had more magnification on the top end (e.g., 15x).
That being said, I would be willing to give the 1x LVPO variants a chance.
To continue the coverage of bougie rifle scopes, Schmidt and Bender showed off their new 10-60×56 scope.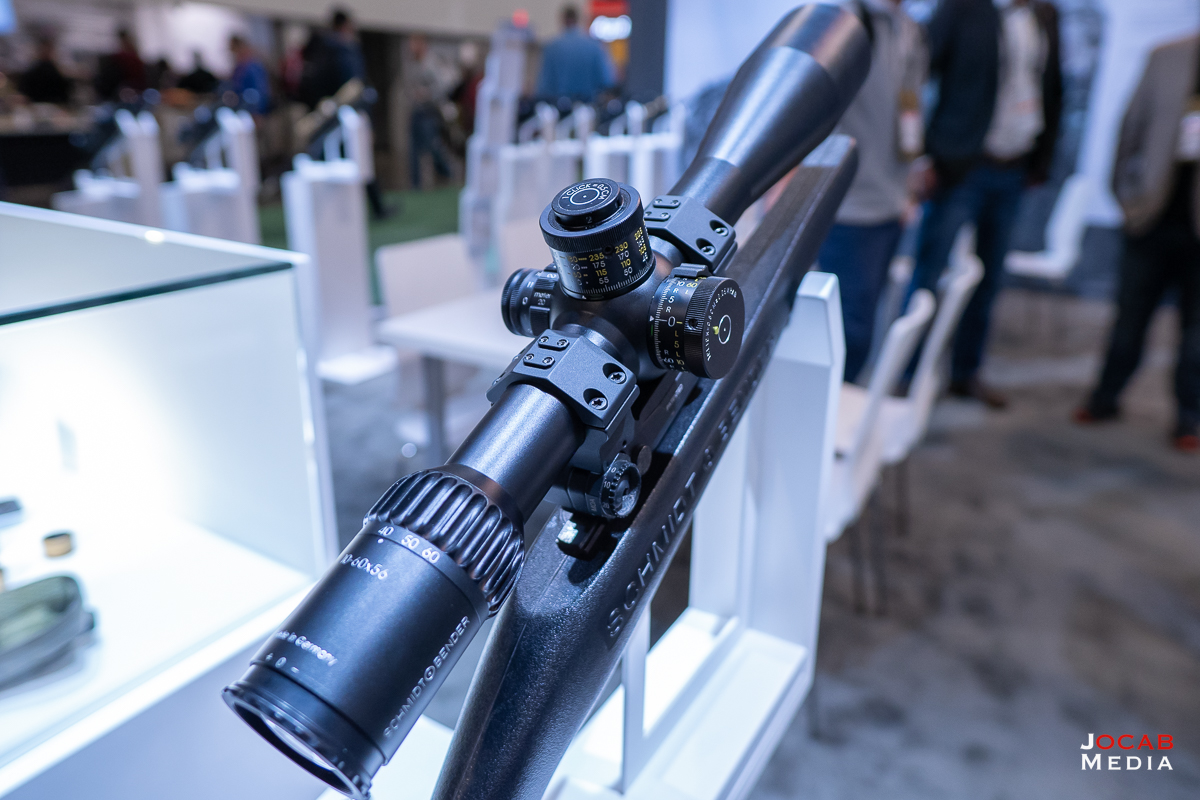 The 10-60×56 uses a 34mm main tube and I am going to guess that this impacted the elevation travel as the specifications indicate it has only 25 MRAD available. Note that I say 'only' because 30 MRAD of elevation travel is becoming a common benchmark in the industry for long range precision rifle scopes.
The S&B 10-60×56 is oriented towards competitive rifle shooters including F-Class, benchrest, and (extreme) long range shooters. This is reflected in the M1FL reticle that is used for the 10-60×56.
Note that the M1FL lacks a tree-style reticle and keeps the field of view clear with a basic crosshair reticle with MIL graduations.
It is also important to note that the 10-60×56 will be available in a Second Focal Plane (SFP) MOA scope with adjustment values of 1/4 or 1/8 MOA.
Schmidt and Bender is supporting either standard .1 MIL adjustment turrets or 0.05 MIL using their Multi Turn II turrets.
The 10-60×56 also has the illumination and parallax adjustment on the same turret. While this is not new to scopes in general as many manufacturers do this, many S&B scopes prior have a separate reticle illumination knob which would affect what scope mounts could be used.
It was hard to gauge the S&B optically on the show floor. The eyebox at 60x seemed tight to me, but given the magnification and trying to free hand the scope in poor lighting, my assessment could be hampered. I would definitely like to try this scope on a rifle at the range, but it is unlikely I will ever get that opportunity.
Given the reticle choice and the ability to go very fine on the turret adjustments, I feel that this scope will be sought after by F-Class and Benchrest shooters. Not to mention the 60x maximum magnification will turn the rifle scope into a spotting scope as needed (e.g., seeing shot spotters when shooting on paper as opposed to electronic targets). The S&B 10-60×56 is not a scope meant for an NRL/PRS type shooter.
There was no available price on the Schmidt & Bender 10-60×56. I can only imagine it will be around $5K USD if not $6K USD, given the pricing of existing S&B scopes.
I briefly discussed the Apex Optics Rival 4-32×56 in my After Action Report for last year's SHOT Show. Apex Optics was not at SHOT 2022, yet had their scope on display at other Canadian manufacturer's booths.
This time around Apex Optics was present and had two brand new scopes on display in the form of their Hunter 3-15×44 and Edge 1-10×24.
I was made aware of Apex Optics because they were profiled on an episode of the Rimfire Nation podcast.
Apex Optics is a Canadian-based company that started out by designing a scope with the intent of getting high quality, many features, at a nominal cost. That effort ended up being the Apex Optics Rival 4-32×56 FFP which retails for $2000 USD.
Now at SHOT 2023, it appears Apex Optics is expanding to a hunting oriented optic and a tactical LVPO oriented optic.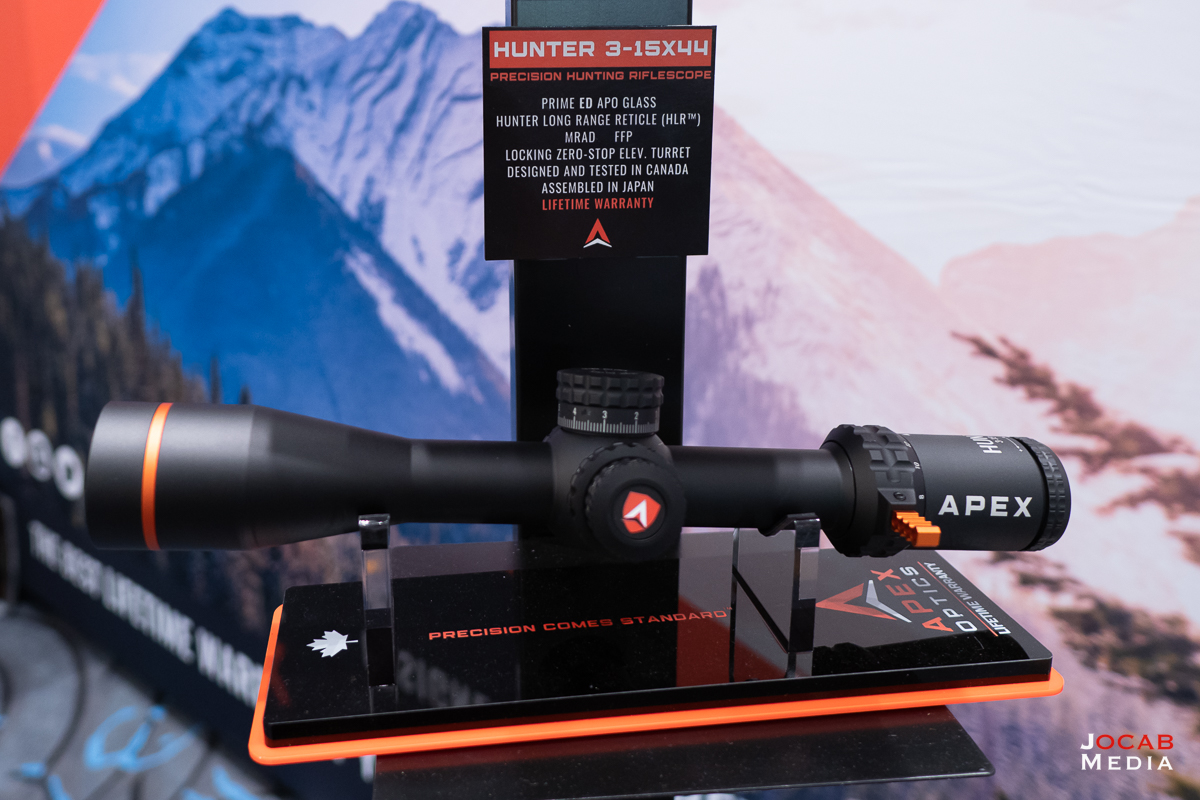 As with the Rival, the Hunter and Edge are manufactured in Japan using what they refer to as Prime ED APO glass. As far as the Hunter, it has a scaled down feel to the larger Rival 4-32×56 and has a 30mm main tube, 44mm objective, 20 MIL elevation adjustment with 10 MIL per revolution, zero stop, and locking windage. Furthermore, the minimum parallax on the Hunter 3-15×44 is 10 yards.
The Hunter 3-15×44 has what Apex Optics refers to as the HLR reticle which is a tree-style reticle with 0.25 MIL hashes on the open crosshair (with floating dot) and 0.5 MIL dots for the tree.
The Apex Optics Hunter 3-15×44 is expected to have an MSRP between $1000 and $1200 USD.
The Edge 1-10×24 is visibly an LVPO and is likely going to be oriented towards a battle rifle type platform. The Edge has 34mm main tube, 40 MIL total elevation adjustment, with 10 MIL per revolution. Parallax is fixed at 150 yards. Both the elevation and windage turrets are exposed and not capped, which is actually not as common on LVPO implementations.
I do not have access to electronic files of the Hybrid Combat Reticle (HCR) that is employed in the Apex Optics Edge 1-10×24. However, I found it to be a very usable reticle. At 10x magnification it has a standard tree-style reticle with illumination around the 1 MIL radius, and at 1x it becomes an illuminated dot with a red fragmented circle around the shrunken down crosshair.
The Edge 1-10×24 is expected to have an MSRP around $1300 to $1500.
Handling the Hunter, Edge, and what I assume to be a current production Rival that was also on display, I can say that the Apex Optics scopes definitely appear to be above average in quality.
For general comparison as Vortex Optics is probably a reference brand most people are familiar with, I would say that the Rival, Hunter, and Edge are comparable to the Razor HD Gen 2 line, if not better. They are definitely on a level above the Viper PST Gen 2. The turrets, magnification, and parallax controls are all what I would expect to feel out of a scope that is above $1000 price range. Clarity of the glass appears to be reflective of quality Japanese optics.
To be clear, as a person who is overly critical of Vortex magnification and parallax knob tension, Apex Optics controls are smooth in tension by comparison.
Apex Optics also showed off some relatively new binoculars dubbed the Summit ED Series.
The Summit binoculars are available in 10×42, 12×50, and 12×50 with a TR2 reticle.
The 12×50 with TR2 reticle caught my eye because binoculars with reticles are still not very common. Most manufacturers are focusing on laser rangefinding binoculars and a reticle in a binocular is a feature still neglected by manufacturers, even though a reticle in a binocular has very specific use cases (spotter calling shots and providing corrections on target).
Looking through the Summit binoculars indoors, the glass looked pretty good. Of course, I would need to take them outside and glass a large area to get a better feel for the optics.
What was really cool with the 12×50 with TR2 is that the reticle can be rotated (in the left barrel) so that you can level it according to the eyes of the user (e.g., shorter distance between pupils resulting in barrels being closer together).
I had to dig up information online regarding pricing, and found $650, $750, and $950 for the 10×42, 12×50, and 12×50. However, I think those prices might be CAD. If that is the case, the USD MSRP may be quite a bit more attractive. I also neglected to look at the origin of manufacture. However, I believe the Summit is made in Japan as it is using Japanese ED glass.
Assuming the prices end up being in line with what I found in my research, the Summit ED binoculars are a viable option to other sub-$1000 binoculars on the market. There is a lot of room for competition in the sub-$1000 binocular range as many binocular units in that price range can be a bit sketchy in terms of compromises.
If I have any feedback on the Summit, it would be that Apex Optics should make a 15x binocular with the TR2 reticle. I feel that a spotter using a binocular to provide corrections on target with a ranging reticle would prefer having more magnification, especially at distances of mid-range and beyond (300 yards and up).
With that being said, Bushnell Optics showed off their new Match Pro ED 15×56 binocular, which is based of their Forge binocular design. The Forge 15×56 has a good reputation as a budget friendly binocular with good peformance at its price range.
The Match Pro ED 15×56 is a hefty binocular with a magnesium chassis coming in at 51 ounces (~ 1446 grams) with what is dubbed the SHOT-CALL MRAD reticle.
The reticle is also rotating so that it can be leveled for the user's eyes after the barrels are adjusted to the pupil distance of the respective user.
Bushnell indicates the Match Pro ED 15×56 binocular has adjustable diopters on both barrels.
My initial impressions of this binocular are positive. It is definitely a bigger, heavier binocular and is not going to be one for field use. This is definitely the type of binocular one would employ on the range at NRL/PRS matches to spot for a shooter.
Bushnell already has the Match Pro ED 15×56 binocular on their website for direct order with a price of $699.99 making these quite attractive given the feature set.
I did take the opportunity to take a look at the new Bushnell Match Pro ED 5-30×56 scope while at the Bushnell booth.
This scope came out in December 2022 and is getting positive buzz because of good glass quality and feature set at a $699.99 price point.
On paper, the Match Pro ED is a 5-30x magnification scope with a 56mm objective and 34mm main tube. It has locking turrets with a zero-stop for the elevation turret, and 30 MRAD and 14.5 MRAD travel for the elevation and windage, respectively.
The elevation knob has 10 MRAD per revolution for clear, easy to read graduations. The minimum parallax is 15 yards making this suitable for rimfire matches like NRL22.
It comes with an illuminated reticle referred to as the Deploy MIL 2 which is a tree-style reticle. I personally like this reticle because it has 0.2 MIL hash marks on the crosshairs.
The Match Pro ED 5-30×56 also has a small throw lever to aid in magnification adjustment.
There is a lot to like in this package. Again, SHOT Show exhibition lighting is bad, but the glass looks solid and those who obtained a unit from the first batch that was produced have given praise to the optical quality for the $699 price point. This scope indirectly competes against another $699 scope: the Vortex Optics Viper PST Gen 2 5-25×50. The Viper PST Gen 2 5-25×50 is a commonly purchased scope because it has been at the $699 price point for a few years now and it does have a lot of good qualities for the price.
However, with the Match Pro ED 5-30×56 at $699, I do not see any reason to buy a Vortex Optics Viper PST Gen 2 5-25×50. The Match Pro ED 5-30×56 simply packs more features with arguably better quality at the same price.
I also stopped by the Zeiss booth to check out the Zeiss LRP S3 scopes that were released in the latter half of 2022.
The Zeiss LRP S3 is available in two core models: 4-25×50 and 6-36×56. Both scopes have 34mm main tubes and the minimum parallax distances are 16.4 yards and 10.9 yards for the 4-25 and 6-36 scopes, respectively.
While Zeiss does not get as much respect in the precision rifle community as other manufacturers, the Zeiss LRP S3 scopes got a lot of attention when it was revealed that the 4-25×50 version has 46.5 MRAD / 160 MOA of elevation travel and the 6-36×56 has 32 MIL / 110 MOA elevation travel.
The 32 MIL in the 6-36 is comparable to other higher end scopes, but the 46.5 MIL elevation travel of the 4-25×50 is best in class and nothing else out there really rivals this (as far as I know).
The Zeiss LRP S3 turrets and knobs are smooth, with the elevation and windage turrets having tactile clicks with no springy play from click to click.
Optically, they looked very good and in discussions with people who have LRP S3 scopes, they all indicated the LRP S3 was their favorite scope before stepping into the realm of Kahles, Zero Compromise Optic, and the other higher echelon optics.
The Zeiss LRP S3 has an MSRP of $2199.99 and $2499.99 USD for the 5-25×50 and 6-36×56 versions, respectively. Given the features and capabilities of the LRP S3 series, I am surprised more people are not using them for NRL22/NRL22X and PRS Rimfire competitions.
Speaking of Zero Compromise, I did stop by their booth to check out the new 10 MIL per revolution elevation turret option they are making.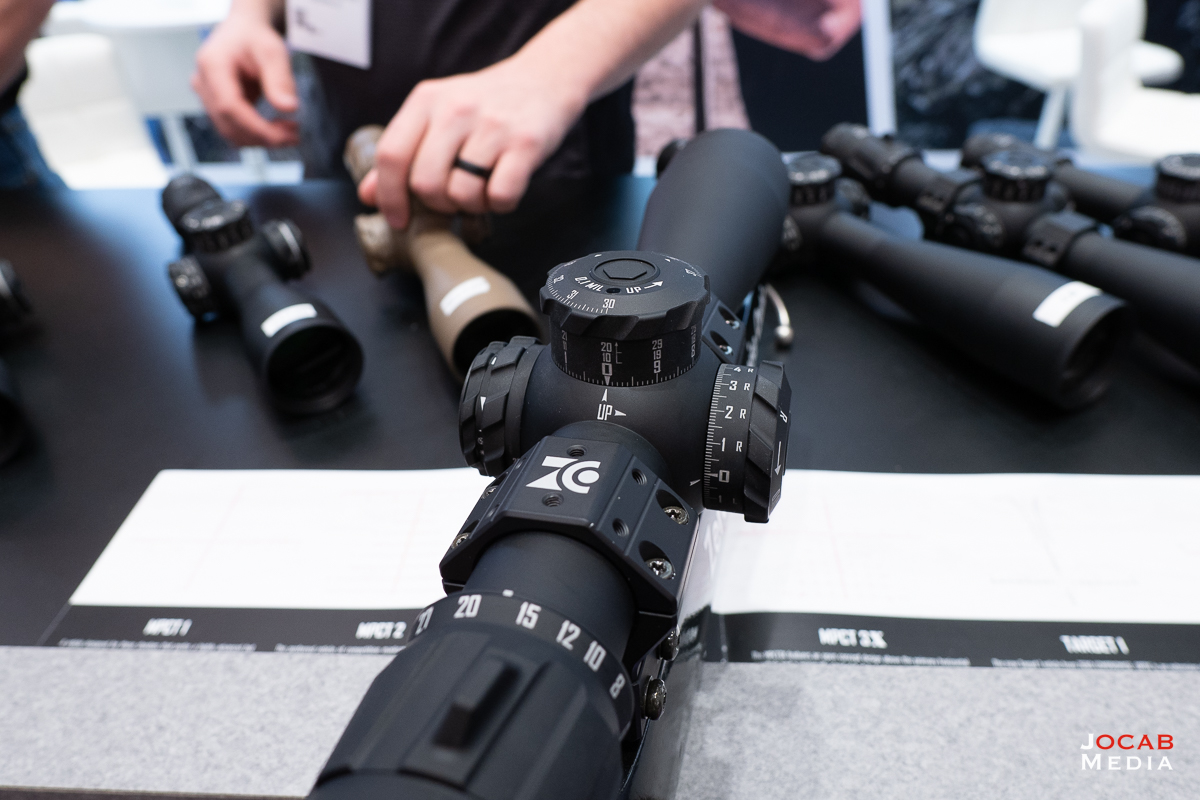 This is admittedly not very exciting. Although it is an interesting option for those who are users of Zero Compromise Optic scopes. As far as retrofitting an existing ZCO with the original 15 MIL per revolution turrets, this is currently not on the table as an option. I do not know if this is a time/effort issue like it is with swapping a reticle. ZCO has indicated reticle swap is too expensive and an owner would be better off selling the scope and buying a new one.
But I understand that a turret swap would at the very least take away from production of new scopes as they would need to commit personnel to do the swap instead of building a new scope.
Given the option, I would likely go to a 10 MIL per revolution turret simply for readability advantages. My eyes are definitely changing due to age (I would have never thought this 20 years ago), and it would be handy to have 10 MIL per revolution. Granted,15 MIL per revolution is not problematic at this point in time.
There is one last scope that I wanted to bring up that I saw during my attendance of SHOT Show 2023 and that is the Burris Optics Veracity PH.
The Veracity PH is a 4-20x50mm rifle scope with a 30mm main tube. It has a MOA reticle with 66 MOA and 37 MOA travel available on 1/4 MOA elevation and windage turrets, respectively.
This sounds like a very hunter oriented scope given the relatively short amount of elevation travel and the fact that it is in MOA and given the basic specifications, it is nothing spectacular to behold.
That is until you learn more about the Programmable Elevation Knob (PEK) that is featured on the Veracity PH scope.
The PEK elevation knob does not have tactile clicks like a normal turret would and freely spins (albeit with tension). The reticle moves up and down mechanically with the erector as it normally should. However, the elevation turret is tied to the PEK system to control a digital display inside the scope's sight picture.
The display shows a distance, the windage hold, and the rifle cant (level). The distance and windage hold is based on the ballistic profile that will be synced with the scope via the Burris Connect phone app over Bluetooth.
The idea is that will can range the distance to target using your laser rangefinder or other means, and then dial the scope and either reference the external markings on the turret or look at the digital display within the scope to see the distance that the elevation knob is now set to.
Note that you can also elect to display the distance (that the elevation knob is set to given the ballistic profile) in yards or meters, or display the MOA dialed on the elevation turret.
The cant / bubble level in the digital display is probably the highlight feature for me as this gets a level reference in the same plane of vision as the sight picture. No changing focus to the scope rail, scope mount, or the physical scope where a bubble level may be attached. The shooter can stay on target with the sight picture and see the level of the scope (and rifle).
Furthermore, the Burris Optics representative I spoke to indicated that you can set the zero of the level using the Burris Connect app.
While the Burris Optics Veracity PH 4-20x50mm FFP MOA scope may not appeal to you because it doesn't fit your style of shooting, the extended electronics capabilities of this scope should definitely get you more excited about the attainable possibilities for scope technology improvements.
Before I end Part 2 of my 2023 SHOT Show After Action Report, I wanted to mention my favorite booth of this year's show.
While the Swarvoski Optik booth is similar to years past, I just appreciated the relaxed feel of the Swarovski booth with the camping, overlanding, and outdoors vibe.
It also doesn't hurt that Swarovski makes some of the best observation glass in the industry.
Check back later for Part 3 of my 2023 SHOT Show After Action Report.