A couple weekends ago I attended a group shoot coordinated by some friends of mine at another friend's home studio and had the opportunity to get a few photographs of Melissa Riso.
There was a cool yellow upholstered and padded backdrop available and I decided to experiment shooting against it. The yellow fabric had a reflective quality to it so hitting it with a strobe would cause the fabric to illuminate and shine. I figured a ring flash would probably help get a glow around the subject in front of that backdrop.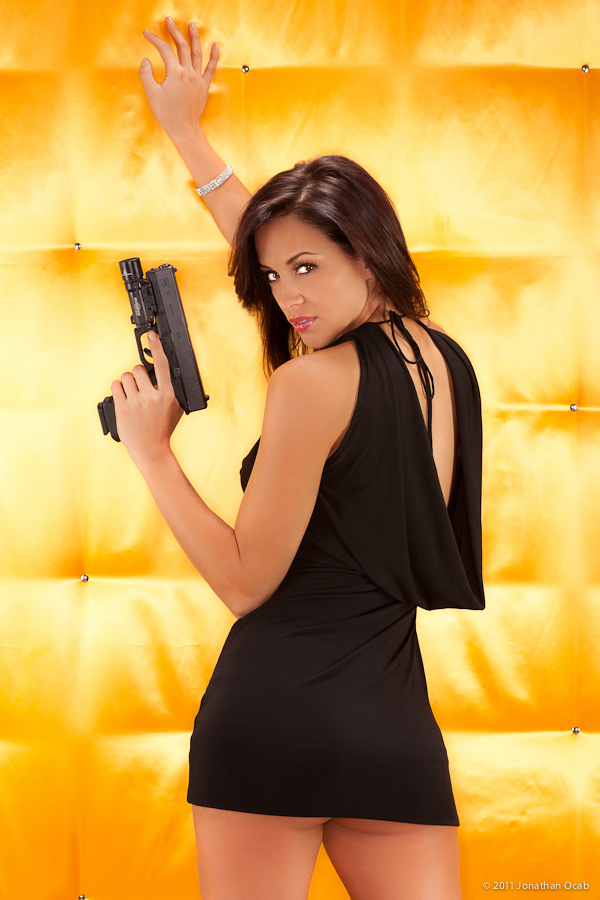 The camera used was a Canon 5D Mark II with a Canon EF 70-200 f/2.8L IS II USM and the above image was shot @ 88mm, f/8, 1/160s, ISO 100.
As far as a lighting experiment, I decided to try four lights in all:
Primary/key – One (1) Paul C. Buff ABR800 ring flash, on camera
Fill – Two (2) Paul C. Buff Einstein 640 each with 36″ strip box, butterfly configuration
Hair/Rim – One (1) Paul C. Buff AB1600 with Kacey Enterprises beauty dish and 30 degree grid directly overhead via Avenger C-stand and boom arm
The ABR800 was triggered from the camera via PC sync cord and the other three strobes (1x AB1600 and 2x Einstein) were triggered via the PocketWizard MiniTT1+AC3 to FlexTT5 and PowerMC2 (trans)ceivers.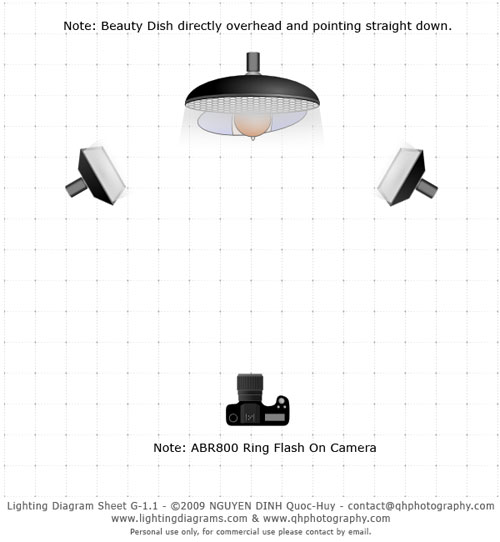 I feel the lighting setup worked out fine, but in retrospect, I wish I had tried shooting with the beauty dish as the key light and used the ABR800 ring flash overhead as the rim light. Although, if I used the beauty dish as the key light, the background would get lit a bit unevenly since I would have had the dish favoring one side and the bright bounce off the yellow background would be only on one side (and not all around the model).
Anyway, I'm happy with the results of session. I haven't had a chance to work on other shots from the set, but you can see more of my photos of Melissa Riso at http://jocabphoto.com/melissa_riso.
Firearm pictured is a Glock 17 (9mm, full size) with a Surefire X300 LED weapon light.
Whenever using firearms as props, always ensure that the firearm is unloaded. If the model is unfamiliar with proper and safe gun handling, give a lesson on the rules of firearms safety [NRAHQ.org].
Melissa Riso has an official website at http://melissariso.com and a Model Mayhem profile at http://www.modelmayhem.com/507695.