Every so often I get asked what bag I use to lug around my photography gear. When I'm going out to a photoshoot, my go to bags are my Think Tank Photo StreetWalker Pro and/or Think Tank Photo Airport International (version 2).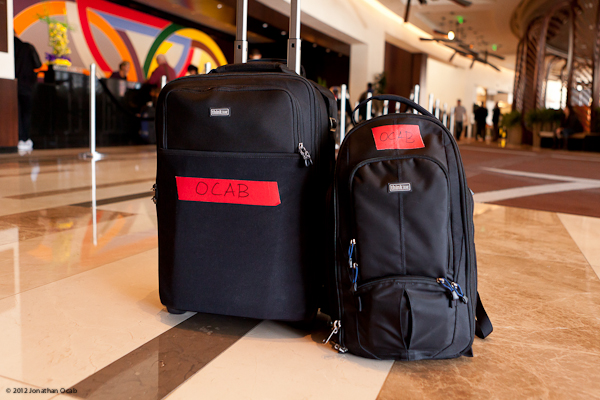 First off, I became familiar with Think Tank Photo (TTP) when I started looking around for a photo belt system a few years ago. After I acquired a TTP Steroid Belt and some of their modular pouches, I looked further into their product line and ended up getting a TTP Urban Disguise 35.
Check out older write-ups I posted on the Think Tank Photo Steroid Speed Belt and Think Tank Photo Urban Disguise 35.
When I started doing portrait photography and my photography kit grew (not only cameras and lenses, but lights), I needed a new large bag to carry my two bodies, lenses, and supplementary gear. A long time ago, I did have a Lowepro Vertex 300 AW, and while it was a quality bag that held a ton of gear, a backpack to hold that much equipment just wasn't my cup of tea. I felt that a roller bag would be a lot better.
Since I had been using Think Tank Photo gear already and I loved the quality, I did more research and settled on the Airport International (version 2).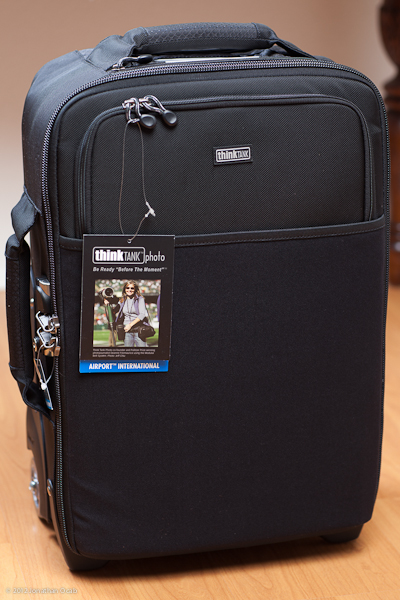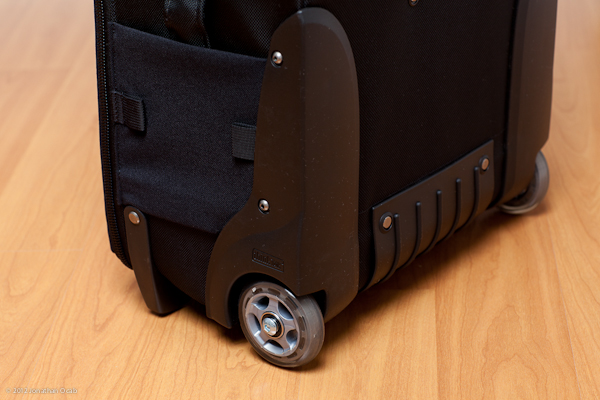 The quality of this bag is top notch. The bag handle is sturdy and the wheels are strong and smooth.
The Airport International has a few great security features. One is the built in cable lock which allows you to thread a cable through a fixed object at a location (e.g. a railing) and lock the bag so it cannot be taken by a casual thief.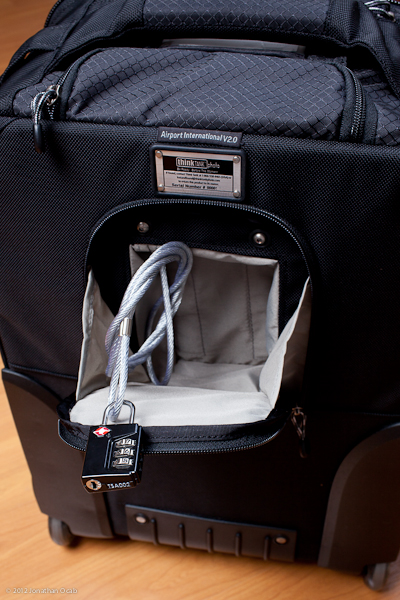 Second, the main compartment is lockable with a three digit code.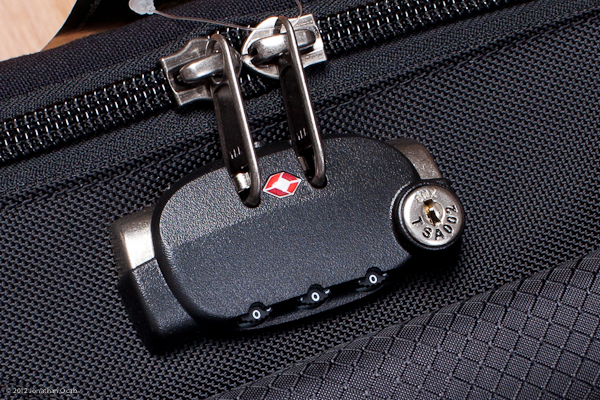 Lastly, they affix a steel plate on the back of the bag with a unique serial number which you register with Think Tank Photo. If the bag is misplaced (e.g. airline baggage handling), they can contact the number on the plate and provide the serial number which will be in the TTP database (assuming you register with TTP).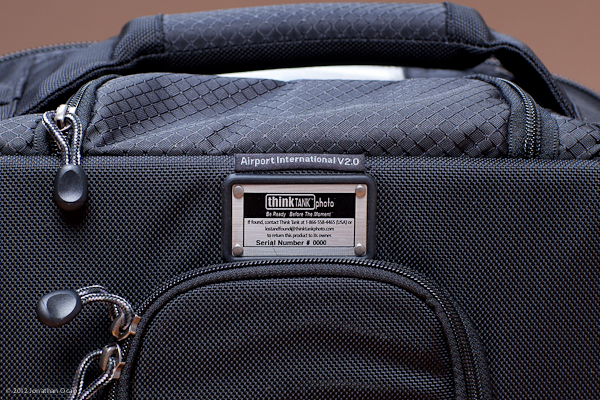 If I'm doing a serious location shoot I pack it all in this roller bag and it fits my two bodies (primary and backup), lenses, small flashes, PocketWizards, cables, filters, etc.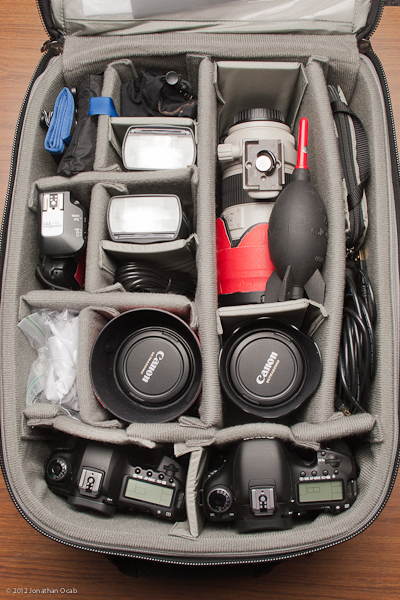 The kit above consists of a Canon 5D Mark II, Canon 7D, Canon 24-70 f/2.8L, Canon 70-200 f/2.8L IS II, Canon 85 f/1.2L II, various PocketWizards (MiniTT1, FlexTT5, Plus II, PowerMC2, AC3), two Canon 580 EX II Speedlites, monosync cables, PC-Sync cables, camera cleaning gear, Eneloop AA batteries, compact flash in a TTP Pixel Pocket Rocket and a few other items hidden in the compartments.
The inside of the compartment flap holds more accessories including my lens filters (circular polarizer, Vari-ND) and other small supplementary accessories.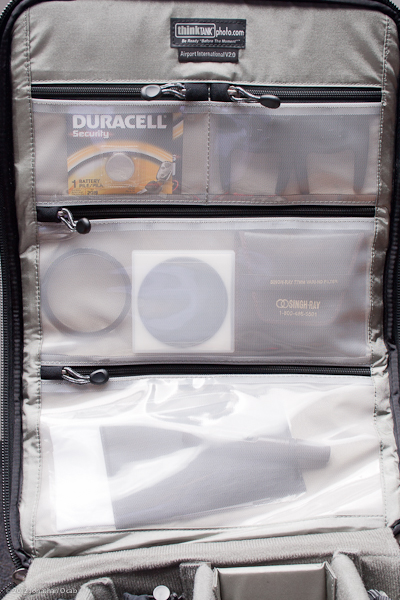 How does this bag perform? Superbly. I have been using the Airport International for the past two years and it's solid. One huge selling point is that it fits within the International airline guidelines for carry-on luggage. While I don't fly often, especially with my photo gear, I do use this often on road trips and so far it's holding up well with no problems.
For all the other times when I need to go light, especially when I don't need a backup camera body (casual shooting), I ended up acquiring the StreetWalker Pro.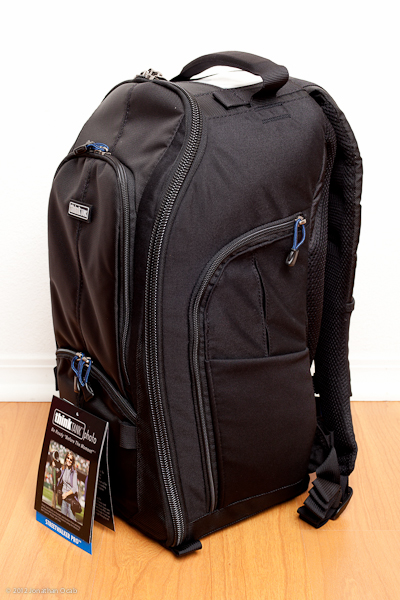 What I liked about this bag when I was shopping around was the thin form factor in terms of the width. It is about the same height as other comparable bags, but the fact that it's not wide means it's easy to get around in crowds with it. It is very comfortable to wear as well, with great padding in the backpack straps help to bear the load well.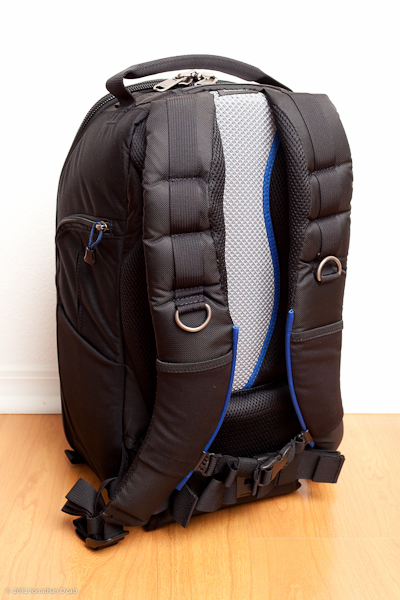 This backpack surprisingly holds quite a bit of gear if you pack it efficiently, with the main compartment, side pockets, and rear pocket.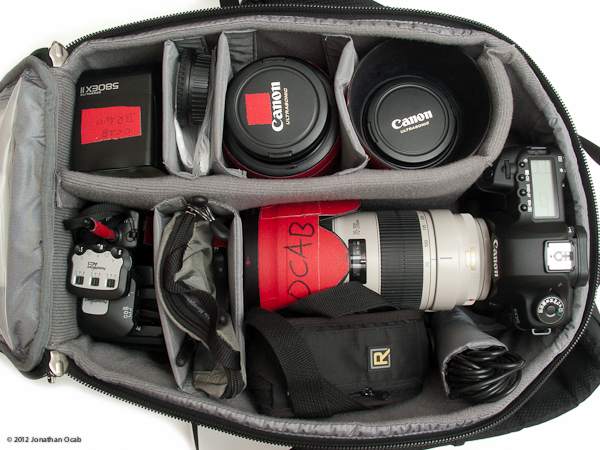 If you look at the above photo, you'll notice I have everything I need for a portrait shoot (short of my strobes, modifiers, and stands). I have a gripped Canon 5D Mark II with the 70-200 f/2.8L IS II attached. Next to that I have a Canon 24-70 f/2.8L and Canon 85 f/1.2L II. The other compartment slots contain a Canon 580 EX II Speedlite, and PocketWizard radio triggers (TT1/TT5/AC3/PowerMC2/Plus II). Also seen is a BlackRapid RS4 strap, miscellaneous cables/cords (e.g. monosync and PC-sync), and cleaning equipment. The inside flap has pockets which hold my filters (circular polarizer and Vari-ND) along with other items like cords and batteries.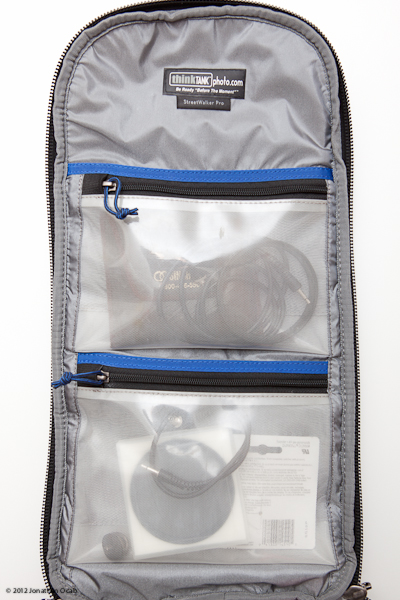 I really love both of these bags. The StreetWalker Pro pretty much can hold what I need for a photo shoot, but if I need to bring the kitchen sink, the Airport International fits the bill and gets me there on wheels.
What you will notice, too, about both of these bags is that the don't really look like camera bags. Unless you know the name "Think Tank Photo", upon a glance they just look like a regular roller bag and a regular backpack. This design is intentional, since Think Tank Photo tries to make bags that do not attract the attention that you are carrying photo gear.
If you're looking for high quality, tough, rugged camera bags, definitely consider Think Tank Photo. They make lots of various photo/laptop bags in different styles other than a backpack or roller bag design, including shoulder bags and sling-type bags. They're sure to make a bag that fits your needs.