Earlier this year, I started shooting the AR-15 platform again, except in a tactical / dynamic configuration versus the competitive Service Rifle configuration I was deep into using during the period from 2006 to 2010, when I was heavily competing in Across the Course matches.
When I was looking for ways to carry AR magazines on my body, I ended up acquiring the HSGI Leg Rig, also known as the Costa Leg Rig (as in Chris Costa).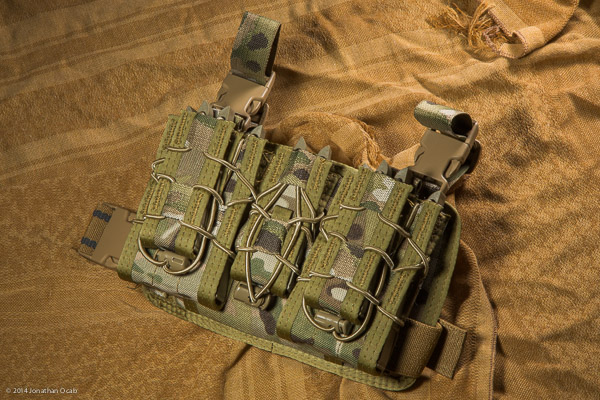 From what I understand, Chris Costa (Costa Ludus) helped design the rig with HSGI (High Speed Gear, Inc.), and it gained notoriety by word of mouth as Costa used it in his courses.
The HSGI / Costa Leg Rig is a Cordura platform utilizing the HSGI TACO magazine pouch. The TACO pouch is also made out of Cordura, but incorporates injection molded plastic sides that squeeze the magazine via pressure from shock cord (or bungee cord).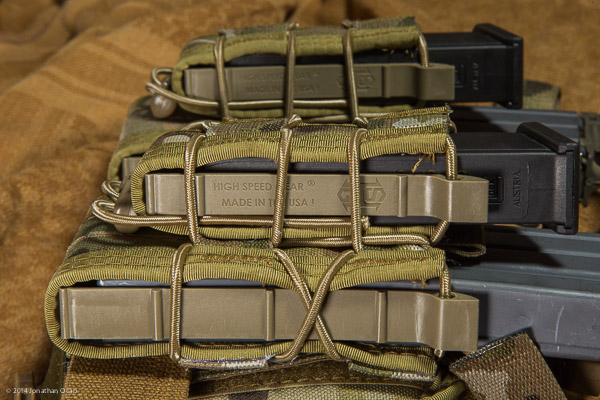 What makes the TACO design great is that the pouch can conform to various magazine types, so you're not stuck with one pouch for a specific magazine type. The rifle TACO can hold STANAG magazines (M16 / M4 / AR15 aluminum 20 and 30 round, Magpul AR15 polymer, etc) as well as AK magazines, M14 magazines, and pretty much anything similar in dimension to a STANAG mag. The pistol TACO will accept virtually every pistol magazine from Glock to 1911 to S&W to Sig Sauer and more.
So if you run multiple different platforms, it only makes sense to go with TACO pouches so you don't have to buy individual magazine pouches / holsters for each of your firearm platforms, which is the case with magazine holsters molded out of Kydex.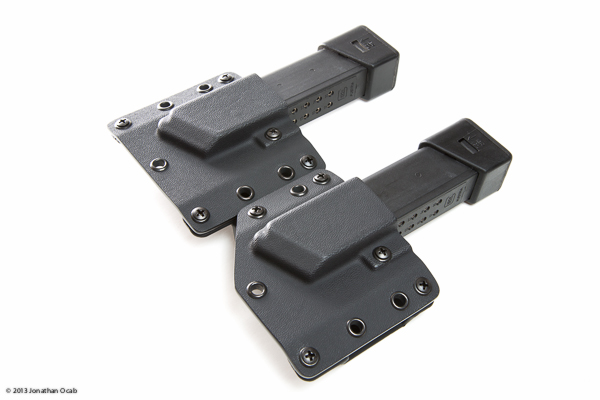 Anyway, the reason why I acquired the HSGI / Costa Leg Rig is because I wanted a minimal system that would easily integrate with a 'simple' belt (my Ares Gear Ranger belt). If a situation or scenario presented itself where I needed to employ the AR, the HSGI / Costa Leg Rig would offer me the ability to quickly get AR magazines (and pistol mags) on my person.
The leg rig simply attaches to a belt via two straps+clips and a third strap+clip rounds around the thigh to keep the rig in place. No need to take off the belt. Just clip and go.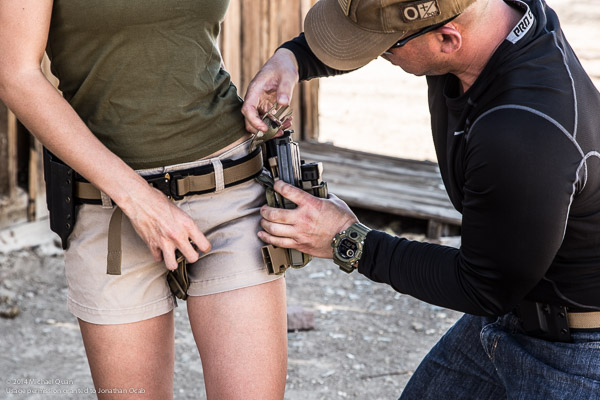 While I understand the need for chest rigs, I frankly don't see myself ever using a chest rig unless I change careers and get a job where I'll actually need to go 'ninja-fied'.
I also liked the fact that the HSGI / Costa Leg Rig allows me to carry multiple magazines on my body without affected my prone position. I can position the leg rig to the side and rear of my thigh, thus allowing my support side leg full contact with the ground in the prone position and not adversely changing my position.
Another factor that attracted me to the HSGI / Costa Leg Rig is the double-decker TACO pouches that facilitate carrying both rifle and pistol magazines. From a tactical reload standpoint, this offers me a great place to source my magazines from. The forward belt line is always designated for the speed reload magazine source, and tactical (and admin) reloads come from the rear most magazine placement.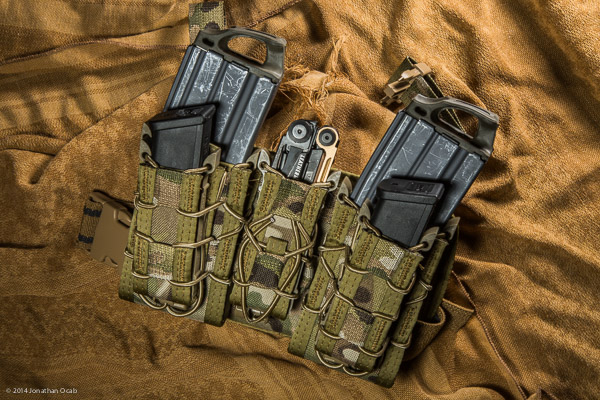 Rather than trying to run more belt line mag pouches/holsters to the side and rear of the belt line, the HSGI / Costa Leg Rig gives me a more expedient placement for tactical reload mags. Not to mention I can easily put back still loaded magazines into those spots, rather than awkwardly trying to put a magazine back into a belt-line pouch/holster towards the rear of my body.
The HSGI / Costa Leg Rig has five TACO pouches in total: two rifle and three pistol. The center pistol TACO is often used by those who have the rig for keeping some type of accessory like a multi-tool or a flashlight. But you can obviously use each TACO however you see fit.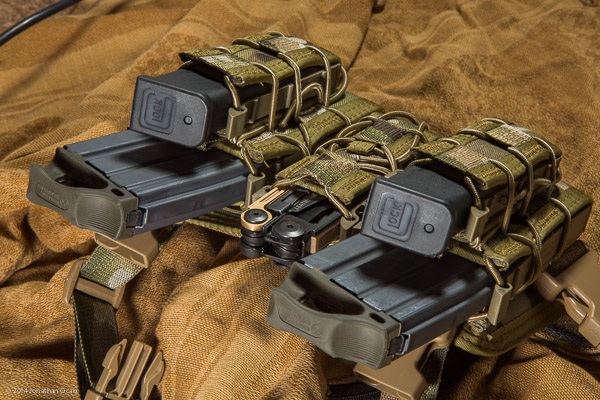 After using the HSGI / Costa Leg Rig at the range a few times, I found no issues with the rig and was completely satisfied with it.
But soon after I acquired the leg rig, I found myself wanting to also get AR magazine pouches for the belt. I was pondering going the Kydex route for belt line AR magazine carry, but realized that the amount of spacing to run two AR magazines in Kydex holsters would be too wide for my tastes.
I started looking into options for running TACOs on the belt line and coincidentally enough, Raven Concealment Systems (RCS), the company whose Kydex pistol holsters I use, makes a product for TACO pouches called the ModuLoader Frame.
TACO pouches are MOLLE compatible, and that's how you would normally mount a TACO to rig. The ModuLoader Frame is simply several pieces of Kydex assembled together to accept MOLLE capable gear, but is specifically designed for TACO pouches.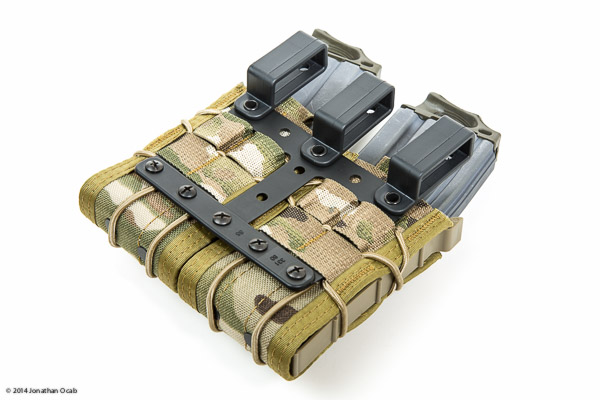 When I was looking at the frame, it looked apparent that it not only effectively interfaces TACO pouches to a standard 1.5″ belt, it mitigates belt line space issues by keeping multiple TACO pouches close together on the frame, while still allowing easy magazine access.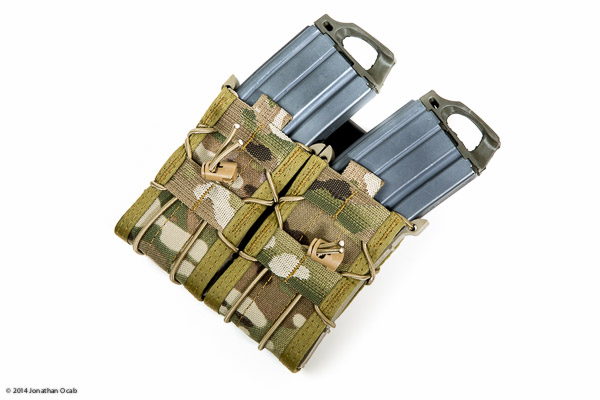 So I ended up ordering a ModuLoader from Raven Concealement Systems to accomodate two rifle TACO pouches.
Note that I purchased the 'subload' version of the ModuLoader Frame. This frame places the TACO pouches a little lower on the belt line. I wanted the TACOs to ride a little lower on the belt to allow easier draw of the magazines, as well as to make it more comfortable such that the tall AR magazines aren't digging into my torso as much.
What I like about the rifle TACOs on the ModuLoader is that the frame itself will flex to the curvature of the body. I did find that the amount of space that two rifle TACOs take on the belt line with the ModuLoader Frame is minimal and allows me to run two rifle TACOs at the 11 o'clock position of my belt line to facilitate speed reloads.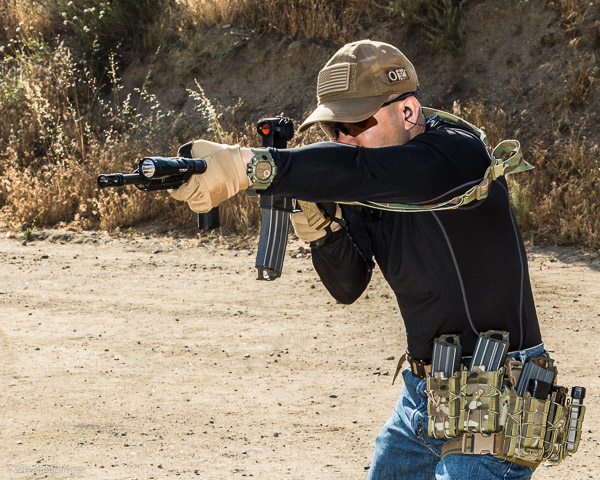 Since a solution for adapting TACOs to standard belts is available, I highly recommend that anyone looking for magazine pouches consider using HSGI TACO pouches. While I still like Kydex magazine holsters, I feel that TACO pouches offer the best versatility for those with multiple gun types. No need to get dedicated Kydex pouches for each individual magazine type.
As far as the HSGI / Costa Leg Rig, I would recommend it for anyone that wants a fast way to get magazines on their person and doesn't want to run some type of chest rig or a war belt.
You can purchase TACO pouches directly from the HSGI website at http://www.highspeedgear.com/. The ModuLoader Frame is available through the Raven Concealement Systems portal at http://www.rcsgear.com/.