Last year when Apple debuted the iPhone 6 Plus in September 2014, I was taken aback by the 'massive' 5.5″ diagonal (1920×1080, 401ppi) screen. When the iPhone 5 received the bump in size to 4″ diagonal, it was tolerable because I was still able to reach across the screen with my thumb in a one-handed grip.
But when I went to an Apple Store to handle the iPhone 6 Plus in person, it was simply too big for my liking. One handed use is very difficult due to the increased lateral width: 3.06″ wide versus 2.64″ wide of the non-Plus model in portrait orientation. Thus, I stuck with the iPhone 6 (non-Plus) when I upgraded from the 5 series to the 6 series.
Since I acquired my iPhone 6 in September 2014, I found myself playing more games on iOS (including Vainglory, which also debuted during the Apple September 2014 event). But since I still have an iPad 3rd Generation from March 2012, which is a bit behind in terms of CPU and GPU, I have been playing primarily on my iPhone 6 instead of my iPad.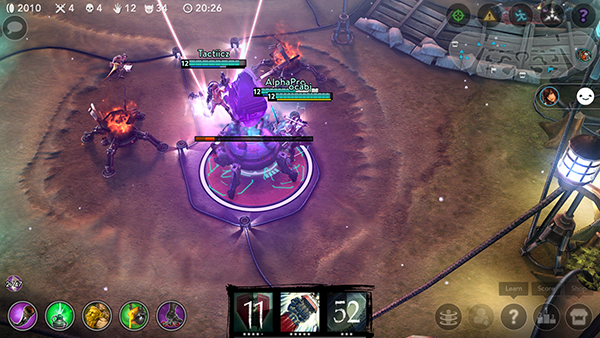 I have been wanting to get a new iPad, but it seemed to be cost prohibitive due to the fact that I wanted one with cellular as well. After all the options and what not, I calculated that I would be spending around $800 out the door for the current iPad Air 2 (Wi-Fi + Cellular).
When the iPhone 6s series was announced this past September 2015, I pondered the notion of just getting a Plus and running a single larger iPhone device instead of maintaining both an iPhone *and* iPad. After much debate, I succumbed to the 'phablet' idea and bought the iPhone 6s Plus in November.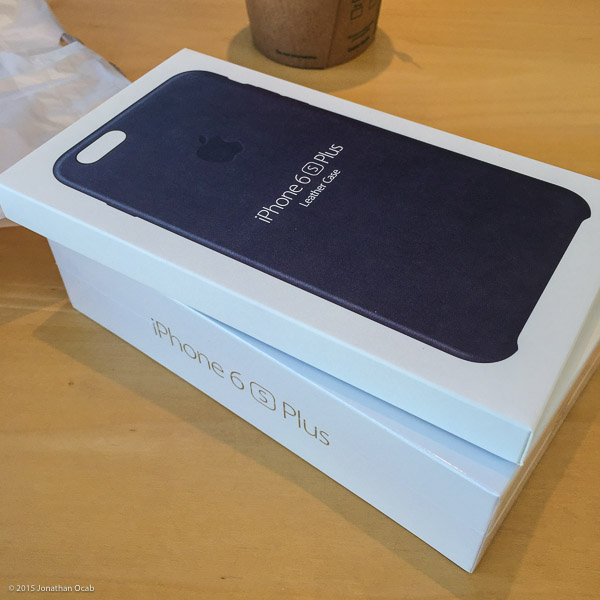 The primary adjustment I had to make was in regards to one-handed use. I can barely use the Plus one-handed. Since I have smaller hands that most people, reaching across the screen with the thumb doesn't really get me to the other side of the screen without modifying my grip significantly (which also results in gripping the phone less securely).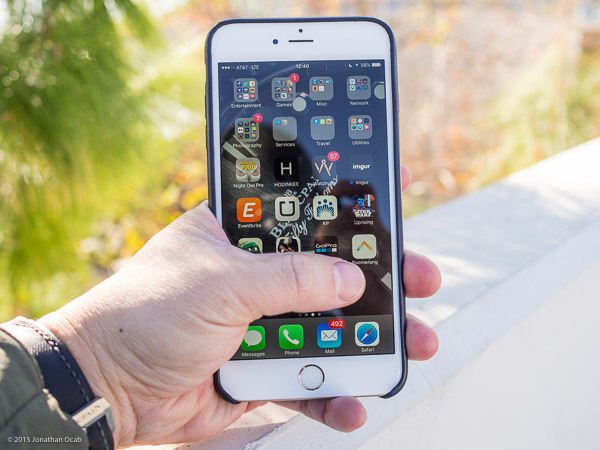 If I keep specific application icons on the left side of the screen (e.g. Apple Mail, Microsoft Outlook, iMessage), I can help mitigate the inability to reach to the far right side of the screen (I hold the iPhone in my left hand during one-handed use), since I can still get to my highly utilized apps within reach for quick scrolling and swiping.
Then comes use while driving. Yes, for the most part, it is not legal to operate a phone while driving, but I will admit that I will use the GPS on my iPhone while driving quite often. I don't have built-in GPS in my vehicle, nor do I have a third-party standalone GPS unit. The Court of Appeal of the State of California, Fifth Appellate District ruling in February 2014 on the appeal of The People v Spriggs upheld the use of a phone as a navigational tool while driving (barring any situational ruling on distraction).
That being said, using GPS on the Plus held one-handed while driving is pretty much impossible for me. So I acquired the Breffo Spiderpodium smartphone mount.
It is arguably one of the the dinkiest things probably set your eyes on, but it works amazingly well. You place the center legs of the Spiderpodium in the slots of one of the A/C / heater vents of your car's dashboard, and the outer legs are used to grip the phone device.
While the legs flex easily at the joints, the legs maintain form after shaped and it remains rigid during driving.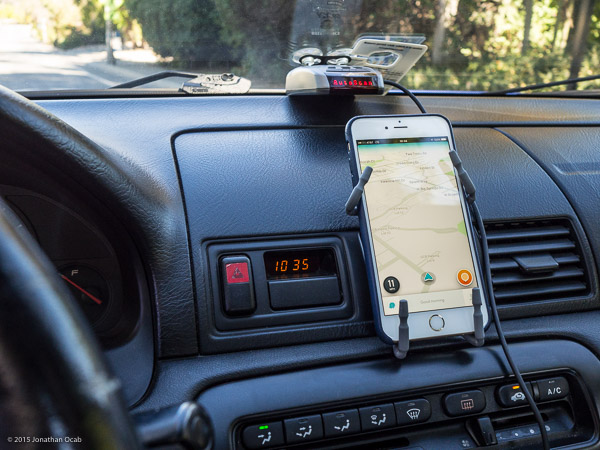 With the iPhone 6s Plus in the Spiderpodium mount on the dash, I can now use the GPS / maps (Apple Maps, Waze, Google Maps, etc) easily and safely while driving.
The other issue with form factor and weight of the Plus is carrying it in a suit. It definitely weighs down in a suit jacket or the side pocket of suit pants. It's not terribly bad, but is noticeable.
But I really do appreciate having the larger screen, particularly when gaming on the iPhone. I think the screen is just big enough with the Plus that I don't need to upgrade my iPad 3rd Gen and can keep the costs down to maintaining just the iPhone and not have to maintain an iPad.
Form factor and weight aside, the 6s Plus does feel like a performance upgrade from the 6. The OS and the applications seem to be more responsive.
The Force Touch feature doesn't seem all to exciting so far. Warhammer 40,000: Freeblade makes novel use of Force Touch in-game to activate a third weapon.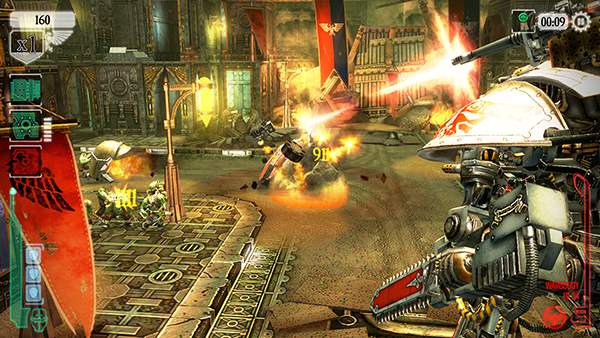 Other than that, I don't really use Force Touch within the UI to dive into Force Touch enable apps to dive into specific tasks (e.g. press down hard on Facebook app icon to bring up menu and post).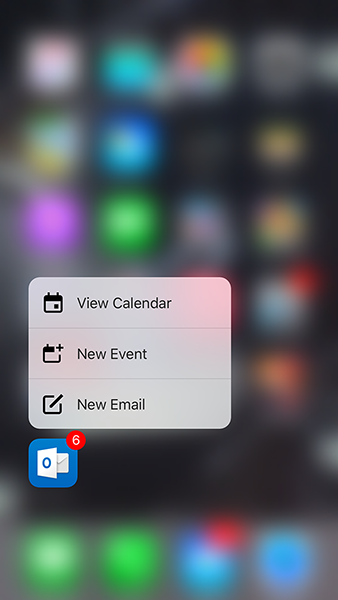 The Touch ID is definitely far more accurate on the iPhone 6s Plus that it was on the iPhone 6. The iPhone 6 worked most of the time, but sometimes would have a hard time reading my fingerprint in certain situations and eventually fail out to require my unlock code. On the 6s, it seems to get it right the first time and if it fails, it will get it on the 2nd or 3rd time with a quick readjust of my finger orientation.
I actually use "Hey Siri" more than I thought. In the morning when I wake up, I'll voice, "Hey Siri, What's the weather for today?" and my iPhone actually detects and responds accurately. The "Hey Siri" functionality is handy to do all of the Siri functions without having to physically hold down the home button on the phone, but Siri still needs to get more advanced (e.g. "Is there an In-n-Out on the way?" to give me an In-n-Out on my route to a given destination).
Lastly, there's the introduction of Live Photos, which is a new native feature with the iPhone 6s (Plus) series. It's basically a feature that records 3 seconds of video when a photo is taken, 1.5 seconds before through 1.5 seconds after the 'shutter' is pressed. This feature was introduced in the 6s series because of the camera's ability to record 4K video. Of course, you could always just record a movie. But since people tend to take a lot of still photos, Live Photos adds an extra aspect that people don't have to think about and watch "the making of" a given photo after the fact. For things like a family photo, or maybe a significant event photographed, a Live Photo will add more sentimentality and emotion to a photo when viewing it long after the photo was taken.
But Live Photos seems to lack a lot of support right now. It's one thing that you need a 6s series iPhone to make Live Photos, but the fact that there are very few ways to share a Live Photo makes the feature very limited in scope. You can send them to other iOS 9 users (most devices), but sharing them on social media will only show a still photo.
Facebook began supporting Live Photos with the iOS app, but it still needs to be enabled for your account, and Facebook has yet to make uploading Live Photo available to everyone.
You can use a Live Photo as your iOS device wallpaper, which is an interesting customization.
Time will tell if Live Photos will ever take off. Considering Facebook owns Instagram, I don't see why Live Photo support won't show up on IG very soon.
So after nearly two months of using the iPhone 6s Plus, I will say that I am fairly content with the Plus. The fact that I was willing to adjust my habits to mitigate the negatives of the larger form factor, allowed me to take advantage of and leverage the positive gains of the larger form factor, as well as the new features of the iPhone 6s series, which is still a step up from a 6 series, albeit in a few areas.
Right now, I think I will stick with the Plus form factor in future upgrades of the iPhone, unless something changes and I need to acquire a current generation iPad, or better yet, something changes and I can afford to throw money away on a current iPad and not care.