I am a user of Fix It Sticks portable multi-tool and their torque limiters, particularly for working on firearms. Of course, a standard adjustable torque driver or wrench that I keep in the garage is fine, but the reason I own the Fix It Sticks torque limiters is for portability. They are small and compact, and I can carry several in a small pouch that takes up a lot less space than a torque driver or wrench would, but also still have the capability to use the Fix It Sticks tool as a regular driver (without torque limiting capabilities).
But I found myself wanting/needing a 6.0 Nm / 53 in-lb torque limiter for my AICS / Remington 700 action screws, and unfortunately, Fix It Sticks does not carry one in this torque rating at this time. I inquired about a 53 in-lb torque limiter and was told that it is a possibility in the future.
Given that I wanted a solution for the immediate present, I ended up looking into another option and that is Borka Tools who also manufacturers torque tools, both adjustable and fixed, targeted towards shooters. Borka Tools actually sells a torque limiter kit specifically for the AICS so I ended up ordering one.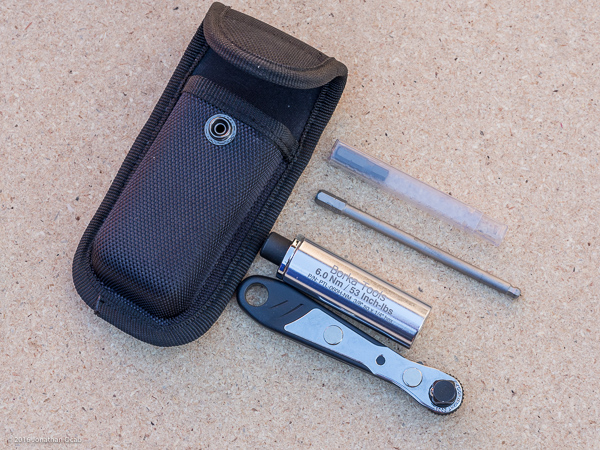 The Borka Tools kit that I ordered comes with:
6.0 Nm / 53 inch-lbs. torque limiter
Ratchet drive handle
Universal AICS custom made 3/16″ ball end hex 4″ long bit
3/16″ hex screwdriver bit
Black color nylon pouch
User guide
The torque limiter is in the form of a 3/8″ drive socket with a 1/4″ hex female adapter. The ratchet drive handle is a compact 3/8″ drive wrench.
While it comes with a small/standard length 3/16″ hex bit, the kit is designed for the AICS due to the inclusion of the 4″ long 3/16″ hex bit. The long bit is necessary to extend through the chassis skin and reach the action screws (particularly the rear action screw above the trigger guard).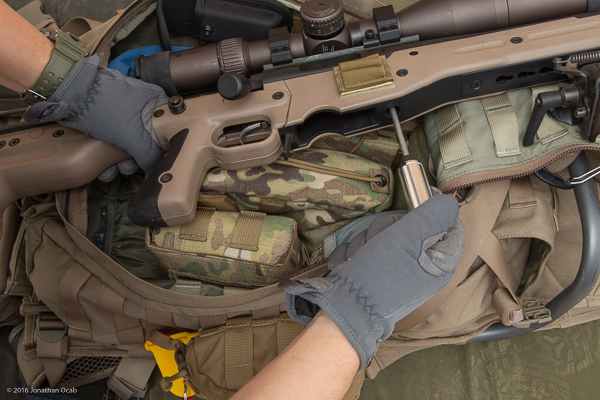 The torque limiter itself is significantly larger than the Fix It Sticks torque limiter (over two times the length), so comparatively speaking, the Borka Tools torque limiter kit is large.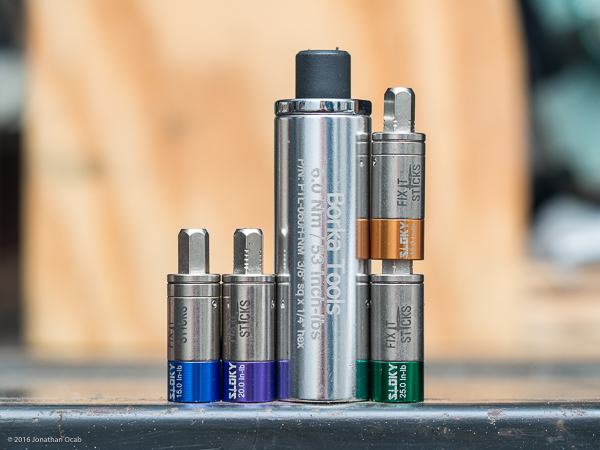 But I say this loosely. The kit itself when you put it all in the provided nylon pouch doesn't take up more than a few rows and a single column of PALS webbing.
Now as far as torque limiter accuracy, I cannot give an authoritative opinion on the accuracy of torque tools. I will leave this up to the mechanical engineers and other experts in the measuring tool industry. Borka Tools does include a certificate of calibration (Fix It Sticks does not).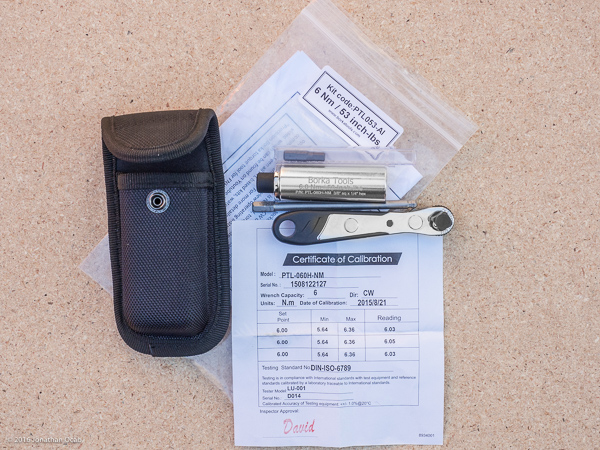 But it is critical to understand that all torque tools will eventually come out of specification after a certain number of cycles and torque tools need to be retested and recalibrated. Sadly, most people do not do this, including myself. I have been using the same Craftsman ft-lbs torque wrench for my vehicles for 15+ years and it hasn't been checked out (I should probably throw it out and buy something new and better).
Thus, I will not go on the record and make any sort of statement that the Borka Tools, Fix It Sticks, or other torque tools on the market are better than the other. I just don't have the capability or background knowledge to make this type of assessment. I can only assume (and hope) these manufacturers are producing torque tools with enough accuracy and a very small amount of deviation.
That said, If you are looking for a field expedient torque limiter specifically for action screws of a Remington pattern action in an Accuracy International Chassis System, then the Borka Tools 6.0Nm / 53 in-lb torque limiter kit will definitely fit your needs and is ready to go "out of the box."