Bore guides are a critical tool for a rifleman's cleaning kit. A quality bore guide will maintain the alignment of the cleaning rod while it inserted into the barrel. This will help maintain the integrity of the throat of the bore by preventing the rod from coming into repeated contact with the throat due to misalignment of the cleaning rod as well as rod flex.
The throat is the area of the rifling just after the chamber. This is arguably the most critical aspect of the barrel because this is the part of the barrel where the bullet begins it's flight. Making sure that the bullet starts spinning as concentric as possible leads for consistency and accuracy.
Thus, an operator will want to use a bore guide at all times to protect the barrel during cleaning.
There are many bore guides out there, some universal which can be used with a wide variety of firearms, while others are action specific (dimensions are precisely cut to fit in a specific firearm's receiver).
One highly regarded bore guide is the Lucas Bore Guide. Made and sold by Mike Lucas, these bore guides are made out of Delrin polymer.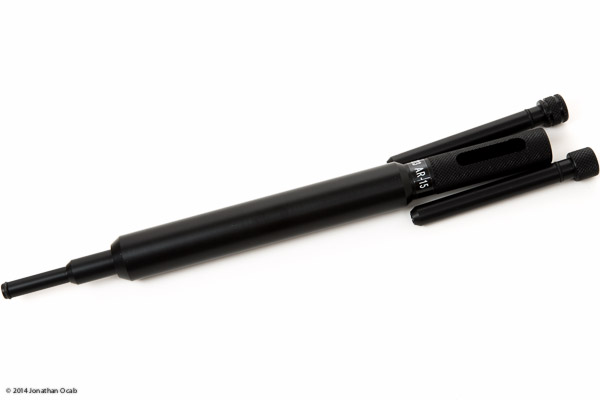 But the one unique feature of the Lucas Bore Guide is that in comes with an alignment insert. This insert has a diameter that the purchaser will specify to match the diameter of the cleaning rod that will be used.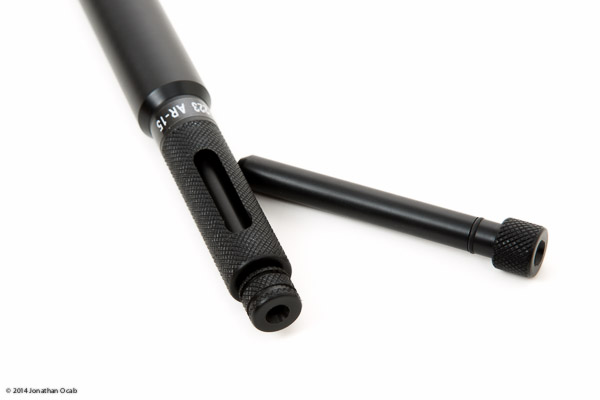 This insert then provides an added alignment point for the rod to further minimize the effect of rod flex on the bore during cleaning.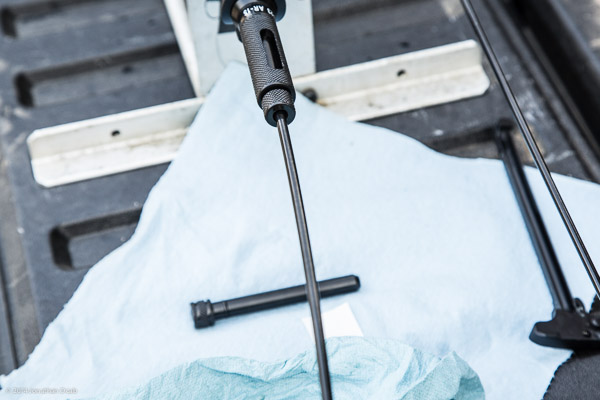 The Lucas Bore Guide I have in the photos above is for the AR-15, which I purchased back in 2006. But it sat in a cabinet until just this past week in late May 2014. I never got around to actually putting it my range toolbox is because I've been using a Sinclair International delrin AR-15 bore guide for the past 8-9 years. The Sinclair bore guide finally cracked when I (stupidly) used it to drive in a receiver pin.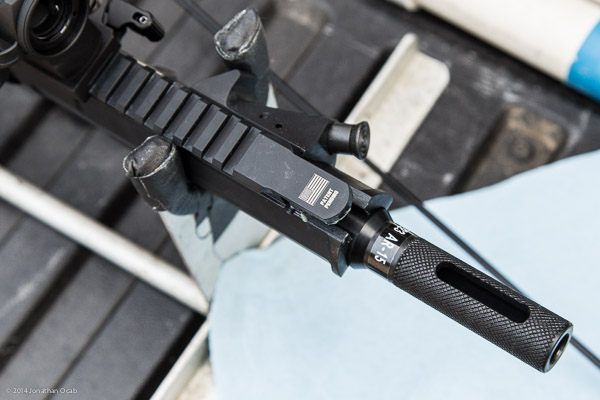 What does this say about the Lucas Bore Guide? Well, there was nothing inherently wrong with my Sinclair Bore Guide, but the Lucas is definitely a notch or two better.
Readers may note that in my photos on this article, that I have two inserts. This is because I asked for an additional insert due to the fact that I actually use two different rod diameters while cleaning the AR-15. I use a Dewey coated .20cal rod for patching and a Dewey coated .22cal rod for brushing.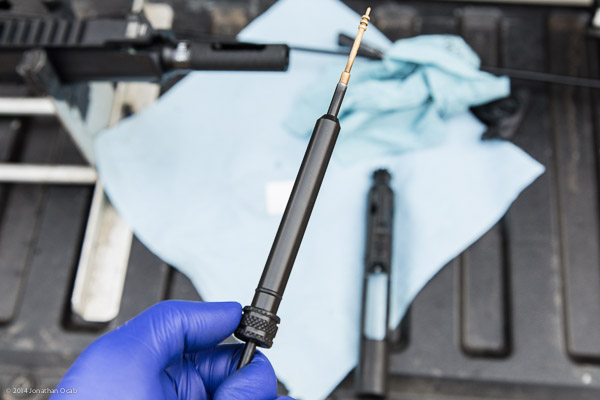 I don't recall what each rod actually measures in terms of true diameter, but anyone purchasing a Lucas Bore Guide will need to use calipers or a micrometer to measure their respective cleaning rod in order to get the best fitting insert with their Lucas Bore Guide.
Mike Lucas sells his bore guides in a fairly low-tech manner in terms of modern e-commerce. If you want one, you'll need to contact him via email since he has no web storefront.
Rest assured that he still makes them and has a solid reputation in the shooting community.
The base price for the Lucas Bore Guide is $65 (confirmed in May 2014 via email). This should include one insert and you can opt to purchase additional inserts as needed.
To get more information and to place an order, you can contact Mike Lucas at:
Mike Lucas
lucasmjb@windstream.net